Justin Bogle has been relegated to just one full season of Monster Energy Supercross and Lucas Oil Pro Motocross since his full-time professional debut in 2012. Is he ready to fill the shoes of graduating 250 champions Eli Tomac and Wil Hahn? "I definitely feel that it's my turn to be in that spot," he says. After winning the 2011 AMA Horizon Award, injuries have stripped away a promising start to his pro career—which included a fifth overall in his pro debut at Unadilla in 2011, and nearly winning the final moto of that season at Pala. But now Bogle is coming off his first full outdoor season, and is expecting big things in 2014. We caught up with Bogle last week to talk about the innovative Red Bull Straight Rhythm event, and his expectations for next year.
Racer X: You were one of the select few that had the chance to participate in the innovative Red Bull event—Straight Rhythm. What were your thoughts on the race?
Justin Bogle: I thought the Straight Rhythm supercross thing was awesome. It was honestly one of the most fun days I've had on a dirt bike. It's impossible not to have fun with cool rhythm sections, nice grooved whoop sections and no corners and not really having to do anything race wise. It being so much different was really cool. It was kind of one of those things that I was asked to come participate, but I'm glad that I did and it was a lot of fun. It was at MC's Ranch and that made it extra cool. I honestly feel something like that could be a new way to have another sport within a sport.
Did it almost feel like real life Mad Skills?
It felt like a video game. It was along the lines of Mad Skills or something, but more fun because I'm not sitting in a recliner and being lazy.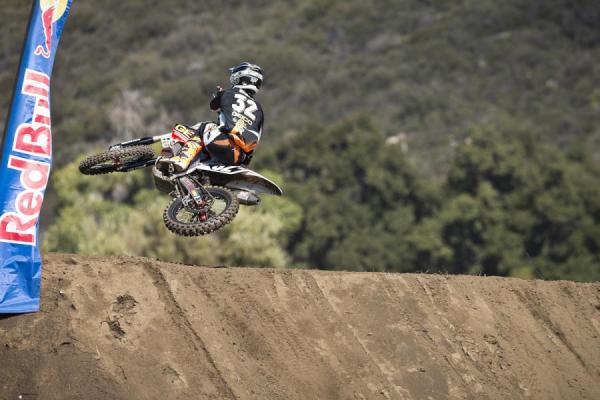 Justin Bogle hopes to fill the shoes of Eli Tomac and Wil Hahn in 2014.
Garth Milan photo
Obviously this won't replace supercross, and I don't think they're trying to replace supercross, but where could you see this going in the future?
I could see something like that being one of those one off events. Kind of like X-Fighters or Rampage or something like that—that is just a big event. It's just a supercross track, but it's half a mile long. Honestly, I see this as something that gets pretty big because there is not a lot of training that has to be done for that, but at the same time it's very technical. And for the fans, for the most part that's the most important thing, I feel the fans would be really into it. It's not very long, it's easy to digest and interesting to watch.
This off-season you're healthy, which is a good sign. With Tomac and Hahn moving up, do you have added pressure to fill those shoes?
I wouldn't say pressure. I definitely feel that it's my turn to be in that spot. I'm not going to shy away from that at all. Like you said, I finally have a full season of outdoors under my belt and a full year of training with Ryan Federow building a really good base for this year. I think I've made huge improvements, even in this off-season. I'm definitely not going to shy away from it—it's my turn in that spot. I'm going to do my best to make a run at it, and that's my goal this year—I want to be a title contender.
Maybe not title or bust, but would it be a disappointment if you're not at least in contention for a supercross or outdoor title next year?
For sure. That's the goal always—I want to win. I feel like this year having a good setup, and the bike already coming around—I like it a lot, and we've made some huge improvements in the short time we've been messing with it. That coming together, and obviously getting more time with the team, and getting more comfort on that end of things. Training wise, I'm in a good spot. I definitely feel like I should be in position for wins and podiums every weekend and that's really the goal.
It looked like you were really starting to come around at the end of Lucas Oil Pro Motocross and really showed what I think a lot were expecting. Injuries have played a big part in your first two years, but do you feel like you haven't met your own expectations so far?
For sure. I was thinking back right after Elsinore … I was thinking, 'Man, at this point right now I feel like I was supposed to do so much more.' But we had a little monkey wrench thrown in to the spokes a few times with some injuries and things like that, which is part of the game and it is what it is. It's not an excuse or anything like that, it's just part of it. I feel like I've bounced back from that. Last year outdoors, I was coming in still not fully 100 percent or not 100 percent riding wise, but I built all year long. I felt it was pretty obvious that I was putting the time in and at the end of the season I was getting closer to knocking on that door of the podium. There were a couple rounds were I was really close. Last year was a good building year for me and I feel like coming into this year I have a lot more momentum and am obviously in a better place, health wise.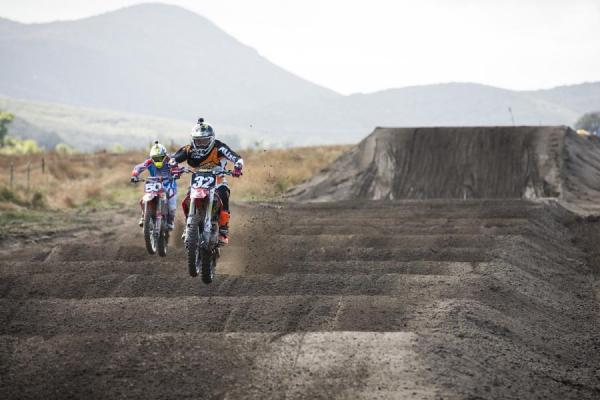 Bogle was one of the few riders to compete in the Red Bull Straight Rhythm event.
Garth Milan photo
GEICO is one of the biggest teams in the pits. It seems like you guys have a real good chemistry, but at the end of the day this is an individual sport. How are you able to balance the two?
We definitely have a really good vibe on GEICO Honda. I feel like it's one of the best in the pits, from what I've seen. It's definitely a great place for me. Like you said, the chemistry we have … I hang out with Wil [Hahn] quite a bit and we train together a lot of the time and we are pretty good friends and everything like that, which makes it a lot more fun on the weekends. But at the end of the day when it comes down to it, I'm going to do what I have to do to get around him. It's definitely cool that everyone on the team gets along and is friends, but at the end of the day it's an individual sport and everyone is going for it.
You have a new guy coming in this year with Matt Bisceglia. Have you been around him enough to help him a bit and give him a few pointers?
I've known Matt for a really long time. He used to hang out with us back in the amateur days. He's already going good. Whatever I can do to help out is definitely something I would do.
Music is also a big part of your life as well. Anything new on that front?
On the music side, I just have some really close friends of mine doing some pretty cool stuff. [Former Racer] Brad Frace is making a lot of moves and doing some really cool things and progressing on that front. For the most part, I'm so busy and focused with riding and training that I don't have much time to do much else. Obviously music is a big part of my life and I couldn't really get through a day without it. But as far as doing anything like that, I'm pretty locked up.