The off-season provides a plethora of opportunities for riders. Some race supercross in Europe, such as Trey Canard, Justin Barcia and Andrew Short, while others, like Mike Alessi and Kyle Peters, have been racing local pro payout events. Jacob Hayes, a former Team Green amateur standout, has been using these local payout events to work back from a slow sophomore season, which included injuries and lack of race time. For the fourth consecutive time, Hayes won at the Suzuki Top Gun Showdown at Muddy Creek and he was also in the hunt at the Pro Shootout at Hog Heaven last weekend. Hayes will rely on the South Carolina training facility Club MX to help him prepare for the 2014 Amsoil Arenacross series—his rookie arenacross campaign—and then hit select East Coast Monster Energy Supercross 250SX races. We caught up with the North Carolina native earlier this week to get a pulse on what he has lined up for next year.
Racer X: You've been busy the past couple weeks with the Suzuki Top Gun Showdown at Muddy Creek and the Pro Shootout at Hog Heaven. Every rider approaches the off-season differently, how important do you feel it is to race during the off-season?
Jacob Hayes: I feel like it's really important. I wanted to do six or seven of the outdoor nationals this year and I ended up not doing that, so I really wanted to get something solid for this year. I really felt like I've had a bad couple years and just wanted to get something solid under my belt and start working toward the [Amsoil] Arenacross series and some East Coast supercross rounds. I started putting a team together and should have everything worked up pretty soon.
I rode a little before Muddy Creek and everything went really good. I had a DNF Saturday due to a flat tire, but Sunday me and Kyle Peters and Heath Harrison had some good racing, and I came away with both overalls. For me, it was an awesome weekend. I love going there, it's an awesome place that's always been good to me. I have won there four years in a row, so I definitely have some good luck and good vibes going on there. I had a couple weeks to get ready for Hog Heaven. We had some time to get the suspension ready, because I knew from last year that place gets super rough. We had some stiff competition there. There were a bunch of good guys there; Alessi was there, Decotis, Marshall, and a bunch of good guys. I had a solid day. I went 4-3-3-DNF and I felt like I really improved throughout the day. I feel it's super important to get these races under your belt and always stay on the motorcycle, which I think is a really big key to having a good off-season.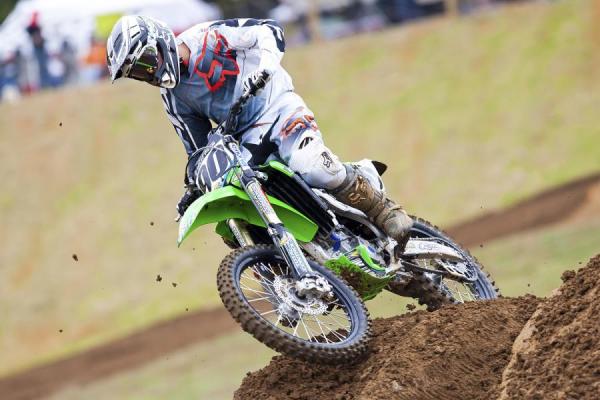 Jacob Hayes will race the Amsoil Arenacross series full-time in 2014.
Andrew Fredrickson photo
Unfortunately your supercross season was cut short last year in your first race, and you didn't get to race as many nationals as you wanted. With that said, bike time is probably pretty important this off-season. How are you planning on training for the upcoming season?
Right now I'm getting ready to head down to Club MX and train with those guys. They have a really good program. We are actually getting everything worked out right now to where I'll go down there after these next two shootouts and start training for arenacross and supercross and get a good solid program together. I feel like I've missed out on that the last couple years now. I feel like it's been real hit or miss, riding here and there, and I had some injuries that set me back last year, so I really want to get a solid year under my belt. I really feel confident that I can give [Tyler] Bowers a run for his money this year. I really want to be strong this year, week in and week out. I really want to challenge for that title and then go into the last couple east supercross rounds with some confidence and go in there level headed and see what we can do.
You have a background in arenacross. During your rookie season you decided to race some local arenacrosses. How much will that experience help you going into 2014?
I think it's going to help a lot. It's different racing, you have to train differently for it, so now I know going in there what I'm up against. It's prepared me better than not knowing anything about it. I'm actually going to do a couple this year before the season to get a warm up and get back into the arenacross swing of things. It's a little bit more bar banging than supercross or motocross, it's really close quarters.
Do you enjoy the bar banging that arenacross offers?
The first one I went to kind of caught me off-guard. Those guys don't hold anything back, everyone is racing for their position. A pass there isn't like a pass outdoors where you can just ride around someone. You have to take it from them. That was a learning curve I had to learn. I enjoyed arenacross a lot. I did it when I was on little bikes and have always seemed to like it. It might not be the cleanest racing, but I find it good racing.
Tyler Bowers has had a pretty good stranglehold on the series the past few years. How confident do you feel being able to challenge him for wins?
A couple people gave him a run for his money, but I want to be there week in and week out and challenge him for that title and really make him work for it. I feel like I have the speed. I want to be consistent and show that I can run up front with him. So hopefully I'll be there and hopefully be able to challenge for the title at the last couple rounds.
Can you elaborate on who will be helping you this season?
I got hooked up with Brewer Cycles in North Carolina, and really got a program going with those guys. I switched suspension to Total Control. He has a good background with Jim Neese. I have some new sponsors this year in DT1 and Rekluse. I still have Fox, Oakley, EVS and all those guys helping me out, so I feel like it's going to be good year. I have a good program with Brewer Cycles and my motors will be built by Adams Performance. Everything is actually coming along really good.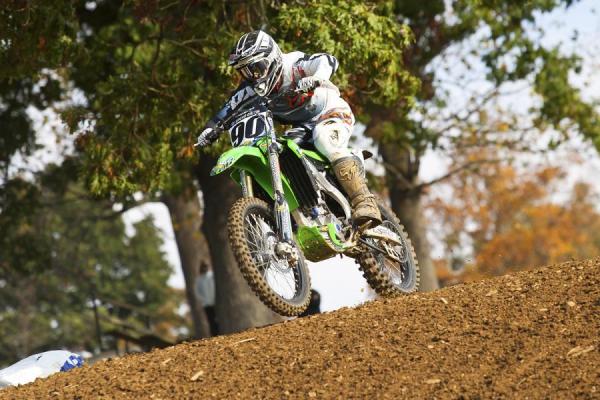 Hayes will also compete in select Monster Energy Supercross 250SX events.
Andrew Fredrickson photo
Talking with you the last couple seasons, you've kind of had your own training regimen. What's it going to mean to go down to Club [MX] and have a whole different regimen coming into the year?
I think it's going to be helpful. I think everyone needs that kind of structure. It's hard to maintain yourself week in and week out. Some weeks you get kind of tired and you're by yourself and you get kind of burnout. I think having that structure and being down there with guys like Osborne, and Nicoletti and Alex Martin and McElrath and all of those guys will give me that structure I need to really put myself on top this year. The past couple years have been kind of tough for me. I haven't really gone out and stood out anywhere. I definitely want to make an improvement this year and go after some wins and titles and I think Club MX will be the place I can do it.
You mentioned you haven't really stood out, but you really haven't had much of a chance. Injuries and not having support have kept you from racing. How important will this season be going forward in your career?
I think it will be really important. When we got done with outdoors, I was like, I really need to get something solid lined up for next year so that I know going in that this is what we're doing, this is what we committed to. I wanted to know everything was going to be done and I was controlling all of it. Like I said, I have a good group of guys behind me. I think with good training and good bikes we'll have a solid year.