Roger "Rojay" Larsen is a long time player in this industry's apparel business, and last year he followed James Stewart from Answer to a whole new gear venture with Seven, a company James owns and operates. Stewart wore the gear throughout 2013, but now the production stuff has arrived and it's about to hit dealers. Go to Sevenmx.com for a look. And here's Rojay with a chat about how it all came to be.
Racer X: Well, your gear is about to drop. This is a good time to remind everyone that Seven is not just James Stewart's gear, it's a real functioning business that will now be selling gear to consumers.
Roger Larsen: Oh yeah, that was the plan all along, to be a successful brand.
Give me an idea of what sets this apart. It's a partnership with Troy Lee, but it's not just Troy Lee Designs stuff with new logos.
No, it's definitely far from rebadged Troy Lee gear. That wouldn't have been a bad deal, but that's not what anyone involved is this wanted. It's its own separate deal as far as fit, function and look. Everything. Troy has been awesome and really a lot of the people that work at Troy Lee have played a big role. But it's completely different. The fit is more of an athletic cut, it's slimmer compared to not just Troy's stuff but all the other apparel brands.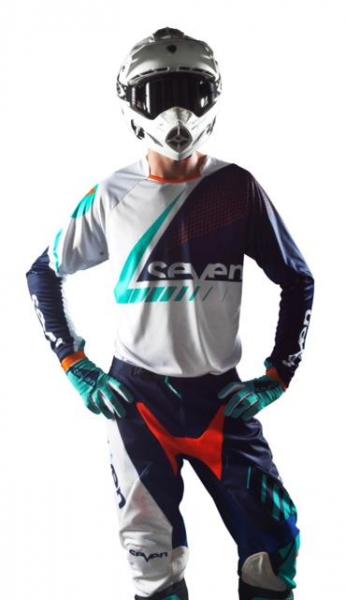 Seven will be officially available for purchase this month.
Yes you said you've had other riders, besides James, in this gear and they noticed that.
For sure, that's one of the positives to partnering with Troy, and to having James as not just the owner but also your marque guy. The testing and the ideas start with him and it kind of trickles down from there to Troy and his riders. Cole [Seely] and Malcolm [Stewart] and Jessy [Nelson] and those guys can go testing and give us feedback. They've been wearing it for a while through this development process. Cole wore it right before the [Monster Energy] Cup, and he kind of said it best when he said the gear, both the pant and jersey, fit more like a boxer brief as opposed to a pair of boxers. I think he kind of hit the nail on the head.
We saw Troy's guys wear it at the Cup. Is that something we will see again?
I don't know. I think it would be cool if they did. I mean we definitely want to stand alone from TLD, and we don't want it to be all the same. But time wise, with the Cup falling so close to our actual launch date, it made sense for us. Troy has a stake in it, too, but that [decision] is all on his end. I thought it was cool to see all of those top guys in Seven. I know James was stoked to have Malcolm in it, and I thought they looked really good.
You were with James at his previous gear company. What is the Eureka moment that leads to doing something like this? Obviously there is some risk here, when you wear someone else's gear you're just going to collect a check and be good. Here, he is now operating a business. You have to motivated to stick your necks out like this.
Oh yeah, there are risks on both sides. Even on my end, I could have stayed where I was at for a while. I was happy. I was friends with those guys before I started and I'm still friends with them now. I just thought this was a better opportunity for me and James obviously thought this was a better opportunity for himself. James, he's thinking long term, not just James Stewart the athlete but James Stewart the brand. I think he has a really good eye for looking long term. He can just collect a check for X amount today, or, we could do really well far down the road if we rough it out for a little bit, like we did this past year. He didn't take any money this year on the gear side, but if this works out the way we planned, this could be something he could be involved in forever. And even more, compared to partnering up with someone and sticking their name on the side of a truck and saying "I'm going racing with these guys," not there's anything wrong with that, but this is just way more legitimate involvement in the sport.
What takes so long on the business end? We saw James wearing the gear at Anaheim 1 this year. I'm sure a million things have to happen for the gear to get into production and reach consumers, but just give us an idea of the difference between making gear for one race night and gear people can buy.
It's a whole process. I know me personally, and James, too, we maybe got some flak about it taking so long to come out, but the consumer would be skeptical if it came out too quickly. It's all new. It's never been done before. People would wonder how you could do all of it in a really short amount of time. There's testing and sometimes it takes a little while to make sure the product is right. We wanted to make sure when it does come out of the gate, it's right, because you only get one shot at a first impression. But we think we're good now.
So what we saw James wear at the beginning of this year and what you have now, that's quite a bit of evolution.
Yeah, and that process is still constant. What he wore at the Cup was way different from what he wore at supercross or outdoors, and what he'll wear at Anaheim 1 I think is really going to blow some people's minds. If the evolution isn't constant, you're doing something wrong. And not just looks wise, we're talking fit and function.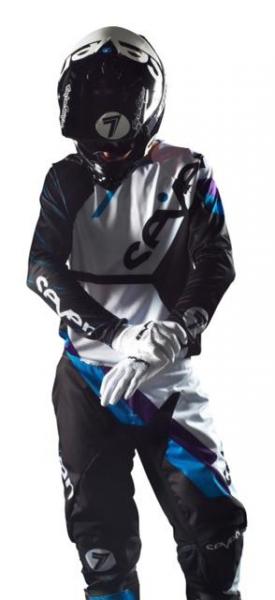 Check out Sevenmx.com for more details.
Yes you're saying if someone puts this gear on, they'll notice the difference.
Yeah for sure. As far as weight, fit. The concept was to build it for the elite athlete, and James is an elite athlete. Whether you're at that level yourself or not, it's good to know you have that option and that it would work at that level.
And for you personally, is it like you have a baby coming?
Yeah you know I don't personally have kids, but I'm sure this is kind of what it feels like! There's just been so many cool milestones up to this point, from James wearing it in public for the first time at Anaheim, to our amateur team wearing it for the first time at Freestone—that was the first time someone other than James had worn it—and then obviously the Cup. And now, we just finished our online catalog today, and that was another cool thing, to go through those pages online and make it seem like it was coming to life. It's been almost exactly a year for me here, and while that seems like a lot, in gear terms that's relatively short. I think we were able to pull a lot of things off in a short amount of time. I'm proud of that.
Will there be a time when we see James Stewart battling someone else wearing his gear?
That could have happened at the Cup! It was awesome to see Malcolm and Seely and all of those guys out there in the gear, and they could have done it. That's definitely the goal.
Well congrats. I think you made it through the hard part.
You're probably right. Maybe now I'll just put my feet up and we'll just cruise.
Sure you will!