Hello, everyone, and welcome to The Rev Up. We sit in what I like to call the transitional month on the calendar, and the month of November can be deceiving. Sure, us Americans have the big Thanksgiving holiday in a few weeks but until then there really isn't a lot going on. Or is there? In the two biggest hubs of American motocross, the Southwest and the Southeast, there are fall series races firing off every weekend. There have already been the World Vet and Western Pro-Am rounds out West, and sprinkled in the middle was the Pro Shootout at Hog Heaven in North Carolina where none other than Mike Alessi showed up to win some quick cash.
Across the pond the International Supercross races have been clicking off, and this weekend features arguably the biggest foreign supercross of the year in the Bercy SX. A couple of decades ago, Bercy set the standard for indoor supercross entertainment. More of an arenacross mixed with a rock concert, Bercy was one of the first races to use everything from gigantic stage props, (one year Ricky Johnson was introduced to the arena by a huge mechanical hand that opened up to reveal "Too Hip" himself), laser shows, and cheerleaders. Back in the day Motocross Action and Super Motocross never failed to snag some tasty pictures of the female French enthusiasts. Bercy was also a birthplace and driving force behind freestyle motocross as we know it today. The first Bercy jump contests, held over the finish line tabletop, got crazy every year. In fact, Jeremy McGrath unveiled his Superman maneuver in said jump contest in the same year the "Candy Bar" was invented by a French jumper.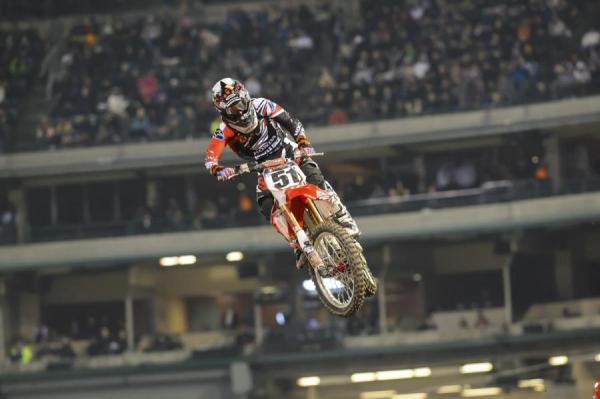 Justin Barcia and Trey Canard will battle for the King of Bercy crown this weekend.
Simon Cudby photo
Ricky Carmichael set a lot of trends with his career, and one of them was avoiding a lot of the overseas supercross races. One of his reasons for this had to be because of him suffering one of the very few injuries in his professional career at the Bercy Supercross. A broken clavicle one year put a permanent stop to RC hitting races like these, which probably cost him over a million dollars throughout his 10-year career but suffice to say he made up for that. That said, we haven't seen the supercross champion race Bercy in a long time, but with Justin Barcia and Trey Canard making an appearance this year, maybe the trend will be swinging back the other way? If those two come out firing at Anaheim 1, you can count on it.
Bercy has had a substantial amount of drama in recent events with some crazy aggressive riding, fighting in the pits, and some of the gnarliest booing ever heard at an SX event. Interestingly enough, "Bam Bam" Barcia was involved in the lion's share of that action, and with the Alessi brothers (also a source of French drama) out, the scorn of the French fans will be square on the Honda speedster. And as touched upon in 450 Words this week, Barcia and Trey Canard have quite the interesting relationship between themselves. It'll be exciting to see which of these boys comes out The King of Bercy. Or will it be neither? Who knows, anything can happen in a bull ring type environment like that and maybe someone else like two-time King of Bercy winner Andrew Short can jump in there.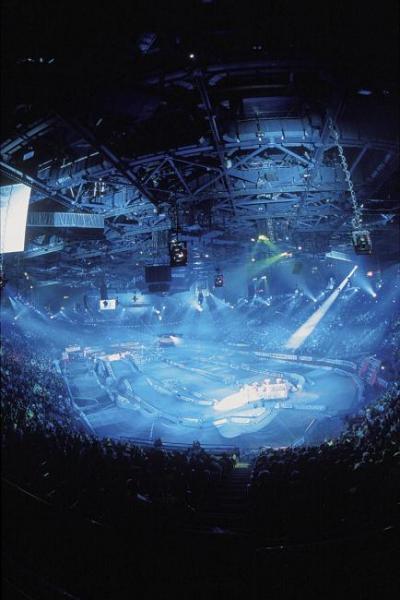 Bercy always puts on a fantastic show.
Racer X Archives
But, like I said, the month of November is kind of an odd 30 days, especially in motocross. We have all these new rookies riding on new teams, and veteran riders riding with different numbers, and it's still 2013, but they are all on 2014 mounts by now. What is deceiving is that we are devoid of major championship racing, but there are more practice laps being pounded right now around the world than maybe any month of the year! We're squeezing the last out of 2013 and the first hints of the fresh season are beginning to sprout up. All in all it is a great time to be on your dirt bike, so ready that gear bag and go hit your local track.
Thanks for reading, see you next week.