For a few years, I hosted the season-ending awards ceremonies for Monster Energy Supercross, and I still host them for the Lucas Oil Pro Motocross season. It's difficult to find jokes that go over well in an industry that really doesn't like making fun of itself (or perhaps I just suck at writing jokes), but I do have a go-to punch line that never fails.
"Folks, try to toughen up and not be offended. Because just like Justin Barcia, I'm going to be bashing riders all night long."
It works mostly because Barcia doesn't care at all about his Bam-Bam rep and is pretty much unoffendable. But sometimes other people get mad for his sake. You know who once had his back after one of these awards shows and voiced his displeasure? Trey Canard. When it was Trey's turn to come on stage he made a quick joke right back at me, and said he had to stand up for his teammate. Later he explained that he had really gotten to know Justin that season, and counted him as a good friend. I thought it was kind of cool.
The history with these two Honda riders is quite tangled, as they have now followed each other through two different teams, spending more than half of their pro careers as teammates. Their results seem to flip flop, often week to week. This year they each took turns as "guy who could break through next" as Barcia took two SX wins, and Canard was about a lap away from wins at Anaheim 1 and Millville. This back-and-forth is nothing new. Trey was the next big thing after grabbing the East Lites SX Championship in his first season, but a year later he was struggling a bit while Barcia grabbed the attention with sensational rookie rides. The next year, Canard was surging to the 250 National Motocross Championship, while Barcia struggled as the sophomore. Barcia would bounce back and snag two Lites SX Crowns, and nearly won the 2012 outdoor title. Canard missed all of that season, but they were finally back together this year in the Honda Muscle Milk truck, and flip flopped quite often.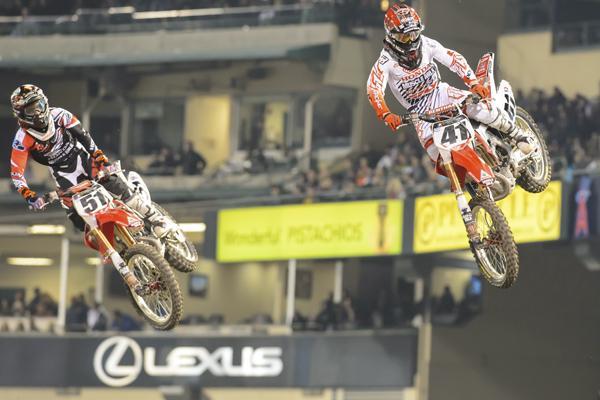 Barcia (51) and Canard have been teammates for a number of years under both GEICO and Muscle Milk Honda.
Simon Cudby photo
At this year's banquet, they were a theme again, as the Feld folks put together a hilarious video of them arguing like an old married couple in the Honda semi, only to realize they're best friends, and then hanging 24/7, hugging awkwardly, and the rest. The video was a complete joke, but somewhere inside, there was probably a truth that only Trey, Justin and those closest to them know.
It doesn't even have to be a personal thing between these two. They've just been on the same team, in the same truck, with the same equipment, garnering similar results, for long enough where each must get frustrated at times. They're both chasing Villopoto, but often, they're battling each other, too, and getting beaten by a teammate has a certain unique sting to it. This week they're both on a European journey, locking horns first in Genova, Italy (where they split main events, and Barcia edged Trey for the overall 2-1 to 1-2) and they will be at it again this weekend in Bercy.
When their careers are over, I can see these two sharing some laughs about the good times. Even right now, there will be good times, and a European sight seeing trip is probably one of them. But these riders are both hard workers and darned competitive. There will be nights of frustration, and the other guy will still be right there.