Main image by Mike Sweeney
Let us take you back to a time when dinosaurs roamed the earth. These earth-shaking, rip-roaring, stump-pulling beasts would go through anything that stood in the way. I'm not talking about actual dinosaurs. I'm talking about the mighty 500s! In the early history of this sport, the 500cc class was the man's class. The best of the best rode 500s and if you didn't race one, well you were pretty much a baby.
Somewhere along the line, however, the 250 class began to morph into the premier class and development stagnated on the big beasts. Supercross was here, 250s were awesome for that and the 500 class started dwindling in importance for manufactures. Suzuki stopped making an RM500 after 1983 and Yamaha's YZ490 remained basically unchanged from 1983 to 1989, when they turned it into a wide-ratio desert bike called the WR.
With all of that as the backdrop, in 1986 the AMA decided that having an entire series dedicated to 500s was silly when only two of the four major OEM's were really pursuing the class. The 12-round AMA Nationals were then split, with a six-round 250 class and a six-round 500 class (125s raced all 12 rounds). Under this schedule, if you were a Yamaha or Suzuki factory rider, you were screwed when the series switched to 500s. The YZ490 was way behind on development, and Suzuki didn't have a bike legal for the class at all. What do to while sitting there collecting a factory paycheck? Ride the 125 class as a part-timer.
And that's exactly what many good riders did. It was sort of weird to see top riders drop down into a class that was halfway over and they had no shot of winning a title. Not too mention there were 125 riders who were in the title hunt and had to worry about these new dudes screwing things up for them. Eventually, the 500 class dropped to only four rounds in 1993. Mike Larocco won that title, but the 500s were axed and the 250s (now 450s) began racing the full 12-round season in 1994.
But for a while there, things were weird when the interlopers dropped down and raced 125's. We've gone into the Racer X Vault to determine which riders did the best in their short time in a class that they weren't even supposed to race.
(insert voice of supercross guy here) LADIES AND GENTLEMEN, HERE ARE THE SIX BEST PART-TIME 125 RIDERS EVVVVVEEEERRRRRRRRR…..
6th: Doug Dubach
Dr. D hadn't raced the 125 nationals in four years when Yamaha asked him to ride them in 1990 and again in 1992. What about 1991? He rode the WR500. And let's not forget that Dubach was also asked to ride the YZ360 (a big-bore YZ250) in 1989 against the 500's. (For more on that, read Motocross Captured on Pulpmx.com)
If you're keeping track, Dubach rode the YZ490 in the 500 nationals in '86, '87 and '88 and then rode the YZ360 in 1989, the 125s in 1990, the WR500 in 1991 and then the 125s again in 1992. Dubach was, and is, a company man no doubt about it.
"Our 125's weren't as fast as the factory Hondas and Kawasakis but I didn't mind the bike," said Dubach about those days. "Of course Damon [Bradshaw] didn't know that the bike wasn't that good, he just twisted the throttle!"
All told, Dubach rode six 125 nationals as a part-time guy and his average finish was 14th place.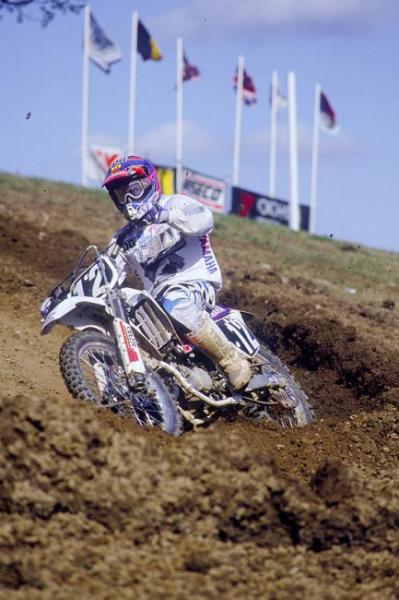 Doug Dubach was willing to race whatever Yamaha needed him to race.
DC photo
5th: Johnny O'Mara
The O'Show signed a three-year one million dollar deal with Suzuki for the 1987, 1988 and 1989 seasons. O'Mara was let go at Honda at the end of '86 despite some awesome rides and Suzuki thought they were buying Johnny 'O stock at its peak. And they kind of were, but in something that only happened to Suzuki in the mid to late 80s, O'Mara immediately got injured before the '86 season started and he basically limped around for two years on the crappy blue-motored RM's. In '89, a brand new, competitive RM250 came out and a healthy Johnny 'O was back to being the O'Show.
He had a pretty good rebound season (to give you an idea of how tough it was while he was at Suzuki, he went from #4 in 1987 to #19 in 1988 to #20 in 1989) in '89, and for the first time in two years he stayed healthy enough to drop down and race the second half of the 125 nationals.
Although he hadn't raced a 125 in four years, O'Mara had no qualms about riding the class. "Suzuki had paid me a lot of money and I didn't want to take their money and sit home without the results they wanted," he explained recently. "I didn't win anything on a Suzuki like we thought, and I had guys like Erik Kehoe and George Holland who were younger than me and maybe looked up to me. I could help them if I raced 125's.
"I know that I was faster than them on the 125 whenever we would go testing so they knew I could help," O'Mara said. "Hannah was there also and they used Hannah for some stuff as well as I. I was all for it and whatever they needed me to do was no problem."
Incredibly O'Show finished on the podium in his first race in four years on the small bike with a third at Millville 1989. But that was his best finish and all told, Johnny did five races on a 125 for Suzuki in 1989 and ended up with an average finish of 11.2.
4th: Damon Bradshaw
Yeah, the Beast from the East had a little bit of part-time 125 action back in the day. Although one year Yamaha decided that Damon should race the WR500 and he did pretty well on a bike (he somehow won a moto!) even though, in his words the bike, "would have been better off to have a steel strut instead of a rear shock because at least it would've been consistent."
His 125 results weren't very pretty. He won a bunch of races and narrowly missed out on the 125 title in 1989, so I imagine most people thought he would continue to kick ass when he dropped back down for the second half of 1990. He did exactly the opposite of that.
He raced the first three rounds (Washougal, Millville and Binghamton) and went a rather pedestrian 6-12-4 and then poof, disappeared from the rest of the series. He rode the WR500 in 1991 and then tore his ACL in 1992 and missed most of the nationals. He was back on the 125 for 1993, but by then Bradshaw was clearly over it and burnt out on racing—a bad combination for going back to a class he hadn't raced full-time in three years. He went 6-7-12-13. For the record, that 13th overall at Steel City (via 7-18 scores) was his last pro race before he retired for the first time. Bradshaw told Yamaha they could keep the rest of the money from their big-dollar contract, he was done.
In short, based on his results, Yamaha should've just put a strut in the WR500 and just set Damon loose in the 500 class because his part-time 125 rides were definitely not up to his usual standards. I wonder if he even practiced or trained during the week?
Bradshaw's average finish in the seven 125 nationals he raced as a part-timer is 9th place. As always with Bradshaw: Oh what could have been….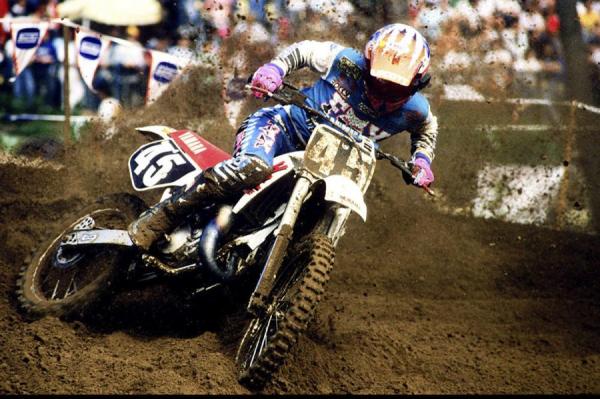 Damon Bradshaw was crazy fast on a 125 in 1989. But after some 250 races in '90, he couldn't get his speed back on the little bike.
Paul Buckley photo
3rd: Ronnie Tichenor
Tichenor raced 125s for a long time before moving to the 250 class in 1989. But as soon as those six 250 rounds were done, he moved right back down to the 125s for the second half of 1989 and 1990. Tichenor finished 2nd overall at Millville in 1989—just ahead of O'Mara in his first race back on the 125. I'm sure the regular riders in that class were thrilled to have to deal with Tichenor and O'Mara! Anyways, Ronnie had a lot of success on the smaller bike with five podiums in eleven races over two years in the small class.
"I wanted to race 125s, it was our choice if we wanted to race. It was either that or don't ride," says Tichenor now. "I remember that back then the bike was mostly a production bike and Ron Heben, the manager, didn't really like me so who knows what I got!"
Asked whether he worried about messing up the regular guys in that class, Ronnie says no. "I wasn't up there battling with those guys but that never crossed my mind about screwing up the points. I just wanted to ride the best I can to get a ride that next year."
In 1990, Suzuki's Guy Cooper was in the midst of a battle with Honda's Mike Kiedrowski for the 125 national title and the addition of 250 teammates Tichenor, Mike LaRocco and Larry Ward was key for Guy, who won the title by just one point over Kiedrowski. In 1991, Kiedrowski was on a Kawasaki and narrowly topped Cooper for the crown. Those three moonlighting yellow riders were fast, but they wouldn't hold up Coops in any way.
"I moved over for Cooper a bunch in 1990 but he was faster than me anyways," says Tichenor. "But I didn't make it hard on him at all and if I saw a green fender I made it as hard as possible!"
Ronnie liked 125s so much that when he lost his factory ride and rode for TUF Racing in 1991 he rode the 125 nationals as a privateer.
All told Ronnie ended up with an average of 6th place in the 11 races he did as a part-time 125 rider.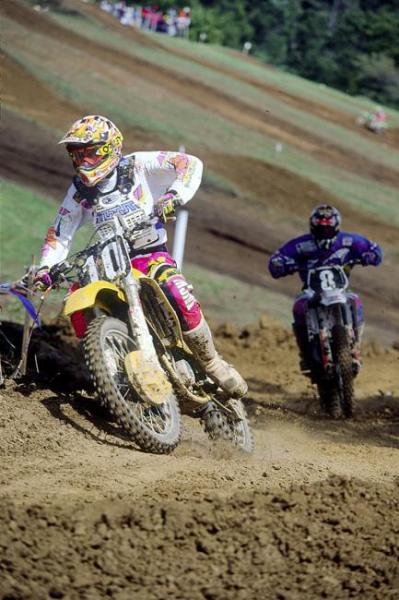 Larry Ward was up front most of the time he was on a 125.
DC photo
2nd: Larry Ward
"Big Bird" was a factory Suzuki rider that dropped down to the 125s in '90 and '91 just like Tichenor and LaRocco. Suzuki's rider choices back in the early 90s seemed to be "Let's just get a bunch of kids for 30 grand each and hopefully one of them work out" because they did have a lot of dudes for a long time.
Ward raced 125s in 1989 (on a Honda) and won a race so going into the class the next two years wasn't a big stretch for him. However, Ward was a big guy so I'm sure he needed all the power he could get. All told, Ward scored four podiums in nine races with a win at his hometown track at Washougal.
In fact, according to Cycle News, Ward had slowed down and given Cooper the win in 1990, but the next year he was not to be denied going 1-2 for the overall. The rider that beat him in the second moto? Mike LaRocco, who DNF'd the first moto after a first turn crash. So Washougal 1991 saw the Suzuki kids (LaRocco and Ward) win both motos and the overall—this would be where the rest of the 125 guys would start getting pissed. Larry also sort of moonlighted as a 125 rider when, in 1994 and riding for Noleen Yamaha, he raced the first 125 national of the year and went 16-8. Then he rode 250's the rest of the season. When I asked him on text why he did that he couldn't remember but said, "My bike was probably too slow!"
In the end, Larry Ward raced nine 125 nationals as a part-timer and ended up with an average finish of 6th place, and he did have that one win. And of course, he slowed down for Cooper a whole bunch.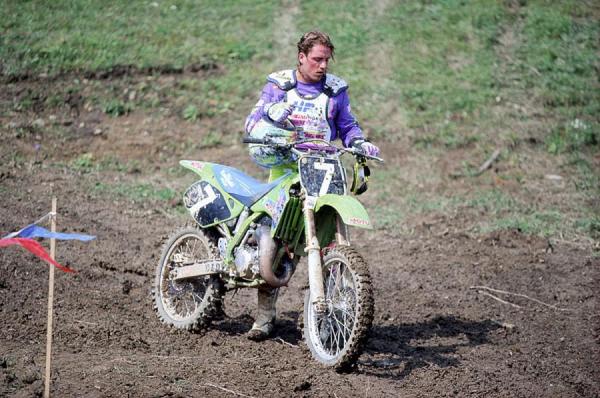 After hauling in the 125s part time for Suzuki, Kawasaki offered LaRocco a full 125 deal for 1992. He could have won the title, but....
DC photo
1st: Mike LaRocco
LaRocco shredded the 125 class whenever he raced it. Let's not forget that Mike zipped by the 125 class at first, only racing it for two seasons before getting a factory Suzuki ride on 250s. So when he dropped back for the second half of 1990, he was still really a "125 guy" and he showed it with eight podiums (including two wins) in eleven races. And don't forget about that Washougal race I spoke about above where he went DNF-1. LaRocco was so fast that in just six races in 1990 he ended the year eighth in the points! That was an incredible season where he finished top ten in 125MX, 250MX and 250SX. Let's see Ryan Villopoto top that.
LaRocco was so good on the 125 in 1990 and 1991 that Kawasaki signed him for 1992 and stopped all the silliness—they put him full-time into the 125 class and he immediately opened up a big points lead. Mike had probably already spent that championship bonus check but as we all know, he DNF'd a whole bunch of motos at the end of the year with freak mechanicals and Jeff Emig rallied from way back to win the 125 national title. And then LaRocco moved up to the big bikes, won the 500 title in 1993 and they shut it down forever.
Based on the stats (eight podiums in 11 races!) Mike LaRocco is the most successful part-time 125 national rider of all-time. Congrats on that Mike, take this honor and the fact you're the still the defending 500cc national titleholder and see if you can get a free coffee somewhere. Oh and with LaRocco, Tichenor and Ward's success, congrats to Team Suzuki for Guy Cooper's 1990 125 National title, clearly it was a team effort.
In eleven career races as a part-time 125 rider, LaRocco's average finish was a third place.