With so many young riders grabbing attention and accolades this year—Martin, Webb, Cianciarulo, Savatgy, Bisceglia, McElrath and on—it became easy to forget about Zach Bell. The 2012 AMA Horizon Award winner and has shown great speed in a few shots at the pros, but he's had some crashes, too, and ultimately a shoulder injury kept him out for just about all of the Nationals this summer.
The GEICO Honda rider is looking for a reset in 2014. We called him today after he was done with supercross practice at James Stewart's house in Florida.
Racer X: First question is obvious: Where have you been?
Zach Bell: Well, I hurt myself in Toronto, had a shoulder injury. I got a CAT scan and an MRI on it, and they said it was okay, so I came into Hangtown just trying to ride myself into shape. At Hangtown, I couldn't hang on for anything. At the second race, I came in with my shoulder taped up, but I had to pull off. My arm was just falling off. So I had shoulder surgery, and I've been training hard with my new trainer, Gavin Gracyk. I've been back on the bike for about a month now, and I just got the invite from James [Stewart] to come down to his place and ride.
It would have been your first full season outdoors. Was it hard to watch?
Yeah I think it would have been a good season for me. I felt really prepared and everything was going right. I was hoping to be top five. I didn't even fall in the two motos I did, I was excited about that. But having to sit home and watch that, it kind of sucked because I was expecting a top five in points. I just have to move forward.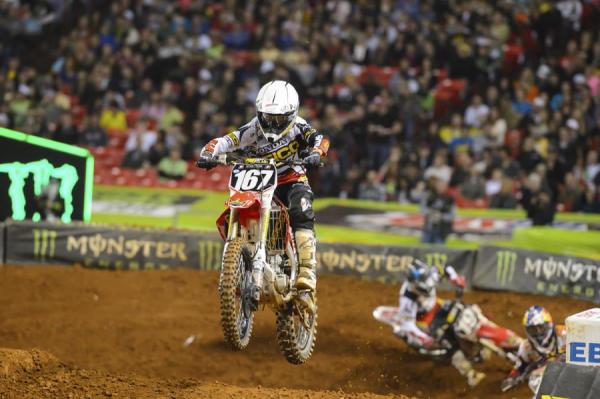 Zach Bell is trying to rebuild in 2014 after a tough rookie season.
Simon Cudby photo
You've had some huge get offs and big injuries in the past, but this shoulder injury wasn't even one of those deals, right? It wasn't a huge crash.
Yeah I was just going through the whoops in Toronto and someone fell in front of me. I had nowhere to go, I had to stop or I would have hit him. I dropped the front end down and went over the bars a little bit. I thought I was fine, but after a night or so, I could not move my arm right for about a month. They said it was okay, but after Hangtown I went and had another MRI, and they saw a bunch of stuff was torn that they didn't see the first time. I got that fixed, now it's time to get back on schedule.
Do you even consider yourself to have had a rookie season, or was this whole year a write off? How do you look back at 2013? Is it just an empty year or did you get something out of it?
Yeah, it's just like [Justin] Bogle. He went through the same thing last year but he had a good year this year. I just want to show what I can do but not go out there and hurt myself anymore than I have in the past. I feel like I can learn from that and keep moving forward.
Yeah let me ask you about that. You had that huge crash in your first race in supercross, so now people remember you as the guy from that huge crash. Do you feel like you ride the edge and push it, or do you not see yourself that way?
I don't feel like I'm running on the edge at all. Something like that, it was just a mistake that I did not know was coming. It could have happened to anyone, just like how Ryan Villopoto crashed. You can't let that stuff haunt you, and keep it in the back of your head. I just put it behind me. For the rest of supercross, I just had a few tip overs and I feel like I was improving, I was happy about that. Then I went down again. I was bummed about that.
So you don't feel like you need to back it down or slow it down or anything like that?
I just try to ride the track in my comfort zone, just like I would my track at home. Like, when I crashed [in Dallas], Dean Wilson was behind me, but I didn't even know he was behind me. I was just riding and having fun. It happens.
You're one of the smaller guys out there. You're working with Gracyk now, has that been a part of your program? Getting bigger or stronger, doing more lifting or anything?
During the off-season I did more strength training and body mass stuff. I've put on a few pounds and I've gotten a little stronger. Fitness was one of the things I felt I needed to work on because I'm so little and that bike is so fast, it's hard to hang on. But we did three 15-minute motos today and a couple of six lappers, and I felt good. I'm feeling better and better every day.
Has to be fun at the Stewart place.
Yeah I pulled up this morning and we were walking the track, James comes up and is like, "Hey, the whoops are kind of sketchy. Be careful and have fun." I went through them fine, but I was thinking, "Let's just take it easy on the first day."
Have you been there before?
No, first time. It's a great opportunity to learn from someone like James and his little brother Malcolm how to be a better person.
Let's talk about your team. They've had a lot of big names move up to the 450s. Is there pressure there to fill those shoes?
Yeah and that's why I'm here. I had those mistakes during my rookie season, and I want to be with someone who has been there, at the top, and I just want to follow his trail. I want to make my expectations higher.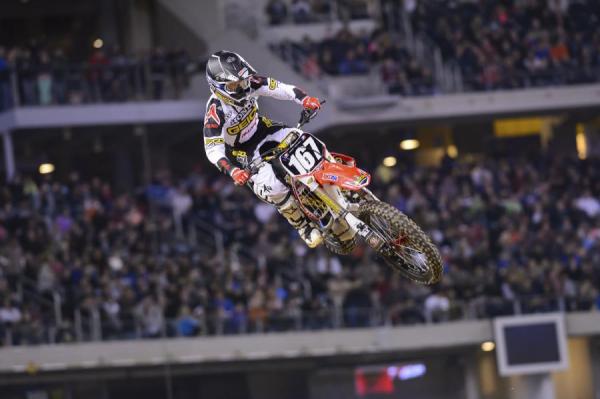 Bell is currently training down at Stewart's place for the '14 Monster Energy Supercross season.
Simon Cudby photo
So the goal is much better in '14?
Yeah, I'm not sure what coast I'm doing yet. But either way I'm going to take the first few races to test the waters. If I get tenth place, that's fine with me, I just want to build a base where I can keep going, instead of being up, then down again, then climbing back up.
Yeah and how many rookies and young guys are out there now? Has to be a lot of riders you raced in the amateurs that you'll have to bang bars with now.
Yeah I'm excited about that. I've raced with Adam [Cianciarulo] and Cooper Webb and Shane McElrath ever since I was a little kid on 65s. It's good to be back racing with them. Cooper did well this year and so did Adam.
Can you use that as a little gauge of where you can be?
It really depends. It's just all in your head—at least it is with me. My season was bad and it gets depressing. Watching Cooper and Adam, that's the way I should have done it, just build your base instead of going out there and trying to win your first race. Like Southwick last year. That was a great race, I was leading for a while but I tipped over and hit my head.
Hey that's right, almost every race you did starting off, you led laps. That's not easy to do against the best in the world.
It took a lot of work. I was at home running five-lap sprints as fast as I could, so I would know what kind of pace they were running.
So now it's a longer building process so you can stay there the whole time.
Yeah it should be.