Stunt Motorcycle Rider Auditions in L.A.
Feld Entertainment is seeking Male and Female STUNT MOTORCYCLE RIDERS for the new touring arena stunt spectacular, Marvel Universe LIVE!, featuring dozens of the famed Marvel Superheros and Villains.

Contracts will run approximately 12 months with competitive pay, benefits, and domestic and international travel.  STUNT MOTORCYCLE RIDERS should be proficient in wheelies, stoppies, small ramp jumps, street bikes, dirt bikes, and controlled lay downs are a plus.  Stunt and martial arts training and experience is a huge plus, but not required.

Some candidates that are invited to attend an audition will be asked to learn a stage combat routine.  You must be at least 18 years of age to audition.

REQUIREMENTS:
• Seeking African American and Caucasian males 5' 11" and taller.
• Seeking Caucasian females 5' 6" and taller.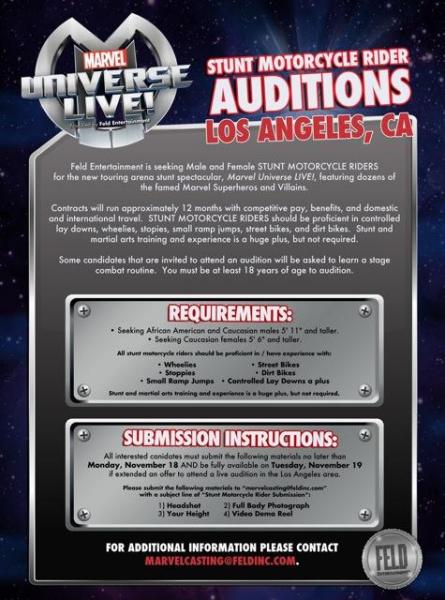 All stunt motorcycle riders should be proficient in / have experience with:
• Wheelies
• Stoppies
• Small Ramp Jumps
• Street Bikes
• Dirt Bikes
• Controlled Lay Downs are a plus

Stunt and martial arts training and experience is a huge plus, but not required.

SUBMISSION INSTRUCTIONS:
All interested candidates must submit the following materials no later than Monday, November 18 AND be fully available on Tuesday, November 19 if extended an offer to attend a live audition in the Los Angeles area. Please submit the following materials to "marvelcasting@feldinc.com" with a subject line of "Stunt Motorcycle Rider Submission":

1) Headshot
2) Full Body Photograph
3) Your Height
4) Video Demo Reel

For additional information please contact marvelcasting@feldinc.com.