Before each race weekend, we post 10 Things to Watch to highlight some of the storylines heading into the weekend. Sometimes those stories come together in spectacular fashion, but other times the drama doesn't materialize at all. Let's follow up with our 10 Things to Watch from the Monster Energy Cup and see how they turned out.
Another Million
We asked: Will the reigning supercross and motocross champ cap off another outstanding year with yet another million-dollar paycheck?
What Happened: Ryan Villopoto didn't grab the seven-figures, but his pursuit of it was certainly something to watch. He won the first race then battled for the lead in the second race tooth-and-nail with James Stewart before missing the Joker Lane and then crashing out. It's one of the few big errors we've seen from RV since…well, since he crashed out of this race a year ago.
Repeat Status
We said: For Justin Barcia "His second 450 season starts this weekend—with a title defense."
What Happened: In the end, Barcia's second appearance at the MEC wasn't as good as the first. He had some good moments, though, sticking close to the Stewart/Villopoto battle in race two en route to a runner up finish, which put him in contention for the overall. The last race didn't go well, though, and next year Stewart gets to run the number-one plate.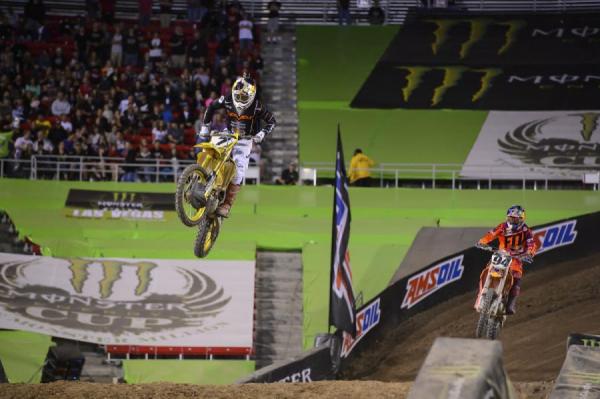 James Stewart made the most of his Monster Energy Cup debut.
Simon Cudby photo
Stewart's MEC Debut
We said: With the Monster Energy Cup featuring a short, three-race format, with each race consisting of just ten laps, it plays directly to one of Stewart's greatest strengths. One of the most popular riders in supercross history, having JS7 in Vegas will definitely be something to watch.
What Happened: Well, we could take credit and say the short 10-lap races fell into Stewart's strength, but even he was quick to point out, post race, that he actually rode better as the races went on. Either way, a great performance.
Back in the Spotlight
We Said: After a rough go of it at the Motocross of Nations, we asked, "Will Dungey silence the critics in Vegas?"
What Happened: Well, unfortunately another rough one for the Dunge, who did finish a solid second overall, but suffered that huge gaffe missing the Joker Lane in race one. We're going to guess that the '13 MXoN and Monster Energy Cup will not go down as his all-time favorite race memories.
Welcome Back Deano
We Said: Dean Wilson makes his return to racing this weekend at the Monster Energy Cup.
What Happened: Sucked for Dean in the first race, where he got a good start but went down in the slick stuff, then got knocked down again trying to pick his bike up. That left him 20th. But he was solid in the other two races with a fifth and a sixth. All in all some good riding in his first-ever stadium race on a 450.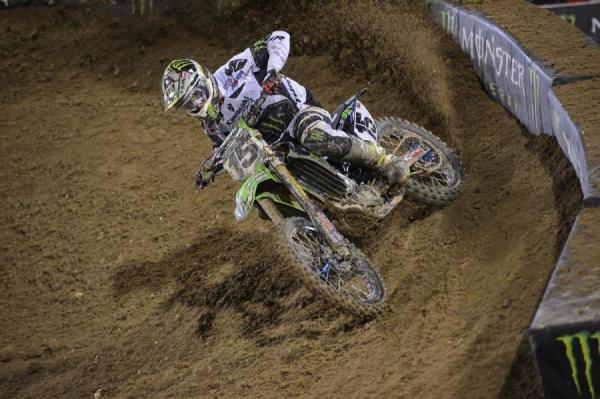 Dean Wilson was back for the first time since shoulder surgery and looked good on the 450.
Simon Cudby photo
Head to Head
We said: Of Roczen and Tomac, "This weekend, the two will be going up against one another on 450s for the first time in history. Will they go at it like they did at the Motocross of Nations?"
What Happened: It would be hard to match that incredible second moto fight at the Motocross of Nations, but lo and behold, the two 450 rookies ended up battling right down to the final lap of the final race of the night, with Tomac slicing past when Roczen had to take the Joker Lane late. They finished third (Roczen) and fourth (Tomac) overall. The best rivals always seem to find each other on the track!
2014 YZ450 Debut
We said: "Josh Grant, Cooper Webb, Alex Martin and PJ Larsen are just a few of the Yamaha supported riders that will be hoping to show what the new machine has to offer."
What happened: Better luck next time. Grant's 15-10-7 was pretty much forgettable, the rest of the blue bikes failed to make the top ten (Martin and Larsen did not qualify for the night show). This is a small sample size—see you at Anaheim.
Webb Steps Up
We said: MyPlash/Metal Mulisha/Star Racing Yamaha's Cooper Webb will make his professional supercross debut in Vegas … on a 450.Will Webb be competitive against the big boys?
What happened: As you read above, Webb didn't make the top ten, but 12th overall in his first ever pro stadium race (and on a 450) was pretty good. He also won the LCQ to make the show.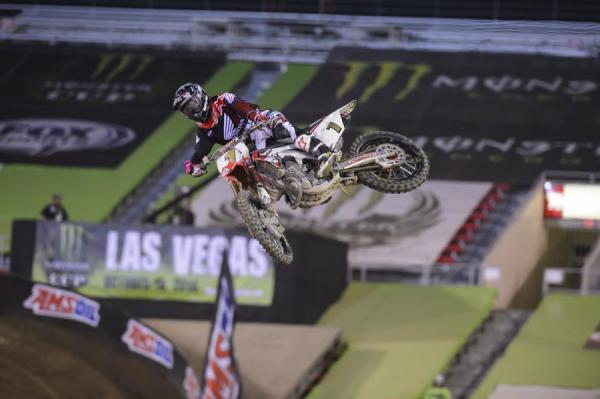 Justin Barcia wasn't able to go back-to-back, but he was in contention.
Simon Cudby photo
Amateurs Make Their Case
We asked: Who will shine under the bright lights in Sin City?
What happened: RJ Hampshire shined brightest with the overall win. We also wrote that Jordon Smith was probably the highest-profile rider in the field, and he definitely grabbed some attention by winning one moto and also swapping, saving, and endoing spectacularly in another.
Best Whip
We said: Making its debut at the Monster Energy Cup this year will be the Dirt Shark Biggest Whip competition
What happened: It was quite a show, with different whips styles being judged against each other. In the end, the upside-down whips of Tom Parsons snagged the win, with the backwards whips of Edgar Torronteras and Jarryd McNeil second and third.