Rutledge Wins Women's AUS SX Opener
X Games Women's Moto X silver medalist Meghan Rutledge has taken opening spoils at today's inaugural round of the EVE Women's Supercross Championship at the Tissot Australian Motorcycle Grand Prix.  

The Australian rider, won two of today's three, six-lap races to take the overall ahead of American rider Jessica Patterson and Japan's Sayaka Kaneshiro.

"It feels great to take the overall at the first ever round of the EVE Australian Supercross Championship," Rutledge said.

"I won the first and third race but I got a bit tangled in Race 2. I really wanted to win all three races but it wasn't to be."

Multiple World Women's Motocross Champion Jessica Patterson won today's second race and finished second to Rutledge in Race 1 and 3.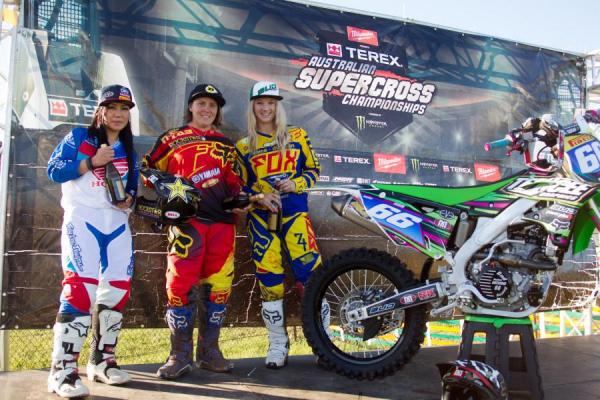 Kaneshiro (left), Patterson and Rutledge made up the podium.
Shayne Rice photo
"I had a pretty good day today," Patterson said. "In the opening race I was still getting used to the track but in Race 2 I felt a lot more comfortable.

"The third race I wasn't that happy with but I think it will get better as the weekend goes on."

GTYR Yamaha rider Jay Wilson won today's 12-lap under 19's final ahead of Yamaha rider Joel Wightman and Berry Sweet Yamaha's Corey James.

The second round of the EVE Women's Australian Supercross Championship will be held alongside the fourth round of Milwaukee presents the Terex Australian Supercross Championship at the Tissot Australian Motorcycle Grand Prix tomorrow. 

EVE Australian Women's Supercross Championship Round 1 Results - Phillip Island

1. Meghan RUTLEDGE (Kawasaki), 72, 2. Jessica PATTERSON (Yamaha), 67, 3. Sayaka KANESHIRO (Honda), 62, 4. Tamika EDWARDS (VIC), 54, 5. Kaitlyn WAKARTSCHUK (Honda), 48, 6. Maddy BROWN (VIC), 15