Sam Boyd Stadium
Las Vegas

,

NV
Monster Energy Cup
Monster Energy Cup
"I want to get back to where I was at my best," said Jake Weimer on the Thursday morning prior to Saturday night's Monster Cup over in Las Vegas, Nevada. "I was at my best in 2009 and 2010. In 2010 I was the West Coast Champion and in 2009 I had a solid season where I was second in the West Coast points and won three races." After both a physically and mentally blemished 2013 racing season – in both the stadiums and on the natural terrain tracks of the American motocross circuit – Monster Energy Kawasaki factory rider Jake Weimer was left a bit battered and bruised (literally and figuratively). Eleventh overall in the final SX points and sixth after the last National of the year, the native of Rupert, Idaho found himself looking for clues as to just what went wrong. And, after he took a short break from the sport and caught his breath and found a bit of perspective, he found them. And when he did, well as you're about to read, he "hit the reset button". And that's what this interview with Jake Weimer is all about – starting things all over again. We'll let Jake explain…
Racer X: Jake, as far as texts and calls go we've been playing tag this week. From what I can gather, it appears that you've been keeping busy as far as preparing for the Monster Cup as well as the entire 2014 season...
Jake Weimer: Yeah, for sure. Obviously, after the outdoors I took a little bit of time off and just hung out and laid low. And probably for about a month now I've just been trying to get back into the supercross deal and getting ready for Monster Cup and obviously everything that goes with that. That means testing and getting back into training and just getting back into the swing of supercross, really.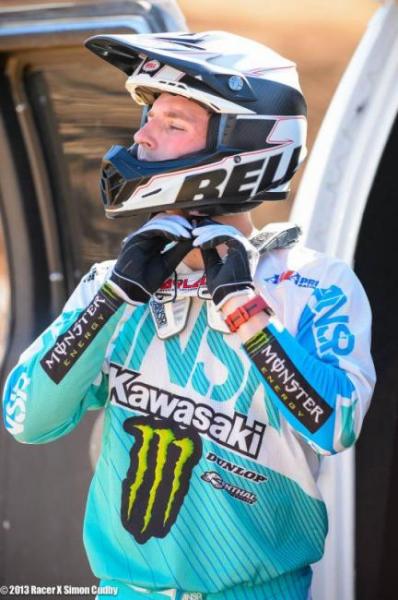 Jake Weimer has had a solid month of SX testing under his belt headed into the MEC.
Simon Cudby photo
Are you attacking this Monster Cup race pretty seriously or is it more of just a hop, skip and a jump along the way to Anaheim 1 and the start of the 2014 Supercross Series?
I mean it's obviously just a one-night deal, so I don't know… I guess when you just randomly think about it, it's not a super-big deal, but when you get there, and when you race, and as a racer, you always want to do well. It's important. It's always to show up and do good. So, yeah, obviously I've been training and getting ready so I guess that says something.
As far as the format and the three 10-lap Main Events, as well as some of the other inordinate elements of the Monster Cup, do you like the uniqueness of the event and what it stands for? Can it, or does it, work for you?
Yeah. I think it's a great idea. I like what they're doing with the event. This will be their third year now. Last year was good. I mean even the first year was good, so I assume this year will probably be even better. Yeah, I like what they're doing; I like the format; I believe the Joker Lane is back again, which mixes things up. Yeah, it's fun. Technically, it is still kind of off-season but we want to be ready and do well at the race. I think everybody, well maybe not everybody, but I know a lot of us enjoy going to Vegas and hanging out and racing. I always have fun racing there. I like what they are doing.
There is definitely going to be a great cast of characters involved, huh? Villopoto, Dungey, Stewart, Barcia, Tomac, Roczen, Wilson...
Yeah, it seems like this will probably be the biggest year that we've had at the Monster Cup, as far as the depth of the riders. I think last year was better than the first year. From what I've heard, it sounds like there are going to be even more guys. I think there are a lot of Lites guys who are going to ride who will be fast. It sounds like a lot of the top guys will be there.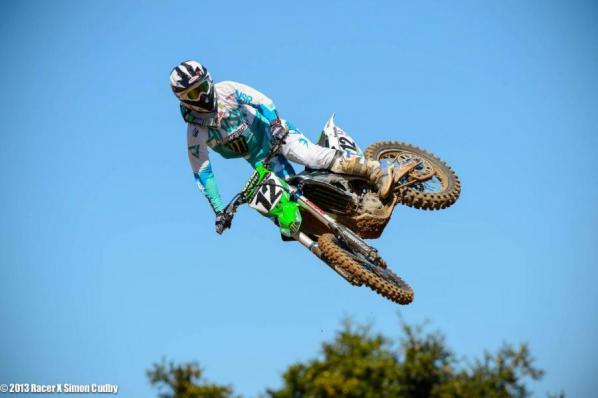 Weimer out at the Kawasaki test track earlier this week.
Simon Cudby photo
Going all the way back to your early Factory Connection Honda and MGM Grand days, you've had pretty good luck in Las Vegas, haven't you?
Yeah, I have. The first professional race that I ever did was the U.S. Open in 2005. That was the very first time I ever lined-up on a professional gate.
Man, I remember that! No mean feat considering my "luck" in Las Vegas. Didn't you place on the podium one night?
I don't do that well the first night, but the second night I got third. So, yeah, it was fun. It was good.
And as far as the 2013 Monster Energy Supercross Series finale at Sam Boyd Stadium?
It probably was my best round of the 2013 season. I holeshot both my heat race and the main event. I got second in my qualifier. I led it for a while but then Dungey got me at the end. In the main, I ended up fourth.
Well, now for the tough question: you had a real tough year in 2013, didn't you? You started off well in the first three rounds of the supercross series, but then you got sick and then it just seemed like things started to come unglued for you…
Yeah, like you said… The first couple of rounds weren't too bad. At Phoenix, at round two, I wasn't really feeling that good. I kind of felt a little bit sick, but it wasn't that big of a deal so I didn't really worry about it and I kind of just kept doing my thing. Then things kept getting worse. I don't really get sick that often and things just kept getting worse so I finally went to the doctor and then at that point I developed pneumonia. At that point it was kind of like, "This is pretty serious. You don't really want to mess around with that!" And then I waited – and I don't remember how long - a couple of weeks and I didn't really do anything. I went, actually, to Oakland for round four, which was the following week after they told me I had pneumonia. The doctors told me, "It's not bad enough yet that you really need to worry about it, but you need to keep an eye on it." So I went to Oakland rode practice just to see how I felt, and I felt terrible, so I didn't ride or race Oakland. So then I took another week off and then I decided to race the last Anaheim round, which I shouldn't have. I should have just sat at home and waited to get healthy, but I raced and crashed and broke some ribs and then I was dealing with that for a while. It just dug myself in hole and it was hard to get out. Yeah, it was difficult, for sure.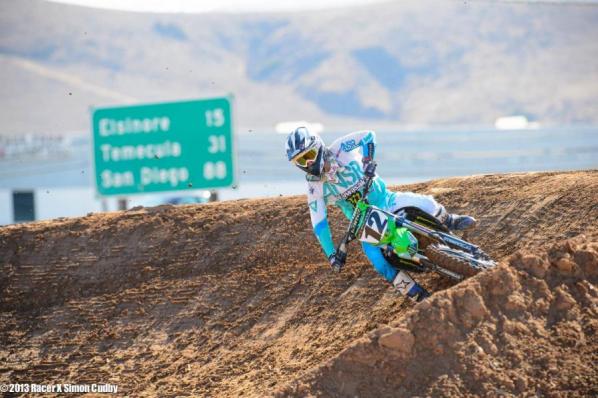 Weimer is looking to rebound, starting with the Monster Energy Cup.
Simon Cudby photo
The Nationals were up-and-down for you, although it seemed like things started to pick up quite a bit in the twilight of the series. To that end, as far as supercross goes, are you looking at this Monster Cup race as an opportunity to, perhaps, infuse yourself with some confidence?
Well yeah… Obviously, that's what you want to do, especially coming off a season that you're not really proud of. Things did get better towards the end of outdoors and I started to get some confidence back and I started to feel good on the bike again and I think the last three or four rounds of outdoors were the best rounds I had all year. I do look at the Monster Cup race as like, it's a good opportunity to get in there and mix it up and see where I'm at and see how I'm riding. The last few weeks with riding supercross I feel good and I feel better than I did last year for sure, at this time. I'm good. I'm healthy and happy. I would like to go there and see where I'm at and get some confidence out of the thing.
In any form of racing - or I guess with any form of anything - once you lose confidence in yourself, things can go south pretty quickly. I know in some instances in my life, once I lost confidence in myself, it was like the hole just kept getting bigger and bigger. I mean, this isn't about me, but maybe you know where I'm coming from…
Well, what you just said pretty much describes all of 2013 for me. Once I got sick it kind of just snowballed from there. Then there was broken ribs involved and then there were confidence issues and then it got ugly. I mean I'm definitely in a better place now and everything is going well. Ryan and I have been testing and getting out bikes set-up for supercross and just going through all that and just taking the steps that you take to get back into supercross. I'm also back with my old trainer Randy Lawrence. Randy helped me win my West Coast title in 2010. I'm excited about that. We've been working together for the last month or so and it's been fun. My confidence is starting to come back around and everything is good.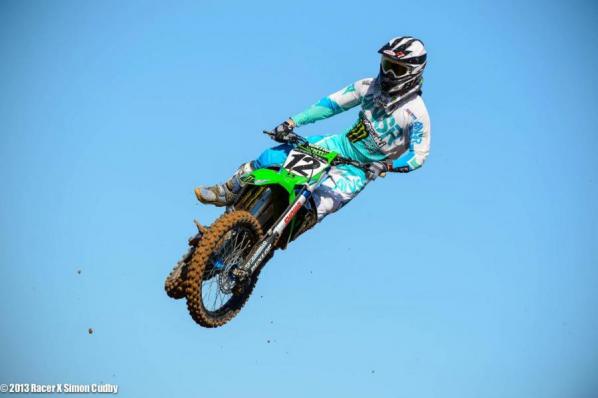 Weimer is now working with his former trainer, Randy Lawrence.
Simon Cudby photo.
Well, that's kind of cool. I know you had been working with Aldon Baker, and no disrespect to Aldon whatsoever, but with Randy, is it more of a situation that maybe he knows you a little bit better since he was with you earlier in your career?
I mean my most successful years in the sport were with Randy. Probably just on a mental level and all of that kind of stuff that involves racing and confidence and all that sort of stuff, and I guess this is the only way I know how to describe it is that Randy just kind of speaks my language and he's able to get through to me. I kind of like how he goes about kind of the mental part of the sport. I think that we work well together. We've spent the last few weeks together and things are going well so I'm looking forward to Monster Cup and then having a few months to get ready for Anaheim and back into the supercross series.
Well, Jake, you sound real good. You sound like you just sort of looked at last year and wiped the blackboard clean, you know?
Pretty much! Pretty much! At some point you just gotta hit the reset button and that's basically what I did and start completely over. Like you said, I wiped the whole chalkboard clean and I'm just trying to go back to the last time that I felt like how I should be. So that's kind of the angle that I'm going with right now and so far, so good.
Come the end of the Main Events on Saturday night and as you're changing into your street clothes, what sort of performance at the Monster Cup would stoke you out?
Well, that's kind of an interesting question because Randy asked me that just the other day and I started talking about this position and that position and talking about all these and basically he told me, "Don't look at it like that because there are a lot of things that aren't in your control right now so you need to set personal goals that only have to do with you and are only in your control. Set goals like, 'You want to start in the top three in all three Main Events.' Obviously there are of those small things that I'm going to be looking for. It's a tough question… Honestly, if I was on the podium I'd be stoked. I think that would be a successful night of racing. The biggest thing for me right now is to get good starts and see where my speed is. I want to see how all that is. There are a lot of things out of your control with short races like that, but I mean yeah, I want to be up mixing it up with the people that I feel that I should be. I guess that's the only way I can say it.