2014 Seven Racewear Debut at MEC
Seven was derived from Troy Lee & James Stewart's passion for speed, performance and style. It's a brand created to take athletic racewear to heights never before reached. Seven is racewear designed around the athlete and his highest performance demands.
The 2014 Seven racewear line will make its highly anticipated debut at this weekend's Monster Energy Cup in Las Vegas.
Seven athletes James Stewart, Jace Owen and Max Markolf will team up with Team TLD athletes Cole Seely, Malcolm Stewart, Jessy Nelson and Justin Hoeft at MEC. These significant seven will take to the track in the 2014 Rival racewear kits.
"We wanted to launch Seven at MEC this weekend. It's a cool race and I'm super proud of the new line. We've been working on it for well over a year. In fact, James had asked that his brother Malcolm race in it at a National this past Summer. We couldn't do that at that time, but I offered up the entire TLD team for MEC," said Troy Lee.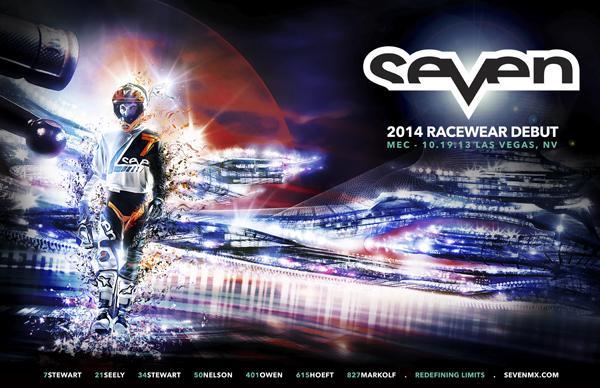 The Seven will debut with the Rival line which will be available in three designs & colorways along with a uniquely designed TLD SE3 helmet that will merchandise with all-three racewear sets. Two glove styles; the Zero and the Rival round out the collection.
The entire Seven line will be available at key Authorized Seven Dealers and at www.sevenmx.com mid-November, 2013. Visit www.sevenmx.com for more details.