FMF KTM's Charlie Mullins was on the ropes in the Amsoil Grand National Cross Country Series, as his teammate Kailub Russell put up a five-race win streak to lead the standings down the stretch. Yesterday at the ITP Powerline Park GNCC in Ohio, Mullins answered back with a win, which sets up a winner-take-all title showdown at the thirteenth and final GNCC race in Indiana two weeks from now. We called Mullins to talk about his GNCC win and his ISDE experience from the previous week.
Racer X: Well, good job this weekend.
Charlie Mullins: Thanks. I had a really good run, just doing what I had to do to stay in the championship hunt.
Is there anything you can point to that was different? Kailub had put together a five-race race win streak.
I don't know. I think going over to Six Days helped just to have a change of pace. But I do the same stuff every week, I think it was just one of those days where everything clicked. I got a good start and didn't have any real crashes, it just worked out to get another win.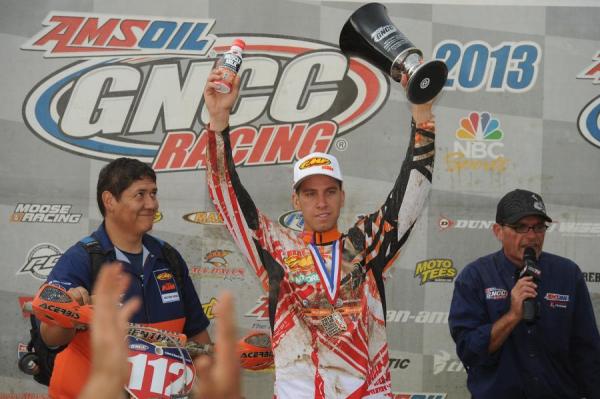 Following his win at Powerline, just two points separates Mullins and Russell with one round to go in the 2013 season.
Ken Hill/GNCCRacing.com photo
You didn't have any crashes at all?
Well, I had one where I kind of stuffed it into a dust berm, but it was one little mistake. It was all good.
Okay, talk me through this. When I first started covering this series about a dozen years ago, it seemed like everyone had the craziest races. Everyone talked about crashes and getting stuck, it was nuts. Then Juha Salminen came over in 2005 and he was actually able to pretty much run solid all day long, not crash or make mistakes. Then you came in around the same time and it seemed like, on a good day, you and others were able to start doing the same thing. Has the game changed that much? Does it seem like there are fewer mistakes now?
I think the way the tracks are now, they're not too technical. This weekend had a few mud holes, but as far as not making mistakes, it wasn't that bad. The race before in Pennsylvania, it was more technical with ruts and I made a lot more mistakes. But years ago, the tracks weren't that different. We always race after the quads so the trail will always be similar. I don't think the tracks have changed that much, I just think we've all become better all around riders once the Europeans came over and showed us how it's done.
I remember when you first turned pro in '06, you'd say after the race, "I just wish I could have a clean race and stop making mistakes." And I'd think, "Oh, that will never happen! No one can do that for three hours." But now you guys actually do!
When I first came into the pro class, I wasn't very mentally prepared for the challenge ahead of me. I made a lot of mistakes and I would let the pressure situations get to me. Now when I'm in those situations, those situations don't bother me like they used to. In the beginning it was really challenging for me to hold it together for three hours.
Well, there's going to be some pressure now! Showdown at the final round in two weeks. What's the scenario?
From what I understand, he has a two point lead on me, so it just comes down to whoever finishes in front of who at the final round. All I can do is try to put in my best race and whatever happens, happens. I'm excited for the challenge. It should be good, and Crawfordsville is always a good track. It's going to be intense, but hopefully I can finish in front of him and it will all be good.
You're teammates. You guys manage to still keep it cool between you? It's got to be weird being in the same truck all morning.
Yeah we get along well. On race day mornings we kind of stick to our own programs. It's not high tension or anything but obviously we both want to win, so we stick with our own people and do our own thing.
We've talked to you a few times this year about your schedule—racing GNCCs and National Enduro, and the ISDE. Are you worn down at all? Does it feel different when you wake up on a Monday?
No, it's good. We got home last night, drove all night. We've been on the road for a month, and in that month I wrapped up the National Enduro Championship, we had some GNCCs, and I was in Italy for two weeks at the ISDE. Right now I'm a little tired, it's definitely tough traveling with our little boy, he definitely jacks with our schedule when you're trying to drive…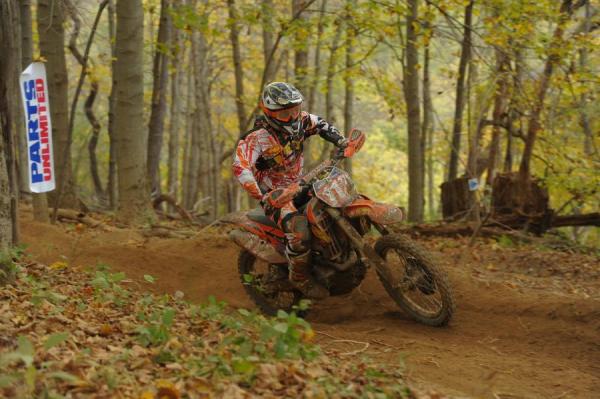 Mullins and Russell will square off for the XC1 title October 27 at the Ironman GNCC in Crawfordsville, IN.
Ken Hill/GNCCRacing.com photo
[Baby crying in the background]
Yes, I can hear it!
Yeah that's right. He kind of prepares you for operation on little sleep.
How was ISDE for you?
It was good. The team result [second overall] was great. When I talked to you before I said I'd like to be top ten and top five would be great, and I finished ninth. So I'm kind of happy with that, but I feel like I had two crappy days. Day four was just a bad day for me, struggling to put it altogether. Day 5 I had a rear wheel issue where my spokes were coming out. But overall I liked my special test times, I felt competitive. I would have liked to have done better but I got out of there healthy and I'm still prepared for the GNCCs, so it was good.
Did you have to baby the bike all day, riding on those spokes?
It was kind of weird. I was checking my spokes all week, and they started falling out. You're not allowed to change wheels, so at the check I would have to try putting some spokes in, and you only have six or seven minutes to do it. It was a weird day and I think I was too focused on getting the wheel to the finish instead of going fast in my special tests. That was a high stress day for me, but I got through it, kept the spokes in it, and got it fixed for day six.
You have a race this weekend?
Yeah, I have to fly to Oklahoma this weekend for a National Enduro. Should be good, I already have that title wrapped up so I'll I just have fun and try to get another win. It's fine, we just have the final GNCC the next weekend and then I'm off until March, so I'll just put in two more good weeks and then sit back and relax.