RedBud Annual Grass Race This Weekend
BUCHANAN, Mich., – The annual 'Michigan Shift' of stuff in the garage - where dirt bikes yield space to hunting gear and snowmobiles – is starting to take place … which means it's high time for the 24th annual Throttle Jockey RedBud Grass Race, Oct. 12-13.
The swan song of the 2013 Great Lakes Motocross championship season at RedBud – aka "America's Track" – the annual Grass Race delivers competitors back to the roots of the sport, re-creating how tracks used to look – natural terrain churned black for a weekend by hundreds of knobby tires.
"This year's course is one mile in length and will include the stink pile of mulch in the back, a flooded water hole shortcut, if you dare, lots of step-ups and step-downs, off-cambers, multiple lines through the trees and more … all with the grape vineyards as a backdrop at no extra charge!," said RedBud's Tim Ritchie.
An all-new track will highlight the 2013 Throttle Jockey RedBud Grass Race's long-running classic "XR National Championship" races, one class for single shock XR 75s and 80s and the other for the old school twin shockers. It's a 3/10 mile course within the grass track, with a hand-on-the-helmet flag start that fits the bike era, and all of the action right in front of the spectators.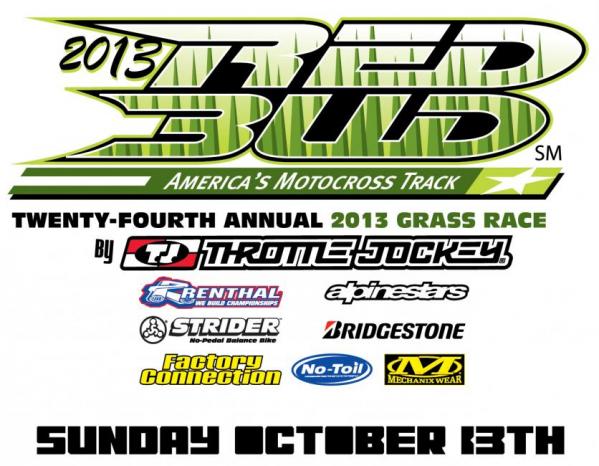 This (supposedly) just-for-fun classic race on the cusp of Halloween combines classic mini bike racing with Trick-or-Treat costumes. Names like Stanton, LaRocco, Wagner, Akin-Wagner, Rose, Borcherding, Flickinger, Weatherholt and Sodetz have all contested the XR Championship in the past. In fact, one year LaRocco was awarded a custom pumpkin light for his XR Championship podium finish – the weekend after winning $100,000 at the Las Vegas U.S. Open of Supercross!
Add to that names like Burleson, Bowen, DeHoop, Feist, Grewe, Smith, Wey and Witmer and you never know what Michigan Mafia names might show up in the starting gate next to you!
This just in from Jeff Stanton: "We're headed to Saginaw Bay for the opening of duck season, but Toren and I are trying to get back in time to ride Sunday."
Racing memories laid to rest over the winter months, promising to return as new grass in the spring. The final weekend of competition for long-standing rivalries in the region that culminates in a party of sorts, celebrating the great sport of motocross and another successful year of competition in the Midwest!
Grass Race Information
What: 24th annual Throttle Jockey RedBud Grass Race
When: Saturday & Sunday, Oct. 12-13
Time: Saturday practice on the pro track (10 a.m. to 5 p.m.) for bikes and ATVs. Racing on the Grass Track Sunday, along with the XR Championships. Practice starts at 8:30 a.m. on Sunday
Where: RedBud, Buchanan, Mich.
Format: Open Riding on the pro track & KTM Kids Track Saturday. Racing on the Grass Track & KTM Kids Track Sunday.
For the Kids: Trick-or-Treating and pumpkin carving in the pits Saturday after Trick –or-Treat.
Prizes by: Throttle Jockey, Skull Candy, Factory Connection, Renthal, Mechanix Wear, Alpinestars and Dunlop.
XR Championship: Sunday at intermission. XR 75 or 80 frame, engine and wheels. All mods are legal! Twin and Single shock classes. Qualifiers, if needed, will run on Sunday morning.
Further information: http://www.redbudmx.com
RedBud supports the sport of motocross and has since 1973!  The region's most prestigious amateur events and Round Six of the AMA Lucas Oil Motocross Championship are held in the beautiful rolling hills of southwestern Michigan. A state with an affinity for off-road recreational vehicle use, RedBud owns the bragging rights to the highest attended U.S. motocross race year after year. Just the right soil mix, lots of passing and the BIGGEST jump on the circuit (LaRocco's Leap), the track provides for some terribly exciting motocross racing. Definitely a top motocross destination in a region that loves its motorsports.
Great Lakes MX supports the sport of motocross. With five of the Midwest's premier motocross facilities on the GLMX team, amateur racers from all over the Great Lakes region stand to benefit now more than ever. Featuring everything from track safety concerns, streamlined organization and registration, more lucrative contingency programs and prizes and a grand scale awards banquet - along with membership fees that are invested back into the events and series - the GLMX team is stepping up to further the great heritage of Michigan and Midwest motocross racing for both bikes and ATVs. On the web atwww.greatlakesmx.com