Russell, Mullins to Square Off at Powerline
MORGANTOWN, W.Va. - The 2013 AMSOIL Grand National Cross Country Series heads to St. Clairsville, Ohio this Sunday, October 13, for the 12th running of the ITP Powerline Park GNCC. Kailub Russell leads the way into the penultimate round of racing with an impressive five-race winning streak behind him, where he holds a slight advantage over Charlie Mullins in the XC1 Pro Class championship standings.
The Factory FMF/KTM teammates make up all but one of the overall wins this season, but it's Russell who tops the field with a total of six wins through the first eleven rounds. Russell has continued to pick up momentum in the second half of the season with a five-race winning streak, but his teammate Mullins has shown no mercy during the three-hour competitions. Mullins holds four overall wins and a slew of hard-fought second place finishes, where he sits seven points behind Russell in the overall standings.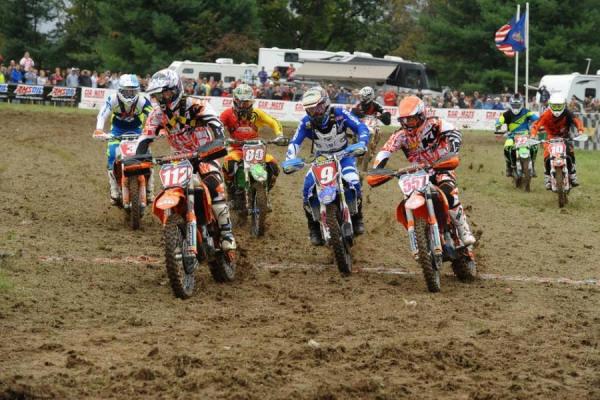 Mullins (112) and Russell (557) are set to battle for the 2013 National Championship.
Ken Hill photo
Nytro Handguards/B.R.E KTM's Chris Bach holds the third place position in the overall standings as the only rider to finish inside the top ten overall through each of the first eleven rounds. Shenandoah Honda/USWE-Sports.com's Thad DuVall finished atop the podium last round, closing the gap to 16 points behind Bach in the point standings. DuVall currently has one overall win with two rounds remaining and the West Virginia native looks to secure another victory this weekend at Powerline Park.
Rocky Mountain ATV/MC's Josh Strang sits another three points back from DuVall in the overall standings, where he looks to make his way into the fourth place position. The Australian native has five podium finishes this season but the 2010 XC1 Champion has yet to get a race win in 2013. Strang, along with Bach and DuVall, will attempt to dethrone the KTM teammates this weekend in Ohio.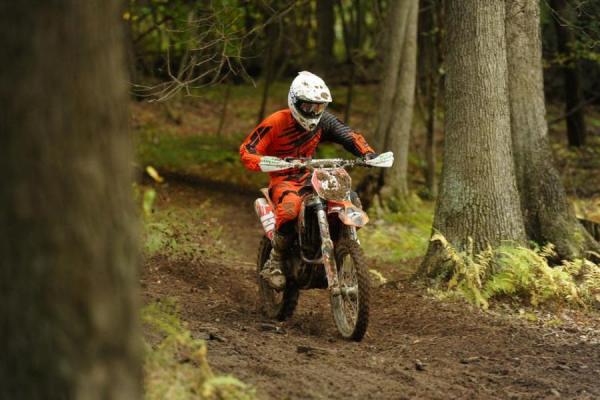 Bach has shown that consistency pays off as he maintains third overall in points.
Ken Hill photo
And then there's AmPro Yamaha's Jordan Ashburn. Although Ashburn sits back in the eighth place position overall, the Tennessee native has put forth several impressive rides this season, matching his season-best of fourth place last round. Ashburn has proven to have the speed to compete with the front-runners and will look to secure his first podium finish of the season this weekend.
In the XC2 Pro Lites class, F.A.R Husqvarna's Andrew Delong captured his fifth win of the season at the last round, but sits third overall in the class after eleven rounds. Despite holding the most race wins in the XC2 class, DeLong's two-race absence has removed the Pennsylvania native from the championship chase in 2013.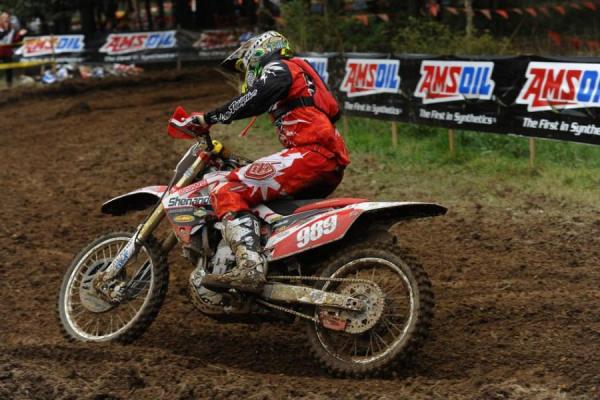 DuVall is the only rider besides Russell and Mullins to capture an overall win in 2013.
Ken Hill photo
The championship battle comes between KTM Support rider Grant Baylor and DirtWise Schools/KTM-Parts.com/Maxxis' Jason Thomas, as only 28 points separate the two heading into this weekend's penultimate round. In his rookie season, the 16-year-old Baylor has captured three XC2 wins through the first eleven rounds, while Thomas has just one win. However, valuable points are still up for grabs in the final two rounds and this year's title will most likely come down to the final moments of competition.
Four-wheeled ATVs will compete throughout the day on Saturday, October 12 and motorcycles will race on Sunday, October 13. Local riders are invited to race the event as well, the entry fee is $40 and riders can sign up at the track.
Spectator passes run $15 for the full weekend, with pro pit access and pro autographs at no additional charge. On both Saturday and Sunday, youth riders race at 8 a.m., amateurs and Women race at 10 a.m., and the top amateurs and the pros race at 1 p.m. For more information and directions to the event, please visit www.gnccracing.com.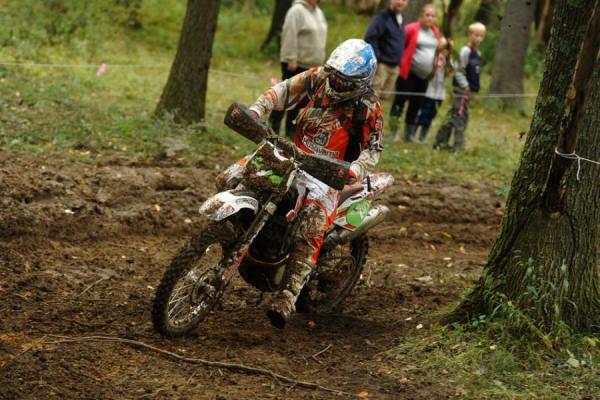 Andrew DeLong has the most XC2 wins this season despite missing two rounds.
Ken Hill photo
Previous Round Results and Championship Standings
Car-Mate Gusher GNCC
RiverStone Estate - Foxburg, Pa.
Round 11 of 13
Sunday, September 22
XC1 Event Results:
Kailub Russell (KTM)
Charlie Mullins (KTM)
Thad DuVall (HON)
Jordan Ashburn (YAM)
Josh Strang (KAW)
Chris Bach (KTM)
Takeshi Koikeda (HON)
Adam Bonneur (KAW)
Rory Mead (KTM)
Mark Fortner (BET)
*Overall National Championship Standings:
Kailub Russell (280)
Charlie Mullins (273)
Chris Bach (177)
Thad DuVall (161)
Josh Strang (158)
Grant Baylor (129)
Paul Whibley (127)
Jordan Ashburn (124)
Jason Thomas (119)
Andrew DeLong (93)
*Indicates that the Overall National Championship Standings will determine the 2013 National Champion.
XC2 Event Results:
Andrew DeLong (HSQ)
Jason Thomas (KTM)
Scott Grills (KAW)
Shane Hufford Jr (KTM)
Grant Baylor (KTM)
Chris Douglas (HSQ)
Sam Evans (KTM)
Nick Davis (HSQ)
Ryan Lojak (YAM)
Zach Love (KTM)
XC2 Series Standings:
Grant Baylor (243)
Jason Thomas (215)
Andrew DeLong (181)
Shane Hufford Jr (149)
Scott Grills (118)
Travis Coy (106)
Samuel Evans (105)
Layne Michael (104)
AJ Stewart (102)
Chris Douglas (101)