Muddy Creek Top Gun Showdown
BLOUNTVILLE, Tenn.- One of the premier amateur motocross events in the country, the Suzuki Top Gun Showdown, invades Muddy Creek Raceway for the 26th annual event Oct. 18-20.

The season finale in the Thor United States Mega Series, a 16-event series that runs in Tennessee, Kentucky, Virginia, North Carolina, Pennsylvania and Georgia, will feature hundreds of the top amateur riders from across the nation competing in 42 different classes with competitors as young as four taking part in the event.

The legendary track, which this year hosted its first ever AMA national event, the Build Ford Tough Tennessee National in June, has welcomed numerous motocross stars over the years, including locals Mike Brown and Zack Osborne, as well as James Stewart and Ricky Carmichael, just a few of the most successful and well-known names in motocross.

With a $10,000 purse on the line, Sam Gammon, the four-time national promoter of the year who owns Victory Sports, which runs Muddy Creek, is looking forward to yet another spectacular event.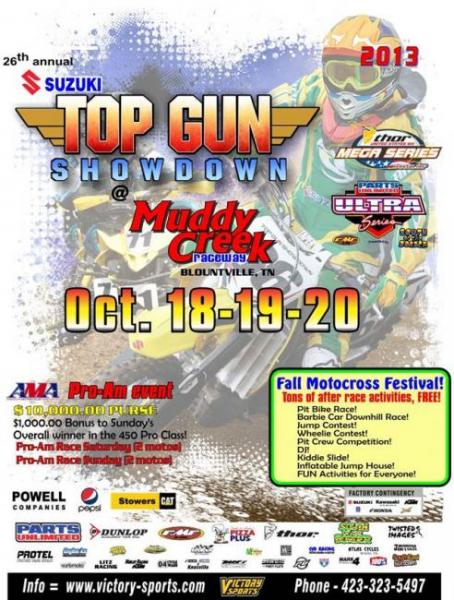 "It's the series finale so we're expecting another great weekend," said Gammon. "As always, we'll have some of the top riders in the country competing and we're looking forward to getting them out here to see who ends up winning the championships."

The Showdown, which draws more competitors and fans than nearly any other event in the country, has grown steadily each year, drawing a record 1,662 riders in 2012, along with nearly 5,000 spectators.

"We're expecting another big turnout with riders and fans," said Gammon. "We've built quite a following and it is one of the biggest events of the year so I honestly do expect us to have record numbers again this year. I think that says an awful lot about our facility, how great the action on the track is and our fan base."

Top Gun Showdown plates will be awarded to all class winners while a $1,000 bonus will be paid to the 450 Pro Overall Winner on Sunday.

The three-day event features a Test & Tune practice day on Friday, Round 15 of the THOR United States Mega Series on Saturday and the Suzuki Top Gun Showdown Sunday to cap the weekend.

A number of other activities are scheduled, including a Pit Pike Race, Wheelie Contest, Barbie Car Extreme Downhill Race, Pit Crew Challenge and much more. A Kid?s Village, with an inflatable jump house and slide, also will be available.

A weekend ticket for spectators is available. Tickets for Sunday's Top Gun Showdown finale are for $15 for adults and $5 for children.
Gates open at 4 p.m. Thursday and at 6 a.m. Friday, Saturday and Sunday.

For more information, please call (423) 323-5497 or visit www.victory-sports.com.