By Jason Weigandt and Aaron Hansel
The AMA released the 2014 National Pro MX/SX Numbers the day before the Motocross of Nations got underway in Germany. So, yeah, they kind of got buried in the news cycle.
But that doesn't mean there isn't some cool info to glean from them. That's what we're doing here for Bench Racing Ammo:
GEICO Honda's Eli Tomac takes the #3. Mike Brown scored 10 points, fifteen short of the 25 he needed to retain #3 for another year. Poor Brownie was contracted to race in Baja during his hometown national (we're talking home town not just home state) at Muddy Creek. He certainly missed out on some points there.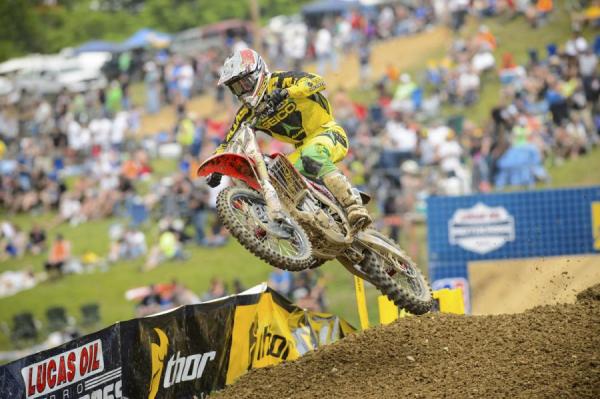 Eli Tomac takes over Mike Brown's longtime #3 next season.
Simon Cudby photo
Another legend's number, #16, is getting taken by another GEICO Honda rider, Zach Osborne. John Dowd held 16 seemingly forever. Dowd had a two-digit national number since 1988, which at 26 seasons (!) is far and away the longest run of national ranking we can think of. There is an injury provision in the rules that lets a rider keep his career number an extra year if he can't suit up (this rule was actually used for Trey Canard in 2012, as he failed to score the required 25 points) but Dowd and Brown were not injured, they just didn't get the scores this year.
The biggest winner in the national numbers game is Lucas Oil/Troy Lee Honda's Cole Seely, who drops from 43 to 21. Those 22 spots make up the largest advancement of anyone this year (outside of rookies, see below). Cole missed all of the 2012 Nationals with an injury but raced every round in '13 and finished eleventh in 250 points.
UPDATE: Jeremy Martin made the largest jump in spots by going from a whopping 77 down to 19. That's huge, but keep in mind Martin only raced a handful of races in 2012 after he graduated to the pros. Expect quite a few similar jumps for 2014, like Horizon Award winner Matt Bisceglia, who only earned 96 this year in a few pro tries, but will probably drop immensely with a full year under his belt.
Rockstar's Jason Anderson, at #17, is the lowest number that isn't a career number. Career numbers are given out when a rider scores in the top ten of combined overall points in a season. Anderson was fourteenth best this year.
The 250 East SX field was wide open, and that helped a bunch of riders make big jumps. Gavin Faith, fifth in 250 East, went from 67 to 49. That's 18 spots. AJ Catanzaro, tenth in 250 East, drops from 73 to 57, which is 16 spots. This is only the second year in which 250 SX points count toward AMA National Numbers.
Despite missing the last few SX races and most of the nationals with a bad wrist injury, Matt Goerke's strong SX performances helped him move from 62 to 44, 18 spots. Goerke spent most of 2012 in Canada.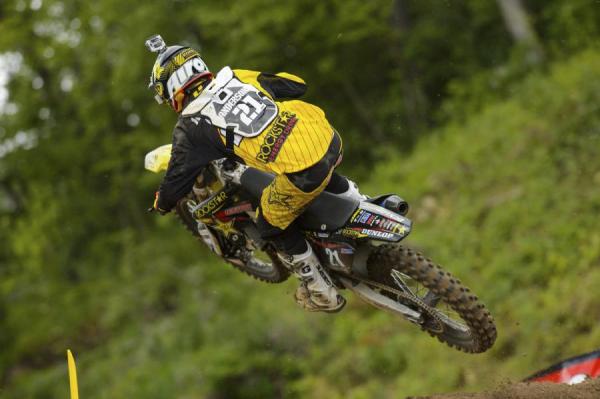 Jason Anderson drops from #21 to #17 in 2014, which is the lowest number that isn't a career number.
Simon Cudby photo
Phil Nicoletti gained eleven spots, 49 to 38.
Kyle Cunningham drops eight spots, from 38 to 30.
Justin Bogle and Malcolm Stewart swapped numbers, 32 and 34.
Vince Friese is #42 for the second year in a row.
Tyler Bowers went from 68 to 67.
On the other end, these riders had rough seasons with injuries, team and sponsorship fluctuations and other problems. Jake Canada went from 23 to 66, Travis Baker from 31 to 58 Nico Izzi from 30 to 85, Matt Lemoine from 47 to 78, and Killy Rusk 66 to 92.
WIl Hahn could not have been pumped to see these national numbers. He won a 250 East SX title he can't defend, so he'll never get to run that #1. Poor guy was injured and couldn't even race the East/West Shootout with the 1E, and then he missed a bunch of nationals (and points). In the end, despite winning the East SX title, Wilbur's number actually jumped from 19 to 23!