GEICO Honda's Zach Osborne found a curious off-season activity when he decided to race the International Six Days Enduro as part of the U.S. Trophy Team (alongside off-road experienced teammates Kurt Caselli, Charlie Mullins, Taylor Robert, Mike Brown and Thad DuVall). But the motocrosser held his own, taking fifth in his class and helping the U.S. team finish second in the final rankings, tying the nation's best-ever finish. How'd it go for Zach? Now that he's back home, we called him to find out.
Racer X Online: So after six days, how do you actually feel? Are you worked?
Zach Osborne: Umm, I'm okay, actually. All week I never really got sore, I'm still not sore now. But the worst part was on Day 5, my mind was just completely shot. My mind was gone! That day the team had to carry me and we didn't use my scores. So that was my bummer day. Right now I'm pretty tired, but that's to be expected.
For you as a moto guy, did you find it really gnarly, or was it actually pretty easy, or was it all about speed? What was it like to adapt to?
It was kind of what I expected and kind of not. The racing part was what I expected—grass tracks, really fast, and short. Each day we had six tests and most of them were between seven and nine minutes. Do the math and that's an hour of racing each day. Between that you have the transfer sections, and there we just kind of cruised—I think there was only one all week where we had to pin it to get to on time. Other than that it's pretty simple as long as you pay attention.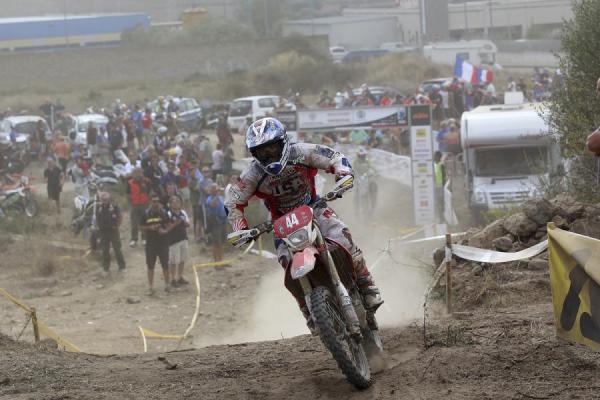 Osborne raced the ISDE for the first time in his career over the weekend for Team USA.
Enduro21.com photo
So the race is then won and lost with your speed in those tests?
Yeah and sometimes in those tests, those seven to nine minutes, I was losing to the top guys by 30-40 seconds! That's ridiculous when I felt like I was absolutely killing it. In the end I won four tests in my class, but I never won one overall. I think my highest overall was a fifth. But I was pretty pumped on that. My whole goal was to just finish, get a gold medal and maybe contribute one score to the team, but in the end I got to contribute five of six scores to the team score, so I was happy.
The mental thing—you probably do ride day after day anyway. But this is nothing like riding the practice track all week and then racing on the weekend.
Nothing like that. On a normal outdoor week, we'll do like 6-7 hours a week, including the race. We were doing 6-7 hours a day, so it was like 40 hours.
How much did off-road skills come into play? Did you feel at a disadvantage at times?
No, they didn't have any enduro tests, there were only cross tests. There were some tests where you'd have half a moto track and half a grass track. There were some that were just flat grass fields. There was one test that was kind of off-road-ish, and I actually did okay on that one.  There were a few parts of the transfer trail that were really enduro-ish, and I felt like I didn't do so hot in them, but I made it with plenty of time so it was okay.
This isn't Motocross des Nations. Team USA has struggled in this event a lot, and this second place finish by the Trophy Team ties our second-best ever. How excited were you guys to be in the hunt for that spot, and then to get it?
Yeah we were pretty pumped. It's been since 1982 that we were second. Been on the podium quite a few times since then, but they've never won the event. On the final day we had a pretty good gap, so we all decided to take it easy and bring it home. But on one day, I think Day 4, we weren't even very far ahead of fourth, and that was my best day but the team lost some time. It's such an emotional roller coaster, you might have a bad day and the team has a good day, or you have a good day and the team has a bad day. It's a total team event—more than des Nations, because there you're only counting two guys in each race, and five total scores. Here we need five scores everyday, and if you go down a guy, you're counting all five scores no matter what. So everyone has to stay consistent.
You get along with your teammates well?
Yeah, I know Charlie [Mullins] and Thad [DuVall] from racing GNCC, and Mike Brown I've known since I was a little kid. I knew Kurt [Caselli] from when I was racing KTMs. The only guy I didn't really know was Taylor [Robert] but he's super cool and easy to get along with. I had so many questions going into the week, and they were all super helpful.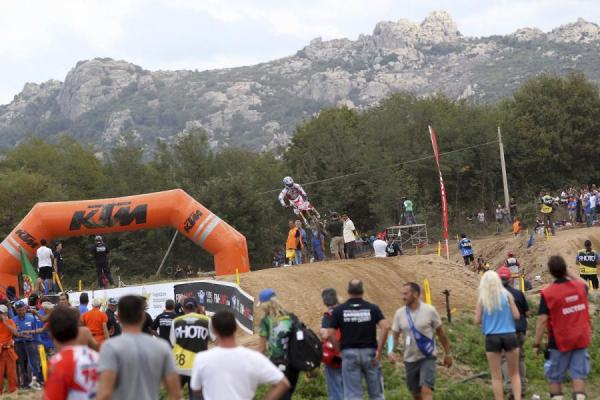 Osborne and Team USA finished second overall on the weekend.
Enduro21.com photo
And you get Antti [Kallonen] as team manager. Seems like the team has stepped up even more since he's taken over.
Yeah everything was well organized, we had one of the most professional setups in the pits. We were working out of a sea container, but a lot of people put in a lot of effort, and it showed. I know there were some doubts from some old timers about me being on the team, but I was glad I could kind of fulfill my needs and we came out with a good result.
Would you do it again?
[Laughs] Well, we were already talking about it on Sunday night, what we need to do to beat the French. The biggest difference is the tires. They're DOT tires, they're so different to ride. A lot is in the suspension setup to get the right feel and put the right amount of pressure on the tires. You don't have a lot of feel with these tires, they just go away before you even know what happens. So we're already scheming about ways we can get better for next year, but next year's race is in November, so it depends on my schedule. But if I ever get invited again, I'd like to do it.
What is your schedule from here on out?
No break, going to ride some supercross tomorrow.
Tomorrow! You just rode for 40 hours!
Yeah but it's okay, just a little bit more. Then it's back to California on Sunday to start testing for Monster Cup.
What are you racing there?
A 450.
Have you ridden a 450 in supercross before?
Nope. I think my last 450 appearance was a British Championship in 2009. But I'm looking forward to it because I really like the Honda 450, and it will be fun.
Let me throw this out there: if you have a really good year next year outdoors, you could end up on the Motocross of Nations team. You've already raced that event for Team Puerto Rico, and now you have this ISDE. Is this something you think about?
Yeah, as a racer that's my biggest dream—to ride for the USA in the 'Nations. I'd actually like to ride the 'Nations and ISDE in the same year. That'd be sick!
I think Everts is the only guy who did that!
Yeah I think he is, but he killed it at that ISDE so I better step it up.
How fast are those French guys that won?
Strangely fast. Mind bogglingly fast. You watch them and they don't even look like they're moving and then they're way ahead on times. It's super disappointing. I don't know from experience, but the guys tell me the gap has closed up a lot over the years. I feel like if we had a little more preparation, maybe some fund raiser races over here where we rode that format, super crappy grass tracks, we could make some gains in setup.
And DOT tires.
Yes. DOT tires. The worst thing ever.
How was the bike maintenance?
We had really good luck, I didn't break anything all week. I did a clutch for no apparent reason before the moto day, that was after like 35 hours and it was still good. One day I had to change a shock in the morning, I only had 10 minutes, so that was pretty tight. And everyday you have to do both tires at the end of the day, but that's pretty easy. You have 15 minutes to change the tire and to go over bolts and stuff.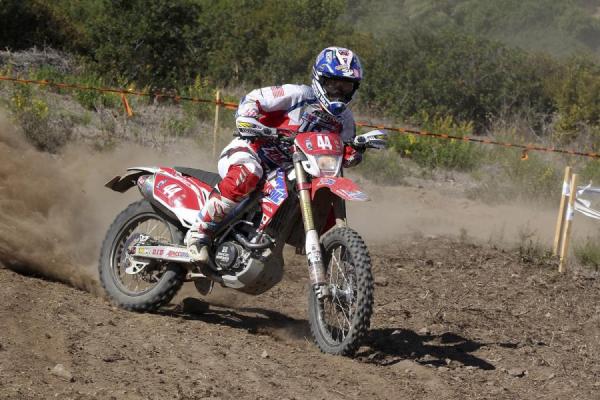 Following a grueling six day competition, Osborne will get right back on the bike to begin preparations for the Monster Energy Cup.
Enduro21.com photo
So you were never super up against it?
Yeah I was never against it. The biggest thing we had was Brownie had a bit of a clutch issue one day, and he barely made his transfer section. He made it by one second, I saw it, it was the finest piece of dirt bike handling I've ever seen. He got into the check without taking a minute, which really helped us. And Charlie lost some spokes on Friday, so he had to replace half a wheel during the race. It was pretty serious.
And the riders have to do it all by themselves.
Yeah, the only thing people can help with is draining and filling your oil, gas and antifreeze. They can help you bleed your brakes, but you still have to do one or the other—the pumping or the bleeding. So you basically have to do everything.
Sounds like some shoutouts are in order here, the bike was solid.
Yeah the only thing that broke was a rubber piece for kickstand, which we didn't even need, and that's not even a Honda part. I have to thank my mechanic Derek for putting in a thousand hours on the thing, and also John from Shenandoah Honda for hooking us up with the headlight setup.
Well, congrats. I don't know if people realize how big a deal second place at the ISDE is. You guys did really well.
Yeah it feels like a win. So much effort goes into it. I think it costs like 100 grand for the Trophy team to go, the six of us, so it's good to be able to come back with results.