Conversations about how the track shaped up on race day have been going on since the inception of motocross. In fact, one of the first questions asked after a race is "How was the track?" It can be the difference between a great day of riding or just so-so (there is never really a bad day of riding). For professional motocross, however, it is often the subject of intense debate. In my years of racing outdoor nationals, I have seen many different theories adopted as to track preparation.
Early in my career, many tracks didn't have the capabilities or time to water or groom the track throughout the day. The promoter would literally flood the track overnight, making practice and sometimes the morning qualifiers a muddy mess. It wasn't ideal, but it was really all I knew, so I adapted. As the day went on, the track would come around and then most times would end up dusty and crusty by the second moto. Since there was no prep going on midday, it would be rough-and-tumble by the end of the day.
Hardened mud ruts and square-edged bumps were just a part of racing the nationals back then. After a few more years, technology and equipment improved and promoters were able to keep up with the track during the day. The tracks were more fun to ride but definitely easier and less technical, as the tractors and dozers leveled out the bumps and berms. It was an improvement on the dust side, as the track was watered throughout the day and made for a better racetrack in that aspect.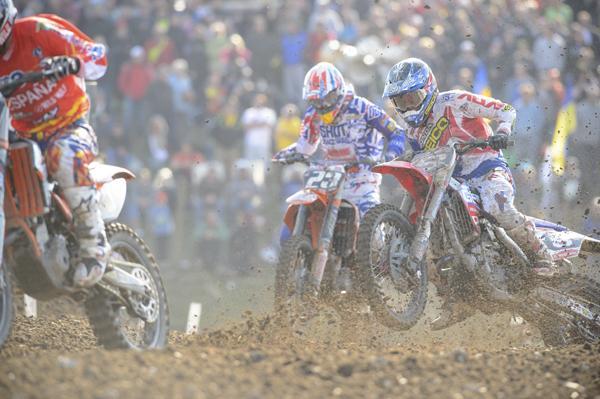 Eli Tomac battling in Germany.
Simon Cudby photo
In the mid-2000s, Steve Whitelock came to be in charge of the AMA, and he implemented a new policy on how to approach the tracks. He wanted to slow the tracks down, and his method was to leave them rough. Really rough! Over the course of the weekend, there would be no smoothing out of any sections. The tracks would separate the men from the boys and, in the process, he believed that would make them safer from slower speeds. Southwick, for example, would even leave the bumps from the previous weekend's race! The first lap of practice of the national weekend would literally be how they had finished up on the previous two-day weekend of racing. It was truly a throwback to the old-school days of motocross tracks. Raw speed gave way to fitness and strength. Whether it was better or worse is up for debate, but it was certainly a different dynamic. I feel that Whitelock, having spent many years in Europe, was mirroring how GP tracks are prepped.
While in the midst of the Whitelock regime, I was not sold on his theory. Every Sunday mid-moto and absolutely every Monday morning, I was cursing his name and reaching for ibuprofen to silence my screaming lower back. The tracks were definitely not fun to ride, and sometimes I felt like I was preparing for an ISDE more than racing an outdoor national. The tracks were rougher, yes, but better? Not so sure.
As the years passed and Whitelock stepped down, this approach changed again. The tracks are now prepped incredibly well—some would argue too well. They are maintained throughout the race day and watered to perfection. The tracks do get rough, but nothing like the days of old. From timed qualifying on a brand new course to a groomed track in the first moto, blinding speed is the name of the game. Of course fitness still plays a role, but being able to push the edge of speed is far more important. Most days of practice are spent working on sprint speed and increasing that level of intensity. It's simply the racing landscape as we know it today.
Along with the track changes, the attitude of the riders has also improved. The riders like the tracks more, since they are more enjoyable to race on, and the general mood is better nowadays too. We all dream of cutting laps on perfectly watered, groomed, and prepped tracks, right? Keeping riders happy is a huge part of the promoters' wish list, and as the tracks were maintained better, the level of approval from the paddock rose.
Now, as to how all of this ties into last weekend's Motocross of Nations: At Teutschenthal, the track was unbelievably nasty. Over the two days of riding and racing, there was very little work done to the track. Actually, when I walked out for the first practice on Sunday morning, I remarked at how little they had done from the previous day. The ruts that were once soft and forgiving were quickly becoming hard and treacherous and incredibly deep. As the day went on, the dirt went from sticky and tacky to hard-packed concrete. In other words, the track was descending into conditions we typically don't see anymore in American motocross. As the conditions deteriorated, I feel the scales tipped more and more toward the Europeans due mainly to familiarity. They are more accustomed to racing on tracks that haven't been maintained as closely as ours. I feel they were more comfortable in those conditions than our boys, and it showed in the results and their riding. Tracks in the USA are more closely maintained and, in my opinion, are overall at a higher level, but if you have to race in an event where the track conditions go downhill, it may be the Achilles' heel of our riders.
If, on the other hand, we have a Motocross of Nations on a track that is built in the fashion we are accustomed to, American riders will absolutely dominate—just like they did at Budds Creek in 2007 and Thunder Valley in 2010. It's just a different angle of expertise on the same general sport, matched with every "home" team's inherent advantage.
I am not sure which approach to track preparation is better. For me personally, raw speed was always a liability—I wanted the tracks to be rough and tough. I needed fitness to play a major role to wear guys out, making it more a game of survival than a rat race. That favored me, results-wise. Current racing in America, however, has become much more about an ability to go extremely fast in great conditions. For one weekend in September, though, I think our regular conditions become a hindrance for Team USA. Promoters in Europe are not stupid; they know this is their strength. It reminds me of the days of "accidentally" flooding the Nations tracks overnight to play to the GP riders' strengths in the mud. If European teams or promoters can find an advantage, of course they will take it. It's the nature of racing.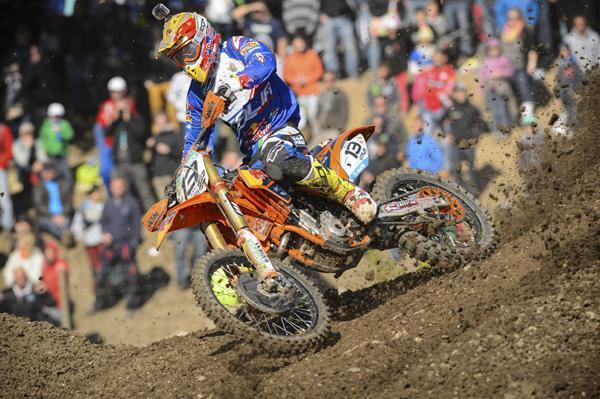 Cairoli sure looked comfortable on Sunday.
Simon Cudby photo
As for changing our own methods to address this situation, I think that's shortsighted. One race in Europe is not more important than our overall approach here on American soil, but it does make life difficult when we cross the Atlantic and take on the rest of the world. It's just a different technique that each continent has perfected. When GP riders come over to our nationals, they have been shown the conditions where our riders excel. In Teutschenthal, Europe had their day. Two different specialties from two different continents merged last weekend, and Belgium won—without having a rider actually win a moto. Their best finish (Ken De Dycker's second) matched Team USA's best (Eli Tomac). It was the bad finishes and crashes—Tomac doesn't usually crash, and this is a different story—that made the difference for Team USA. But the same goes for the actual moto winners, Italy (two by Tony Cairoli) and Germany (one for Ken Roczen). Ryan Villopoto might have made a difference too, just like he did in France two years ago, but he wasn't there, and we missed him.
Next year, we will have another chance to reclaim the Peter Chamberlain Trophy, but as I watched the boys race by last Sunday, I would have liked to have seen them be a little more prepared for whatever conditions arose—especially since they hadn't actually raced since the outdoor series ended back in August. As Ryan Dungey alluded to in the press conference, it was a learning experience. I hope so, because watching America lose wasn't fun. I know how good our riders are, and I want them to show the world every year at the MXoN.
Jason Thomas spent seventeen seasons as a professional racer in motocross and supercross.