You won't find Chris Neal at the top of the list in the MX record books. But for a period of time in the late 1980s and early '90s, Neal had a promising racing career and established strong connections at the very top level of the sport.
Chris was born in Oakland, California, and was always known as a NorCal guy, along with riders like Dean Matson and Rick Ryan. After showing his initial promise as a mini racer, he and his dad moved to—and lived in a trailer—at the legendary Hollister Hills off road riding park. Operating a small dirt bike parts and accessories shop, Neal's dad made money to support his son's racing habit, which allowed him to pursue his dreams of being a professional motocross racer. Where is Chris Neal now? Sounds like it's time for a Where Are They Now!
Racer X: Hey Chris, what's happening? You have a pretty unique story when it comes to racing motocross.
Chris Neal: Yeah, hey, thanks. It didn't start out that way though! I was born in Oakland, California, and was the youngest of four boys. My closest brother is 17 years older than me. My dad was a single father and we were living in San Francisco when I was really little. He had always ridden dirt bikes, and taught me to ride when I was four. So we started to go riding on the weekends down at Hollister, which was about 90 minutes away. We would go down there and camp out, and things kind of went from there. Then one day—maybe in 1982 or so, my dad met Rick Ryan's dad. He had brought Rick down to ride at Hollister, and he saw me ride. He told my dad that he thought we should go racing, and that I would do pretty well with it.  So off we went!
You were a really fast mini bike rider, and back when the 80cc class had full gates, and with some really fast kids.
Stacked for sure! I turned 80cc intermediate in 1983. That was when the 80 class had three gates with all different skill rankings—novice, intermediate, expert. I was doing some of the Ponca City stuff, but did not have much luck there. But I won the Trans Cal series in 1984 in the intermediate class and then moved up to 80cc expert in 1985. Talk about a stacked class—we had guys like Shawn Kalos and Kyle Lewis, they had the in-house factory Hondas, then guys like Antunez and Gaddis on the R&D Suzukis, plus the Team Green guys. They were all fast! But then I got a Yamaha support ride, and that really got things going for me. I won the last Trans Cal race in 1986 on that YZ80, and then my phone started ringing like crazy. Mark Johnson from Team Green called me, and I suddenly had offers from Suzuki as well as my Yamaha deal.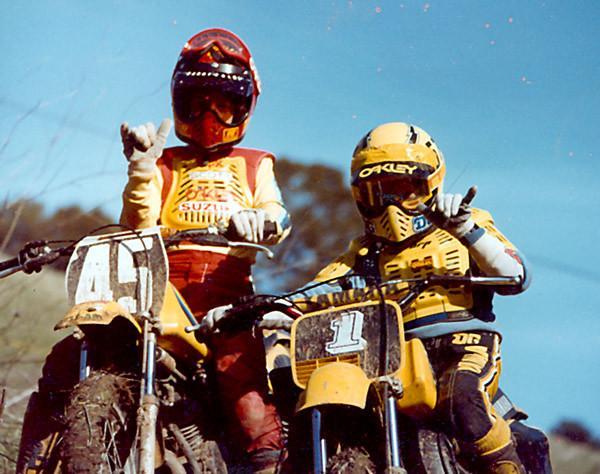 Chris Neal (1) at Hollister in 1982 with his buddy Scottie Stewart.
Scottie Stewart (ocscottie) / Vital MX photo
Sounds like a tough call—you had three OEM's after you? What did you do?
Yeah, but I wanted to ride for R&D Suzuki really bad. They had the baddest bikes and a good reputation.  But they already had Jimmy Gaddis and (Buddy) Antunez, and thus they didn't have room with the top-level ride. But they still wanted to help me. However, at that time, I had a huge rivalry with Antunez, and I felt like I was getting a second hand deal to Buddy. So I turned down a better deal, a two-year deal with Suzuki, to go with Kawasaki Team Green. But the main reason I did that was because Suzuki wanted me to turn pro for the 1988 season, and both my Dad and I didn't feel it was right to go pro right away.
You and your dad had kind of had a strange living arrangement back then. Can you tell me about that?
Well, my dad was raising me. He had a good job working insurance in San Francisco. But when I started to go pretty good—there was nowhere for me to ride in or around San Francisco. So in 1984, he quit that job and we moved down to Hollister, and he bought the parts and repair shop that was inside Hollister. He named it "Pit Stop." It was cool. We lived in a trailer right there inside the park and next to the shop. I would literally ride before going to school, then get the bus, then come home and ride. I rode pretty much every day.
That's pretty crazy. Sounds like every aspiring motocross racer's dream!
At the time, yeah, I would say so! But my dad sacrificed a good career and job in the insurance world to further my career racing. I knew every nook and cranny inside that park and it was a really cool way to grow up. All my friends rode, and that was all I did.
The racing scene in California was really popular back then—1500 riders at the Golden State Races were not uncommon. Heck, they even showed some of those races on TNN's American Sports Cavalcade, which was a huge deal considering that the nationals and supercrosses were not even televised back then!
Yeah, that's for sure. I got off the mini's in 1987 and moved up with my Team Green ride. I was riding against, and with guys, like Emig, Swink and John Kitsh. I was fast as soon as I moved up and almost won at Loretta's that year. In 1988 I again rode the intermediate class. That year was a super, super stacked class. I think that perhaps it was the most aggressive, fastest year of the intermediates (B class) ever. We had guys like Emig, Button, Hughes, McGrath, Chad Pederson, Grayson Goodman, and a bunch more.  Later in the year I moved up and finished third at Loretta's behind Damon Bradshaw and Jeff Emig.
After that, you turned pro for the 1989 season, right?
Yeah. That was a cool year. I had my first mechanic, a guy named Ralph Davis. He was awesome. My dad kind of took a step back and was just running the shop. But I didn't get any factory help after Loretta's. I got strung along a bit, but then was one of those fast guys who kind of fell through cracks. Pat Alexander [of Suzuki] stepped up and helped me out with some bikes from a local San Jose dealer. By then I was living in Santa Cruz and was training with Dean Matson and Ricky Ryan, who were much faster than me at the time.  But I was a full on privateer.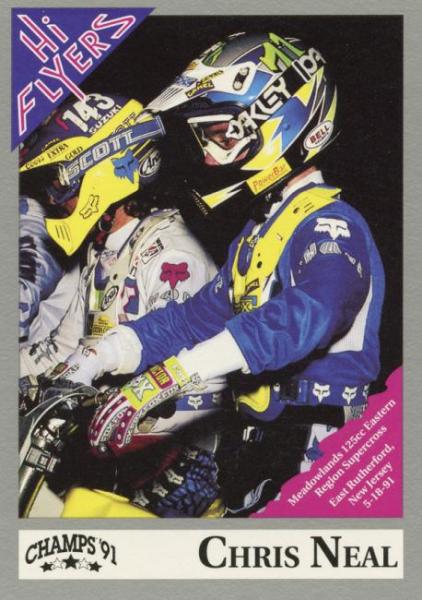 This Hi-Flyer card shows Chris at the 1991 NJ SX, where he finished a career-best seventh.
Your career was highlighted by several top tens in the 125 Supercross class, as well as some consistent top 20 finishes in the nationals, but yet you never seem to make the jump into the top five.
It was really tough back then being on your own. In 1990, I did pretty good, and was riding out the Tuf Racing box van with Keith Bowen and flying to the races. That was a good stepping-stone. Then in 1991, I started doing well with the east coast supercross races since the tracks were so rutted. I got my career best of seventh in 1991 at the Meadowlands in New Jersey. But that season was kind of crazy. I had some real highs and lows. I broke my collarbone early in the year at Anaheim, and skipped the hospital and drove back to Santa Cruz, getting home at like 4 a.m. When I came out the next morning, someone had clipped the lock on the trailer and stole all my stuff. They got everything—both bikes, gear, tools, helmets, everything I had was gone. So I then regrouped and bought Jeremy McGrath's box van, as he had that Team Peak ride. I got that van, and moved back east to train at Gary Bailey's place with a friend of mine named Jeremy West. We actually rented David's house in Axton, and had a SX track to ride on, and just gave it my best shot. We hired Larry Lawrence, Phil Lawrence's older brother, to be our wrench, and really just tried to make a go at it. I was a top ten guy in supercross.
But that was not good enough to earn a ride, right?
Nope. Not even close. 1992 was probably my best year for supercross. I moved back home to Hollister and trained my ass off. I did well—11th at Anaheim, 10th at Seattle, 8th at San Diego and was very consistent. I was a true privateer, though. Ray Sommo was taking my bike to the races in the old Aloe Up truck. I was giving him $200 to take the bike every week, and we split hotels or slept in the van to get through.
But then later that year, a friend hooked me up with a Dutch promoter—a guy named Bob Dejong, and I started to do some overseas races. The money was really good. He was paying me about $1000 start money, plus expenses. Then if I did good, I could make more. So in 1992, I did about 12 international races.
But then you got really hurt, right?
Yes. I had always struggled with smaller injuries here and there. Nothing crazy. But in 1993 when I was traveling around Ray Sommo, I broke my back at the Indy Supercross. That really shook me up, but I got away without anything too nasty. I was kind of getting tired of struggling and not making any money, so I went to work for Fox in the shipping department. The Fox family really took care of me during that time, as I wasn't sure what I wanted to do with my racing. But then one day, Greg Fox invited me to a meeting that changed it all.
Then what happened? You were still not done?
Well, in the fall of 1993, Fox had a distributor in Argentina who also was the Honda distributor as well. He was looking for someone—a fast guy—to come and race down there and win. So Pete thought maybe it would be good for me. Next thing you know, I was on a plane along with Kelly Andris, another kid who raced but was from Stockton. They made me an offer, and off I went. I was dating this girl named Amy Roberts, and we packed up five gear bags and hopped on the plane in November of 1993.
That's pretty cool—but I have heard some horror stories about guys going abroad or whatever. How did it work out?
It was really good actually. I lived in a town called Cordova, and I was for sure one of the fastest guys there. They had both a supercross series and an outdoor series. I didn't get the championship in either of them, but won a ton of races. I think I won like 9 of 15 supercross races, but missed three with the hand injury.
How was the money for you?
Well, I was lucky to stay alive racing in the USA! There was no money in the supercross or nationals if you were finishing where I was. But in Argentina, I had a great deal. I got $2k per race as long as I was on the starting line, and then I got $5k if I won a race, and they paid a purse down to tenth. My house and travel was paid for, and I had a company truck and a mechanic. Plus I got $1500 per month living expenses. After all was said and done, I think I made about $100,000 that year. I did it again in 1995, but again got hurt with a shoulder problem. But about half way through 1995, the Argentina economy collapsed, and things got strange. At that point, I had been down there for two years, and almost year round. So I came home.
Looking at the vault though, that was it. You had no more American results after the early 1990s.
Well, in 1996, I started the Golden State series, but I was just kind of' over it. I had lost the drive. I was pretty banged up with injuries.
So what did you do?
I had pretty much quit. I opened up a second shop in Hollister, along with my dad and ran that until 2000. Then I went to work with a chopper company, and ended up moving to Bend, Oregon, and it was pretty cool. I was pretty into the whole Harley scene, and also worked for a Harley shop as well. Then around 2006 or so, I landed at MDK Speed, and was working with Pete Hahn. They wanted to be like the next Pro Circuit. It was a cool deal—we had our own valves and pistons, it was really cool. But then Mark (Kvamme) just pulled the plug on the whole project. He owned the team, the speed shop and a bunch of dealerships. I think he was just kind of over the whole motorcycle thing, and with the crash in the USA market at that time.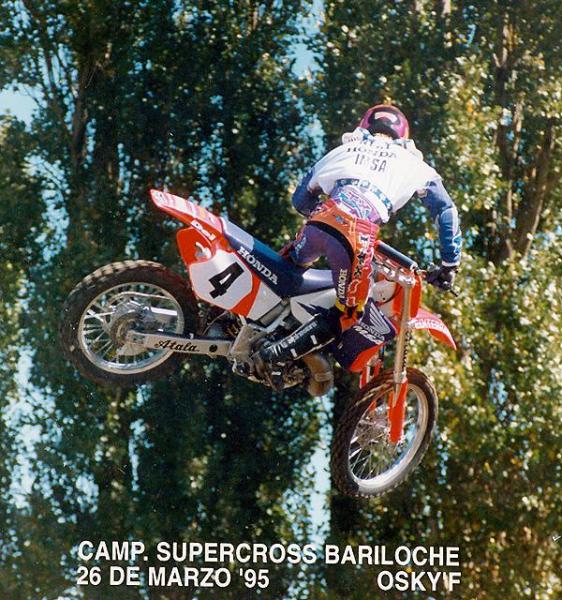 Neal was a winner in Argentina and made good money racing in South America.
Scottie Stewart (ocscottie) / Vital MX photo
So what are you doing now?
Well, after MDK Speed, I moved back up to Oregon. I have my own little company, its called CN Marketing and promotions, and it's good. I work for myself. One of the cool things I have going on right now, is that I am working on creating and importing a tea drink I learned about while racing in Argentina. It is called Mate' and it is an all-natural energy drink and that is very healthy for you.
Mate'? I have never heard of it!
Yeah it's cool. It is a tea based drink, and everyone in Argentina drinks the stuff like crazy. It's like Starbucks here. There are no ill effects from it. It's all natural, and I am working on several different flavors. So right now, I am just brewing during the day with my friends, and working on getting this off the ground here in Bend. We are already selling locally in places Ray's market. The company is called Bend Mate' Company. You know, I have always had fun with marketing and selling. I did all my own contracts, starting at age 14—I did my own deals in 1984! I would make the calls, then tell my dad what I just agreed to. I did it all my own, so this is pretty much the same thing.
Well, that sounds cool, good luck with that! What about your personal life, how are things with that?
Really good! I am single but I do have an awesome daughter—she is eight years old and lives here in Bend as well. My father sold the Pit Stop in 2005, and it was renamed Faultline Powersports. He is doing really well and now lives in Germany and is semi retired over there.
Who are you still in touch with from your racing days?
I am still really good friends with Denny Stephenson and Ray Sommo. But since that MDK deal ended, I kind of moved on from motocross. But some of best memories were in Argentina. I was young, winning races, had full support, I could destroy bikes and it didn't matter. I just rode every day and went to the guy. Winning races, getting interviewed, we had a body guard, it was pretty wild.
Well, thanks for chatting Chris. Good look with the tea!
Thanks. One thing, I just want to thank my dad, Ron Neal, he poured his heart and soul into the sport for me. Also the Fox family, Pete, Greg and Geoff Fox, they were my first sponsors in 1984, and really good friends of mine. I would never wear another gear brand in my life. I really owe those guys. If any old friends read this and want to say hello, they can find me on Facebook.