Teutschenthal
Saxony-Anhalt

,

Germany
Motocross of Nations
Motocross of Nations
Ken Roczen completes his days on a 250 in the best way possible, winning his final-ever moto on the small bike after a thrilling duel with Eli Tomac. That gives Kenny four-straight wins in the MX2 class, which we believe is an all-time record.
Racer X: Ken Roczen, for Germany a tough day with Dennis Ullrich going out and getting injured, I guess, but you said you wanted to win a moto, and you did it.
Ken Roczen: Yeah I'm pretty amped up right now. I struggled the whole weekend with arm pump, just been changing things around on the bike. I don't know, I couldn't get comfortable. I went backwards, I was really not pumped about that. But the second moto, that was really fun for me. I pushed as soon as the gate dropped all the way to the checkered flag, it was a great race. The fans are great, but of course there are some haters out there so it's good to show them a little bit, you know all of their talking, you're going to get smoked at the des Nations, whatever.
There are always haters out there.
Oh yeah. It was a good way to finish the season off.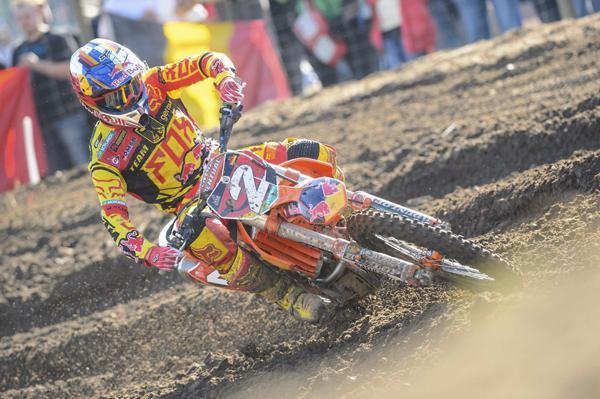 Ken Roczen won the MX2 overall for the fourth straight year.
Simon Cudby photo
Credit to you, he [Tomac] caught you a little bit, and normally when that happens, you know a guy is going to the front. But you held him off. What did you do? Did you change lines? Just regroup?
Yeah I did change lines a little bit. I was just trying to keep flowing. With the changes they made to the track, it was better, but it was very on off, and the ruts and the corners were very rough.
It was very point and shoot.
Yeah, exactly. My fitness was fine, I feel good now, even. I just wanted to charge, I think I got a little gap, then he caught me again. But my goal was to win a moto and I wasn't going to let him easily pass me. It was a big monkey off of my back, going through that finish.
How were the lappers?
It would be no lappers, then a big chunk of lappers. I guess it wasn't too bad, but it's not good for you, most of the time.
Career highlight?
Oh, it's definitely right up there. My first des Nations moto win. And, I've won MX2 class four years in a row, I don't think that anybody has ever done that, as I've read it. So that's a pretty big deal.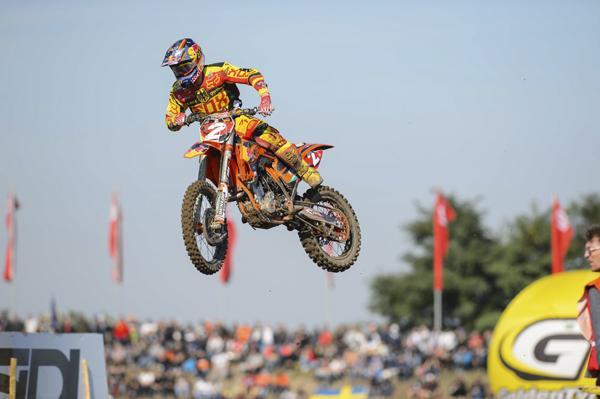 Roczen won his first moto in the Motocross of Nations in Germany.
Simon Cudby photo
So next weekend is Spain? Then when do you come back to the U.S. to start doing 450 supercross?
Well, this is my last race on the 250. I'm doing the race in Spain on the 450. Before I came here I rode three days on the 450, and I felt great, I felt like I was killing it. So, yeah, for now on, big boys.
And Tomac is moving up, too. I'm looking forward to that.
For sure. We'll do our best to keep it exciting, of course you always want to win easy, but I mean, it's not just me and him, there are a lot of guys in that class that are killing it.
Good sportsmanship between you two. You had a long season, a 12-round-duel in America. It's good to see that.
Yeah I'm not one of those guys that messes around for no reason. I have no problem with him. He's doing really well at the moment. I was just so happy to hold him off. I'm sure he would have preferred to pass me, but, I was stoked. I have no problems with him so why not high five him?