Teutschenthal
Saxony-Anhalt

,

Germany
Motocross of Nations
Motocross of Nations
We are now just three days away from the 2013 Monster Energy FIM Motocross of Nations, which will take place Saturday and Sunday, September 28-29, in Teutschenthal, Germany. For the last three weeks, Racer X Online has been counting down the days by ranking the Top 25 Team USA riders of all time. Every name is a big one, both in terms of the lexicon of American motocross and what they did on a global level with Team USA at the Motocross and Trophee des Nations. Today, we are at #3, a man who participated in what were arguably the two biggest wins in Team USA history: Johnny O'Mara.
Not only was O'Mara successful as a competitor at these races, he was wildly popular. For kids all over the world, pictures of the stylish and super-cool Californian in the white gear aboard the potent red Honda became iconic. Johnny O'Mara was the epitome of the 1980s before we even knew what the eighties were going to be all about! He helped spread the gospel of American motocross, along with equally charismatic teammates like David Bailey and Rick Johnson and his equally fast rivals like Jeff Ward and Broc Glover.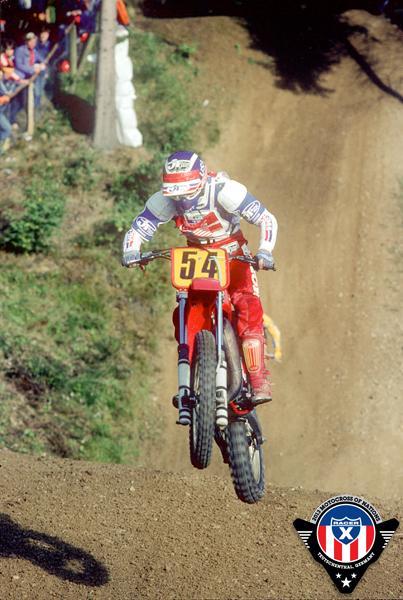 Johnny O'Mara (54) rode his first-ever 500cc race at the 1981 Motocross des Nations in Germany, helping anchor a Team USA win one week after their Trophee des Nations' upset.
Racer X Archives photo
In 1981, O'Mara was in his first year as a Honda factory motocross rider. The blond-haired kid with the immaculate style and the JT Racing "boot gatorz" was just getting started as a professional. He had one race win to his credit—the 1980 125cc U.S. Grand Prix, which he won in the mud on a beautiful white Mugen Honda. O'Mara was one of four riders picked by Roger DeCoster and Team Honda to get Team USA back involved in the race, and even though he had yet to race a major event outdoors on a 250—let alone a 500—O'Mara volunteered to go along with Danny LaPorte, Donnie Hansen, and Chuck Sun to take on the Europeans. They raced 250s first in the sand of Lommel, Belgium, then 500s in Bilstein, Germany, and both times the Americans prevailed. Even without any big-bike skills, O'Mara was more than up for the task; he was an anchor for Team USA in both races.
One year later, Honda was again called on to lead the way at the Trophee (250) and Motocross des Nations (500). This time, however, Hansen was out, LaPorte was racing in Europe, and Sun was unavailable. O'Mara returned, the teenager suddenly the only rider on Team USA with any international experience. Danny "Magoo" Chandler (#5 on our list) was the man this time—both times, actually—sweeping all four motos in the MX and Trophee races. But O'Mara was right there too, along with his new teammate and best friend David Bailey. Just like that, Johnny O' was 4-0 as Team USA rider. Here's video highlights from 1982.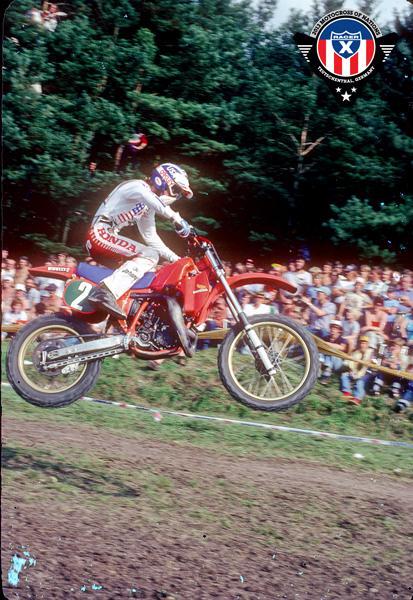 In 1982 O'Mara (2) was the only rider with Team USA experience when the Americans returned to Europe. Led by Danny Chandler, they won again.
Dick Miller Archives photo
O'Mara was left off the team in 1983, as the lineup of talent was spread out among the four Japanese brands—and he was the 125 National Champion that year. The Americans won again without him, both races.
By 1984, it was becoming clear to the world that the Americans had taken over, and when O'Mara was invited back, he jumped at the chance. The Yanks swept again, in Finland and Sweden, and Johnny O' was now 6-0 as a Team USA rider.
In 1985 the FIM changed the rules; the races were combined and each nation was to send its three best riders. O'Mara, the defending AMA Supercross Champion, had moved up to a 250 full-time, but he didn't have his best season, so he was left off Team USA again. Bailey rode the 500, Ward the 250, and newcomer Ron Lechien the 125. They won, but barely.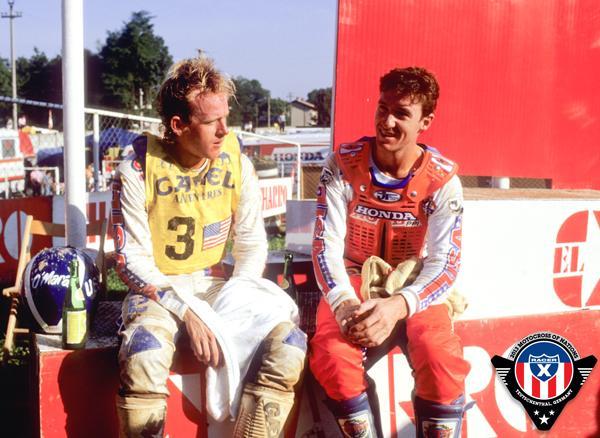 O'Mara and Bailey share a moment on the podium after their earth-rocking 1986 ride in the Motocross des Nations in Italy, where only Bailey beat Johnny O' in the 125/500 moto.
Sir Jack Burnicle photo
Which leads us to the second-biggest win in American history (next to 1981). When Team USA was named for the 1986 FIM Motocross des Nations at Maggiora, Italy, it was odd to not see newly minted 125cc class leader Micky Dymond on the team, or the previous year's champ Ron Lechien (now on Kawasaki). Instead, Roger DeCoster named Bailey to ride the 500, new AMA Supercross #1 Ricky Johnson to ride the 250, and the now-seasoned O'Mara to ride the 125—a size the O'Show had not ridden in two years. Critics howled, saying he was too old for the 125. And besides, Honda was parting ways with O'Mara, who was off to Suzuki after a lackluster AMA season.
Rather than let it all get to him, O'Mara put his head down and focused on the task at hand. If Maggiora was to be his last hurrah with Team Honda, he would go out a winner. His rides on the Honda CR125 that day were transcendental. In the 125/250 moto, he beat everyone but Ricky Johnson; in the 125/500 race he beat everyone but David Bailey. The world—and the world's champions—was stunned.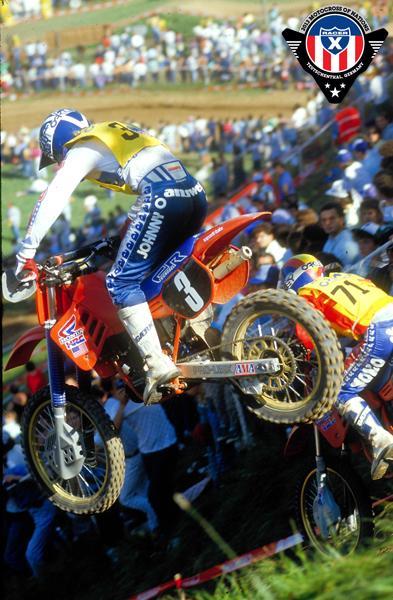 O'Mara's win in 1986 marked his seventh and final triumph with Team USA, as well as the first time a 125 ever finished as high as second in an MXoN moto.
Sir Jack Burnicle photo
When the dust settled on the 1986 Motocross des Nations, two things were apparent to the world: Team USA was head-and-shoulders above everyone else, and Johnny O'Mara could race and win on anything in the Motocross des Nations. Here's a short clip of the 1986 des Nations.
Maggiora '86 was O'Mara's last turn with Team USA, but his record is remarkable: seven races between the MXdN and Trophee races, seven wins. He was part of the first American team to win, and he was part of the most dominant American team to win. He was our motocross ambassador to the rest of the world, and he served with honor and success every time he was called upon.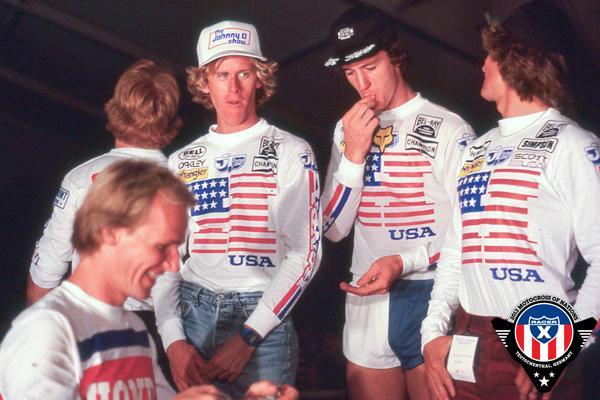 O'Mara (white hat) chats with Danny Chandler, David Bailey and Jim Gibson, while Honda's Dave Arnold looks at his non-phone... Hey, it was 1982!
Racer X Archives photo
Tracker: