Teutschenthal
Saxony-Anhalt

,

Germany
Motocross of Nations
Motocross of Nations
We are down to four days in our countdown to the 2013 Monster Energy FIM Motocross of Nations, which will air live all weekend from Teutschenthal, Germany, on www.mx-life.tv, and then same-day delay on Sunday afternoon on the CBS Sports Network. For the last three weeks we have been counting down the days by ranking the Top 25 Team USA riders of all time. There are now four left, and all of them were vitally important to the thirteen-year winning streak of Team USA that marks the greatest and longest record in the history of the Motocross des Nations.
Next on our list is the Little Professor himself, David Bailey. From the time he was called in as a rookie member of Team Honda to fill in for the injured Donnie Hansen at the 1982 versions of the Trophee (250) and Motocross (500) races, through the transition into a one-race format in 1985, and finally to the epic and unmatched dominance of the 1986 squad that blitzed Maggiora, Italy, Bailey was a mainstay for Team USA. All told, he was involved in seven races—five MXdNs and two Trophee races—during which the Americans were 7-0.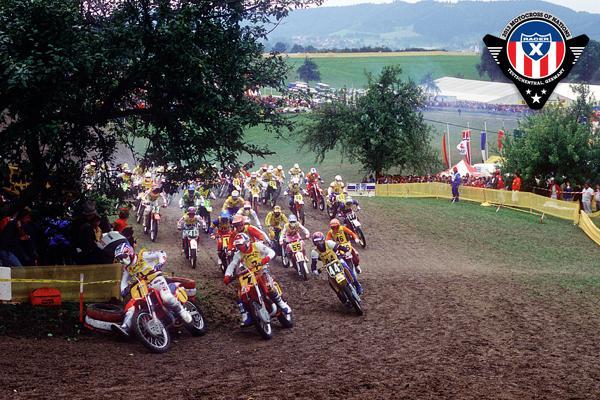 Bailey was the first American to run the #1 in the modern MXdN, which uses one event with multiple classes. That fomat debuted in 1985.
Sir Jack Burnicle photo
Bailey first got the call from Honda bosses Roger DeCoster and Dave Arnold in September '82, after they were already in Europe. Donnie Hansen, the team's captain and the reigning AMA Supercross and 250 Motocross Champion, had been badly injured in a practice crash at Rolf Deiffenbach's house in Germany. Hansen suffered a severe concussion that would prevent him from ever racing again. Bailey hopped on a transatlantic flight and showed up at the Trophee race in Wohlen, Switzerland, to ride the bike reserved for Hansen. He performed well enough in a supporting role for the incredible Danny "Magoo" Chandler—as did Johnny O'Mara and Jim Gibson—to help keep the title in American hands.
One week later in Gaildorf, Germany, Bailey showed rapid improvement, finishing second to the mercurial Chandler on the 500 and helping Team USA hold on to the Peter Chamberlain Trophy. Here's video of both the Trophee and Motocross des Nations, which we showed you yesterday with Danny Chandler's feature.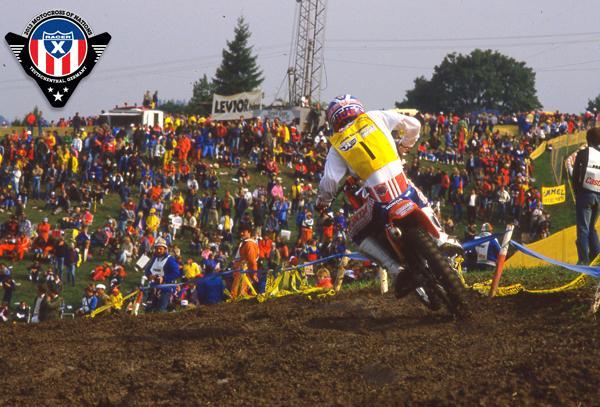 Bailey's skills on a 500 paid off big for Team USA.
Sir Jack Burnicle photo
In 1983 Honda's lock on all the positions of Team USA (Honda was the only brand that was interested in going in '81-'82 after a couple of years of the Americans failing to show up) was finally negotiated and all four Japanese brands sent one rider each. Honda chose Bailey (over O'Mara and Chandler) to represent in Czechoslovakia and Belgium. He once again played a vital role, as did teammates Jeff Ward (Kawasaki), Broc Glover (Yamaha), and Mark Barnett (Suzuki). Team USA swept both meets again.
Bailey was back in 1984 as Team USA reloaded with Ward, O'Mara, and Yamaha-mounted Rick Johnson. But the MXdN did not go so well for Bailey, and he ended up with a concussion at the race in Finland, where the Americans won narrowly. Here's some action from that second moto, with the crash toward the 4:15 mark.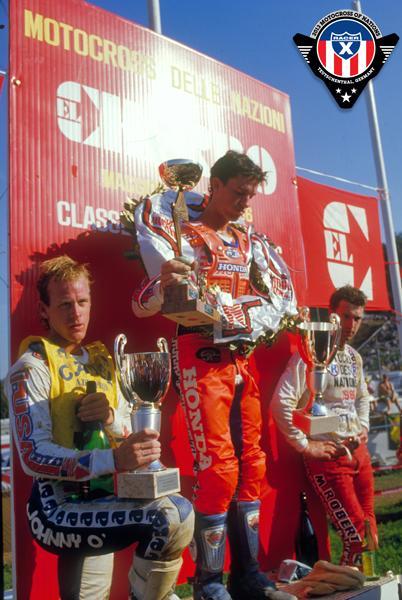 All told, Bailey is 7-0 in the Motocross and Trophee des Nations.
Photo courtesy Moto Verte
David could not race the next week in Sweden and surrendered his role to Broc Glover, his 500cc-class rival who happened to be in Sweden at the time for a supercross race. Even with Bailey on the sidelines, America won yet again, as Ward and Glover led the way in both motos.
For 1985, in an attempt to both cut costs and lessen Team USA's perceived advantage—our country is bigger and the talent pool much deeper than smaller European nations—the FIM combined the Trophee and Motocross des Nations into a single race in 1985, with a 125, 250, and 500 rider from each country all racing together. Bailey was again tapped as the 500 rider, Wardy the 250 man, and Ron Lechien the 125cc rider. In a wild race in Germany, Bailey took a rare defeat at the hands of the great British rider David Thorpe, as well as Dutch veteran Kees Van der Ven, in his three motos. But he was solid and consistent, as were class winners Ward and Lechien. New format be damned, Team USA still won, and they wouldn't be stopping for years to come. Here's video of the last moto, in which Bailey started in the last row.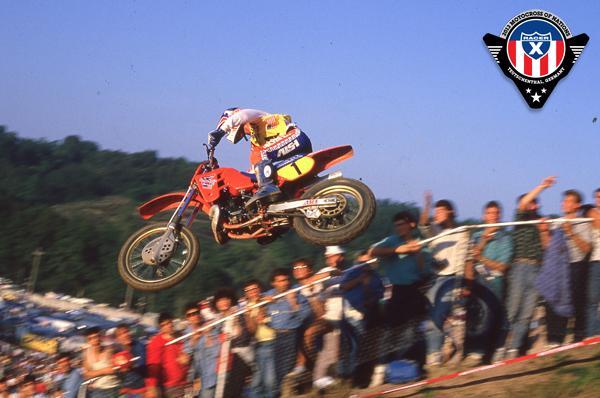 Maggiora was a crowning achievement for Team USA, and, sadly, one of Bailey's last great triumphs on a motocross bike.
Racer X Archives
Bailey's greatest race may have been his last at the Motocross des Nations. It came in Maggiora, Italy, in 1986. Bailey was the team's anchor on the 500, while his new teammate Ricky Johnson rode the 250 and Johnny O'Mara the 125. Over the course of three stunning motos, two riders at a time in yet another new format, Team USA went 1-2, 1-2, and 1-2 to win the race in our most convincing win of all time. O'Mara was the talk of the race, with his world-beating 125cc rides, but he didn't beat his U.S. teammates. Bailey won the first moto outright, Johnson the second, and then Bailey slowed and waited for Johnson at the very end of the last 250/500 moto so the triumphant teammates could cross the finish line hand-in-hand. Here are some highlights.
Just a few months later, David Bailey's racing career on a motorcycle came to a sudden end with a back injury while preparing for the 1987 AMA Supercross season. His five years on Team USA meant seven total victories at the Motocross and Trophee des Nations races with zero defeats for him and his American brethren. He is an all-time great as a racer, as a broadcaster, and as a member of the American motocross fraternity. We rank him fourth on this all-time list of the Top 25 Team USA riders of all time.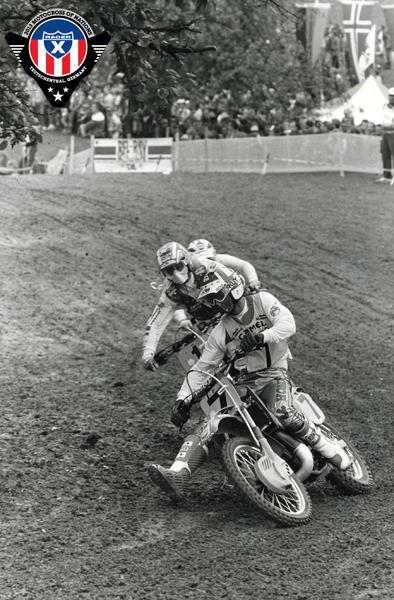 Bailey battling Thorpe (7) in '85. Thorpe was very strong in '85, but unfortunately that performance became overshadowed by Team USA's incredible 1986 run.
Sir Jack Burnicle photo
Tracker: