As we count down the days to the 2013 Monster Energy FIM Motocross of Nations, ranking the Top 25 Team USA riders of all time, it seems fitting that Ron Lechien would come in at #13. The Dogger was easily one of the most talented motocross racers this country has ever produced, but he was also star-crossed for much of his career, caught up in a lifestyle that was not conducive to realizing his full potential. When called upon by Roger DeCoster to race for Team USA, Lechien stepped up and did the work to help keep the Peter Chamberlain Trophy in our hands in both 1985 and 1988. But to understand just how volatile Ronnie's career was, each race has to be taken in context of the times—both in American motocross and in his personal career arc.
In 1985 Lechien was easily the fastest 125 rider on the planet. A one-man wrecking ball for Team Honda, the teenager demolished the AMA 125 National Motocross Championships, winning his one and only major title. He was the easy choice for Team USA in this class, as 1985 would be the first to include 125cc motorcycles—the old "Trophee des Nations" for 250cc riders and the Motocross des Nations for 500cc riders, four per country, had been scrapped. Now each country would send a rider for each of three classes: 125, 250, and 500. And each rider would race all three motos at the fast and slick Gaildorf, Germany track.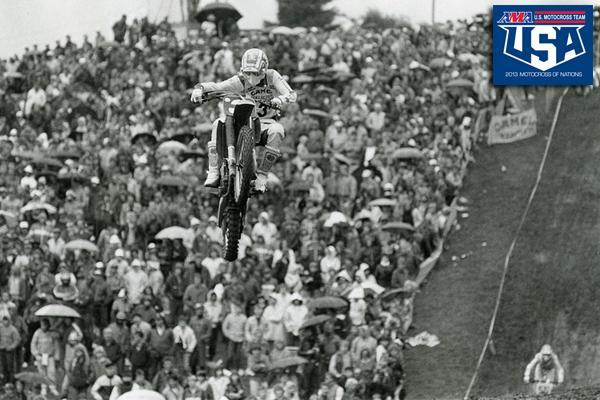 After struggling in traffic the first moto on his 125 in Gaildorf, Germany, Lechien finished top five in the last two motos against the 500s and 250s.
Sir Jack Burnicle photo
The young Lechien would be joined by his Honda teammate David Bailey on a 500 and Jeff Ward on the 250—both veterans of the Motocross and Trophee races, as well as champions in the U.S. But the star of that day in 1985 was actually Dave Thorpe, the reigning 500cc World Champion and a truly underrated champion by many in America. Thorpe straight-up won two of the three motos on his works Honda, and the one moto he lost was to Dutch KTM hero Kees Van der Ven. Unfortunately, few remember that world-dominating display by Great Britain's Thorpe, and instead recall the next year's loss to Johnny O'Mara on his screaming 125 in Italy.
Lechien was screaming on his 125 too, but he did not manage to break the top ten in the first moto. But the second and third times out he was the top 125 rider, and a remarkable fifth and forth out of the sixty-three riders on the track! The only men to beat him those last two motos were 500cc riders Thorpe, Van der Ven, and Bailey and 250cc outright winner in all three motos Jeff Ward. Team USA was victorious again.
Here's a musical look at the highlights of the race.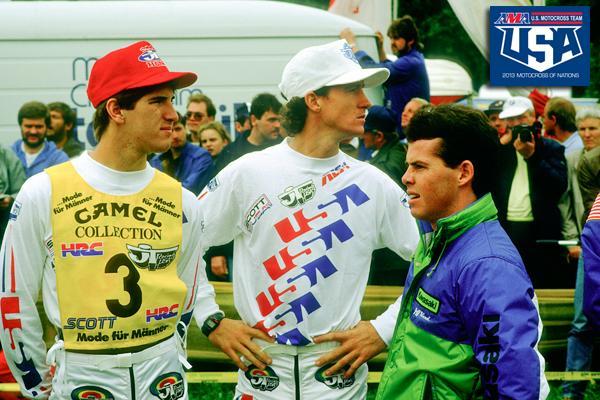 From left: Lechien, David Bailey and Jeff Ward were the first Team USA lineup that featured riders in all three displacements for the new format that debut in 1985.
Sir Jack Burnicle photo

Fast forward to 1988, and another call from Roger DeCoster to see if Lechien was interested in riding a 500 for Team USA. Roger had the best in the world to choose from—Johnson and Ward—but he was missing a third man. The smaller Ward, now Lechien's teammate at Kawi, volunteered to drop down and ride the 125, which would allow Lechien to race the 500. It seemed like an easy win was ahead in Villars sous Ecot, France. However, there were some off-season supercrosses before the Motocross des Nations and the week before the MXdN it was in Amsterdam, Holland. Lechien went there to race, then stayed most of the following week before he went to France for the MXdN. Team manager DeCoster members himself and Johnson and Ward being worried the night before the race as to whether Lechien would be ready or not, but in true Dogger fashion, Ronnie showed up and put on the race of him life, winning both of his motos outright on the KX500 in dramatic and emphatic fashion. Johnson won the middle moto on the 250 and finished third in the finale, while Wardy did his job and led all 125s in the second, including the rapidly rising Jean-Michel Bayle, who finished second only to Lechien in the first moto—on a CR125!
Here's a highlight video (en francais) of the pre-race, which just a little actual race footage at the end of Lechien just clearing out.
And more of the first moto can be seen here, Lechien is #1.
Ron Lechien's time with Team USA was relatively short but incredibly important. In two races he led the world in his class, to say nothing of his total domination of everyone in 1988. Such extraordinary races left his fans and rivals to wonder what if—as in, What if Ron Lechien had taken it all more seriously? That's another story. But thank heavens for Team USA that he rode to his full potential in 1985 and 1988!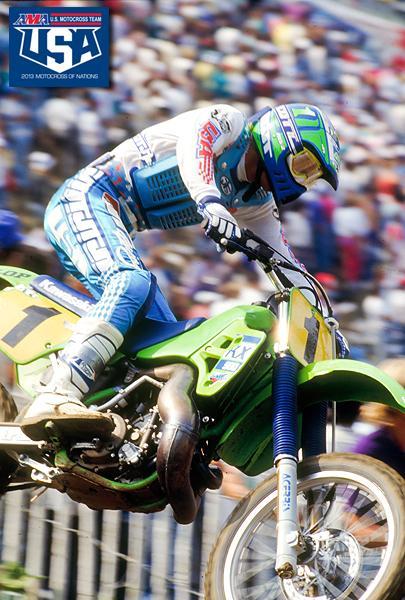 The best day of Ron Lechien's career was arguably his 1-1 domination at the 1988 Motocross des Nations in Villars sous Ecot, France.
Moto Verte photo
Tracker: