Welcome to Racerhead, coming to you from another blessed off-weekend at home. We are truly in the throes of the off-season now because football is everywhere, especially when you live in a college town like we do here in Morgantown, West Virginia, and Pittsburgh is just an hour away.
But the bench racing continues, as does the planning for the 2014 season. The Monster Energy Cup is coming up in a month, and more urgently, the 2013 Monster Energy FIM Motocross of Nations in Germany is just two weeks away. I am stoked to be heading that way, as I've never been to the Teutschenthal track, nor have I ever been to Berlin, and as a history buff, that's a place I can't wait to see. I've already plowed through two books about Berlin, one from the thirties (In the Garden of Beasts by Erik Larson) and one from the forties (The Guns at Last Light by Rick Anderson). Like I've admitted here many times before, I have huge geek factor when it comes to world history.
Team USA is getting ready to head over, and Guy B. over at Vital MX snapped some photos of one of the Team USA bikes while it was being crated up at American Honda. Yes, Justin Barcia's bike. Check it out.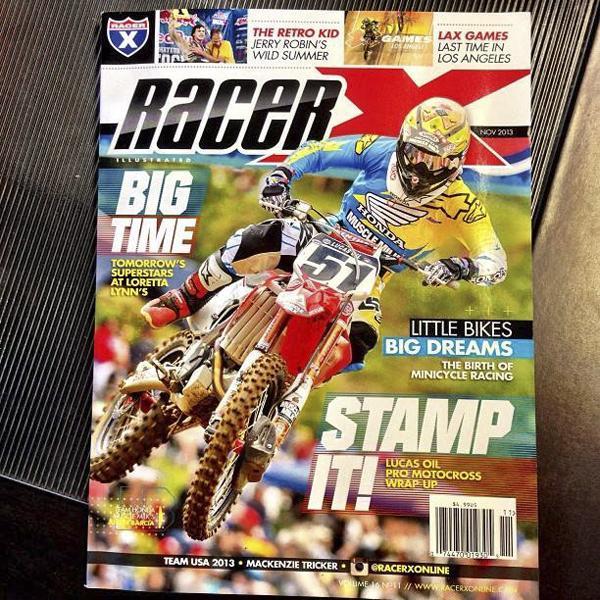 Speaking of Barcia, Simon Cudby's shot of the Muscle Milk Honda rider graces our November 2013 cover.
Eli Tomac's bike and team captain Ryan Dungey's bikes are headed over too, and hopefully none of our guys will struggle with setup like Dungey did last year in the sand at Lommel, Belgium. One might think that Dungey and DeCoster would have lots of people to turn to over there, where KTM absolutely dominates the Grand Prix tour, but that wasn't the case, as Ryan Villopoto told me recently.
"Those guys that think the European side of KTM are just going to give up their settings to Ryan, that's just not how it works," Villopoto said of the situation, having raced (and won) the MXoN four times. "We're over there at the Nations and it's the world against us. Everybody wants to beat us. They don't care about winning the race as much as just beating the Americans."
So how are the other teams shaping up? The Belgian squad put out a cool press release today explaining that their team would be called "the Red Knights" in Germany and carry matching gear that includes an homage to the late Georges Jobe, the five-time world champion who passed away last December. Another five-time world champ, Joel Smets, is the team manager.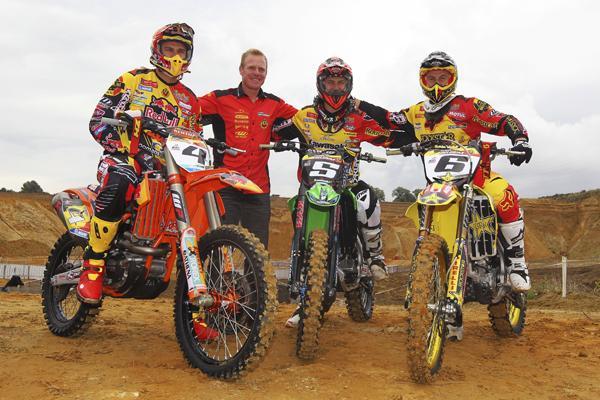 Team Belgium (from left to right) Ken de Dycker, Jeremy van Horebeek and Clement Desalle.
And the home German team, also the defending champions, will not only have Ken Roczen, but Max Nagl will return as well. But Marcus Schiffer is out, and it looks like he will be replaced by Dennis Ulrich, a good rider who will have thousands of his countrymen urging him on.
We will have much more on the 2013 Motocross of Nations as the race gets closer, and we will also be posting lots of cool stuff from past MXoN races right here on Racer X Online (have you checked out our Team USA Top 25 list?). We will also be posting photos on Instagram from now through the race—add @racerxonline or just check the hashtag #teamusamx and see some cool stuff.
Okay, here's the rest of Racerhead on a slow week.
GRANT RETURNS TO JGR (Steve Matthes)
We've been waiting to find out if Josh Grant was going back to JGR Yamaha, and although most of us thought it was going to happen, in this sport, you just never know. Well, now we know. Jeremy Albrecht confirmed to me that it is official: Grant is heading back to JGR for 2014 on a one-year deal. Also, Justin Brayton's contract is up at the end of 2014, so the whole JGR Yamaha team is up at the end of next season. (And congratulations to Brayton, who married his sweetheart last weekend.)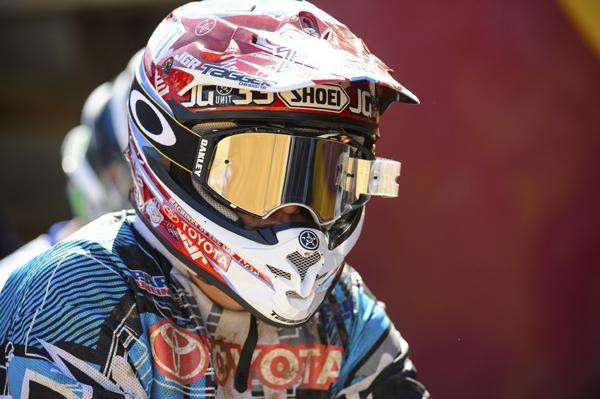 Josh Grant will return to JGR Yamaha for 2014.
Simon Cudby photo
THE NUMBER: 1,971 (DC)
I want to tip my visor to all the folks on the other side of the building at Racer Productions. Last week at Unadilla they managed to get a record 1,971 individual competitors around Unadilla's GNCC course as part of the biggest off-road race I have ever heard about. In fact, it may be bigger than any motocross race as well. That's because in GNCC Racing you can only race one class, unless you're one of the rare people who race both a motorcycle and an ATV (hello, Barry Hawk!), so that's a true 1,971 riders in one weekend.
Also, congrats to Jill and Greg Robinson for hosting such a big race at the historic Unadilla circuit. The Robinson family has been hosting big races since 1970, when the Trans-AMA race was first held there, won by the British legend Jeff Smith. Now they can lay claim to the biggest off-road race in GNCC Racing history, which is pretty cool.
Oh, and the winner was Kailub Russell, for the fourth race in a row, with his KTM teammate Charlie Mullins right on his heels. Zach Osborne, on hand to get ready for his Team USA tour of duty in the ISDEs, finished on the podium in XC2.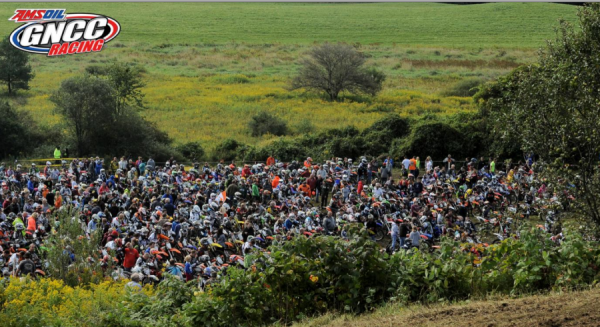 The Unadilla GNCC marked the largest in history.
Ken Hill photo
GERMANY SOON... (Steve Matthes)
The Motocross of Nations is coming up, and I'm looking forward to heading on over there once again. Team USA is probably the favorite to win the event and get the trophy back, but hey, you never know. I went to this track in 2009 to watch the GP (and filed this report), and it's a good track for the Americans. (Actually, unless it's covered in endless beach sand, I suppose any track is good for the Americans!)
The track's a little like High Point, and the fans are nuts. They are all on the opposite side of the valley from the pits and hang over the edges as the riders travel up and down the hills. Kenny Roczen is pretty much going to be the motocross Jesus over there, and I'll be watching to see how he handles the pressure. As we've seen, Roczen has dominated the MX2 class at the last few MxoNs, but there's no doubt Eli Tomac was better the last month or so of the Lucas Oil Pro Motocross. And with Jeffrey Herlings (if he races) moving to MX1, I don't think the MX2 class has any other riders that can touch Tomac and Roczen.
Interesting to see Clement Desalle is racing MX3 and not MX1 at the MXoN. I think he'll be up against Justin Barcia for top spot in that class.
If you're looking for a sleeper team, how about Russia? Yeah, that's right. The hammer and sickle is back! Evgeny Bobryshev is a world-class talent, Al Tonkov in the MX2 has made some podiums this year in the GPs, and we've seen the teams MX3 rider Evgeny Mikhalov score some points over here in the nationals. And guess what? They're led by team manager Bader Manneh! Yeah, that's right, Bader is pulling a Roger DeCoster and helping another country try to beat his homeland (though Bader was born in Israel, moved to California, and then Italy). Somewhere out there, Ronald Reagan is rolling over in his grave at the thought of an American helping out "the commies."
This Monday the PulpMX Show will be back after taking a couple of weeks off, and we'll have former 125 SX champion Denny Stephenson in-studio to talk to about the series this year and I'm sure an old story or two will come up. Also Kenny Watson may be back or he may not, we'll have to see.
Okay, I gotta get back to Chad Reed's Twitter feed to figure out what he's doing. Sorry, thanks for reading.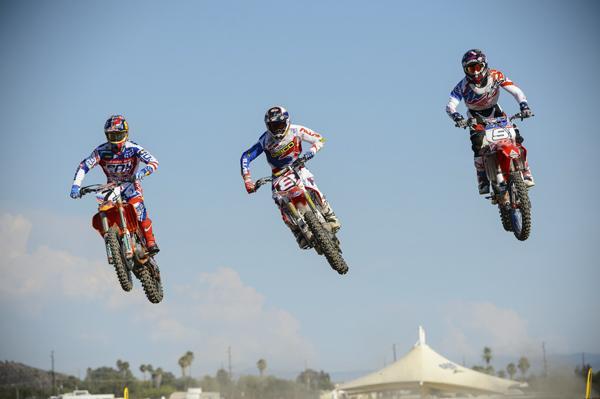 Team USA seeks redemption in Germany.
Simon Cudby photo
PRO PERSPECTIVE (David Pingree and Jason Thomas)
Ping: Staying healthy is huge in any sport. I once wrote about how all the best in the sport have largely avoided injury during their prime years. Ricky Carmichael never really got hurt (his knee was his only major injury, and he didn't even crash doing it). McGrath never got hurt once he got on a 250 (other than a snapped wrist as he was leading the '98 250 Nationals), Jeff Ward was seemingly always healthy, Jeff Stanton, Ryan Dungey, Mark Barnett, Jean-Michel Bayle, etc. It's a common theme among the best of the best. Your fitness never falls off so you are able to continually build from year to year. Your confidence never gets taken down a peg because there's something about getting spit off your machine and crushed into the ground that will make a guy gun-shy. And of course you never have to take long stretches of time off the bike like someone who breaks a femur, cracks a navicular, or tears a rotator cuff.
All that doesn't mean you can't do it and have some injuries along the way. If anything, it makes it even more impressive that Ryan Villopoto has had a few big injuries and bounced back in a big way. You would think that while he's sitting out healing from surgery for the next month or so his competition would be gaining an advantage for the 2014 season. For some reason I'm still not willing to bet against him next year.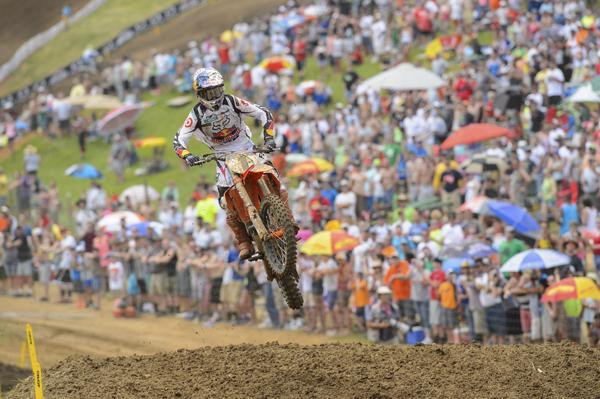 Staying healthy is key to a successful off-season.
Simon Cudby photo
JT: Injuries are a big problem for many obvious reasons. Of course there is the pain of the injury, hospital bills, and lost wages from not being out there racing. None of those are to be overlooked, but to me, the more damaging aspect is the lost momentum and steps backward the body takes during the injury. Any trainer will agree that consistency in your routine and a base fitness level are huge priorities. This base fitness level takes months of work to acquire but can be lost very quickly if the rider is on the couch twenty-four hours a day nursing a broken bone. Once healed, not only does the rider have to do intense amounts of work to regain the level he was previously at, but also needs to play catch-up to the new levels other healthy riders achieved in the meantime. It's no easy feat. Every injury I had, I was always surprised at how much it took just to get back to the same level I was at when the injury occurred.
As Ping said, I am really impressed by how strong Villopoto comes back each and every time, knowing how hard it is. Look at Reed's struggles in 2013 after a long layoff in 2012. While everyone says "he's old, blah blah," I really think the eight months off the bike last year really took a huge toll on him—much more than he anticipated
All in all, injuries can be overcome, as we have all seen, but as shocking as it sounds, they are really a bad idea. If riders can put in four months of uninterrupted training in an off-season, huge strides can be made. This is truly the time when riders can noticeably improve. Who will commit and jump to the next level? We will see come January 4.
TEAM RACING? (DC)
Motocross is an individual sport, but teams can and have worked together to better a member's result. Most infamously it happened at the 1977 San Antonio 125 National, where Bob Hannah "Let Broc Bye" under orders from Team Yamaha. NASCAR is also an individual sport, albeit one with teams, and they, too, have been known to help one another in order to better a teammate's chances at winning a race or even the title. But nothing compares to what's happened in the last week as far as "teamwork" goes. Clint Bowyer, a former motocrosser and the brother of our longtime contributor Andy "Rev Up" Bowyer, was accused of sliding out on purpose last weekend in order to help a teammate get into the twelve-car Race for the Chase playoff system. And then Joey Logano apparently got some help from another driver on his team getting into the Chase, costing the beloved/hated Jeff Gordon a spot in the Chase.... Anyway, it all blew up this week because the drivers and their teams were overheard discussing these maneuvers, and NASCAR has been in a combination penalty/repair mode ever since. In fact, they just added a thirteenth spot to the twelve-car Chase in order to make room for Gordon.
I bring all of this up for one reason: I don't blame Clint Bowyer, who had already qualified, for trying to help his team and his teammate, but he did affect the outcome of the race, so it was a chance he took. But when he was caught and penalized, Clint absolutely faced the music. He did all the media interviews NASCAR had previously planned for him, he accepted his responsibility and penalty, and now he's trying to put it behind him and focus on the task at hand: trying to win that title. After hearing all this, I really hope he wins. I'm not much of a NASCAR fan, but I know that if I had a team, that's the kind of guy I would want driving for me.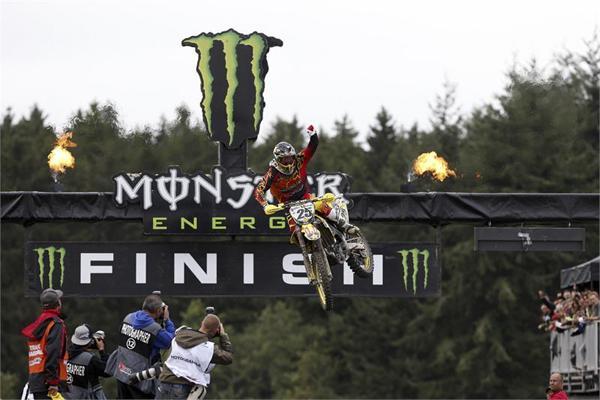 In a surprise move, Clement Desalle will ride MX3 for Team Belgium.
Suzuki photo
HEY, WATCH IT!
Racer X Films: Baja Brawl
Racer X Tested: 2014 RM-Z250 Intro
Beyond the Finish Line: Episode 13
#PrivateerProblems - Episode 1 - Derek Ellis‬
Armed Robbery at Bud Racing
Moto XXX Original American, Moto, Punk

RANDOM NOTES
We will close on a sad note...
Clovis Goyette, one of the founding members of Motocross 338 at Southwick, passed away last weekend. He was 69 years old. Clovis was a veteran of the U.S. Air Force who was honorably discharged in 1967, then helped Bernie Yellin, Ray Peebles, and other members of American Legion 338 build a motocross track on the Legion's property in Southwick, Massachusetts, holding races there to benefit the Jimmy Fund, a children's hospital charity. They have run races there ever since, including the Southwick National, which was first held in 1976. Clovis was a regular visitor to the races, and the Racer X crew always enjoyed bench-racing with him in the Legion bar, right next to the racetrack. Godspeed, old friend. We will miss you, and we thank you for all you did for motocross over the years.
Thank you for reading Racerhead. See you at the races.