The Grand Prix of Benelux was the playground for a first time Grand Prix winner but also the setting of one of those special stories in motorsport that comes up now and again and reminds us that racing is not just about dominance, serial championships and win records.
Shaun Simpson highlighted an element of grand prix motocross that appears to be rapidly on the wane in these days where teams are fighting a battle of budget restraints and live on the threshold of existence. The JKSK Gebben Racing squad operates on a shoestring and Simpson himself was back on a stock Yamaha and riding for next to nothing after collaboration with TM at the start of the year wasn't working out by mid-season. The 25 year old Scot has been moving between his home and a base in Belgium since his mid-teens and following his former racer/mechanic father Willie into top level motocross. So sandy skills, stamina and confidence were not a problem for Simpson across the incredibly demanding Lierop terrain that made exceptional athletes like Gautier Paulin, Evgeny Bobryshev and Clement Desalle look ordinary. He took his Yamaha (unusually equipped with WP suspension) and blasted it to the top step for the first time in his career beating all the riches and resources of the factory teams and machinery. It was inspiring and stirring stuff especially because Simpson's story is very much indicative of how the modern motocross racer can enjoy only a small window of stardom and from there on it is a struggle.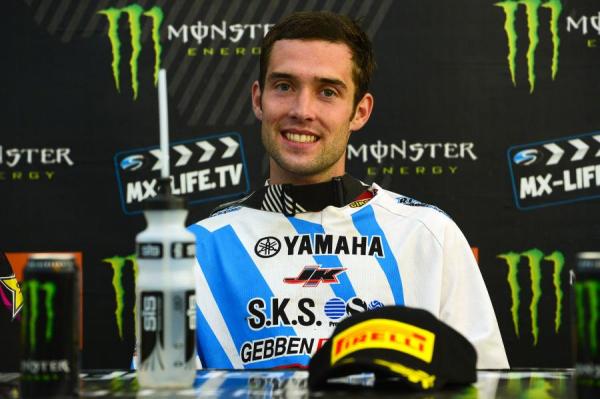 Shaun Simpson won his first career MX1 Grand Prix at the Grand Prix of Benelux of Sunday.
Zanzani photo
He broke bones and learned GP the hard way in MX2 from 2005 to 2008, all the time riding for the British crew run by Irish businessman Roger Magee (now better known as the HM Plant KTM UK squad). Simpson raced a Honda and a Kawasaki for Magee but it wasn't until the team moved to KTM in '08 that his career went into overdrive with first podiums and a race-long battle for the win on privateer material against the works 250s of Tommy Searle and Tyla Rattray at Bulgaria. Fourth place in the championship and a British crown meant the coveted Red Bull KTM saddle for 2009 was earned, but it was just after scoring his first (and up to Lierop only) moto victory in the sand of Valkenswaard at the beginning of the year that he crashed into a tree while training and badly snapped his leg. Simpson picked up more podium achievements in 2010 but the golden patch and momentum had passed, and he then jumped into MX1 with LS Honda and a works-supported Yamaha in 2012 but with little impact. The Briton was close to Joel Roelants' ride for 2013, especially when he ran inside the top three at the Swedish round before crashing. He always looked quick in Saturday qualification but was unable to transfer that to Sunday's motos.
Shaun ultimately joined the top ten fringe club in the premier class and with the calendar getting longer, the purse strings tightening and less teams investing in racing MX1 he was part of a group that included even former world champions looking for employment and contemplating risk for ridiculously minimal reward. Simpson's win will be personally positive in several ways (and he still has to represent Team GB at Teutschenthal in three weeks) and was also a rewarding and exciting experience for anybody who watched his challenge to Tony Cairoli. It reiterates the fact that dreams can still be achieved and Simpson deserves full credit in believing in his own ability when hardly anybody else in the championship didn't.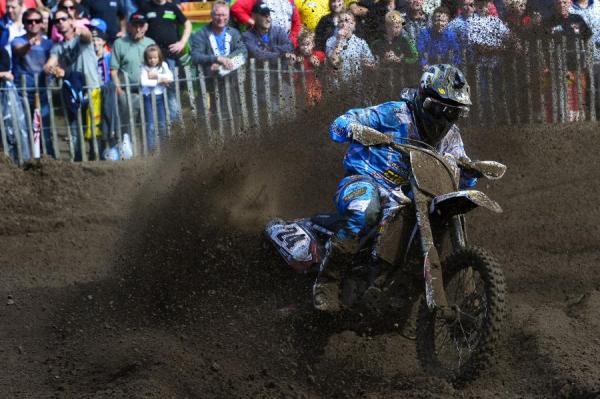 Simpson will go down as the last MX1 GP winner, as the class name changes to MXGP in 2014.
Zanzani photo
"It has been a tough year," he spoke afterwards. "It didn't start out so great and things were not working out with the team I was with. I changed over to Yamaha and knew exactly how to set-up the bike from last year. We used WP suspension, which I knew from riding the KTM and since then we have improved my engine a lot. At the moment the bike is perfect for me, especially in the sand. Coming here I knew I liked Lierop and I like the sand and when it rained last night – I like the mud – it made a perfect combination. I thought why not go for it. It was a surprise to win the first race, especially because Tony was behind me and then slid out. There was a lot of emotion when I won that."
Simpson's options now appear to lie mainly with JKSK Gebben Racing if the team can generate more budget on the back of the Lierop exposure and at least conjure more support from Yamaha Motor Europe. There might also be a chance back with Magee and on KTMs where it all began and on which Kevin Strijbos similarly reignited his career in 2012 with three podium finishes.
"Until now I've spoken to just three people, and even then it has not been going that great," he revealed. "There have not been any offers on the table. I think I improved by one position in the championship to tenth [he actually moved up two, to ninth] and that has been a career goal for three years now in MX1 to break into the top ten. I'm still unsure what I will do next year but I would like to stay with Yamaha and progress."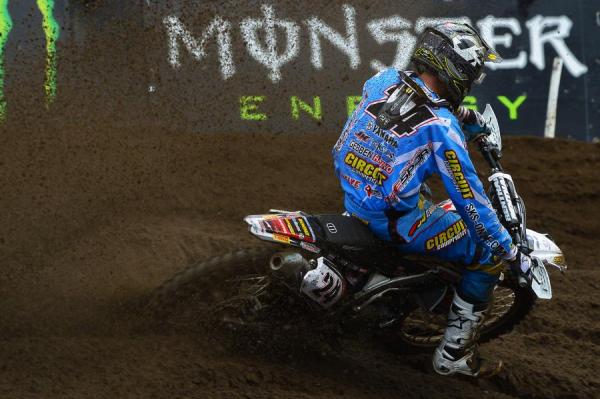 Simpson hopes to return to Yamaha in 2014, but talks are still ongoing.
Zanzani photo
A solid and charismatic top ten rider, Simpson may never win another grand prix or a moto and with ten riders having to move out of the MX2 class at the end of 2014 with the 23 age rule the clock might already be ticking on his and other grand prix stalwart's careers unless more crews decide to enter "MXGP" next season. Lierop will live long in the memory however and also for the spectators in Holland that enjoyed the "day of the underdog".
"The pit lane was on fire when I went past and everyone was hanging out in the last couple of laps," he commented. "It is a really good feeling to know that. I did the best job I could. As we know it is going to "MXGP" class next year so it was good to win the last MX1 GP and I don't think a Brit has won on the 450 since Billy Mac that's another good milestone for the Brits, and I think it is the only British MX1 podium this year. Happy with that."