Southwick MX-338's Clovis Goyette (1944-2013)
Wednesday, September 11, 2013 | 10:00 AM Tweet

Racer X is sad to report that Clovis G. Goyette Jr., a veteran of the United States Air Force and one of the founding members of the Southwick MX-338 motocross track, passed away over the weekend. He was 69 years old. Goyette left the service in 1967 with an honorable discharge, then joined together with Bernie Yellin, Ray Peebles and some of the other members of American Legion 338 to build the MX-338 motocross track. He was a regular contributor to the race track throughout the rest of his life.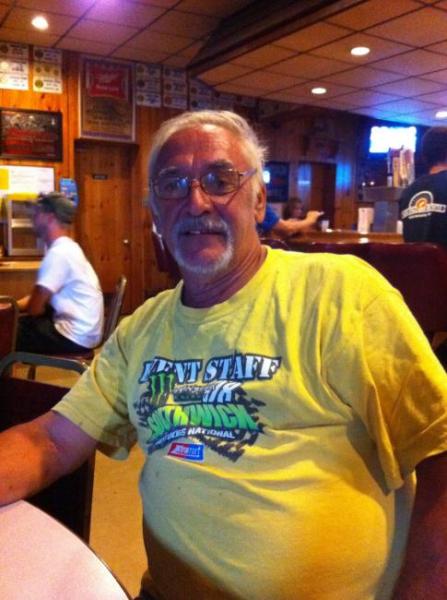 DC photo
The following is his obituary:
Clovis G. Goyette, Jr. 1944 - 2013 WINDSOR LOCKS, CT - Clovis G. Goyette, Jr., 69, beloved by family and friends, passed away suddenly at home on Sunday,( September 8th). He was raised in Agawam and was the son of Virginia (Albanese) Cudgma of Middletown, CT, and the late Clovis G. Goyette, Sr. He attended Agawam public schools and graduated in 1962. He continued his studies at Lowell Tech. Clovis enlisted in the United States Air Force and was assigned service duty to the 379th Armaments & Electronics, A & EMS, Sac. During his four-year term of service, he received numerous citations and awards for successfully completed service training courses. He was honorably discharged at Wurtsmith AFB, Michigan, on Feb. 3, 1967. Clovis was an employee of Hamilton Standard, retiring from the metrology department in 2009 after 42 years. He received many awards and citations for his commitment to the field of research and development. Clovis became a member of the Southwick Democratic Town Committee in 1971. He was elected to the Board of Assessors in 1972 and was state board certified as an elected official five consecutive terms in the community, a total of fifteen years. He was one of the original members to form the Tax Payers Association in the town of Southwick. Clovis was an elected officer and lifetime member of the American Legion Post 338 in Southwick. He served the Veterans Organization as an elected member of the House Committee, Adjutant and manager of the post. He was also an active member of the Honor Guard. In 1972, Clovis was one of the founding members of MX338. He continued as part of the NESC organization for many years and remained active in the American Legion Post 338, MX338, and AMA Nationals. Clovis enjoyed spending time with his family and friends. He is survived by his former wife Doreen Goyette-Crowley and her husband Norman of Southwick, his daughter Mischelle Stoll and her husband Steven of West Suffield, CT, his son Paul Goyette and his wife Candace of Westfield, MA, his son Keith Goyette and his wife Shirley of Southwick, MA, Melissa Goyette of Sherwood, AR, and his beloved grandchildren, Amberly, Cassidy, Sydney, and Parker. He also leaves a brother, Paul Wonsek of NY. Family and friends are invited to attend. Calling hours on Thursday, September 12th, from 4 pm - 9 pm at the Southwick Forastiere Funeral Home, 624 College Highway (Highway 202/10), Southwick, MA (413) 569-5306. Funeral services will be held on Friday, September 13th, from the funeral home at 8:30am. followed by a Liturgy of Christian Burial service at 9:30AM in Our Lady of the Lake Church, 224 Sheep Pasture Road, Southwick. Burial with military honors will follow in Massachusetts Veteran's Memorial Cemetery, 1390 Main Street, Agawam, MA. Memorial contributions may be made in Clovis' memory to the Holyoke Soldier's Home, Activities Funds,110 Cherry Street, Holyoke, MA 01040. www.forastierefuneralhome.com
Share this article:
Did you like this article?
Check out 10,000 MILES FROM HOME
in our Latest issue of Racer X available now.

Australian Dean Ferris hopes to follow in the footsteps of some of his legendary countrymen. Now contesting the FIM Grand Prix series, he made a huge impression at the Motocross of Nations. Page 138.
Comments are disabled for this post.