Hello, everyone, and welcome to the Rev Up. With the 2013 season in the books I've been sitting back and thinking about how crazy the year was. When you look at the eventual champions there aren't many surprises, but the road there was wild with some unexpected pitfalls and down right odd occurrences.
Let's start with Anaheim 1 where everyone's fantasy league got shot into Swiss cheese. Who would have imagined that it would have been Trey Canard and Davi Millsaps going back and forth for the win on the last lap? Furthermore, the man with the #1 plate was floundering outside the top ten! Ryan Villopoto showed up with new air forks and different (no crossbar) handlebars and for about a month looked very, very human. In the 250s, Jessy Nelson started the season by holeshotting and then crashing in turn one, igniting a first turn crash that pretty much squashed Monster Energy/Pro Circuit Kawasaki's season. In the very first turn of the year.
Then Justin Barcia was all of the sudden "the guy" until he blasted his face on the handlebars. Then Ryan Dungey's new air shock blew up on the starting line in his heat race, and he goes on to win a main event! James Stewart came into Oakland looking like he was on it, then the mother of all second turn pile ups hit the scene. Oakland was just an all around odd weekend, which included a huge crash and subsequent DNF by Eli Tomac, who until then had owned 250 West. Every time you had a favorite or someone had momentum, things seemed to turn.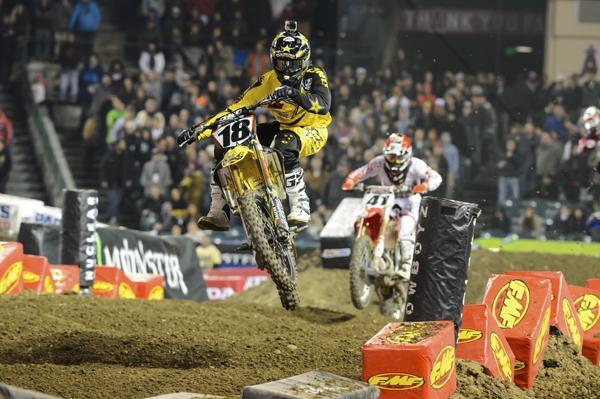 Millspas (front) and Canard (rear) put on a shocking display to open the 2013 season.
Simon Cudby photo
As the series headed East and made a stop in Arlington, Texas things continued to get weird. Millsaps held something like a 20-point lead, then all hell broke loose in the main events. First Zach Bell holeshots and opens up a huge lead in his first-ever SX heat race before mistiming a scrub over a triple and scaring the hell out of everyone with the crash of the year! Then, possibly the most odd event of all occurred when James Stewart's Yoshimura Suzuki scored a DNS after breaking a clutch on the starting line.
With assorted strange luck, a torn ACL and other issues, it seemed like a lost season for Stewart until he bounced back in Atlanta and held off Villopoto with 20 perfect laps. The 250s provided another shocker with Wil Hahn picking up his first career 250SX victory. Law and order began to form as the series began its East Coast swing as RV began winning and making up points on Millsaps. But in the 250 Class it was nuts, with title favorite Dean Wilson getting injured and Blake Wharton becoming the perennial oddity. While racing off with a huge lead and certain victory, "Slash" carts huge in the whoops and throws it away on the last lap. Was that an emotionally scaring event? Apparently not, because he would come back to win (for real) a few weeks later. But more problems would surface for Wharton, though, as he didn't do himself any favors by completely cleaning out Tyler "The Big Hurt" Bowers in Minneapolis.
You want odd? The craziest night of all took place in Salt Lake City, where title fighters Ken Roczen and Tomac had the worst nights of their supercross careers. Kenny missing the main and Tomac going backwards? That just happened.
Of course Vegas likes to get in on this party, and the 250 finale rounds there were bonkers. Wow, first Wil Hahn breaks his hand on the last lap of practice then races his heart out to capture the title over Marvin Musquin, while both racers lost to the aforementioned Bowers! He wasn't even supposed to be racing supercross at all! That was just crazy. Also, Roczen and Tomac produced clutch rides to make up for their SLC losses. And poor Martin Davalos … coulda, shoulda, woulda.
The MX Nationals had their own share of odd moments. There was talk of a perfect season by Villopoto until he crashed twice at Muddy Creek and gave some light to Ryan Dungey's title hopes. This is about where Chad Reed's head shaking 10th thru 12th finishes became the norm, and 250 rookies really began to go off. Southwick was just odd all the way through. The unfortunate hype of it being the last National at the track set the tone for a whacky Saturday afternoon. RV loses another moto but cards a last-to-fourth, Dungey gets another win, then the 250 Class saw maybe the most odd event of the year with Wil Hahn blowing TWO motors in one day. He even lost one on a parade lap!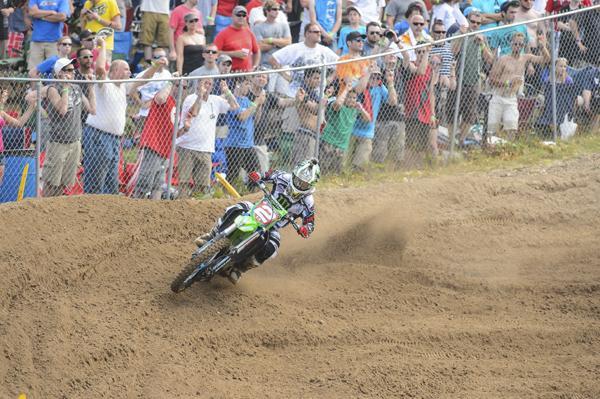 RV's frantic charge to the front at Southwick was one for the ages.
Simon Cudby photo
Of course the craziest and most publicized act of recent motocross history took place at Washougal. The laser incident sent shock waves through the industry and set off a chain of events which included pushing the VitalMX servers to their limits and an ensuing Pulp MX show that will never, ever be forgotten. The following week at Millville saw more odd happenings with RV crashing bigtime, Dungey throwing a chain and putting it back on, then an epic duel to the death between Canard and Stewart. At the checkers Trey pumped his fist in victory, but the overall went to Stewart with a down right odd 1-3 tally!
Closing out the odd year was the inland hurricane in the second 250 moto at Miller Motorsports, then Josh Grant riding his best moto in years at Elsinore before having to get an IV's and being disqualified for moto two.
Each season produces some oddities but I can't think of any year recently which produced so many eye brow raising stories. Like the late great Hunter S. Tompson said, "When the going gets weird, the weird turn pro."
Thanks for reading, see you next week.