You can count on it. When a rider from the 250 Class is set for a move to the 450s, you'll inevitably hear "I think the 450 suits my style better." Seriously, they all say it, and it wasn't any different in the 125/250 two-stroke years.
But who really seemed to find another gear on the bigger bike? We ran some stats on riders who made the switch at some point in 2013, and tried to gauge if the move ended up positive or negative.
Justin Barcia
No rider making the transition to the 450 Class full-time in 2013 made the needle move more than Barcia. The anticipation and hype surrounding Barcia's debut reached a fever pitch following his Monster Energy Cup win in his 450SX debut. The two-time Lites Supercross Champion made his name with an aggressive, no-holds-bar attitude on the track—earning the moniker Bam Bam. But Barcia tamed his riding style in 2013, showing more reservation than at any other time in his career. And it paid off.
Supercross:
In a class being heralded as one of the deepest in history, Barcia quickly put his name in the hat as a contender after winning the second round in Phoenix. Back-to-back DNF's followed, ending his title chances, but Barcia went on to achieve great success. His two wins tied him for second with Davi Millsaps and Ryan Dungey for most wins on the season, while his five podiums ranked fourth best behind only Villopoto (14), Dungey (12) and Millsaps (12). Finishing the season fourth in points ahead of past champions Chad Reed and James Stewart and established veterans like Andrew Short and Justin Brayton, Justin Barcia has put his name on the short list of threats to Villopoto's reign.
Motocross:
While he never reached the pinnacle of a moto win—only the Ryans and James Stewart won a 450 moto in 2013—Barcia had the most consistent Lucas Oil Pro Motocross campaign of anyone not named Ryan. His nine moto podiums ranked fourth best—behind Villopoto, Dungey and Stewart—and his 17.1 points averaged per moto topped all 450 newcomers (Malcolm Stewart was second with an 8.2 average).
Stock: Up
Barcia lived up to the enormous expectations saddled on his shoulders in 2013. Top four finishes in both Monster Energy Supercross and Lucas Oil Pro Motocross in his first full 450 season have Barcia's stock on the rise—which may only add more pressure in 2014. You know he wants to beat the Ryans more next year.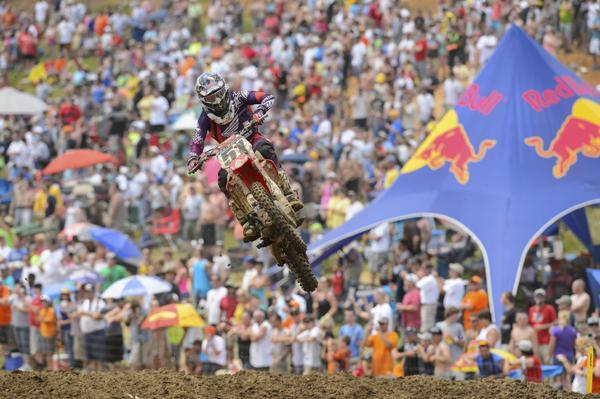 Justin Barcia.
Simon Cudby photos
Phil Nicoletti
In his first full 450 season following a brief stint on 450s outdoors in 2012, Phil Nicoletti rose from the depths of obscurity to a prominent top ten threat. The gritty New Yorker found a home with N-Fab TiLUBE Yamaha following a tough season with Eleven10 Mods in 2012 and shined on a veteran laden team led by Bobby Kiniry and Chris Blose.
Supercross:
Nicoletti's stock couldn't have dropped much lower after missing the 450SX main in Atlanta—his eighth missed main to begin the season. At a time when job security is substandard, Nicoletti's future was up in the air. The slow turnaround began following Atlanta, as Nicoletti made his first career 450SX main in St. Louis. Down the stretch, Nicoletti finished inside the top fifteen in six of the final seven rounds—including his first career top ten in Seattle. Once he made his first main, he never missed another. Now that's how learning curves are supposed to look!
Motocross:
Flush with confidence from supercross, the transition outdoors was much less of a headache for Nicoletti. He hit the ground running at the season opener with an eleventh overall and never looked back. His eight top tens tied him with Malcolm Stewart for second behind Barcia in regards to newcomers, and his 190 points were 183 points better than the combined total for his teammates Bobby Kiniry and Chris Blose (Kiniry only raced select rounds. He competed full-time in the Canadian Nationals).
Stock: Up
Along with Barcia, Nicoletti was the only other 450 newcomer to complete a full season in both Monster Energy Supercross and Lucas Oil Pro Motocross. A strong showing outdoors helped sway anyone that was on the fence following a lackluster showing during the first two months of supercross.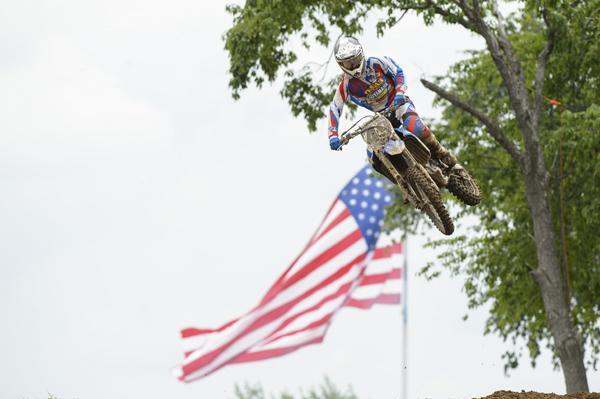 Phil Nicoletti.
Malcolm Stewart
Malcolm Stewart was a late addition to the 450 Class after his previous team—JDR J-Star KTM—folded during the supercross season. Weighing close to 185lbs, most around the industry projected Mookie to be better suited for the bigger bike. He was. But with just three days on the bike prior to Hangtown, Stewart was still in a tough situation.
Motocross:
Malcolm had his own reservations coming into the season telling Racer X early in the year that he had no plans to race the outdoors and was planning to take a "big vacation." With mild expectations from the team, and himself, Mookie was able to relax and take everything one race at a time. TLD Honda saw early returns on their investment, as Stewart joined Barcia as the only newcomer with a moto podium in 2013 at Budds Creek. While he never found podium success again, Mookie did garner eight moto top tens en route to thirteenth in the final standings, just one back of Tyla Rattray for twelfth.
Stock: Up
Mookie definitely raised his profile with those strong outdoor rides. But while his stock has risen in regards to the 450 Class, we still may see Mookie back in the 250 Class for supercross, as early rumors indicate he will re-sign with Lucas Oil/Troy Lee Designs Honda for 2014. The team competes in the 250SX West Region only, so it may take until 2015 to see Malcolm on the big bike in SX.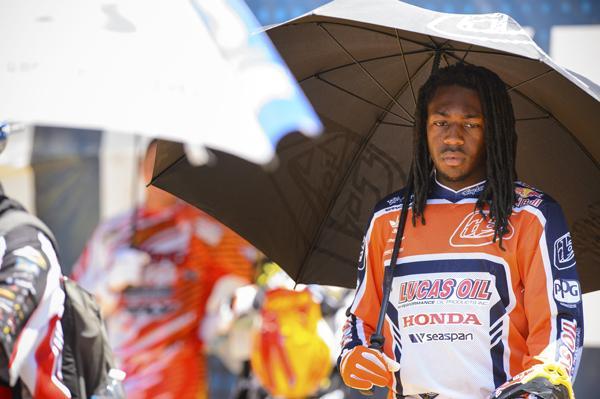 Malcolm Stewart.
Zack Freeberg
Freeberg was the unheralded newcomer in 2013, and the unexpected one, as he didn't try a big bike until Washougal.
Motocross:
At nearly 6-foot-3 inches tall, Freeberg struggled on the underpowered 250F. After making the transition to the 450 Class at Washougal, Freeberg finished inside the top fifteen twice—both career highs in either class.
Stock: Up
Freeberg did the most with the least amount of help. His stock is not exactly soaring through the roof, but he definitely opened some eyes.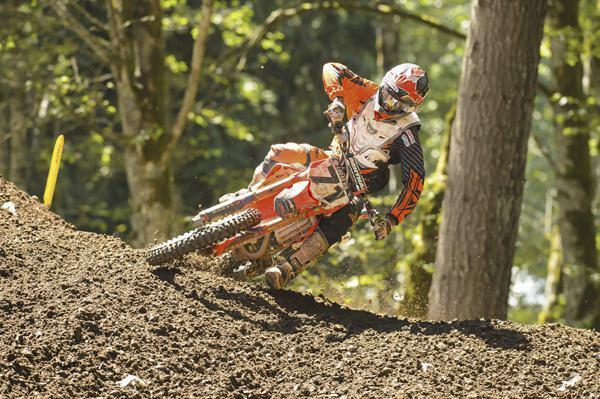 Zack Freeberg.
Eli Tomac
Wait, we're putting Tomac in here? Hear us out. The plan for Eli Tomac in 2013 was to compete in limited 450 races in Monster Energy Supercross during the 250SX West Region break before making the jump to the 450 Class outdoors. Things didn't exactly go according to plan.
Supercross:
Tomac won the final race on a 450 at the Monster Energy Cup, so when he contested four 2013 races in 450SX, expectations were high. Those expectations may have been too lofty. He garnered a best of fourth at Daytona, but never totally gelled with the 450 Honda. Tomac and his team decided to stay on a 250 outdoors, which turned out to be a great move.
Stock: Even
Although he struggled in comparison to the crazy expectations in his brief appearance on the 450, it's hard to say his stock was hurt as Tomac just signed a huge deal with GEICO Honda to compete full-time in the 450 Class for 2014 and beyond. He didn't exactly light the world on fire when he jumped on the big bike, but the suitors were there before his time on the 450 in supercross, and after.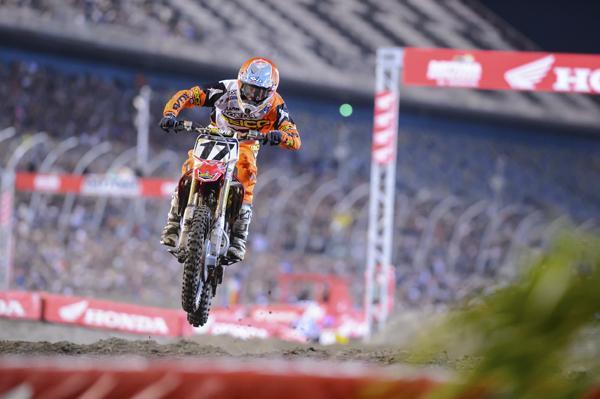 Eli Tomac.
Matt Lemoine
After five and a half years in the 250 Class, Matt Lemoine made the leap to a 450 outdoors a season ago at Hangtown, and the full transition in 2013.
Supercross:
After a tough beginning—one top fifteen through four rounds—Lemoine was having his best results of the season before a torn ACL in Dallas prematurely ended his year.
Stock: Even
Lemoine's stock was surely on the rise before he went down with the knee injury. Missing all of Lucas Oil Pro Motocross and the majority of Monster Energy Supercross tends to have a damaging effect on a season. Although his season was limited, Lemoine put in enough productivity—three top fifteens in six rounds—to show he could develop even more in 2014.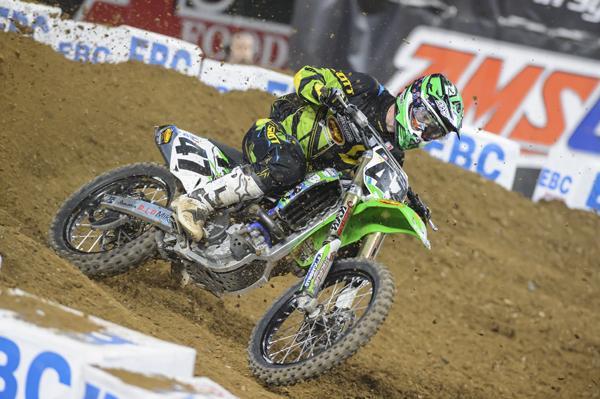 Matt Lemoine.
Dean Wilson
The former 250MX Champion made his 450 debut at the Lucas Oil Pro Motocross season opener at Hangtown with high expectations. Limited by an injury in Monster Energy Supercross, Wilson wasn't peaking coming into the season. But, as with any former champion, expectations are always high.
Motocross:
Wilson competed in four motos before having to undergo surgery for his second major shoulder injury in as many years following a testing crash. The sample size is not there to say whether or not Wilson would have succeeded in his first 450 season. Wilson had one top ten in four motos.
Stock: Down
This was not a performance-based evaluation, as Wilson's limited time outdoors (two races) doesn't warrant it. Wilson was one of the most sought after 450 recruits last off-season, garnering offers from multiple teams. But after another injury-riddled season, if Wilson decided to return to the 450 Class (Note: He will stay in the 250 Class all of next season) he would have been overshadowed by the debuts of Tomac and Ken Roczen (both won titles in 2013). Luckily for Wilson he has another chance to prove his merit in 250 SX/MX before returning to the big bikes in 2015.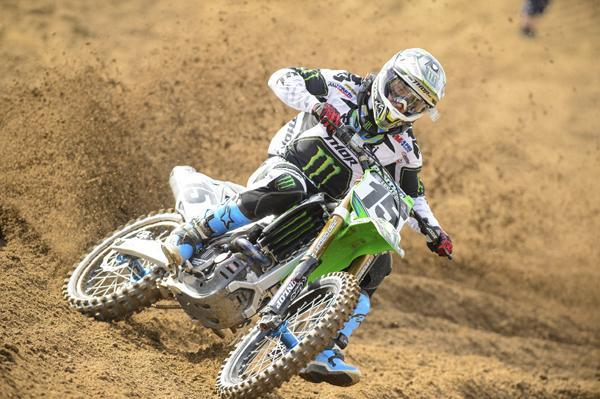 Dean Wilson.