Interviews by Jason Weigandt and Steve Matthes
Justin Barcia, Honda Muscle Milk, 5-3 for third overall in 450 Class
First moto was not very good at all. I really struggled. Little bit of bike setup. Just really didn't have a good moto so that was tough. Went back to the truck before the second moto and changed the bike up a little bit and it was better for the second moto. So that was good and I ended up third overall, which was a pretty good day.
I know that you've made quite a few bike changes throughout the season. What's been the biggest change to the motorcycle that's helped you out?
We definitely changed the suspension every single race. It's never easy. It's really tough. We're just trying to figure that out. Towards the end of the season we started figuring it out a little, but the guys worked really hard to get the suspension good. It's come a long way since the end of the season. I think it will be dialed by next year.
Ken Roczen, Red Bull KTM, 1-7 for second overall in 250 Class
Today was a great, and not so great, day. But you had that moto win, in California. This is kind of your second home race, as we were saying. How was today for you?
I actually felt pretty good in practice. Went into the first moto and got a great start. It just seems so much easier when you're out there right away. Just stayed there and felt great. I actually did feel really good before the second moto. The start was not the greatest but I came up here pretty quick and got taken out by Zach [Osborne]. I can't really remember how it happened. I was on the outside and just hit his back wheel and went down. I just couldn't really get going. Overall I'm glad, just finished in seventh then and glad that I'm healthy. I'm glad that it's over. Chill out for a little bit and regroup.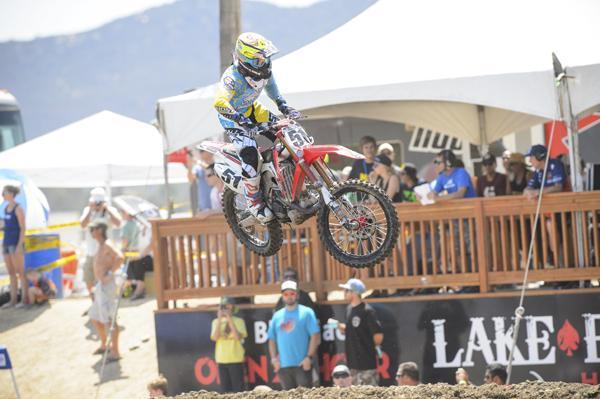 "Towards the end of the season we started figuring it out a little, but the guys worked really hard to get the suspension good." - Justin Barcia
Simon Cudby photo
Ryan Dungey, Red Bull KTM, 2-2 for second overall in 450 Class
The track conditions today were kind of tricky, kind of tough. What did you think of it?
The track conditions were tough. Every time you took off they watered it a lot too. So it was really tough in the beginning especially. Just tried to get in the rut and not washing the front or anything like that. But overall it was good. I feel like we got the bike setup pretty decent for the day. Would have liked to do a little bit better but at the same time I rode good. We're making good progress with the bike. We got a little bit of a ways to go too so we got to get some stuff dialed in. No excuses. It was a good day. Just moving forward.
Anything specific in the race that we may not have noticed or seen?
The first moto was decent. I got around fourth place start. I passed for third. And then Josh [Grant] actually was a little bit ahead of me in second. It took me about three laps to pass him. Kind of just came in for second. Nothing spectacular. The second moto got off to a better start. Think I was about third. Then Barcia, he was really on the gas and was able to make a pass into second. Villopoto, he kind of got a second a lap. I could kind of just see it. I was trying to try different lines and stuff like that, but it kind of looked like we just stayed the same for the later half of the race. But I was more than happy with the second one. We made some changes that were helpful. The track was tough, just really choppy and harsh. It was really sketchy actually in a few areas, but I was happy with it.
Well, like you were saying, KTM is kind of new, as it were, to championships, and were you. Like you said, only a couple years. Are you going to stick with everybody going into next year?
Definitely. We signed another couple years with KTM, 2014 and 2015. I don't want to discredit the review or anything like that. It doesn't make sense to say stuff like that. We're a good team and everything's going right, you just got to fine-tune it. It's part of it. Hopefully we can get on top next year and get some more wins and stuff like that. But I'm really happy we're all being safe and we got a lot to look forward to in the off-season.
Going to Germany, are you excited about this?
I am. I'm excited. Every year is an honor. Last year was tougher, like you talked at that press conference yesterday. It's exciting. It's a lot going on. We got great teammates with Barcia and Eli. They're riding really strong right now. I think we've got great chances, but it takes a lot of things to go right on the day. It's just exciting. It's cool to be a part of it and for the fifth year now to go there, it's cool. So I hope we can bring that trophy back.
In the motos when you're running like third and Villopoto's running up front, you can see him sort of inching away, how difficult is it to be patient trying to get by for second? Out here it looked like there weren't a lot of spots where you could really make something solid happen. The patience there, how was that?
You had to be patient. There were a couple places, especially in this little standing area, it was really one-lined. The first moto, he was right there. He made passes quick and I didn't. But the second moto trying to get by him for a second, I could see him starting to inch away little by little. That was the part I wanted to get by him, maybe pass. But like you said, there were a few areas that weren't ideal, but this track's tough. The dirt, you got a little bit of everything; it's soft, it's hard, it's choppy and all the bumps are different with the mulch. It really covers a lot of different areas. That's where your setup shines, is how consistent it is. It was good for us to take that feedback at least.
Villopoto missed all last summer with an injury. Because you're so consistent, you're here every week, you race des Nations every year, do you ever wonder what it would be like to actually have a break? Everyone else seems to get one, and you've had this many races in like the last seven years. Do you ever wonder about that?
I'm happy it's gone like that. You can sit and think about it, what it would be like. It would be cool. Just like you think if it was the end of your career and it's time to walk away, you know what it feels like if you really put yourself in that position. I was there last year, 2012. I did everything I could to race. It ended up the collarbone was busted, so I had to sit out five races. And that's tough. You don't really know how good you got it until it's actually gone. I'm sure Villopoto was last year pushing to be racing. Outdoors is a little more grueling and stuff but he was still wishing he could be out here. I'm glad I'm safe and healthy. I don't want injuries like that. It's stressful. It's tough. It wears on you. Maybe we need to take a step back a little bit this off-season and put things in perspective a little more. Racing's tough. It starts to take over your life in ways if you let it. It's very tough when you want to win and you're right on the boarder. It drives me nuts. The stuff I put my family through during the week, especially Lindsey, my girlfriend, and my dad. You feel bad. You become such a prick. At the end of the day, you just put things into perspective. You get to do this for a living and have fun and get paid to do what you love. But you just want to win.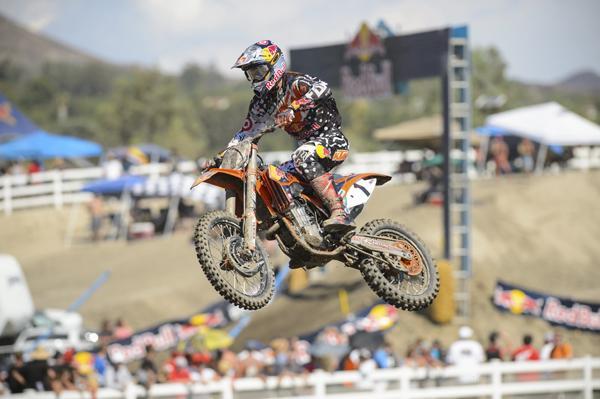 "We signed another couple years with KTM, 2014 and 2015." - Ryan Dungey
Simon Cudby photo
Eli Tomac, GECIO Honda, 2-1 for first overall in 250 Class
The track today, conditions were tough. Wasn't your cup of tea, was it?
Not really. It was just a day where I guess not totally into the track. Why take a risk to do something wild and crazy? And it was warm, too. So it wasn't like I could go full on the entire time without blowing myself up. I got kind of close to Blake [Baggett] there in the second moto but then he got me back at the end. We were kind of yo-yo-in. And then first moto Kenny was just out front so early that he was gone by the time I was in second. And it was kind of the same deal. So a two and another two [which would later become a win after Blake Baggett was penalized for jumping on a red flag]. But it was one of those days where it just wasn't my track.
Mitch Payton, Monster Energy/Pro Circuit Kawasaki team owner
You've refused some interviews late in the season here, but I got you this one. First of all, Blake Baggett, great second moto. He got penalized there. Thoughts on that?
Absolutely atrocious. I can't believe it. I think we're going to take it to the superior court.
It seemed a bit harsh.
I thought it was. On the replay he was on the right-hand side, the guy was on the left-hand side, and where his line was I really don't … Blake said he didn't see it, and I believe him.
Justin Brayton, JGR/Toyota Yamaha, 14-9 for twelfth overall in 450 Class
Not a good day for you but hey, you pulled the holeshot; there's something. And Josh Grant, your teammate did well in the first moto. So the JGR guys pulled the holeshots. I guess that's about it?
Yeah, holeshot. Second moto was not too bad. I struggled with the track all day. For some reason me and hard-pack, rough, potholes, just do not get along. Growing up in Iowa, we didn't have any of that.
This is nobody's favorite track.
It wasn't great. What's crazy is I did good on basically the same thing last week. Little bit of a bummer but I'm excited to be moving forward and getting married in a couple weeks. Healthy, and ready to enjoy a little bit of time off.
Trey Canard, Honda Muscle Milk, 4-10 for sixth overall in 450 Class
Good first moto. Coming from the back to have a good ride. Second moto you fell or something. What happened?
First moto was pretty good. I actually started in fifth. Just kind of slowly passed a couple guys. That was good. I felt good, felt strong. Second moto just didn't feel it.
I missed the crash.
I stalled it. I tried to start it in gear and it just kept kicking and kicking and kicking and lost a lot of spots. Tried to move forward and did what I could. I got hot for sure. It was baking out there. I think I kind of baked myself when I was trying to kick it. It was so hot; it was really hard to recover.
Still a good comeback from the back. You were kind of moving forward the whole time. It's probably not where you wanted to be but at least you picked off a lot of guys.
I'm happy to end the season and to have a full season under my belt. I've never done that. That's a huge thing for me. I think leaving here with some good things and some things to work on, definitely some motivation to come back next year a better, stronger person.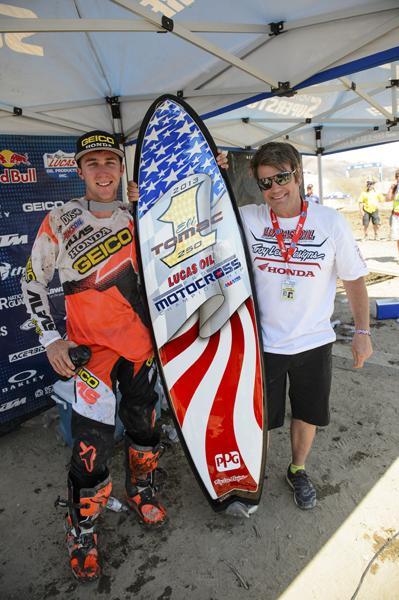 "I got kind of close to Blake [Baggett] there in the second moto but then he got me back at the end. We were kind of yo-yo-in." - Eli Tomac
Simon Cudby photo
Tyla Rattray, Monster Energy/Pro Circuit Kawasaki, 7-6 for fifth overall in 450 Class
Last week you were on it, bike broke, going to the front. This week, great first moto but then disaster.
It was definitely going good up until I twisted my ankle. I was happy with my speed, how I was riding. Obviously second moto too I felt like I was riding good. It was extremely hot today. It was pretty brutal out there. I thought the track was better than what I was expecting coming in. I think they did a pretty good job at ripping it, bringing in dirt. Definitely wanted to finish with a podium but I got fifth overall, which is not too bad.
Your mechanic, Wayne, said you almost pulled in the first moto. It was that bad. How did you do your ankle? What happened?
I was just going through the double-double section in the back and then after that there was a little step-up. Kind of jumped off the side of the track and my foot slipped off the peg and kind of went under the rear tire and twisted. For about half a lap it was pretty brutal. I needed to really ride slow and I couldn't jump anything. It was pretty brutal. But I knew I wanted to race second race so if I pulled off I'd have a terrible gate pick. Just took half a lap to regroup. Lost like 15 seconds and then got back on it again. It was a bit of shit luck but that's racing.
Jake Weimer, Monster Energy Kawasaki, 8-4 for fourth overall in 450 Class
Congratulations. You have sixth in the points. I was trying to get you and Shorty excited about this. Nobody seemed to care. But in the end you rode hard and got to sixth place.
I am victorious. The day overall was good. Last weekend and then today I qualified better than I have maybe ever on a 450. So I matched that today in practice which I was pleased with. And then I was riding fine. I'm just screwing myself over in the first 15 seconds. And then it just makes a lot of work. The first moto wasn't terrible; just when you start back there it's not going to look impressive.
Hard track to make time up I thought. It seemed like lap times, one guy would lose two seconds one lap, because he would make a mistake or whatever, but if everyone's not making mistakes, hard to make up time.
The track was technical so I think you could make up time. I think if you were close with somebody in speed it was a little hard to pass because there were a couple spots that were pretty one-lined, so it was maybe hard to pass in a couple sports if you're close with the guy. But I think you could make up time.