Lake Elsinore
Lake Elsinore

,

CA
Lake Elsinore
Lucas Oil AMA Pro Motocross Championship
Welcome to Racerhead and the very end of the 2013 Lucas Oil Pro Motocross Championship. After a long sprint back and forth across the country, we're finally back in Southern California to end the tour at Lake Elsinore Motorsports Park. Yes, the race is happening, and the park is open, contrary to some of the rumors that seemed to pop up in the past few weeks. Maybe it was because the park itself changed owners, and in the transition there hasn't been a lot of TLC given to the place over the summer. The skeleton crew led by Chad Azevedo has done its best to keep the doors open, albeit with a lack of equipment and manpower.
But that's not a problem this weekend. A fleet of trucks and tractors showed up when event manager Tim Cotter showed up. He's the MX Sports manager in charge of the whole Loretta Lynn's program, so he knows all about building big tracks from the ground up—we've done it every year in Tennessee since 1982, and Cotter has been there for all of them. He skipped the Miller Motorsports Park National last weekend in order to be here helping get Lake Elsinore up and running, and he certainly succeeded in blowing some folks' minds with all the work that was done out here in the past two weeks. Operators like Marc Peters, Brian Wallace, Bobby White, Duane Scott of Hangtown fame, Jeff Russell, and more. Lake Elsinore is not for everyone, but it's what we have for this weekend, so they're soaking the hell out of the track and allowing amateurs to run on it all day today to mix in all the new material.
Now we have a chance to close out a very successful series, watched by more people on TV, online, and in the spectator areas than any outdoor national series in history. The titles are already clinched—congratulations to Ryan Villopoto on his eighth major title in professional motocross/supercross and Eli Tomac on his 250 National Championship for GEICO Honda—so this should be more of a fun race than a nail-biter. It's going to be hot and rough, but the track is shorter than last year, the crowd will see much more racing, and hopefully we will end summer motocross on a high note. For Villopoto, it's his last outdoor race of the year, as he will go under the knife to get the screws out of his leg and hopefully be back for the Monster Energy Cup in Las Vegas in mid-October. But based on the way he was riding last weekend in Utah, and yesterday during the press ride, he plans on going out with another win.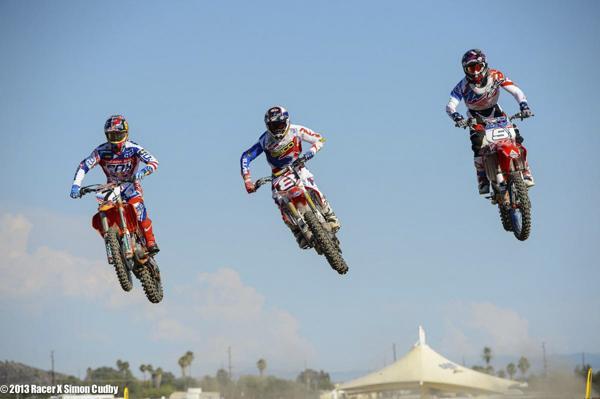 Team USA was out at Lake Elsinore on Thursday.
Simon Cudby photo
For his competitors Ryan Dungey and Justin Barcia, plus Tomac, there will be one more outdoor race: the FIM Motocross of Nations in Germany in late September. Jeff Emig and the the AMA's Kevin Crowther introduced the squad yesterday for a press conference and photo shoot here at Lake Elsinore, and I have to say we should all feel pretty good about our chances of getting back the Peter Chamberlain Trophy. Dungey and Barcia definitely are driven by the fact that Team USA's winning streak ended last year at seven, and Tomac is just flat-out flying right now. Roger DeCoster said yesterday that he's also feeling good about our chances, but know that men like Tony Cairoli, Clement Desalle, and Gautier Paulin are waiting for another shot at bringing down our American heroes.
Meanwhile, over in Europe, Jeffrey Herlings is out with a broken shoulder blade in Belgium, his perfect season ended at fifteen consecutive GP wins. And congrats to Australia's Dean Ferris on winning his first GP (and really his first major race, as he's never even won an Australian National before!). Ferris will be on Team Australia, and who knows who the Netherlands will bring up to replace the sensationally fast Herlings? Ken Roczen's German team lost Marcus Schiffer to injury (K-Roc ran the #2 on his jersey during yesterday's press ride, which he will wear as Germany's MX2 man), so it will make defending their title even harder, even though the race is in Germany. But I have a feeling Roczen will have even more motivation to win the MX2 class there, as Tomac has been pulling away from him in the second half of summer.
As you can imagine, it's been an extremely busy week, as we all went straight from Utah—which had a very big and enthusiastic crowd (and of course some serious late-afternoon wind)—straight to the Inland Empire to go to work on this track. There is a season celebration on Sunday night at the South Coast Winery in Temecula, and then that's a wrap on this series. But we are already working on 2014 and beyond, with some big announcements to come. Thanks for the support, and thanks for the input, as well as the constructive criticism. We are moving forward in many ways and focusing on all the possibilities we now have ahead of us for Lucas Oil Pro Motocross. Don't worry, traditionalists—no more "infield" tracks will be added. But MMP will be back and much better. We all learned a lot last weekend, and we'll put it to good use.
And yes, I know, J-Law is here. He's racing amateur day, not the real national. Oh well.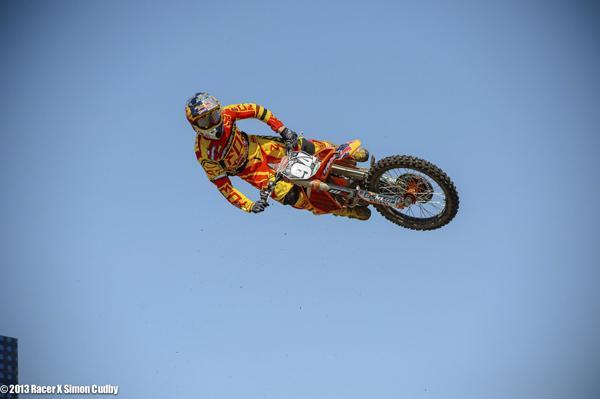 Ken Roczen, and Team Germany, look to defend their title at the Motocross of Nations.
Simon Cudby photo
Time to get back out there; here's Racerhead.
HOW TO WATCH...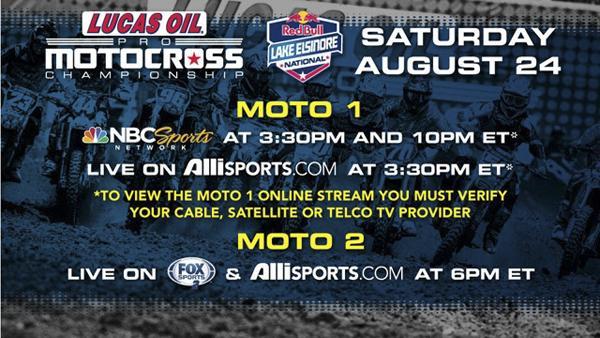 NBC Sports Live Extra's free online streaming coverage of the second motos is now also available to Cox Cable subscribers—just have your password to verify. Same goes for DirecTV and Charter subscribers. Click HERE for complete details.
WHAT THE FUTURE MAY HOLD FOR REED (Steve Matthes)
A simple tweet by Chad Reed said it all:  "All's well! See y'all in Anaheim"
And with that, Reed bowed out of the last national of the year at Lake Elsinore, the Motocross of Nations, and the Monster Energy Cup, all with one tweet. Reed's had a terrible season, and after pulling off in moto one at Utah, he left the track and apparently has had enough of 2013. It's not the way he wanted to go out, but an illness, unhappiness with his Honda, his contract being over, and an off-season that wasn't 100 percent devoted to winning all caught up to him somewhere out there in moto one last Saturday.
Publicly he hasn't said much, but privately he's not been happy with the performance of the 2013 Honda. He's also not one to play the political game, and there have been a lot of hoops to jump through with Honda. One of the older riders out there now, Chad's certainly not where he once was, but I refuse to believe he's only as fast as we've seen him this summer. It's a basic right for any person to not put their medical maladies out there for public consumption as Reed has, but it's also fair game for people in the paddock to speculate that perhaps there's nothing wrong with Reed at all and it's simply a lack of speed.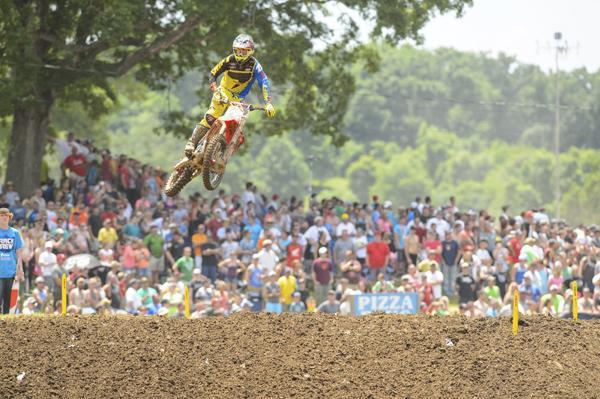 Where will Reed land in 2014?
Simon Cudby photo
This whole process that's going on right now is reminiscent of the end of 2010. Reed, then on the Monster Energy Kawasaki, got hurt early in supercross, and when he came back he was getting sevenths and eighths. Yeah, he won the opening round of the nationals, but from there it was a downhill ride until eventually he pulled out near the end of series and that was the last time we saw him on green or wearing Thor.
We know what's happened since then. Reed got a privateer Honda, his own team, and showed everyone what was up. He won races, he led championships, and he showed that he was still the stubborn kid from Australia who wouldn't take no for an answer—first in Europe and then in America.
I counted him out after he went out with a whimper at Kawasaki, but I'm not doing that now. Yeah, his title-winning days could be over, but if he gets healthy and dedicates himself this off-season (maybe too much go-karting last year?), there's no reason he can't win races.
I predict we'll see him on another brand of bike, either on his own team or on RCH (strong rumors are that he's already tested a Kawasaki and a KTM) and he'll be back. Just watch.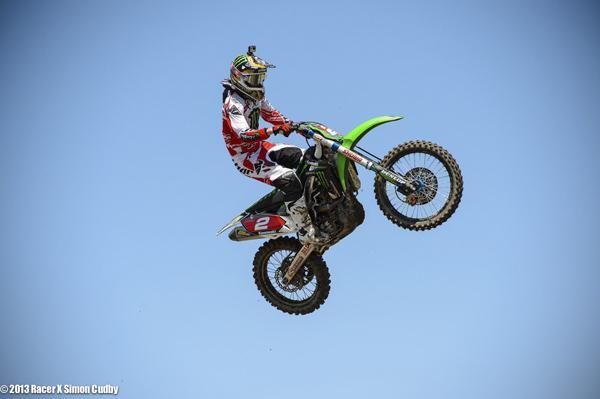 RV will have surgery following this weekend's Lake Elsinore National.
Simon Cudby photo
ORANGE BLUES (Jason Weigandt)
There was a point during the Nationals were Ryan Dungey had strung some 450 wins together and Marvin Musquin and Ken Roczen had won the majority of the 250 races. During the second half, though, Villopoto and Tomac found a groove, and the orange boys dropped back. Dungey and Roczen came into Utah with heavily revised bike setups they said worked much better and set them in the right direction for the future.
"We really kind of reinvented the wheel this week," Dungey said. "We had to. It was time. We got a lot of different internal pieces that have helped along the way. I think we're onto something really good. It's the first time I rode the bike the way it was today ever. There's no excuses, but it was a brand new setup for me. It was so much in the right direction, but now it's going to come down to fine-tuning it. It came a little too late. I would have liked to have seen it quicker, but it's racing. Sometimes you just hit that breaking point and you have to do something. That's where we were at. Or else we weren't going nowhere. I think our bikes are going to really start coming around here from this point forward going into next year that you guys will see."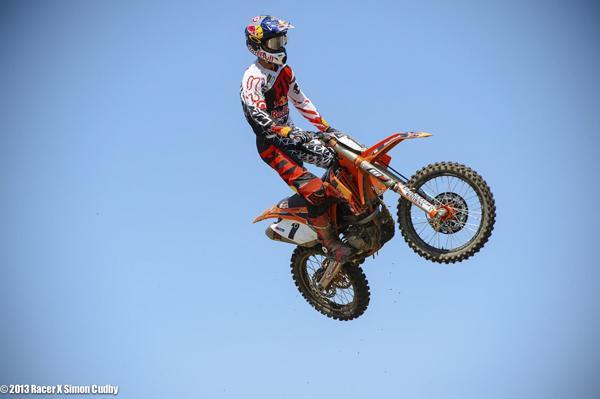 Ryan Dungey looks to end the season with a win at Lake Elsinore.
Simon Cudby photo
Both Dungey and Roczen commented that they'll need more seat time with their new setups to really reap the benefits, but they're happy to have finally figured something out. (Roczen actually switched setups three times during the day at Unadilla.)
"I think that's one of the things you could see with Eli—he really seemed comfortable with his setup, and he was confident when he went to the line," Roczen said. "I was losing some self confidence."
SILLY TIME (Aaron Hansel)
The 2013 Lucas Oil Pro Motocross Championship may be coming to an end, but silly season is in full swing as racers scramble to ink contracts for 2014, just as teams with open spots try to find the best available talent to fill them. One of those teams is Valli Motorsports, which took a break from racing after supercross this year. While nothing is set in stone, the team has expressed a strong interest in Kyle Cunningham to race 250s for another year, with the option for a second rider and Larry Brooks as team manager.
Early rumors had that second rider as Christophe Pourcel, and the rumors were indeed true—but now it's looking like that probably won't happen. While team owner Chad Lanza says he has a lot of respect for Pourcel, the disconnect boils down to Pourcel's desire to forego supercross and focus solely on obtaining the 250 National Championship that narrowly eluded him two years in a row.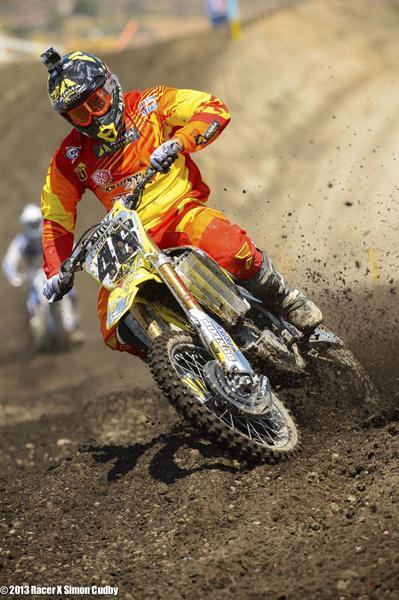 Weston Peick is still searching for a ride for 2014.
Simon Cudby photo
IN THE MAG: FASTER NOW
Every now and then, a rider completely changes the way motocross bikes are raced - Hannah, O'Mara, McGrath, Carmichael, Stewart … and now Ryan Villopoto. With his creative line choices, unique body position, and sheer speed, Monster Energy Kawasaki's Ryan Villopoto is changing the game. Read more about why Ryan Villopoto is so fast in Faster Now, written by Davey Coombs starting on page 118 of the October issue of Racer X Illustrated.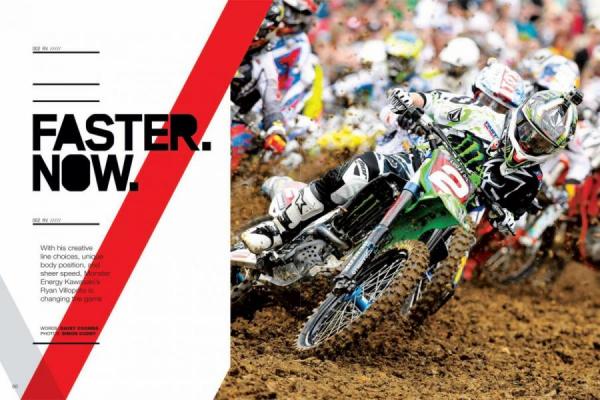 HEY, WATCH IT!
Racer X Films:
Utah Remastered
Other:
Ronnie Mac Attacks the Track
Beyond the Finish Line: Episode 12
Without Boundaries: The Hills Chapter
RANDOM NOTES
Be sure to stop by the Racer X booth at Lake Elsinore this weekend to pick up your 2013 event sticker and check out our special subscription offer! You can get thirteen issues of Racer X plus a Kevin Windham drawstring bag for only $20!
Did you get an all-day pit pass? There's still time! For only $40 you get an all-day pit pass plus a one-year subscription to Racer X. Order yours now.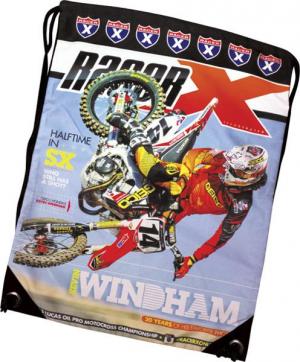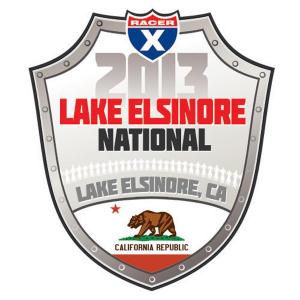 I Am Specialized: Loretta Lynn's P.Series Pump Track.
That's it for Racerhead. Thanks for reading. See you at the races.