Miller Motorsports Park
Tooele

,

UT
Utah National
Lucas Oil AMA Pro Motocross Championship
Weston Peick has arrived. Over the last couple of seasons, there may be no greater improved rider than the privateer from sunny southern California. I can remember racing him during the supercross series of 2010 and literally thinking, "There's no way he will make it." Back then, he lacked the essential SX skills that you see from the top riders in the sport.
The goals for a supercross rider are ever changing depending on several factors ranging from the economy to rider depth to preconceived expectations. For Weston, I really thought if he could be a week in, week out main event guy that would be a victory. Boy, was I wrong. In just three short years, he has climbed from watching the main events on a weekly basis to being a solid top ten contender in them. And this is with the depth of the premier class rising to unrivaled heights as of late. He is consistently beating factory riders from all spectrums of the rainbow. It helps that he isn't intimidated by anyone on the starting line. Regardless if he is battling with Justin Barcia or Justin Bieber, he approaches everyone the same: get out of my way. This is tough to do when you have not only been beaten by these guys consistently, but in many cases, have looked up to these riders for years. The most fascinating point in the story of Weston Peick, however, is the focal point of this article: why isn't he on a high level team?
There are many theories, some valid and some silly, as to why Weston is on his own in this cruel, cruel world. You see, when Weston was a bit younger and a bit immature, he wasn't very polished with the media. He was brash, outspoken and downright brutal in some of his interviews. He never minced words about his level of support or how his bike performed. If he felt he deserved more help, he made sure everyone knew it. If his team was not holding up its end of the bargain, he made sure everyone knew that as well. Many times, a team will promise things that don't come to fruition. Most of the instances get swept under the rug. But Weston never pulled punches when explaining how he felt he was wronged.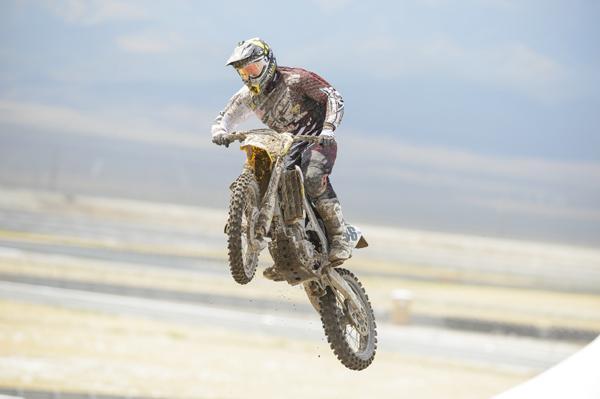 Weston Peick finished fourth overall at the Utah National.
Simon Cudby photo
Unfortunately for Weston, this is a very small industry. Speaking poorly of a sponsor or team goes over like a turd in a punch bowl when it comes down to it. If you bad mouth a team, the current sponsor goes to Defcon 4 and all prospective sponsors take a giant step back in fear of that happening to them. In Weston's case, he spoke freely about his lack of support from a former team and it didn't sit well with many people inside the sport. I have seen this happen before as one incident can scar a reputation for years to come and only after drastic PR measures have been taken, can the rider patch his image. One such instance was the GOAT himself, Ricky Carmichael. In the early days of Ricky's emergence, someone dreamed up the idea of sending RC out in a king's regalia complete with a crown at the U.S. Open of Supercross. As RC was slowly starting to unseat the King of Supercross, Jeremy McGrath, this was a slap in the face to fans who worshipped Showtime and weren't ready for the eventual passing of the torch. Boos abounded in this snafu and it had a profound effect on the general perception towards Carmichael. It took years of damage control and appeasement to finally win back the masses. Incredibly, Carmichael is now one of, if not the, most beloved riders in the history of the sport. It was truly a miracle of image repair.
On this same note, look at the transformation of one of our current announcers, Jeff Emig. In Fro's racing days, he had a major speech impediment. Asking for Jeff's opinion on the race he just won was sometimes simply painful to witness. Flash forward to today, and after years of speech therapy and practice, he is the analyst for live television at both supercross and outdoor events on a weekly basis. Quite the progression and even ironic if you really think about it. The one person that pit reporters and producers dreaded to put a microphone on is now the same person that is paid to present our sport to millions of viewers.
When I sit back and really try to decipher what is keeping Peick out of the factory trucks, a few things come to mind. I do feel that he needs work on his people skills and patience with the people he perceives to be overlooking him. How a rider comes across to sponsors, fans and media outlets is so crucial in this sport, almost even as important as results. Thanking sponsors, even if he feels the support isn't up to par, will go a long way in mending fences with important people. He has to show that he can be the company representative that these sponsors are looking for. In this world of internet media, every team wants the complete package. Impressing everyone during the moto goes a long way but one misstep in a post race interview can erase all of that progress. It really is a key ingredient in making that next step for a rider on deck.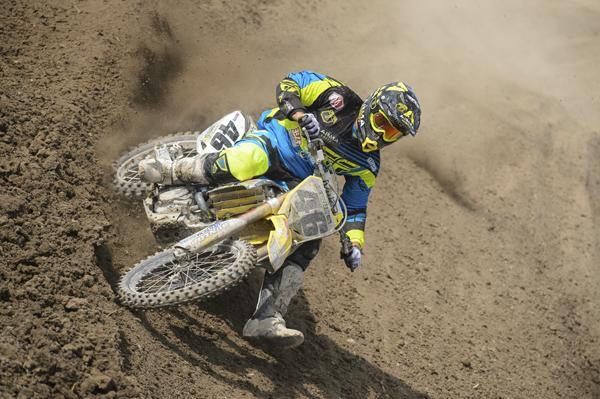 Peick is currently 17th in points after only competing in four races.
Simon Cudby photo
I think we can look to the past to find the answers for the future. Weston needs to steal a lesson from the Carmichael playbook. Mending his image at all costs will do wonders for the Wildomar warrior. With his underdog story, steadily improving results and the fact that his true potential is unknown, if he can turn the PR ship around, this is a Cinderella story in the making. Teams can help alleviate their own concerns. Most of the main teams have public relations specialists and those that don't, certainly have the means to provide one. Improving Weston's skills with the media and the business side of motocross is something that can be done. Top-level teams have all been through the sponsorship and media wringer plenty of times. Their experience can help him.
Taking a good rider and helping his perception can be done. Taking a great speaker and turning him into a top ten supercross/motocross rider is much more difficult. That is the crux of my argument. These perceived deficiencies in Weston's package are fixable. It may take work and it may not happen overnight but for the multitude of teams that are drooling over a top five finish, isn't it worth the risk? A diamond in the rough is still a diamond. My prediction is this: someone is going to take a chance on this kid and with some work they are going to reap serious benefits. The fans are lining up to back his efforts and the team that makes the move is going to instantly become a band of heroes. Perception is not always reality and my honest opinion is that with results like last weekend, it is merely a matter of time for Weston. The question is, who is willing to make the first move?