Miller Motorsports Park
Tooele

,

UT
Utah National
Lucas Oil AMA Pro Motocross Championship
By Jason Weigandt and Steve Matthes
Blake Baggett, Monster Energy/Pro Circuit Kawasaki, 2-2 for second in 250 Class
It was gnarly that second moto! It felt like at Comp Edge Tuesday testing with Bones [Pro Circuit suspension man Jim Bacon] at like 6:00 p.m. I was ready to go home and get some dinner. It was a good day all around for having the track kind of build last-minute stuff, in the middle of an Indy car circuit is awesome. There's not much water out there so it makes it tough and the track kind of deteriorates. Also, most of that dust was coming from the mule roads on the side of the track and the water truck, so nothing we could do but keep going and pull tear-offs.
What was it like being the National Champion? Every week you set up you saw your bike sitting there, it had the number 1 plate on it. Is that the extra pressure?
It definitely brought some pressure but also there wasn't much pressure because I was coming in injured and had two surgeries before the season. I'm getting surgery after Elsinore again. Just trying to chase this thing and get it back to normal. It was tough to watch the points just slowly slip away from me every weekend. And then you get a win [at Budds Creek] and then nothing for a while. We could go out and win Elsinore and it would top off my season.
You got to play a bit of a spoiler in that second moto, help Eli clinch it here. Is that a little bittersweet for you?
Bottom line is he deserved it. He's the one who put in the work and he was solid all season long. Racing against him last year it was a tough fight. There were many weekends where I thought he was going to get it done last year, both Barcia and him. He deserved it and I was just trying to do my best every moto I can until the end and see where I end out. – Jason Weigandt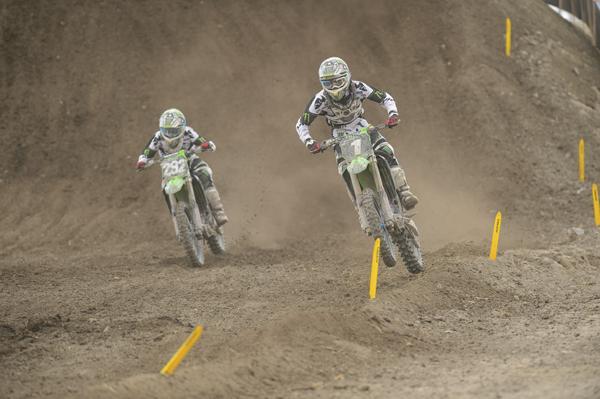 "I'm getting surgery after Elsinore again. Just trying to chase this thing and get it back to normal." - Blake Baggett
Simon Cudby photo
Ryan Dungey, Red Bull KTM, 2-2 for second in 450 Class
Take us through your afternoon. That first moto didn't quite get off the line like you had hoped.
Yeah, actually the first one I got off good and then I just spun. We would find ourselves back about fourth or fifth. And obviously Ryan, he was out front and already pulling a gap so it was pretty hard when I got to second to make up ground. Just tried to ride good. The track was really fun; I enjoyed it. It was definitely different. Obviously it's a new facility so for all of us it was a lot of getting used to. But just tried to kind of find a good flow in the first moto and come in for second.
You said you spun coming out of the gate in the first moto?
I got off the gate good but I spun when I got over the gate. It was sandy.
How hard was that start? It looks like it's totally different dirt from the gate to in front of the gate to up the hill…
Yeah, it is. Behind the gate it was obviously kind of harder sand and wet. I think it was harder because it was wet so there was more traction. Then you got over the gate and it was like powder. But I lined up on the inside of Villopoto the second moto. He picked the same gate so I went on the inside of him. Got off the gate and the drive I got was way better. So that was good. It's definitely down on power down out here with the altitude. You've got to start in first and you've got to make that shift as quick as you can. I kind of fumbled around in the rut trying to get the shift in and then all of a sudden Villopoto kind of started sneaking up on me and then he got me in the first turn.
You guys on the factory 450s had to start in first gear at the altitude up here?
I do. I think we all pretty much do. It robs so much horsepower. I would say close to 20,30 percent. Some corners you're in first gear that are tight just to get a good drive going.
How was the track for passing?
There wasn't many lines. Couple areas there were a lot of lines. But for the most part there wasn't many lines. I think what made up for it is that the track was so wide. You could really come from outside, come in if the guy was inside going out. You almost could just run it in and surprise him. You kind of thought it was one-lined because there was only one main, good line but it when it really came time to it, it wasn't bad at all and the passing was fine. There were a couple options to switch things up. It was actually pretty good. On the sand section over there was a ton of lines.
How about some thoughts on the facility and everything else here?
I think for first year it was good. It was a good turnout. We all have our own opinions but obviously when you come to a new track it's almost like it's got to prove something before it can win your favor. I did the first practice and I was like, 'It's pretty good.' I was kind of out there trying to find different lines. Then second practice was much better, wasn't so wet. I think as the first year here they got a good idea with how to water it, how to maintain it, a bunch of new dirt. I think it was good. Elsinore got really hard last year and this was really choppy but it was also physically a tough track. You're up here at elevation. But the facility was awesome. It's cool to come out here. This ain't out in the middle of nowhere compared to some of the places we've gone. I think you're going to have a lot of people with a lot of opinions but overall they did good.
Wonder if you had a chance to participate in any other experiences or activities here at the track? If you did, what were they and how'd you enjoy them?
I didn't. I was actually pretty impressed with the zip line thing over here. My mechanic and all them went go karting, which is cool. There's so much to do. I think next year I'll get here and try to set some stuff up before I get into town so we can do those fun things, like driving the Raptor truck. I would have been down for that. There's a lot to do out here. It's beautiful. – Jason Weigandt
Ken Roczen, Red Bull KTM 4-2 for third in 250 Class
Today's a little bit bittersweet for you. Tell us a little bit about your experience up here at the Miller Motorsports Park.
I really like the facility. It actually reminds me of the GPs a little bit, because every time we would go to England or Brazil they would have this kind of track. It's fake but most of the time we go to the tracks that are really far outside of anything and there's just hills, kind of like more natural tracks. I think it was kind of fun to mix it up. It reminded me of Elsinore last year. It's definitely a tough one. A lot of bumps and big jumps and the storm, too. But it was good. It was for everyone the same. I think it was cool that we all get to have a chance to be on the new track.
You mentioned the dust storm that picked up about halfway through the 250 moto.
Yeah. Honestly it's super loud too. It was very crazy. It was hard to see. The track on some places got really dusty and with the wind the outside dust just from the road and stuff came on. It was pretty crazy. I actually thought that it was going to get red flagged. I wasn't like waiting for it but I was curious what was going to happen. I think the first time I've ever really raced in a storm like that. It was definitely different, especially since we have pretty big jumps. Once you're in the air there's nothing you can do.
Did you find yourself moving around up there in the air?
Actually the way the track was ... I don't think it ever moved me from left to right. I struggled to do some jumps, to be honest.
You were talking about your bike. You switched back and forth, back and forth. It sounds like you've settled on one setup now?
Yeah, the last couple of weeks we've done a lot of testing and changed a lot of things. Like Ryan [Dungey] said, we had to. I think right now, already in the second moto I felt way better than the first moto. It's all about getting to know your bike like how I did in the beginning of the year. I have to say the suspension was not perfect for me but I had ridden it for so long and over and over that it was good enough for me to hammer down and win, but we needed to do something better. We got better but it's just such a different bike that I think it will still take a couple of weeks to really adapt to it really good and to find the limits on the bike. I think it worked a lot better today than it did the last couple of weeks. I think we really made a step forward. From now on, for that coming week, it's all about getting your motos in and ride the same stuff so you get used to it.
Can you talk a little bit about that second moto, with the points and everything? You had a pretty intense race with Blake there.
I fought the whole moto. Already coming into this race Eli had a really big gap. It was kind of done but actually once it really happened it really bummed me out. But I fought and did everything I can. He got me towards the end and had a good battle with Blake. I didn't want to get too close to him. It was the last lap and right before the finish so I had to do everything I can to try to keep him behind me. But it was a really close finish. Overall though I'm a lot more happy with the bike now. The second moto I actually thought I rode a lot better than I did in the first moto. Overall the track and everything was pretty rough and it was challenging.
Did you know Blake was that close? Did you know he was coming or did that catch you by surprise?
I knew he was coming. I kind of had a couple of bad laps right when Eli passed me. I was slacking; I don't know why. Just kind of like a hole I had … Then after I got going a little bit better again. If I wouldn't have had that hole I think I could have kept him behind me. But it is the way it is. I got beat again, so have to work forward. –
Jason Weigandt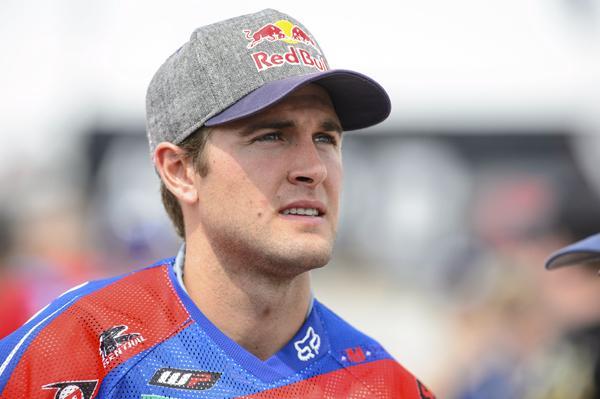 "The track was really fun; I enjoyed it. It was definitely different. Obviously it's a new facility so for all of us it was a lot of getting used to." - Ryan Dungey
Simon Cudby photo
Trey Canard, Honda Muscle Milk, 3-3 for third in 450 Class
My afternoon was good, here at this fine facility. Practice was a little rough but I honestly didn't feel like I rode that great. I got decent starts and felt like I kind of just rode to where I was comfortable and then that was it. So I was a little bit disappointed with that but I'm so grateful to be back on the podium. It's so huge. It's so good after Millville. Last week was a disaster. It's good to kind of have a little bit of momentum going to the last round.
Last week you had that first turn pileup. Your mechanics did a fire drill, got you back in action. Were you banged up at all?
No, I was good, thankfully. The team was bummed. It's hard to lose something mechanical the first moto. That kind of put us in that situation for the second moto. But I broke a wheel, I broke all the spokes out of the wheel so I had to kind of drag it over to the mechanics area. By that time I was a lap down. But super grateful to be hitting the ground really hard and bouncing rather than thudding, so that's good.
What was it like to get a big crash like that and come out okay?
I think the first moto [at Unadilla] scared me more honestly. I was going up the face of the biggest jump out there and the thing just did that whole fake noise that we all know too well. That really scared me because that's no good. But it's great to be at this point in the series. I'm just fist pumping because I'm just excited to be here. Obviously we wanted to be doing better but it's a home run for me to be at this point from where I was last year. So I guess to answer your questions, yeah, I was just pumped that I was okay. I was actually in a pretty good mood when I got right back. – Jason Weigandt
Justin Barcia. Muscle Milk Honda, 11-4 for sixth in 450 Class
First moto you had a little bit of a run-in out there.
Yeah, sure did. I got my clock cleaned. Stewie got me, the younger one.
Did anything lead up to that?

Supposedly, but I don't remember. I wasn't sure. From amateur days, I guess?
The second moto sounded more like a PW50 instead of a CRF450.
Yeah, my header kind of got messed up a little so it was loud. I liked it kind of. It was like, I'm coming! Look out! It didn't really affect the bike too much. A little on the jumps, losing a little power. But it wasn't too bad. My second moto was going better than the first moto today. The track was tough on me today but made it out safe so that's good.
What's your anticipation for next week heading into Elsinore? I know that's the final round. The championship's over. There's kind of not much on the table other than some pride.
Pride for sure. I'd like to get a win before the season's over. This weekend was a good opportunity I think just because it was a new track, no one's ridden it. I would have liked to do it here but next week that's my last opportunity to do it and definitely going to give it my all. I'd really love to get an overall win. A moto win's good but an overall's a lot better. So we'll see what we can do. Both Ryans are super fast. Trey's fast. Everyone's fast. It's going to be not easy at all. – Jason Weigandt
Jake Weimer, Monster Energy Kawasaki, 8-6 for seventh in 450 Class
Kind of sucks because today I actually felt like I was kind of carrying the Unadilla vibe and qualified the best I've qualified in practice all year. Was feeling good and then got a good start in the first moto and blew that. Just spun out. So got passed a bunch, was 15th or something then fell later. I got up to Brayton, was on Brayton, and fell again and Sipes went around me and there were like two laps left or something from then. Then second moto, yeah, just bad start and kind of slowly rode forward. – Steve Matthes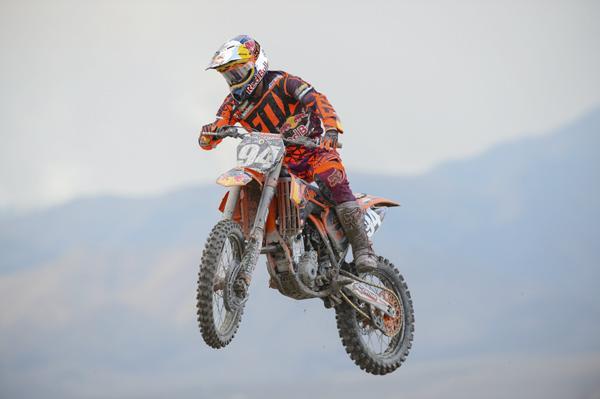 "Yeah, the last couple of weeks we've done a lot of testing and changed a lot of things. Like Ryan [Dungey] said, we had to." - Ken Roczen
Simon Cudby photo
Zach Osborne, GEICO Honda, 6-10 for ninth in 250 Class
You ran up front, probably didn't have the day you wanted to. Talk about it.
The second moto I just kind of backed off. I was a little sketched out by the wind and stuff. My main goal this season was to score points in every moto and be top five in the championship and today I wrapped up that. I've been through a lot and I know it doesn't seem like much to probably most people but it does to me. It wasn't great but it was okay.
Adam Cianciarulo, Monster Energy/Pro Circuit Kawasaki, 3-9 for fourth in 250 Class
This is what we've been waiting for. Great job today, third place in the first moto. Second moto you fell in the first turn and came from last to ninth. Great day.
Yeah, it definitely was a good day. Good qualifying. My plan this morning was to get behind Tomac in practice just so I could get a good gate pick. I did that in the first one. I think I ended up fifth and then kind of applied it by myself in the second practice and got second which gave me a lot of confidence for a guy that gets pretty much tenth or twelfth every weekend in practice. To come in here and get second, it was definitely good. I got a good start in the first moto. Not great, but good. I think I passed a couple people right off the bat; they all bunched up over that single. Osborne and I battled for a little bit. I was able to get around him. Then Baggett was behind me until maybe five minutes to go and I made a huge mistake and then he caught me and he went by me. Then third for that moto which was really good for me; I was pumped. Second moto kind of banged some bars with some dudes. A lot of the dudes are bigger than me and that didn't go in my favor. I was on the dirt. But I made a lot of good passes right off the bat, right on the first lap when they were all bunched together. So that was really good. I made it to about halfway, kind of felt a little fatigued. Altitude, whatever excuse. But the track was gnarly. So 3-9 for 4th overall. Good day for me. – Steve Matthes
Matt Goerke, BTOSports.com KTM, 9-11 for ninth in 450 Class
Good day for you overall. You had a good day at Unadilla, considering your wrist. Today wasn't so bad.
Pumped to get a top ten overall. First moto it felt pretty good for about 20 minutes and then it starts getting weaker. Still got a ninth so that was good. And the second moto was just trying my hardest to hang on. Still pretty sore and hurts on the landing of the jumps, but I hung on for eleventh so that's not bad.
I imagine this track was worse for your wrist than Unadilla. This one's square-edged, choppy.
It was definitely worse. It was really hard at the end of that second moto. I even crashed on the last lap because my hand came off. But luckily nobody passed me. Considering how much pain I'm in I'm pretty pumped on how I'm doing. I got a top ten. I wish it would have healed faster. But it'll be good. After this last race take a few weeks off to let it heal up all the way. I think I'll be good. – Steve Matthes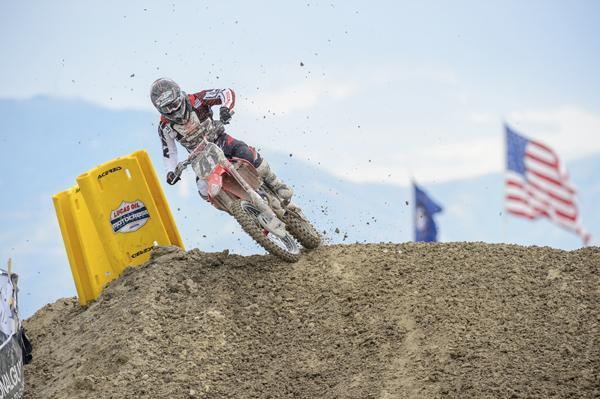 "I think the first moto [at Unadilla] scared me more honestly. I was going up the face of the biggest jump out there and the thing just did that whole fake noise that we all know too well." - Trey Canard
Simon Cudby photo
Darryn Durham, Monster Energy/Pro Circuit Kawasaki, 8-5 for sixth in 250 Class
No matter how you do you're always willing to do interviews and you're always in a good mood. After that second moto, I got to think you're in a better mood. That was a good ride.
It was a pretty good ride. I'm not sure what I got overall; I went 8-5 today. That dust storm was pretty wild the second moto. I had a good start and it kind of took the wind out of my sails because that's how I got hurt, was jumping in the wind. So it was in the back of my head. I kept jumping everything. Luckily it was more of a headwind than a crosswind so it wasn't too bad.
Alex Martin thought they were going to red flag it. He said he was coming up short. Was it that bad?
It was. You had to hit the jumps faster to make them.
And add the altitude of the slow bike.
That and the dust everywhere, banners flying. It was a pretty wild race but I rode decent. I think I could ride better than that. I rode tight, but you'll have that. – Steve Matthes
Justin Bogle, GEICO Honda, 9-4 for fifth in 250 Class
Great second moto and a good day overall, but the second moto you led a long time and it was good.
Second moto, that's the most laps I've led since 2011. So it was a good step in the right direction for me. Good starts today. First moto I was running up there I think about third or fourth and then I went down. All in all good day. For me it's a good building block for next year. That's pretty much what this year was, just try to build and be a title contender next year. Feeling good about it.
The season itself, it started off slow but around three or four you started coming on. Did you change anything?
Just getting time under my belt. I'd been off for a while and even last summer was kind of a hit and miss kind of thing. Just getting time under my belt and getting confidence. I was lacking confidence honestly coming in, just with all the injuries and everything. No excuses. At this point I'm just trying to get back up there. –
Steve Matthes