Miller Motorsports Park
Tooele

,

UT
Utah National
Lucas Oil AMA Pro Motocross Championship
In just three races, GEICO Honda's Eli Tomac went from a close second in points to wrapping up the Lucas Oil Pro Motocross Championship in the 250 Class with a full race to go.
He did most of the damage on his own, courtesy of an eight-moto win streak. But he did get help in the final moto of Saturday's Built Ford Tough Utah National, when Blake Baggett passed Ken Roczen on the last lap, which gave Tomac enough points to seal the title. It all happened so quickly, you could tell it all had not sunk in for Eli during the post-race press conference.
Racer X: Has your phone just been going off non-stop?
Eli Tomac: Yeah, social media world has been blowing up [laughs]. For me, I didn't really think it was going to happen today. I'm kind of in shock I guess. I wanted to know when I went over the finish line so I could do some big donuts on the concrete or something, but I was like, man, 'did I get it?' I didn't know. So I waited all the way until I got down here to do it.
Take us through the first moto because that was a good one.
The first moto was good. My starts were pretty good here this week, for me. They were around top five. I only had a couple moments there. First lap actually over the big triple Cianciarulo came over on me pretty hard. I don't know if he was watching out for someone else but it almost turned really bad. Walked away okay right there. It took me a little bit to get to the front but from that, just moved forward.
Second moto - we talked to a few of the other guys - things got a little bit hairier out there. You had to do quite a bit more work.
It was. The wind got wild. I crossed over some banners once, so over the next step-up I looked at my rear wheel. I was like, is there anything there? I was wondering if I had sucked banners into my wheel, but it was all good. It reminded me of a WORCS race or something where it's just dust flying. For a while there I was kind of settled in. I ended up losing my rear brake. It faded but came back a little bit at the end, so that's when I was able to make that last little push.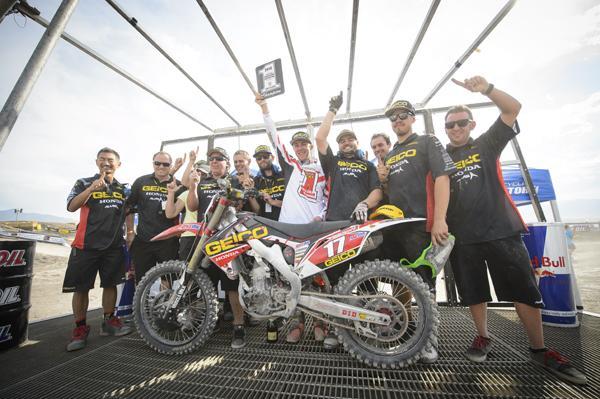 Eli Tomac and the GEICO Honda team celebrate in Utah.
Simon Cudby photo
It was so close in points three races ago. Did you ever think you'd wrap it up early?
You always want to do it, seal it before the last round with all the hype and the pressure. I was just going with the flow.
How about visibility? You talked about banners flying across. I'm sure there were probably lots of holes too?
Yeah, the track did deteriorate pretty quickly. There were some dry pot holes and some edges you had to watch out for. You kind of had to jump around stuff and just kind of watch out. It could come up to bite you.
You've won eight motos in a row. Do you think this is the best you've ever ridden?
You know, when you're riding you just kind of feel like you're riding, because you ride similar every week. You know your own pace. You don't feel super awesome. I'm just riding my pace like I ride at home. I think it has stepped up and it's been showing here the last half of the season.
Do you think you have an advantage altitude or anything like that? Do you think that worked to your favor like it did in Colorado?
I wouldn't say altitude was huge. It seems like most guys, we get through it pretty well. I think maybe if it was a longer event, say like an hour, those signs would start showing. But I think for the 30 minutes most guys can get through it if you're in decent shape. Other than me just feeling kind of normal; I know some people can get kind of jacked up from altitude just for how they feel today. That's where I would have the only advantage.
Has it sunk in at all that you won the title? Do you even have any feelings yet or is it almost too early?
Right now I'm pretty worked. I'm just tired. I'm out of energy. I'm just flat. I just need to go get some food then I'll start thinking about it!
You seem like a pretty humble guy, but I'm pretty sure that with championships come big bonuses and opportunities. Is there anything that you're looking forward to maybe add to the Tomac collection? Big car, house, plane…?
I am pretty smart with my money management. I might fix up an old truck or something. Do something fun.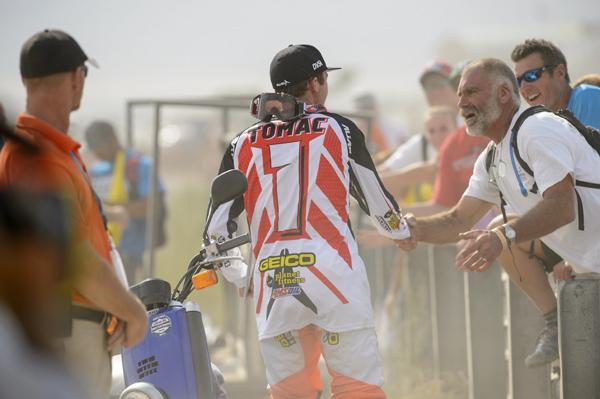 Tomac shares his excitment with fans.
Simon Cudby photo
That's what you're into is little street trucks or off-road trucks?
I do like cars. I don't have a bunch of crazy stuff but I am into it. My dad has an old '56 Chevy I'm thinking about fixing up, so I think that'll be next on the list.
Your team manager, Mike LaRocco, has his legendary starting skills. Is that where you get some of your starting skills from?
[Laughs] I don't know. My starts, they're not awesome. They're not where I really want them to be. But they have been better than the years past. Top five, it works for me. There's a lot of the guys that get worse starts than me every time so can't complain about that.
Now you have to go five more weeks and then race a 250 again at the Nations. Are you kind of dying to move on?
I guess I am a little bit bummed to stay on the quarter-liter bikes for those few more weeks. I'll probably take week off at home so I don't think it'll be too bad. And it's worth it for sure to go represent my country!