Miller Motorsports Park
Tooele

,

UT
Utah National
Lucas Oil AMA Pro Motocross Championship
Welcome to Racerhead, coming to you from Utah, on the outskirts of Salt Lake City and the first Built Ford Tough Utah National at Miller Motorsports Park here in the town of Tooele. The track offers a little bit of everything except trees, and both MX Sports and all the folks at MMP have been working hard to make this a good addition to the 2013 Lucas Oil Pro Motocross schedule.
We could see two champions crowned tomorrow, as Monster Energy Kawasaki's Ryan Villopoto is another 1-1 sweep away from another 450 Motocross title to add to the one he grabbed in 2011, then vacated in 2012 with an injury. And GEICO Honda's Eli Tomac has broken away from Ken Roczen and the rest of the 250 pack to close in on what would be his first major title as a professional.
But here's a strange little nugget of trivia (or maybe just coincidence) that I stumbled on last night while bench-racing with the Kawasaki guys: Ryan Villopoto has lost four nationals this summer, and three of them involved bodies of water. Muddy Creek, Budds Creek and Spring Creek did not go Villopoto's way, nor did Southwick Moto-X 338. He needs to wrap it up this week just to be safe, because next week's finale will be at Lake Elsinore!
Yesterday marked the first time since April that bikes have been on the MMP track, and it gave RV and Tomac—plus their teammates Jake Weimer (Kawasaki) and rookie Matt Bisceglia (Honda) and some local riders—a chance to check out the 1.2-mile layout. Chad Reed, Michael Byrne, Matt Goerke, and some fast local kids were out there as well. The feedback was pretty positive, though it was obvious that Marc Peters and crew, which includes Duane Scott from Hangtown, Arizona promoter and former racer Bobby White, and the same MX Sports that works on all the national tracks, graded the track a little deep, and the lack of riders made it seem fast and smooth. Trust me, it won't be smooth.
Of course, a manmade track on the infield of a motorsports facility is not for everyone, and the doubters and critics have been loud online, which is understandable. But it's also ironic that back in the early seventies, when pro motocross was just getting started here in the States and there was no such things as supercross, there were outdoor nationals held at Daytona, Talladega, Road Atlanta, Pocono International Speedway.... But then again, there was no internet to voice your opinions, just "Voices" in Cycle News (both West and East).
Again, this is not "the way of the future"; it's just a unique event in a special facility in a region that really wants a major motocross event, especially after losing its supercross after almost a decade. Ticket sales have been great, the riders have been very receptive to the idea, and the fans out in the campgrounds and amateur pits seem to love it (they got to ride on the main track for several hours today in order to help churn in the sand and topsoil brought it, and also help give us an idea of what more traffic will do in the morning). It's been a challenge, but it's been fun, and the people out here are very excited about getting a chance to see a new outdoor motocross event for the first time since 1974.
Not all the tracks are going to look the same in this series, and when MX Sports took this thing over in 2009, I explained that often. We've had some great success with some new tracks (Muddy Creek) and less with others (Pala), but all the top riders are back out there doing the outdoors—"supercross only" doesn't seem to be a career choice anymore—and we've seen bigger crowds at pretty much every event (last weekend's Unadilla enjoyed a fantastic turnout, the best ever for that national). It's all related to keeping the athletes interested, the races on TV, and the fans engaged both at the races and at home. This series has been a work in progress for the last five years, and I think we've made a lot of progress. And yes, we've made some missteps too, but we've tried to learn from our mistakes. It comes with the territory in any sport or business.
The Utah National track may not be for everyone, but it's on for everyone tomorrow. Here's how you can watch it on TV and online: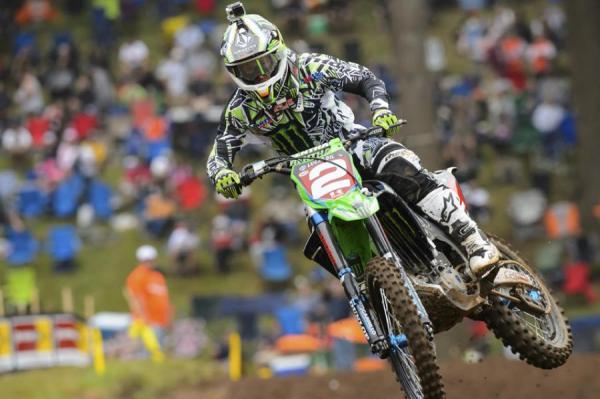 Ryan Villopoto can clinch his second 450 Lucas Oil Pro Motocross Championship this weekend at the Utah National.
Simon Cudby photo
HOW TO WATCH UTAH...
The weekend TV schedule will differ greatly from most weekends in the Lucas Oil Pro Motocross Championship. First motos will begin at 3:00 p.m Eastern on NBC Sports Network. Second motos will air on the new Fox Sports 2 Network (formerly FUEL TV). Fox Sports 2 is available on all cable and satellite providers and should be the same channel that FUEL TV was—but make sure to check you local listings. For the complete weekend schedule click HERE.
THE NUMBER – 2.662 (Aaron Hansel)
Fans of Lucas Oil Pro Motocross are seeing something special right now in Eli Tomac's last few 250 MX races. The GEICO Honda rider has elevated his game big-time in the second half of the season, and it's safe to say he's riding that 250F faster than we've ever seen before in any of his previous seasons. Take his performance at the Built Ford Tough Unadilla National, for example. When the day was over Tomac had won both motos by large margins (despite a lack of holeshots) and had extended his consecutive moto win count to six.
Convincing moto sweep aside, perhaps one of Tomac's most impressive number from the weekend was 2.662. That's how many seconds faster he was than Blake Baggett, the next-fastest rider, in the second qualifying session. And it's not like that number is from a specific lap applied to the entire field; everyone else had fifteen minutes (or six to seven laps) on the same track to post a time like that!
The mental aspect of racing is huge, and when Tomac, who now seems to be able to win at will—regardless of his substandard starts (perhaps his inability to get holeshots is what causes him to work so hard and ride so fast)—starts throwing down numbers like that before the first gate even drops, it's got to be demoralizing for the competition. It makes you wonder just how fast the kid who won his first ever National is going to be when he lines up for his first National aboard a 450 next May at the Hangtown Motocross Classic.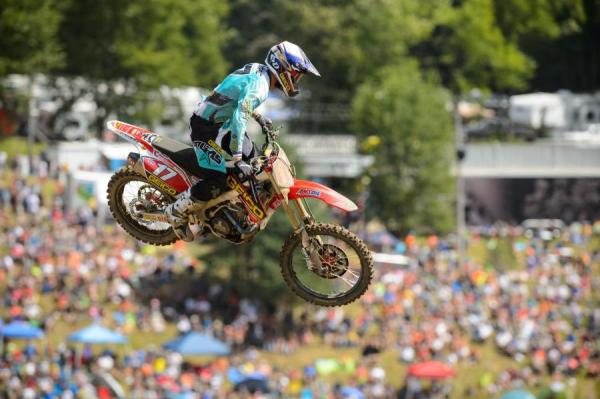 Eli Tomac was in fine form last weekend at Unadilla.
Simon Cudby photo
MORE ORANGES (DC)
What started as a strong rumor—Rockstar Energy Suzuki would become Rockstar Energy KTM in 2014—turned out to be false … because they're changing over from yellow to orange before we even get to 2013! After seeing a funny tweet from Davi Millsaps with a two-stroke KTM with #18 plates, we started seeing Millsaps actually on a KTM, in his yellow One Industries Rockstar gear, which is not something you would do if you were ever planning to stay with Suzuki. Then the actual press release from the team came out. And KTM takes another big step forward in the U.S. market....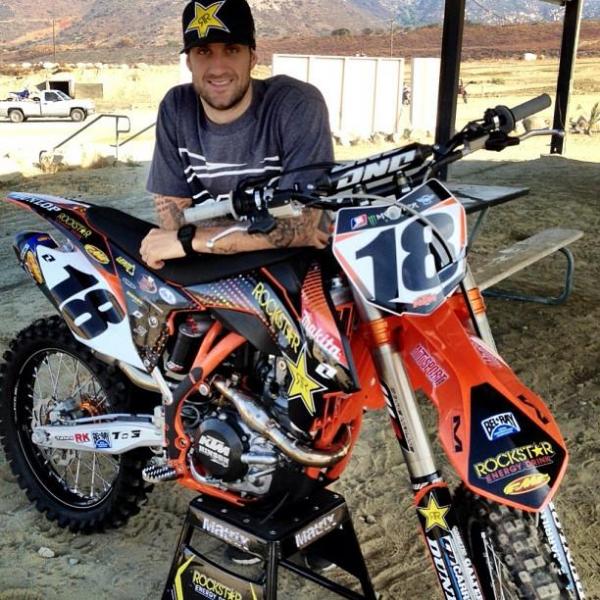 Davi Millsaps and Rockstar Energy Racing will be on KTMs beginning at the Monster Energy Cup and beyond.
KTM photo
PRO PERSPECTIVE (JT and Ping)
This weekend is the debut for the Utah version of the Lucas Oil Pro Motocross Championship. Having never held a national at MMP before, or even a motocross race, most riders have no idea what lays in store. Watching the press-day videos and looking at pictures provide the only clues as to what the riders will face and deal with for their setup. Most tracks have been on the circuit for years if not decades, so the teams and personnel have a good idea of where to steer the bike for settings. Most of the engineers and technicians will have great notes and recommendations to give from rider feedback. This is invaluable to finding the right combination on race day.
With only a few minutes of free practice before timed qualifying begins, there is not much time to sort these new tracks out. Suspension settings, chassis adjustments, tire choices, and EFI changes for the altitude are all very important aspects that can usually be decided almost before the riders arrive to a long standing national. With a new track like this, it really puts pressure on the riders and teams to adjust quickly. The riders have to learn a new track and be up to race speed within a few laps, and the teams have to react and predict accurately how a track no one has ever seen in those conditions will shape up. It adds a little wrinkle into the equation when everyone is starting to have it all figured out. For me, it will be interesting to see who can adapt the quickest to the new venue. Which riders will find the pace soonest and which teams will nail the settings in that short window of time. It's the race within a race that I find the most fun to watch.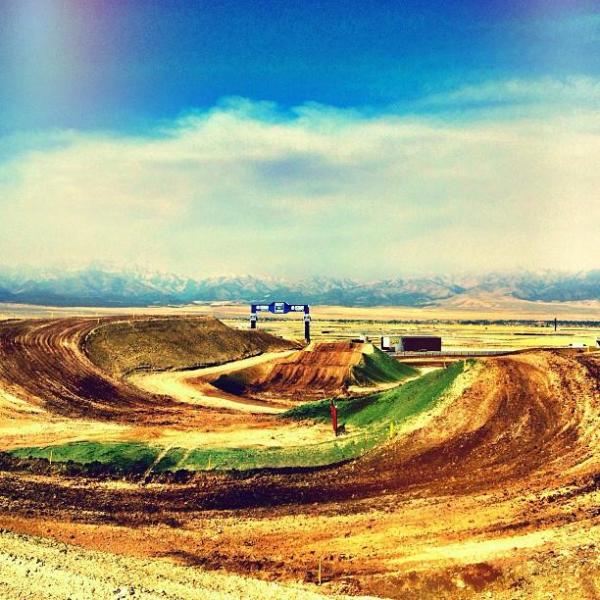 Who will make the quick adjustment to a new brand new track Saturday?
DC photo
Ping: It isn't very often we get a completely level playing field in our sport. Tracks are typically in the racing fold for years so it's rare that we go to a venue than nobody has ridden before. Even the Tennessee national earlier this year is a popular amateur track for riders on the east coast. Miller will be brand new to every rider on the gate and that means no advantage for anyone. Will it change the results on Saturday? Probably not. But it is a fresh location for fans and for the industry, who have been going to the same places for years. The Miller facility is immaculate and enourmous and this race will have a much different feel than any other race on the circuit from the moment you walk in the gate. I raced their during the AMA Supermoto series for several years and it was always the most anticipated venue of the year. The garages themselves will make teams feel like they are at an F1 event rather than a dirt bike race. Hopefully the racing is good and the course comes around because this could be a cool departure from the norm [to the dismay of the national motocross purists] and something for everyone to look forward to each year.
ANOTHER NUMBER – 2 (Aaron Hansel)
Two nationals have been held in Utah, although it's been a very long time since the last one—so long, in fact, that most of the racers competing tomorrow weren't even born when the last one took place in the Beehive State (really, Utah?). The day was June 30, 1974, and the location was Manning Cycle Park. Only the 125s raced, and Marty Smith was victorious aboard a Honda. Manning also hosted a national on July 1, 1973 (250s only this time, and it was part of the Top American Inter-AMA series), and Pierre Karsmakers took top honors on a Yamaha.
So while Utah has hosted a pair of nationals, this weekend will still be a landmark for the state—it's the first one to feature more than one class.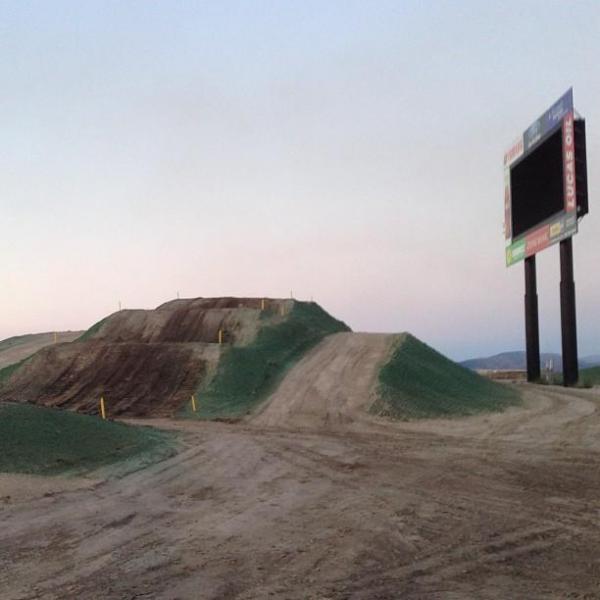 Miller Motorsports Park will host the second national ever held in the state of Utah.
DC photo
NO RUSH TO JUDGEMENT (Steve Matthes)
The Lucas Oil Pro Motocross Championship is winding down, but there's some excitement in the air to get a look-see at the new venue at Miller Motorsports Park. I took a look at some videos and GoPro's from press day and the track looks pretty much like I thought it would.
The facilities are going to be great, the crowd is supposed to be very strong, and it should be interesting to see how everything shapes up. I'm not going to be a judge/jury/executioner like so many others before I actually get to, you know, see a race on the track. But I'm curious to see the reaction of the riders and teams. I bet we're going to get the riders who say it's okay while the teams and some of the people responsible for bringing money into the sport are going to like the paved pits, air-conditioned suites, ease of location, and all those things that corporate America likes to see, plus casual fans of our sport.
Will it be the best track of the series? I doubt it, but MX Sports is trying something new, and I think one who is clear thinking can see that with the addition of Muddy Creek this year that the series isn't turning into "SUPER-MOTOCROSS" (that was a good magazine, by the way) like some people who like to use all caps are saying. I look at this weekend's track like I would a sand track or a mudder or whatever: It's a hybrid SX/MX track built to motocross specifications, and let's see who shines on the jumps and the hard-pack surface. You want a different look to the series? Well, here it is. Let the games begin!
Big battle for sixth in the 450 MX points right now. There are twelve points between Andrew Short, Jake Weimer, Broc Tickle, and Josh Grant, and yeah, sure, it may not really matter at the end of the day, but it's still something to take a look at as we count down the motos until our two champions are crowned. Mike Alessi would have been in there also but he's missing Utah with an injured shoulder from his big crash last weekend off the start at Unadilla.
Speaking of Alessi, his MotoConcepts team is rumored to be talking to the two-time 250 SX Champion Christophe Pourcel for next year. Pourcel hasn't been seen racing here since, well, the time he quit MotoConcepts in 2011 after two races. Yes, I'm as puzzled as you are about this, but hey, if Pourcel is serious and puts in the work, he can definitely do well. Stay tuned.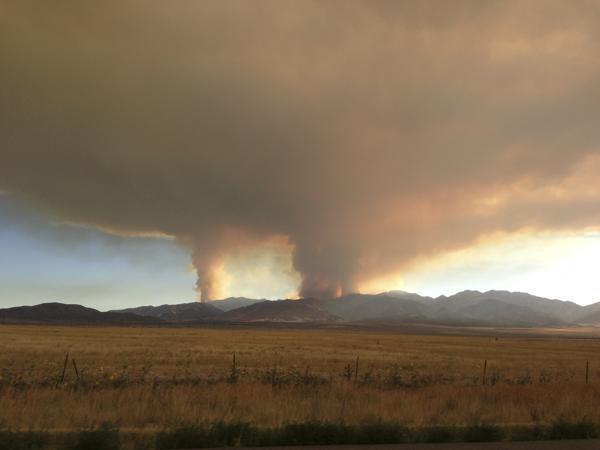 Nearby brush fire, now under control...
DC photo
OPEN HOUSE (DC)
Last night, Ken Block—the rally car racer/Ford Octane Academy co-host/action-sports business icon—held an open house at his "Hoonigan Racing Division" headquarters in Park City, Utah, inviting moto friends out to see his amazing race shop, do some bench-racing, and meet up with old friends (Block has been sponsoring motocross racers through the company he cofounded, DC Shoes, for many years). Ryan Villopoto showed up with his Monster Energy Kawasaki team, as did Chad Reed with his TwoTwo Motorsports team (sorry about the ping-pong game, Lars) and more. I can promise you that many of the moto people who left Ken's garage went back thinking, "We need to a new architect for our own race shops!"
Thanks for inviting us along, Ken!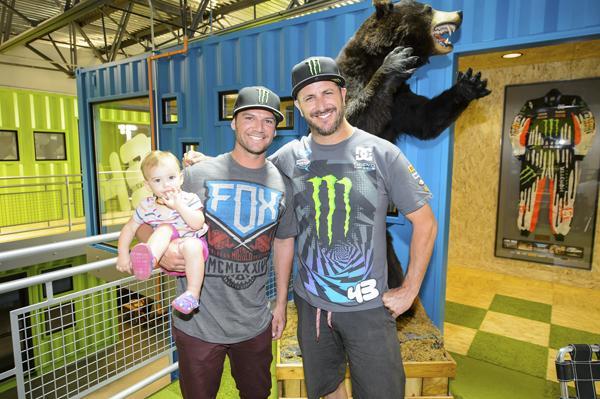 Chad and Kyah Reed, and Ken Block.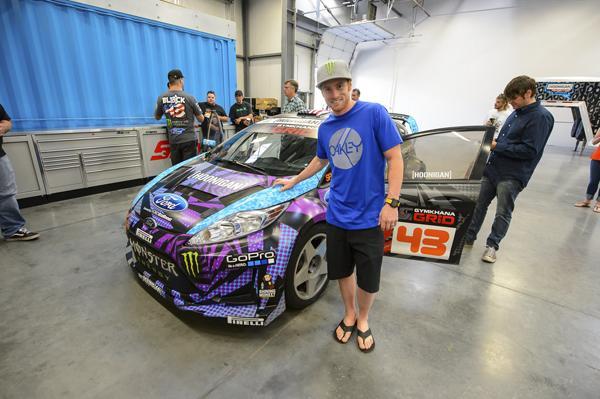 RV checking out Ken's ride.
Simon Cudby photos
THE LONG WAY HOME (Chase Stallo)
"I was reading it and got goosebumps in the airport," Michael Leib said upon hearing the news that he secured a fill-in ride for Rockstar Energy Racing for the final two rounds of Lucas Oil Pro Motocross. Leib had just landed in California, returning from a turbulent stint in Europe where he has spent the majority of his three and a half years as a professional.
"It's crazy that I've never raced a national," the Californian said of his four-year tour in the GPs. "It baffles me."
It's been a roller-coaster ride for Leib across the pond. After a two-year stint with factory Husqvarna upon turning professional in 2010, Leib returned to U.S. soil to race Monster Energy Supercross. He performed well enough to garner a fill-in ride with Monster Energy Bike-it Yamaha in Europe that season, taking a podium spot in his first race at the Grand Prix of Italy. From there, the rails fell off. A reported deal with CLS Kawasaki Monster Energy Pro Circuit (in Europe) for 2013 went south just months after Leib signed. A return to Monster Energy Supercross in 2013 would again lead to another visit to Europe. But things quickly turned sour, as Leib parted ways with Beursfoon Suzuki before competing in selected rounds with Honda Garibold.
"There have been a lot of negative things that people have been throwing around about Europe, and unless you were there firsthand, you really don't know," Leib said. "So as far as the negative energy, it's out of sight, out of mind."
Happy to be home, Leib is fully foucsed on racing his first national. "It's something I've really wanted to do for a very long time and now I finally have the opportunity to do it, he said. "I guess you could say it's been the long way home. I'm really excited to come home and put the last four years behind me—in a good way—and finally race a national."
As for the pressure of having just two races to showcase himself for next season, Leib is downplaying things: "I would say pressure is at a very minimum. I look at it as it's my first national, and the team has put no pressure on me, which is nice. As far as what's on the line for next year, I'm completely putting it out of my mind."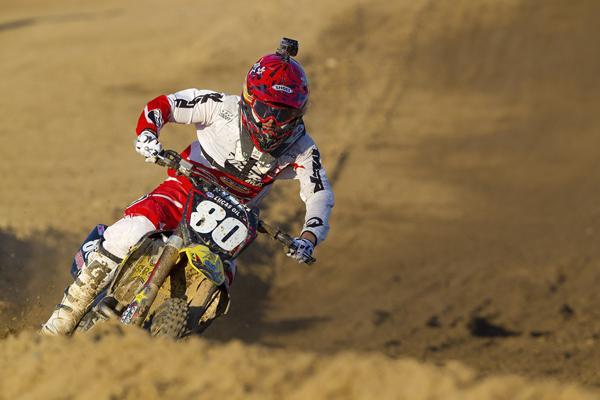 Michael Leib will fill-in with Rockstar Energy Racing for the last two nationals.
Carlos Aguirre photo
MXoN TEAMS (DC)
I hinted at the unforeseen obstacle that had caused Team USA manager Roger DeCoster and the AMA's Director of Racing Ops Kevin Crowther to delay the announcement of the American squad due to Ryan Villopoto's need to get some work done and his leg. That set off a commotion at Unadilla, and the cat was soon out of the bag: RV will have surgery as soon as the 2013 Lucas Oil Pro Motocross Championship wraps up next week at Lake Elsinore.
Now the team seems like it will be Red Bull KTM's Ryan Dungey and Muscle Milk Honda's Justin Barcia, the second- and third-ranked riders behind RV outdoors, and 250 Class leader Eli Tomac.
If that's the case (the announcement is coming tomorrow), I like this team's chances a lot, especially on a harder-packed track like Teuschenthal, Germany. Dungey had a hard time getting the right settings for his KTM last year at Lommel and was chasing the secret the whole time over there. Internal factory cooperation practically disappears before that race, and no Lommel veteran seemed to have anything to share with RD or The Man, much to their frustration, but that's no excuse: Tony Cairoli and Jeffrey Herlings and Ken Roczen were all fantastic in the sand, topping the three classes.
All three—Cairoli, Herlings, and Roczen—will be in Germany, and likely in three different classes again. But they all ride for different countries, so that plays into a strong lineup like Team USA's hands. Germany won last year behind Roczen, but he won't have Marcus Schiffer as a teammate, and Max Nagl is not having his best year. Herlings can ride hard-pack almost as well as the sand, but no word on his teammates, like the young Glen Coldenhoff. Cairoli is the star in Italy, and while David Philippaerts is still fast, their MX2 rider, Alessandro Lupino, is not in the top five in the standings over there.
The French somehow skipped Marvin Musquin for their lineup, though they do have the very fast Gautier Paulin—only he's hurt right now—and a couple of fast kids in Jordi Tixier and Christophe Charlier. Right now, of the European teams, Belgium seems strongest with Clement Desalle, Ken De Dycker, and Jeremy Van Horebeek.
And then there's Team Australia, which I am guessing will be Chad Reed, Brett Metcalfe, and Dean Ferris. They could do well if Chad catches fire and rides like his old self.
You have to feel like Team USA is the favorite here, but it would have been even more so if Ryan Villopoto didn't have to pass on racing this time.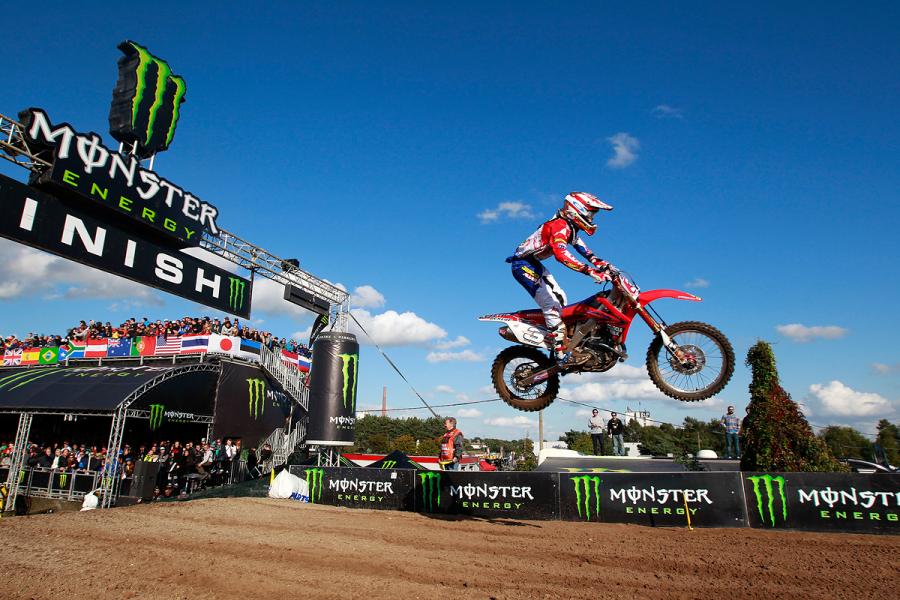 Will Barcia return to Team USA?
Sarah Gutierrez photo
WELL DONE (DC)
The new O'Neal catalog showed up on my desk over the weekend and I have to say it's very well done. "The First American Moto Company" (since 1970) presents a very creative look at their 2014 gear, offset inside an old barn and featuring a mint Honda CR250. They also feature riders like Vince Friese, Kyle Chisholm, Ben LaMay, Dillan Epstein, and Brit Bliss, the O'Neal Model Search winner. O'Neal also teamed up with Moto XXX to reignite the brand that evolved from a fusion of punk rock and motocross enthusiasts. Grab one if you can, or check it out at your local bike shop.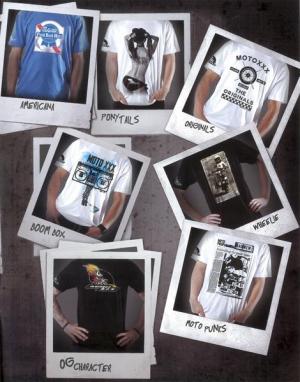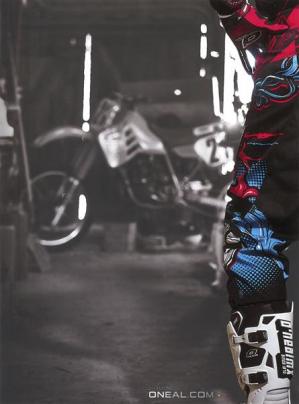 MOVIE MAN (DC)
Last week we mentioned former KTM factory rider Andy "Regis" Harrington and his list of Top Ten Motorcycle Movie Characters, which of course included Rick Mellon and "Bad" Billy Robinson of Winners Take All fame on the podium. Harrington was stoked to see the list on Racerhead and also had a career update via email:
Just letting you know that stunts is full-time now. I have moved to Baton Rouge, LA. I know, weird huh? With the tax incentive the state offers production companies this is the busiest place in the nation as far as movie making. In 2.5 years since moving here, I have done over 44 feature films!
http://www.imdb.com/name/nm1571691/?ref_=fn_al_nm_1
I also started a camera bike company and it has helped me stay busy as well. It is really cool. I have taken my moto knowledge and made a couple of bikes to put cameras on and film car chases, foot chases and anything and everything needed. It's been a fun ride!"
Check out Harrington's new project right here.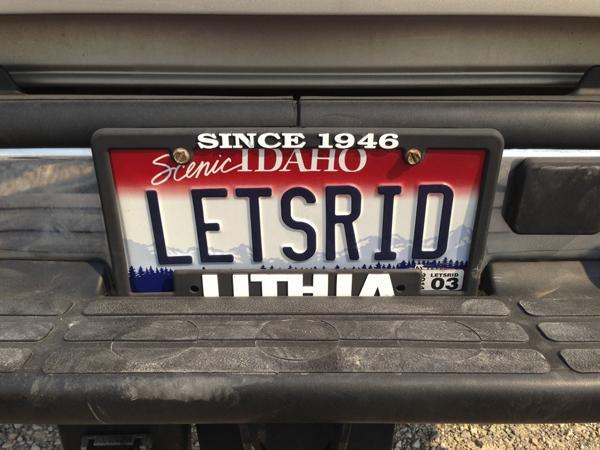 DC photo
IN THE MAG: ROADS TAKEN
Scattered throughout the pits of any round of Lucas Oil Pro Motocross you'll find a number of unconventional ways these racers made their way to the starting gate. With many top riders being scouted as amateurs and being picked up by teams before turning pro, the chance to "make it" on the professional level seems almost unfathomable to some. Starting on page 130 of the October issue of Racer X Illustrated see how the privateer efforts and childhood upbringings of Phil Nicoletti, Derek Anderson, Jacob Baumert, Jackson Richardson, and Fredrik Noren have gotten them to where they are today.
HEY, WATCH IT!
Utah National Press Day
Racer X Films: Unadilla Remastered
Ryan Villopoto GoPro Utah National
GoPro: Davi Millsaps on a KTM
RANDOM NOTES

Be sure to stop by the Racer X booth at Utah this weekend to pick up your 2013 event sticker and check out our special subscription offer! You can get 13 issues of Racer X plus a Kevin Windham drawstring bag for only $20!
Did you get an all-day pit pass? There's still time! For only $40 you get an all-day pit pass plus a one-year subscription to Racer X. Order yours now..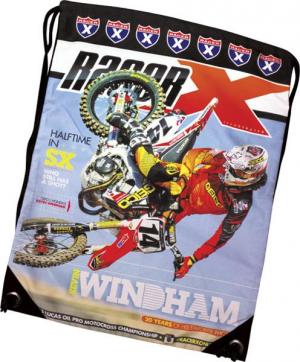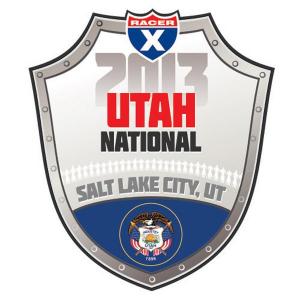 Ever wonder what it takes to get a National up and running in a brand new location? So did our man Aaron Hansel. Check out what he learned over at Red Bull.com.
Another congratulations to all the kids and their families and the officials involved with Team USA Junior, which won the overall at last weekend's FIM Junior World Cup in the Czech Republic. The event is a favorite of the AMA's Kip Bigelow, who puts a lot of effort and enthusiasm getting the kids to Europe each year, and then hopefully bringing home the gold (Davi Millsaps, Broc Hepler, and Eli Tomac were all graduates of this event and went on to some really big things as professionals). Here's a glimpse at the future stars of motocross, from all over the world, from last weekend.
That's it from Utah. Thanks for reading Racerhead. See you at the races.