Miller Motorsports Park
Tooele

,

UT
Utah National
Lucas Oil AMA Pro Motocross Championship
Jake Canada was a rider on the rise following a breakout performance in 2012 that included nine top-tens in the 250SX East Region and four in Lucas Oil Pro Motocross. That success didn't translate to 2013, with only one top-ten in the 250SX West Region. Canada's 2013 MX campaign didn't begin well either, as he suffered a broken wrist early in the season. A messy split from SmarTop/MotoConcepts ensued and Canada was left without much leverage heading into next season. But with the help of Doug Dubach Racing, the Californian returned from his injury at Millville, then put in a breakout ride at Unadilla with a tenth in moto 2—a ride that was eerily similar to his 2011 performance at Thunder Valley that landed him a deal with MotoConcepts. We spoke with Canada yesterday to discuss his departure from MotoConcepts, his future, and much more.
Racer X: You made your debut with your new team, Doug Dubach Racing, at Millville. How did the deal come about and what are the plans moving forward?
Jake Canada: Well, it's actually not a team. A lot of people think Doug Dubach put together a team for me, but it's actually kind of my own deal. They are his bikes and he was going to give them back to Yamaha. My mechanic works there, and we were talking with Doug and Yamaha to see if I could use those bikes until Elsinore. We were able to get together and they let me use them, and from then out I called a bunch of sponsors that have been helping me out. Basically, it's just me and my mechanic, Casey, and the deal is just until after Lake Elsinore.
You had a brilliant ride in the second moto at Unadilla. Did it remind you of Thunder Valley a couple years back?
[Laughs] Yeah, a little bit. It was definitely good. I think Millville was a good starter. I hadn't ridden since Hangtown, so it was a little nerve-racking, so it was good to get the bugs out and go out and race with the guys who've been racing week in and week out. I definitely felt more confident at Unadilla and knew were I was at speed-wise. The day was kind of rough, but the second moto made it all worth it.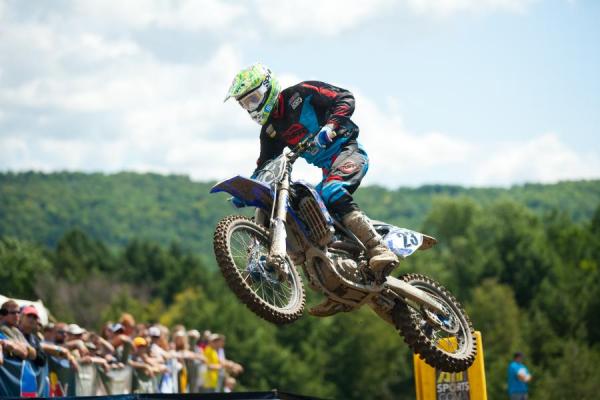 Canada had a breakthrough ride at Unadilla with a tenth in the second moto.
Andrew Fredrickson photo
After a rocky supercross season, how important did you feel it was to come out and prove your merit again?
After all that stuff happened with MotoConcepts, I didn't have a bike or anything, and obviously I want to get on a team next year, so I knew I had to get back out there and race somehow. Before I got the Yamaha I actually went out and bought a Kawasaki 450, and then the deal went through a couple of days after that, so I have a brand new Kawasaki sitting in the garage. It was important to get out there and race and show my face and show that I'm still training and riding and still going fast.
You missed some significant time with not only the team situation, but also with an injury. How much were you able to train coming into Millville?
The injury is good—I'm not having any problem with that. It was just a minor break in my wrist. Training-wise, it was kind of hard. At Millville I was kind of tired at the end of the motos because I had just gotten the bikes three weeks prior and I had been out for five weeks before that. It was definitely three weeks of crunch time and then I did Millville. My fitness definitely was where it needed to be, but it ended up okay. The weekend off really helped. I put in two hard weeks at home, and I felt that my fitness was a lot better at Unadilla. I feel like my fitness will keep improving from here on out.
What are some of the difficulties in switching to a new bike, as well as a new class, during the season?
It's definitely different. We're still all out there racing, so it's the same in that sense. I think the 450 Class is a little different from the 250 Class because the 250 Class has a lot of young guys that can be pretty erratic. I think the 450 Class has a lot more older, mature riders that don't hang it out and get as squirrelly as much.
Obviously, things didn't end on the best of terms with MotoConcepts. Can you comment on what happened?
I mean, we had the split and it kind of sucked how they had to put that press release out. I guess they had to say something, so they said what they said. I didn't fail a drug test. It wasn't a good way to end it for me, which is another reason why I knew I needed to get back out there and show that I wasn't just messing around. I have to thank the team, because they got me to where I'm at. The bikes were good; the team was good. I had a lot of good finishes with them. But it definitely didn't help my situation with how things ended.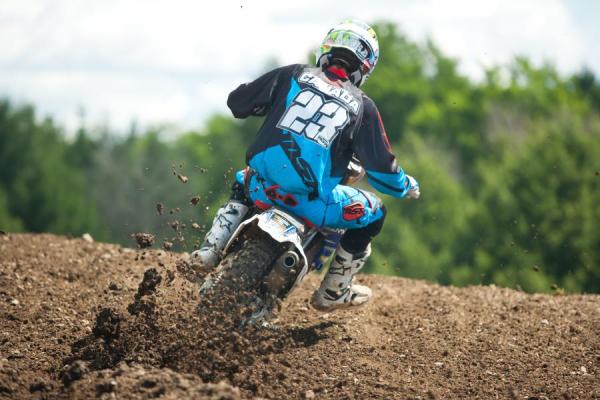 Canada is getting help from Doug Dubach Racing after parting ways with MotoConcepts.
Andrew Fredrickson photo
What did you think lead up to them putting out that press release?
I don't know. It didn't end well. The way things were going after I broke my wrist, there was some accusations of me knowing my wrist was broken when I tried to race Colorado, but I didn't. It was just a lot of different things that added up and I was kind of over it. I wish things could have ended a little better or not have happened, because I did have a solid bike and good backing behind me.
How important are these next two races for you in regards to finding a ride for next season?
They are super important. I'm only doing four, so each week is important. I definitely need to get a better start and just get up there in the mix. I think I have the speed to run with the guys in the top ten, and I need to show that I have they speed and that I want to get a ride for next season.
You've bounced around from the 250 and 450. Do you have a preference on what you ride next season?
I want to stay on a 250. I feel like I have a couple of more good years on a 250, and I feel like I can do better than I have done. The only reason I chose to ride the 450 was because it was easier to find a bike and get it reliable.