Unadilla Motocross
New Berlin

,

NY
Unadilla
Lucas Oil AMA Pro Motocross Championship
When I was growing up watching the races on TV, there was really only one race on: Unadilla. The old Carlsbad 500 USGP on ABC died after 1986, so MotoWorld's annual half hour from the Unadilla 250 USGP was just about it. As such, being "King of Unadilla" for a year seemed to take on special meaning. Plus, as a GP that American riders actually competed in, the race made for a rare all-world showdown, especially cool back in the days before international riders started moving to the U.S. and racing here weekly.
Then, as now, riders would turn in special performances at this track. A rider who was fighting it all season might pull out a big one at Unadilla, while a rider who was dominating everywhere else would struggle.
The track is just unique enough to separate itself from anything else on the calendar, much like a mud or sand race. Riders eventually establish a reputation as mudders and sand specialists, and enough trips around the Unadilla Valley Sports Center can do the same for a rider's rep there.
We saw it this weekend when Ryan Villopoto simply crushed the field in both 450 motos. I know, RV crushing things isn't rare these days, but this is the most dominant performance he's logged since the opening round at Hangtown. Since then, others have sorted out their bikes and gotten closer, and some have even won races. But at Unadilla, Villopoto was untouchable.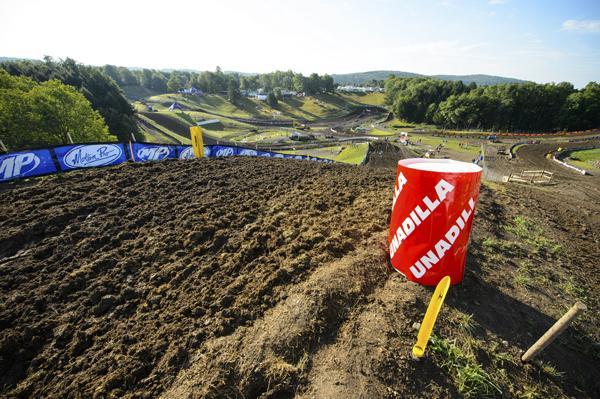 It's a love/hate relationship between riders and Unadilla.
Simon Cudby photo
It was the same way there in 2011, when RV was in the midst of a knock-down drag-out with Chad Reed and Ryan Dungey. Dungey had even pulled out two-straight overall victories to pull within a point of RV for the series' lead coming into the race. Then Villopoto hopped on his new 2012 KX450F and rolled everyone in both Unadilla motos. Yes, that 2012 KX seemed to take the 2011 RV to a new level, but there were three more races to come that season (Southwick, Steel City and Pala) and he wasn't nearly as dominant at those as he was at Unadilla. Something about that track—the width, the speed, the ruts, the bumps—seem to gel with Villopoto's style.
He's been reduced to merely a footnote in history now, but Christophe Pourcel was once the ruler of this track. In 2009, he and Dungey were scrapping for wins and the 250 points lead each week, until they got to upstate New York and the Frenchman found a whole 'nother level. Pourcel was a tactician (yes, the crafty Frenchman) and as such he seemed to enjoy playing chess with Unadilla's bumps and lines. He certainly wasn't battling anyone else, because he was gone in both 250 motos that day. He was working outsides when everyone else was on the inside, and vice versa, and probably hit 40 percent fewer bumps than anyone else. Oddly, Unadilla also cost him dearly in 2010, as he crashed out of the first 250 moto. He did bounce back in moto two with a stirring come-from-behind performance to take the win, just to make sure the track remembered who its master was. Even Canard, who won the overall that day during a torrid win streak, could only say on the podium that he's watched videos of Pourcel at that track, and he pretty much knew he wasn't going to beat him there. Only two weeks later, at Steel City, Canard was right back on CP's pace and beat him straight up in both motos. But at Unadilla, no one stood a chance.
It's a darned shame Pourcel never got a chance to dance at the 'Dilla on a 450. He was really something special at that track. But I digress.
In 1985, Jeff Ward was ruling everything in a season that would see him win both the AMA Supercross and AMA 250 National Motocross Championships, and lead Team USA to victory at the Motocross des Nations. But at the Unadilla 250 USGP, he was crashing and bouncing all over the place, and not a factor for the win.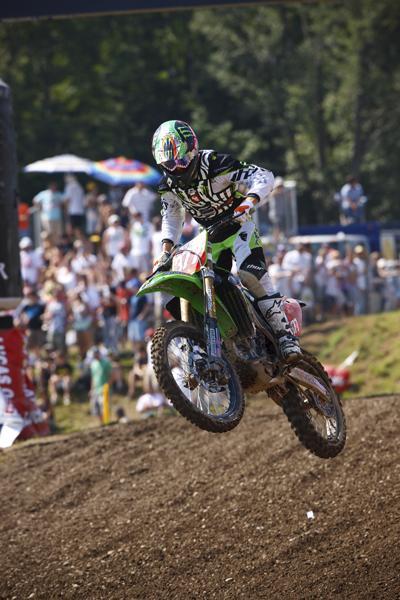 Christophe Pourcel thrived at 'Dilla.
Simon Cudby photo
Bob Hannah, meanwhile, had grown past his prime, but at Unadilla each year he could figure out a way to get it done. He was the fastest rider there in '85 and then was gifted the '86 win when Johnny O'Mara—who didn't win a race all year—was clearly en route to victory when he ran out of gas on the last lap. There are plenty of stories of Unadilla heroics, including ones that didn't even seem heroic at the time. Rick Johnson, for example, was so good at this track that in his very first race back from a devastating wrist injury in 1989, he won the USGP. An RJ win seemed perfectly normal at the time, but little did we all know that RJ's wrist still wasn't right, and it never would be. Still, he did come back and win the last national of his career at the track at the end of 1990. At Unadilla, rides like Johnson and Hannah could figure out a way to relight the fire.
Ricky Carmichael was darned-near unbeatable in 125cc days, but Unadilla was always a struggle for him. In the first 125 moto in 1998, Carmichael was simply run down and left by Robbie Reynard. Reynard was known for delivering virtuoso performances out of nowhere, and Unadilla was one of those nowheres for him (Millville and Steel City on occasion, too). Reynard couldn't repeat that success in the second moto. John Dowd could, and he ran down RC and looked to make the pass and take the win, until RC knocked him down. The record book says that '98 national was just another win for RC, but Reynard and Dowd were faster.
The track was an RC nemesis for years. The most famous ride of all came in 2003, when Carmichael was riding on the longest win streak in the history of the sport, having not lost an AMA National in nearly two years. Finally Kevin Windham broke through during a furious second moto battle where Carmichael's mechanic Mike Gosselaar told me he was afraid RC was going to break his throttle cable. Yeah, Windham was on a 450 and we know now what a weapon that was—but RC was never a fan of the 'Dilla, and it was the first race he chose to skip during his 2007 retirement tour.
And on that day at 'Dilla, James Stewart crashed out in practice, leaving the door to victory wide open for someone else. And while the pundits expected a victory from the riders who had been toward the front all season—Tim Ferry, Grant Langston, Mike Alessi and Andrew Short—it was Windham, again, who came out on top. Unadilla is definitely a Windham track.
It is not a Stewart track. He did have a memorable moment there in 2002, when he slowed down and let Chad Reed pass him, just so he could re-pass him and pull away to prove he was faster. That's in the mid-race trash talk hall of fame, probably in its own wing. But Unadilla moto Gods didn't seem to like those shenanigans, and since then Stewart has been pounded by this track a time or seven. Crashed out (and on Carmichael) in '05, crashed out in '06 and '07, and even during his perfect season in 2008, he barely held on for a moto win ahead of Cody Cooper. Cody Cooper! James' return to the outdoors there in 2010 was a washout, and he, yes, crashed out of there the last two years. If Budd's Creek was once Bubba's Creek, Unadilla is Bubba's Falls.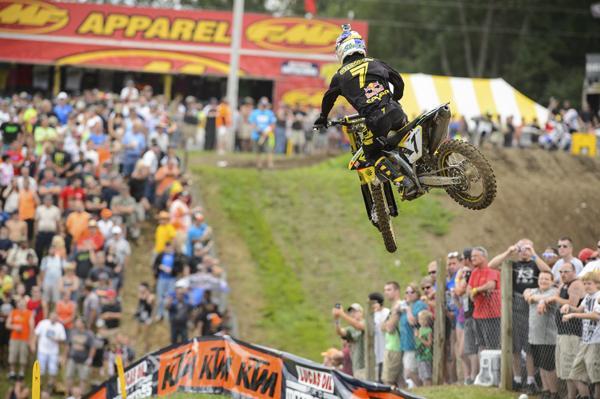 James Stewart, on the other hand, has not had success at the annual trip to Upstate New York.
Simon Cudby photo
Ain't so pretty for Ryan Dungey, either. Note that the yardstick rides for Pourcel in '09 and RV in '11 and '13 were essentially butt whippings on the Dunge, who was right there with them on other tracks. Even Dungey's victories there aren't as solid as we've come to expect. In 2010, Clemente Desalle showed up as a guest and came dangerously close to beating Dungey in moto two and stealing the overall. Only late in the moto would Dungey make the pass and seal it. Last year, Dungey got a bad start in moto one, and his progress seemed to stall while he battled with Broc Tickle. Up front Michael Byrne was railing and the Dungey/Tickle train wasn't closing. No offense to Tickle or Byrner, but you don't see those guys match Dungey's speed on the regular. Byrne eventually cracked his leg in a heartbreaker, and Dungey just edged Tickle for the moto win. This year, Dungey had his hands full again with Josh Grant and Jake Weimer, while Justin Barcia was running away in second. And remember when Barcia gave Dungey all he could handle in 2011. Remember when Weimer was leading before Byrner was last year before a huge trip over the bars? Before that, Jake was going about as fast as we'd ever seen him go outdoors. This time, he turned in his best moto of the year on this track.
The Unadilla track itself has changed quite a bit over the years. In the 1980s, it was heralded as one of the best in the world due to its rich, loamy dirt and the massive natural bumps and whoops that it formed. By the 1990s, word was getting out that the good dirt was gone, replaced by a rock hard surface underneath. The last few years have seen dramatic upgrades, and trucking in a lot of fresh, rock-free soil has brought back some of the loamy feel of old. It's still unique though, this time because that top soil forms ruts and then hardens. The hard ruts that are left challenge many, and can be mastered by only a few. As it has always been at Unadilla, from the good old days to the not so good to today's apparent rebirth, some riders have the knack for it, and some don't.