Unadilla Motocross
New Berlin

,

NY
Unadilla
Lucas Oil AMA Pro Motocross Championship
Welcome to Racerhead, coming to you from somewhere along the road to Unadilla, where the home-stretch sprint of the last three rounds of Lucas Oil Pro Motocross begins. Tomorrow's race will mark the tenth of twelve rounds, to be followed next Saturday by the debut of the Utah National at Miller Motorsports Park, and then the finale at Lake Elsinore in Southern California.
The pros had last weekend off, for the most part. Some competed in the X Games' revamped Moto X race, which was really more like an arenacross, and it was perfect for JGR's Justin Brayton, who came up through the ranks as an arenacrosser. He won the gold medal on a very tight course on the floor of Staples Center, beating a field that included Chad Reed, Josh Grant, Wil Hahn, Josh Hill, Chris Blose, and even Jason Lawrence.
Other pros were at Loretta Lynn's for the annual race/festival/homecoming weekend that is the Red Bull AMA Amateur National Motocross Championships. Ryan Villopoto was the biggest name there of current riders, though past legends who showed up to see the next generation of young American frontrunners included Mike LaRocco, Ricky Carmichael, Kevin Windham, Jeff Emig, and more. They got to see dry races, mud races, smooth races, and downright nasty, rough motos, as the track was in a constant state of change.
Before we get into the week that was, here's how you can watch tomorrow's Built Ford Tough Unadilla National.
HOW TO WATCH (Chase Stallo)
Lucas Oil Pro Motocross returns from a week off with live coverage of all four motos from Unadilla in New Berlin, New York. First motos can be seen on FUEL beginning at 1:00 p.m. Eastern. NBC Sports Network will air live coverage of the second motos beginning at 3:00 p.m. Eastern. For more information click HERE.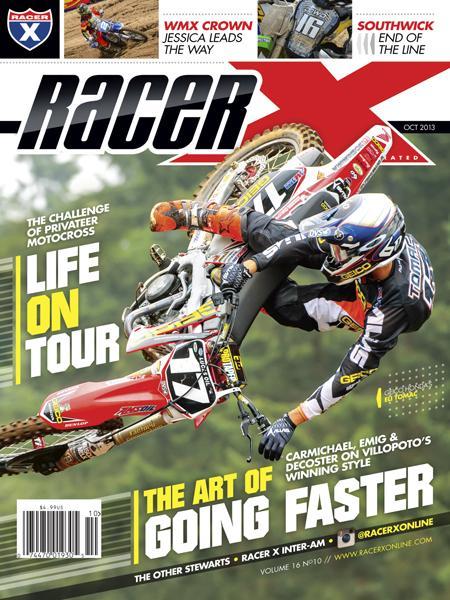 Check out Eli Tomac on the cover of the new Racer X Illustrated, which is at the printer's right now. Don't worry about a cover curse; this one was picked BEFORE Millville, and the bad luck actually went the way of Ken Roczen instead.
THE NUMBER: 1/2 (DC)
Jeffrey Herlings just won his fourteenth straight MX2 Grand Prix, now the all-time record for consecutive GP wins. Herlings is a very fast young man at 18, and he already has thirty GP wins in his professional career (which began at age 15). His competition is not that strong right now, but that's not Herlings' fault—Marvin Musquin and Ken Roczen left for America, and Tommy Searle and Jeremy Van Horebeek got moved up to the MX1 class due to the age restriction on 250s. As a result of that exodus, as well as Herlings' domination, he's the only guy in the class to have ever won a GP overall.
Still, fourteen is a very big number, one more than the all-time consecutive SX wins (in the premier class) shared by Jeremy McGrath and Ricky Carmichael. But the real astonishing number to me is the fact that it's still just half the wins it will take to match Carmichael's all-time outdoor national winning streak, which is twenty-seven overalls in a row in the premier class, including his undefeated back-to-back seasons of 2004 and 2005. To match that record, Herlings would have to keep winning through next August. But since his MX2 competition does not look to be much stronger in 2014, it could be a real possibility. Herlings' thirty wins are already one more than the all-time 125cc Grand Prix record held by the late Gaston Rahier.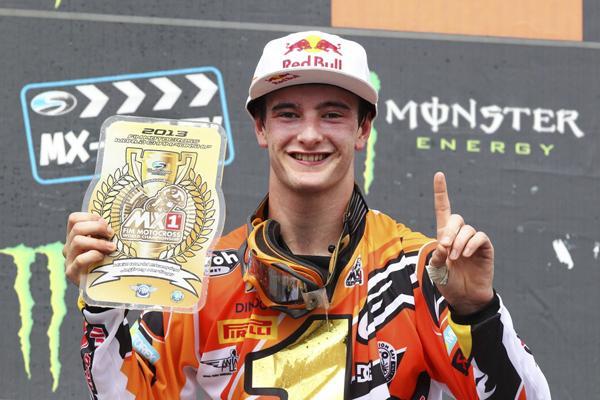 Jeffrey Herlings wrapped up a second MX2 title last weekend.
Ray Archer photo
People might say that Herlings belongs in the States, but he's admittedly not very big on supercross, and he has a chance to post some truly extraordinary numbers in Europe over the next half-dozen or so years, so why not stay there and follow in the boot steps Tony Cairoli and Stefan Everts, his KTM boss? I've seen Jeffrey on big bikes at the last two MXoN races, and he's incredibly talented, both on hard-pack (France) and of course sand (world's best). He's a blast to watch, he's grown up a lot under the microscope, and he will give U.S.-based riders fits in the MXoNs to come, but I don't think he's coming to America anytime soon.
One more thing to ponder: Jeffrey Herlings already has nearly half the wins of Tony Cairoli, in just three full seasons.
TEAM USA (DC)
Team USA Junior races this weekend when the FIM World Youth Championships go off in Jinin, Czech Republic. Standouts on that squad include Jarek Balkovich, Alex Frye, Sean Cantrell, and more. The event attracts some of the best young talent in the world and is a fun way for any kid to end his summer vacation, racing for his country on the other side of the world.
As for Team USA senior, the team was expected to be announced this weekend but due to unforeseen circumstances the announcement is on hold until at least next week. Stay tuned!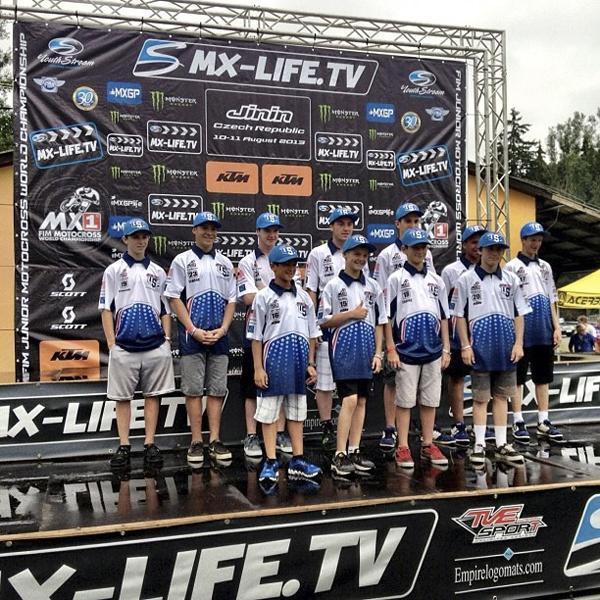 Team USA Junior are in the Czech Republic this weekend.
Jeff Cernic photo
WHITHER REEDY? (DC)
Chad Reed hasn't had the kind of year he wanted, or anyone expected. There have been issues with his health, and while he admirably continues to get himself sorted, time is running out on 2013. And that's what made this tweet from the multi-time champ light up the message boards:
To answer the ongoing question about what ill ride next year 1st I'm trying to decide to keep the dream alive? or go ride for someone else..
(@CRtwotwo)
While we could read this many ways, it might come down to whether he will keep funding his own racing effort or join another team where he can focus on just racing and not the business. Reed has been one of the world's absolute fastest men for the last dozen years, and that's what makes this season's fall-off such a mystery. A change of scenery may be just what he needs, as it worked great for him in 2009, and again in 2011 until the injuries mounted. He's still a badass, and he can still win.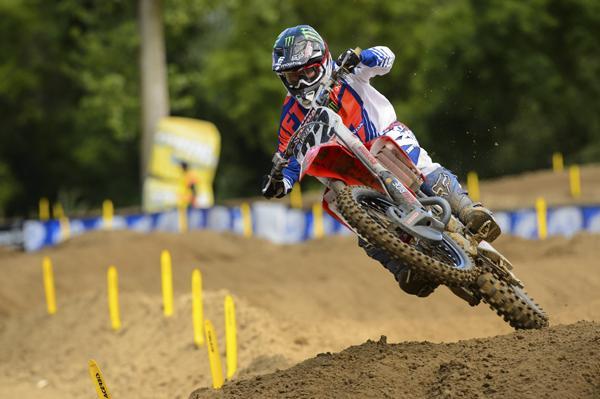 What does the future hold for Chad Reed?
Simon Cudby photo
LORETTA LYNN'S (DC)
The week at Loretta Lynn's ended last Saturday with the live two-hour airing on NBC as part of the Red Bull Signature Series. If you tuned in then (or earlier in the week via www.racertv.com) you saw a wet track that had been on the brink of becoming a mud pit two times earlier in the week. But somehow the track crew, led by Jeff Russell and course architect Marc Peters with help from Sam Gammon's crew from Muddy Creek, kept the place from sinking before the TV cameras went live. Hats off to those guys for taking some big chances on what to do when the rain started and stopped, then started again and stopped, and again and again.
Yet the result did not change, wet or dry, as the 2013 Red Bull AMA Amateur National Motocross Champions were crowned beginning on Friday. GEICO Honda's Matt Bisceglia won both of his classes, graduating from the amateur ranks with highest honors: the AMA's Horizon Award and a professional deal that will have him in Unadilla tomorrow. MyPlash/Star Racing Yamaha rider Aaron Plessinger went undefeated all week in the B class, sweeping six motos and making a huge first impression on the TV audience that tuned in. And little Jett Reynolds of Bakersfield, California, has a very big future ahead of him: he went 6-for-6 in his 51cc and 65cc classes.
Tyler McSwain, Jordon Smith, Ryan Surratt, Sean Cantrell, Joey Crown, Mitchell Harrison, Hannah Hodges—those are all names you might want to commit to memory for the near future, because they are coming fast!
For all of the results from the world's biggest amateur motocross event, check them out right here.
You can also find the archived races that streamed from Tuesday through Saturday at RacerTV.com.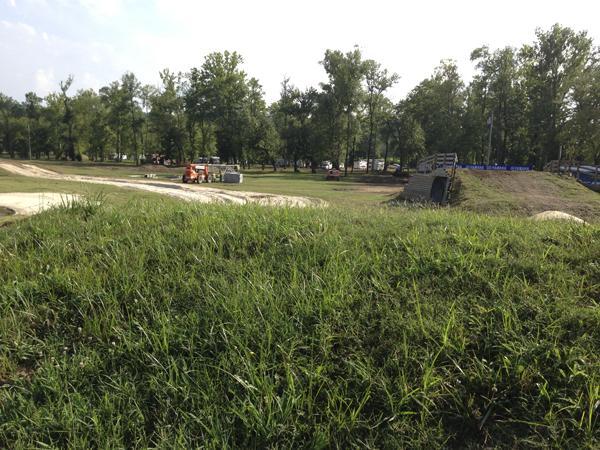 Hard to believe the Loretta Lynn's track looked like this before the riders and then the rain hit it, hard and often.
DC photo
THE FUTURE (Weege)
A week of racing at Loretta's is good; a week of bench racing at Loretta's is even greater. You'll never find a better collection of industry heavies with idle time on their hands than you will at this event, where anyone who is anyone comes to scout talent without that annoying burden of actually having to get their riders ready to race. There's more movement on the amateur side than ever, too. GEICO Honda's innovative plan of signing amateurs to pro deals early has resulted in huge success over the last five years, and now everyone is following. Yamaha already boasts Cooper Webb and Jeremy Martin on such a program, and Anthony Rodriguez (the A-Rod without the PED scandal) should be pro for Star once he heals from a torn ACL. Aaron Plessinger is next.
GEICO Honda has Matt Bisceglia about to debut this weekend at Unadilla, and Jordon Smith has shown mind-boggling speed in the B ranks all year. Talking to some people down at the Ranch, I wouldn't at all be surprised if Smith races Hangtown next year—he's that good. Thomas Covington will also be riding Hangtown next year for Monster Energy/Pro Circuit Kawasaki, and KTM is in on this with Dakota Alix. The kid from Vermont was going to be an A-class contender this year until his chain broke on the first lap of his first Loretta's moto, sending him over the bars, causing a concussion and ending his week. Bummer. But when Dakota is ready, he'll slot into the FMF/Orange Brigade KTM team with Joey Savatgy. And Lucas Oil/Troy Lee Honda has Justin Hoeft as next year's pro debut, behind Shane McElrath this year.
Supermini and Senior Mini rippers like Mitchell Harrison and Austin Forkner might be the next named to big deals. The pipeline keeps churning them out. When you consider that Cooper Webb and Adam Cianciarulo were technically A-class eligible this season, and Justin Hill could have stayed in the amateur ranks an extra year after missing all of '12 with a torn ACL, we're probably looking at the biggest concentration of young talent ever in this sport.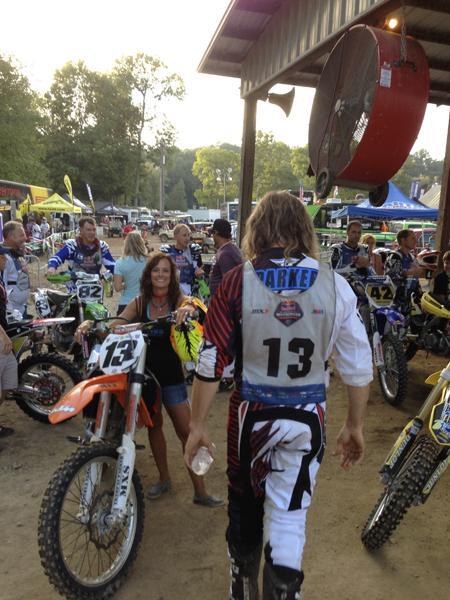 Trampas Parker was anything but unlucky with his #13 at Loretta Lynn's, topping John Grewe for the Senior +45 win.
DC photo
WHERE'S SUZUKI? (Weege)
But with all of that movement deep into the am ranks, one brand is mostly missing from contention. We've made much of American Suzuki's reorganization at the very top, as the company has stopped selling cars in the U.S. and the factory motocross race team is actually operated by Yoshimura, not Suzuki proper. And let's not forget this year's Rockstar Energy Racing drama, where Davi Millsaps had a shot at the Monster Energy Supercross Championship while his team all the while explained that they didn't have support from Suzuki. Or did they? Or didn't they?
Deeper down, though, there's a big loss on the amateur side as well. A generation ago, Suzuki actually had the strongest amateur team of any brand, with talents like Travis Pastrana, Millsaps, Broc Hepler, Nico Izzi, and Ryan Dungey coming through the ranks, not to mention Eli Tomac, Jason Anderson, and Ian Trettel on minis. Now? Factory-connected Suzuki amateur support is light.
It could change. It was cool to see longtime Suzuki man Pat Alexander on hand at Loretta's all week, taking the temperature of the amateur scene and seeing what Suzuki needs to do to be a player again. With all the other brands lining up in the talent arms race, Suzuki needs to get back in the game. According to Alexander, they'll be back someday.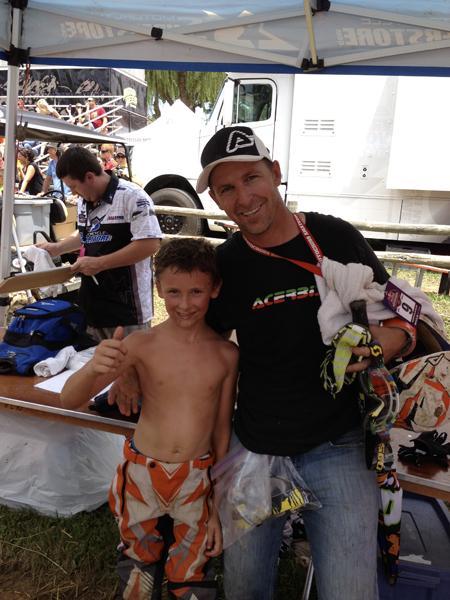 Speaking of GP riders, that's former world title contender Tallon Vohland and his son Maximus, after Max finished on the podium in one of his minicycle motos.
DC photo
LATE RED PLATE (DC)
On May 22, 2010, Eli Tomac did something special: He won the very first professional race he entered, the season-opening Hangtown Classic, beating such seasoned pros as Christophe Pourcel and Tyla Rattray, both former world champs, and American stars-in-the-making like Trey Canard, Justin Barcia, Jake Weimer, and more. Wearing #243, Tomac shocked the motocross world with his speed and endurance, and many thought it was the beginning of a new reign in motocross. But it lasted only one race—at the next round in Texas, the GEICO Honda rider would show up with the points leader's red plates on his bike, only to wilt in the heat and nearly leave in an ambulance, having overexerted himself, causing his body to wear dangerously down. Tomac was not quite the same after that, and while he's since become a champion in supercross, he's only just now the points leader again, more than three years later, in motocross.
This isn't about Eli losing the red plate after one week; this is about how downright extraordinary his first race as a pro really was. No rider before or since has ever managed that feat. In fact, for perspective, look at how the first races for recent graduates like Jason Anderson, Justin Bogle, Malcolm Stewart, Zach Bell, Jeremy Martin, Cooper Webb, and Adam Cianciarulo have done in their very first races. This sport can be tough coming out of the gate!
And now we get to see how Matt Bisceglia, new to the GEICO Honda team, and Shane McElrath, new to Troy Lee Designs/Lucas Oil Honda, do in their very first pro race tomorrow at Unadilla. As good as they are, I don't think either will come close to matching what Tomac did in his own incredible debut.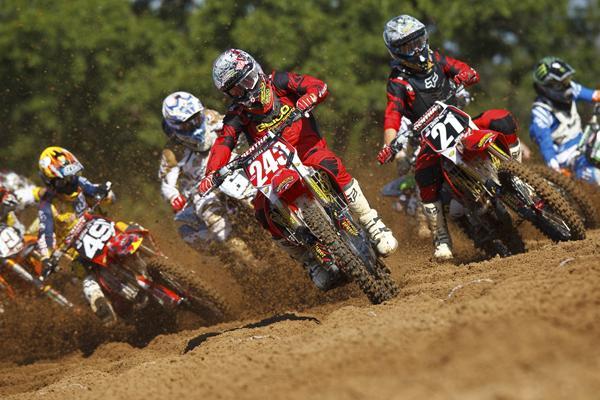 Tomac will have the red plate this weekend for the first time since Freestone 2010.
Simon Cudby photo
PRO PERSPECTIVE - DEBUTS (David Pingree and Jason Thomas)
Ping: My first pro race was the Houston Supercross in 1993. I came off a great year in 1992, winning some amateur races, but I was lacking some direction as I joined the pro ranks. My bikes were a hodgepodge of engine builders and random parts, and my mechanic was a retired local racer who was only capable of cleaning the filter and putting stickers on. I didn't set myself up for success early on. It is so critical for these riders to have good people in their corner to steer them around the pitfalls, booby traps, and plain ol' boobs that can derail a riders career faster than an Amtrak train under ideal conditions.
As the class of 2013 rolls to the Unadilla starting line this weekend, they will get a wake-up call in terms of fitness, aggression, and national track conditions. Seasoned riders will make an effort to make more contact than usual when riding with the new guys, just because. And they will dig a little deeper to make a pass on the rookie or stay in front of him, because you don't want to let one more person believe they should be beating you. The problem for those current pros is that these young guys are fast. I vowed back in 1997 that there was no way I was letting Ricky Carmichael beat me in his rookie season. I don't think I need to go into great detail about how that worked out for me. The big winners here are the fans, because we get to see some healthy, enthusiastic kids come in and shake things up. Some will make it and some will fade away into obscurity, a sad footnote on the difficulty of making it as a pro rider. Who will those riders be? We'll get an idea this weekend.
How did my first race go in Houston? I didn't qualify. I missed by one spot in the LCQ and didn't make my first main event until the next weekend in Anaheim. After that I went on a ten-year run where I never missed a supercross or motocross main event. That's one of those small victories that guys without a #1 plate hang onto for dear life.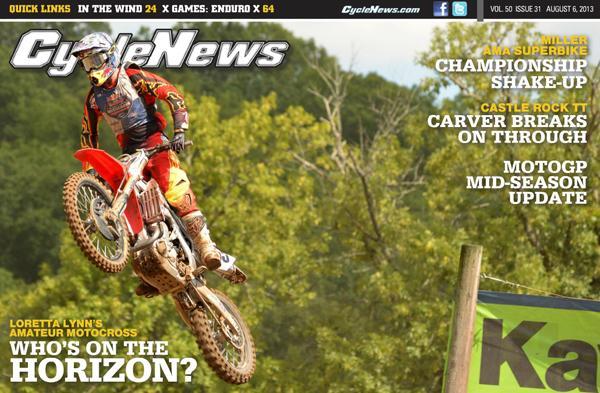 Congratulations to brand new pro Matt Bisceglia on snagging the cover of this week's Cycle News.
JT: My first race was a few years after Ping's, in 1997 at the Indianapolis SX. Being still in high school, I remember having to fly out right after school got out to make it to the race, which would also mark my first airline flight. I think the common theme for most riders in their debut is the overwhelming nervousness. Having to line up against riders you have admired is a tough thing to do. The battle is taking them off that pedestal and considering them your equals, because you are about to go toe-to-toe with them for the first time. If the rookies can race against everyone without worrying about who they are actually racing against, that's a huge part of the struggle.
I vividly remember how different the pace was and how big the stage was compared to the amateur races I was so accustomed to. It's the first time for many of these rookies that when they are sitting in the staging area, they aren't the best rider of the group. That can be very intimidating if not kept in perspective. As for me, like Ping, I didn't qualify for my first SX main event but did for my second. Learning how things work and finding the groove of the pro races is not an easy concept to immediately grasp. Not to mention, these kids have probably never raced for thirty-five minutes before. Of course, they have surely done plenty of thirty-five-minute motos to prepare, but trust me, the intensity and pure speed is a much different animal than practicing during the week. The biggest key is to remember that this race isn't going to define their careers. Good or bad, they will have plenty of future races to determine their fates. My advice is to look around and appreciate the day—you will always remember it!
METCALF IS BACK, AND MORE ON CANADA (Steve Matthes)
This weekend marks the return of Brett Metcalfe to the Lucas Oil Pro Motocross Championship. Remember him? Aussie guy, #24, rides a Kawasaki. Last time we saw Metty he ran up front all day long at Southwick and finished fourth overall. His real job this year has been racing in Canada, and he's been dominating up there. In fact, last weekend in Moncton saw Metcalfe clinch the MX1 title with one race left. Congrats to Brett on the title, and if everything goes well for him, he won't ever wear the #1 up in Canada—he hopes to get a ride down here for 2014.
Brett went into the series as the favorite to win—after all, he's a world-class rider. But at the opening round, Colton Facciotti beat him and it was looking to be a great summer of racing between those two. Then Facciotti went down hard at round two and was out for the series. This left the door open for Brett, and he's only lost two motos the rest of the way, easily clinching the championship. Bobby Kiniry hasn't been as strong as in the past, but he's sitting number two overall with one race remaining. The big surprise has been Jeremy Medaglia making the jump up to MX and winning a race.
In the MX2 Class it was Leading Edge Kawasaki's Austin Politelli who had a massive lead in the series before having some bad motos and dwindling his points lead to just three. But Austin rebounded at the last race and went 1-1 while his rivals had poor days. This gives him some breathing room in that class with just one round left.
Looks like the great career of KTM's Dusty Klatt has come to an end. The two-time Canadian MX1 Champion and one of the very best Canadian racers of the last decade tore his ACL before the season started and worked like mad to come back for the second half of the series. And he did just that, making his debut at round five of the series to decent results. But in another chapter of "Why Motocross Sucks Sometimes," Klatt went and did the same knee in again at Moncton, and in talking to him, although he didn't fully come out and say it, it seems like he's ready to call it a career. Which is too bad—no one wants to go out like that, but it is what it is. Good luck to my friend Dusty in whatever he decides to do next.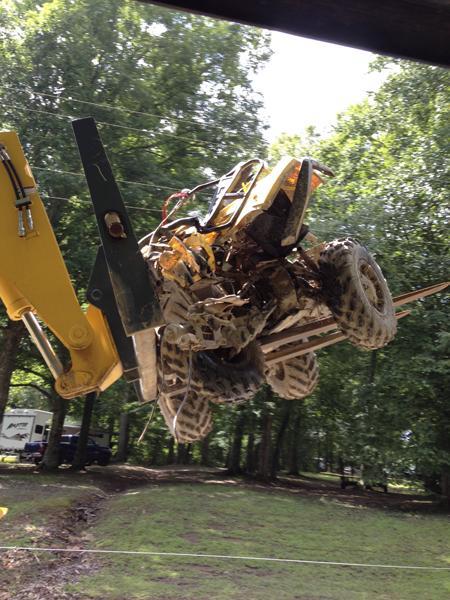 In one of the stranger moments of the week, this quadcycle was being ridden by a police officer directing traffic for Betty Sue Lynn's funeral procession when it was run over by an 18-wheeler out on Route 13. The officer was fine, but the quad was DOA.
DC photo

TOP TEN MOVIE RACERS (DC)
We spotted a cool list on Vital MX by Regis Harrington, former pro motocrosser (Andy Harrington) and part-time motorcycle stuntman. He left a few gems off—Kelly Leak from Bad News Bears and "the cooler king" (Steve McQueen/Bud Ekins from The Great Escape, and Robert Redford in Little Fauss and Big Halsey—but it's still pretty funny stuff. Here's Andy's list:
10. Wally Briskin: Needed to train a little more.
9. Goose Trammel: Hard to put him ahead of Wally, but pure speed? I rest my case
8. Rene Cartier: French ringer brought over to replace Andy Carson. Never produced.
7. Andy Carson: A knee injury prevented us from seeing the true talent.
6. Trip Carlyle: Such a wild card. wreckers or checkers.
5. Johnny Rivera: The original Bad Boy. Jlaw only wishes....
4. Andrea Carson: Who knew green finger nail polish cures arm pump?
3. "Bad" Billy Robinson: Damn Hurricanes. 'nuff said.
2. KC Carlyle: Win the SX finals in Vegas? got to be top three
1. Rick Melon: Heart of a champion, left it all on the track.
He also left off the strange Dutch movie Spetters, which was basically the Gerrit Wolsink story, and someone posted this PR shot of the film with the real Wolsink (second from right) working as a stand-in for movie star Rutger Hauer.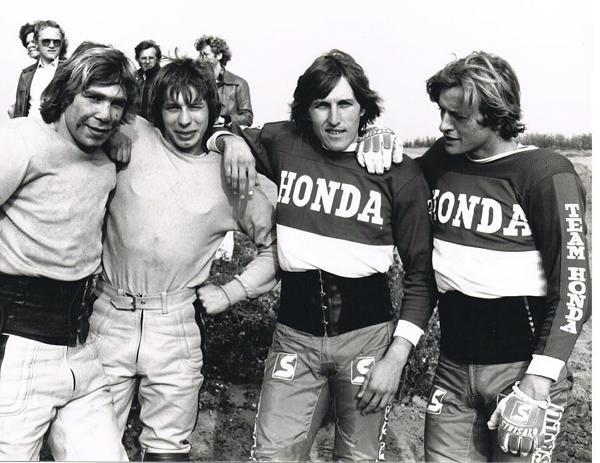 CRAZY AUCTION (DC)
Do you remember the crazy guy in Zanesville, Ohio, who released all of those exotic animals he had collected—lions, tigers, bears, etc.—and then killed himself? The bizarre tale made national news because people driving along Interstate 70 starting reported seeing these wild animals along the road. It led to a terrible culling by local police officers who had no choice but to put down the creatures, which had been kept in captivity for years.
We mention it here because the man, Marian Thompson, didn't just collect animals; he collected old motorcycles and parts, vintage cars, race boats, RC planes, and more. Now the whole lot, including some very rare Harley-Davidson AMF dirt bikes from the seventies, is being auctioned off on August 14 in Zanesville. Check out more on this very strange story right here.
HIGHLIGHTS OF THE WEEK
Unique Unadilla Wins
With so much history soaked into the Unadilla soil, there's bound to be plenty of bench racing surrounding past events at the track. DC breaks down some of the more memorable 'Dilla moments, which are stories that help tell the much larger tale of motocross in America.
Loretta's Custom Moments: Aaron Plessinger
No one boosted their stock at Loretta's more than Aaron Plessinger, who won every single moto he entered during the week. What's his story? Check it out here.
250 Words: Cooper Webb
Nine races into his professional career, is Coop hitting the rookie wall? Chase Stallo chats with him to find out.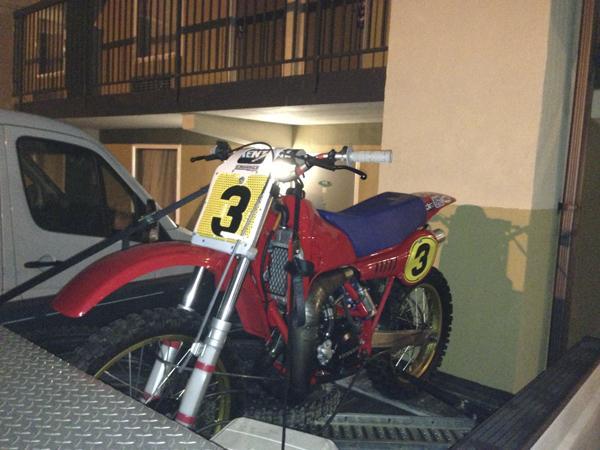 We never did find out who this sweet Dave Thorpe-replica Honda belonged to, but it was at the Best Western every night!
DC photo
HEAD-SCRATCHING HEADLINE OF THE WEEK
ROBBIE KNIEVEL
BUSTED FOR DUI
... In a Motorhome
According to TMZSports.com, after someone called in a motor home collision, officers found Knievel's RV in a nearby parking lot with the motor running, Robbie texting in the driver's seat. "Cops say they detected a strong odor of alcohol -- and when asked, Robbie said he had 3 drinks earlier that evening," continued the report. "According to cops, Robbie took a breath test and blew a .228 ... almost 3 times the legal limit in South Dakota."
HEY, WATCH IT!
Racer X's Chad DeRosa has been working on a documentary project called Out of Nothing (http://www.outofnothingmovie.com/), and they're getting close to the finish line. They need to head back out to the Motorcycle Land Speed Trials to capture some additional footage and Ryan Stiles (known for his work on The Drew Carey Show, Two and a Half Men and Whose Line Is It Anyways) has stepped on board to produce the film. They're looking for a bit more help, and have started a Kickstarter page HERE. Take a look, and if you're interested, back the project.
This guy has a whole YouTube page called "MX Europe" and it's packed with very old-school videos from the seventies and eighties... In other words, Amotoras Cheias Chao is the TBlazier of European motocross!
This one is going to make some people mad, like anyone who has ever had a motorcycle stolen.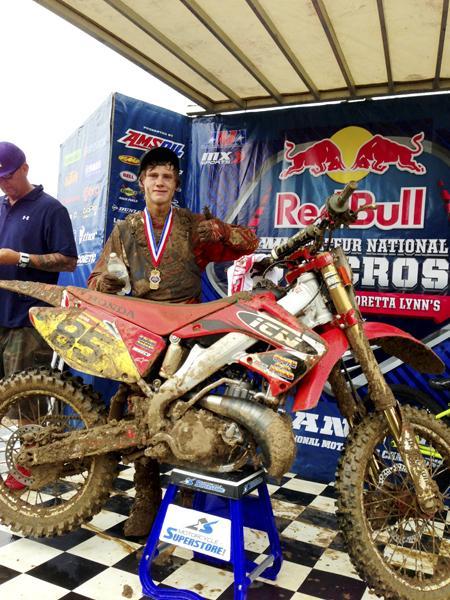 But everyone knew exactly who the old Hondas on the podium belonged to: Jerry Robin!
DC photo
RANDOM NOTES
Be sure to stop by the Racer X booth at Unadilla this weekend to pick up your 2013 event sticker and check out our special subscription offer! You can get 13 issues of Racer X plus a Kevin Windham drawstring bag for only $20!
Did you get an all-day pit pass? There's still time! For only $40 you get an all-day pit pass plus a one-year subscription to Racer X. Order yours now here.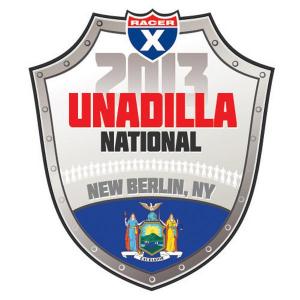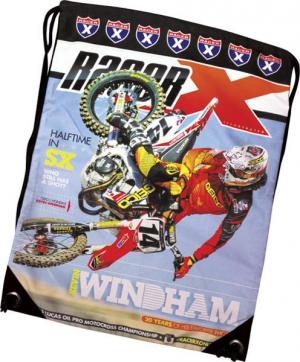 Dear Racer X,
Sadly, my father passed away on 7/20/2013. He was an avid racer and race fan. He sponsored numerous desert and speedway racers with Quaker State products during his employment at Quaker State. He was also the finish line flagger for many NMA events from 1973-1976. His greatest racing accomplishments were winning the last Catalina GP in 1958 on an Allen Deallo sponsored MV Augusta in the 175cc class. He was one of the last surviving Catalina Champions and was in attendance at the last race in 2010. He was also inducted as a Motorcycle Legend in 2002 into the Trail Blazers MC Club.
Tony Schuler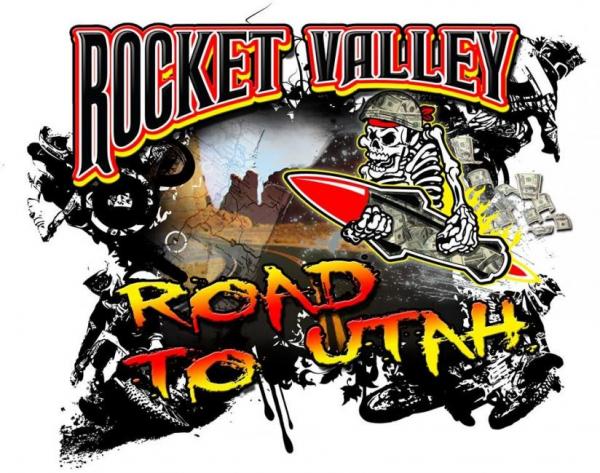 Click HERE for more information.

That's it for this week—thanks for reading Racerhead. See you at the races.