Unadilla Motocross
New Berlin

,

NY
Unadilla
Lucas Oil AMA Pro Motocross Championship
With Unadilla hosting professional motocross racing for the forty-third year, we thought we would wade back through the history books and check out some of the unique wins at this classic American motocross track. Over the years, 'Dilla has hosted Lucas Oil Pro Motocross, Grand Prix events, Trans-AMAs and Inter-Ams, and even the 1987 Motocross des Nations—the first one held on U.S. soil. Here are a few of the great facility's most memorable wins.

1982 250cc USGP
Holland's Kees Van der Ven quietly rode into the record books as the first KTM rider to achieve a major motocross win on U.S. soil, piloting his white bike to the 250cc U.S. Grand Prix win. The brand would not win here again until Kelly Smith at the 2000 High Point 125 National—wrenched by our own Steve Matthes!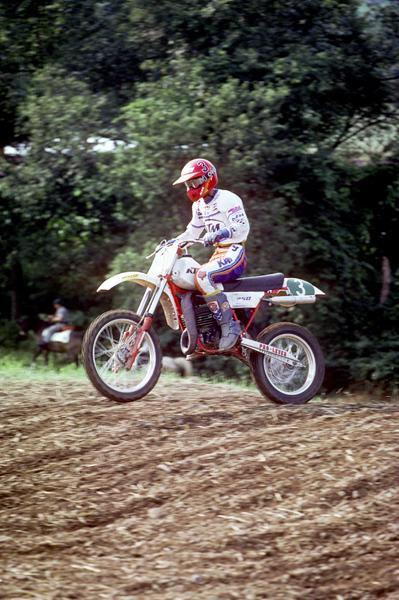 Kees Van der Ven was the first KTM rider to win a major motocross event on U.S. soil.
Dick Miller Archives
2012 250/450 NATIONAL
For the first time ever, KTM riders swept both classes, Ryan Dungey in the 450 Class and Marvin Musquin in a breakthrough 250 ride. Adding to the orange story, Ken Roczen won his first moto since moving to the States.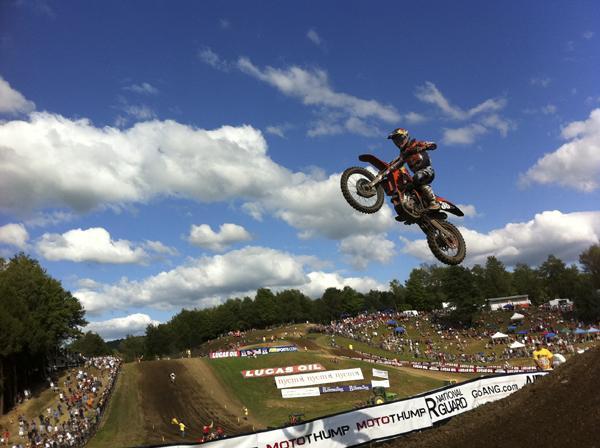 Just one year ago Ryan Dungey and Marvin Musquin (above) put KTM in the record books at Unadilla.
Davey Coombs photo
TEAM USA (1987)
For its U.S. debut, the Motocross des Nations took place at Ward Robinson's track in New Berlin, New York, with Team USA manager Roger DeCoster at the helm, Jeff Ward (500), Rick Johnson (250), and sentimental pick Bob Hannah, who was aboard an RM125 Suzuki. It rained cats and dogs, but the home team was up for it, slogging through to the win. President Ronald Reagan even invited the riders and DeCoster to the White House!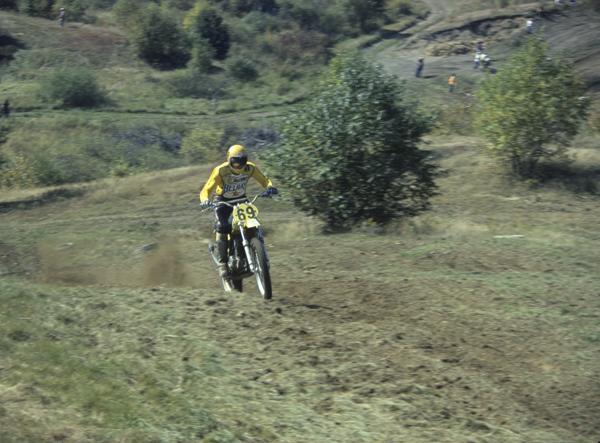 The Man owned Unadilla.
Dick Miller Archives
THE MAN (1974-'78)
If one man can claim to "own" Unadilla, it's Roger DeCoster. From 1974 to '78, he won five straight Trans-AMA races there over the best Americans year after year, including Brad Lackey, Marty Smith, Tony DiStefano, Jimmy Weinert, and of course Bob "Hurricane" Hannah. In fact, at last year's AMA Motorcycle Museum Hall of Fame Induction Ceremony in Las Vegas, Hannah introduced DeCoster with a story about how he tried to break the legend's leg in one of their superb duels during that period. But try as he might, Hannah never beat DeCoster at Unadilla, even at the peak of his career in '77 and '78. Unadilla + DeCoster = Motocross.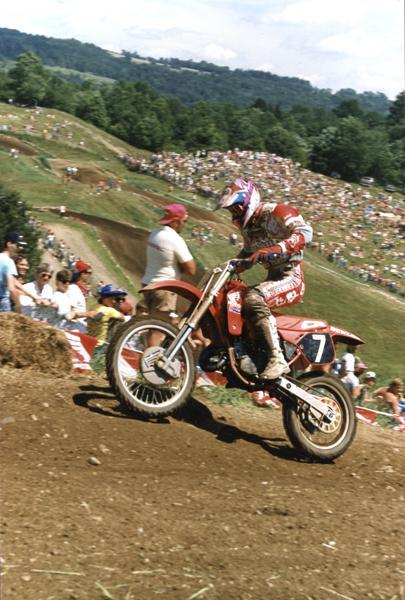 Jeff Stanton en route to the 1989 U.S. Grand Prix win
Thom Veety photo
1989 U.S. GRAND PRIX
In 1989, Unadilla hosted both the 250cc U.S. Grand Prix and the last round of the outdoor nationals. But it was the 125cc Support class race that summer at the GP that was truly special, as Rick Johnson beat Jean-Michel Bayle for the 250cc GP win. RJ was riding with a still-sore wrist after breaking it in March at Gainesville, and he appeared to be back in form, so his younger teammate Jeff Stanton decided to race a 125 for the only time in his professional career, in order to show Team USA manager Roger DeCoster that he could ride a 125 for Team USA if necessary. Stanton beat Damon Bradshaw and the rest of the 125 regulars, the newly crowned AMA Supercross Champion showing versatility no one knew he possessed. He wasn't needed for the MXdN after all, but he kept on winning at Unadilla, taking the next three USGP wins there.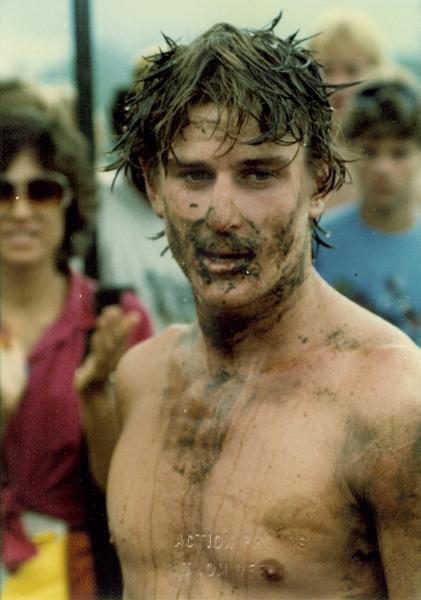 Brian Myerscough following a hard fought battle at Unadilla in 1983.
Thom Veety photo
1983 U.S. GRAND PRIX
In one of the most extraordinary three-way battles in motocross history, defending FIM World Champion Danny LaPorte battled recently crowned AMA Supercross Champion David Bailey and a driven Brian Myerscough, who led both of the 45-minute motos into the late stages, only to fade at the very end. Eric Johnson wrote an epic tale, "The Other Side of Paradise," about that race back in our newspaper days. One day we'll run it again, for a much bigger audience.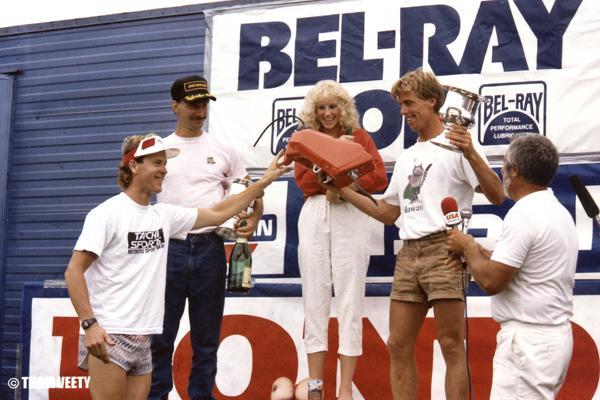 That's Johnny O'Mara handing Bob Hannah his gas tank after running out of gas late in the race, which allowed Hannah to secure a long-awaited win at Unadilla.
Thom Veety photo
1986 250 USGP
Bob Hannah seemed cursed at Unadilla, and throughout most of his career he somehow failed to win anything here, often blaming bad luck. But in 1986 he finally saw someone else's luck run out when Johnny O'Mara ran out of gas at the end of the race, giving Hannah—by then a veteran in the field—a long-awaited win. After the race, O'Mara—always a good sport—took the gas tank off his factory Honda, autographed it, and handed it to Hannah on the podium.
2003 250 NATIONAL
In one of the best matchups Unadilla has ever seen, a reinvigorated Kevin Windham took on defending 250 Motocross Champion Ricky Carmichael, who was on an eighteen-race national winning streak. But Windham was on a Factory Connection 450 Honda, and Ricky was still on his CR250. K-Dub rode the wheels off the thumper that day at Unadilla, putting an end to Ricky's streak and leaving him even more angry than he was when Robbie Reynard beat him on a 125.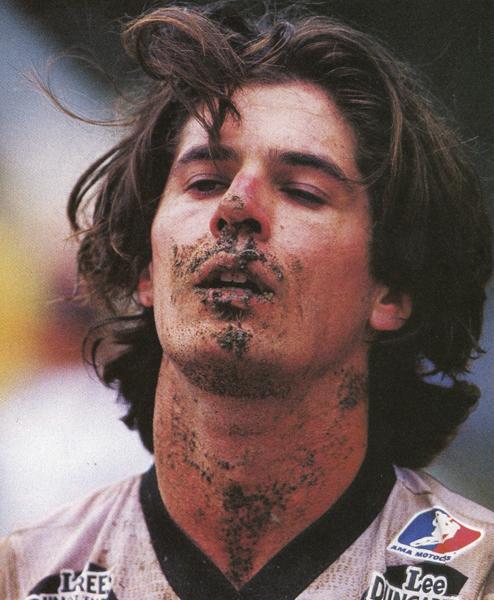 An exhausted Kevin Windham after putting a stop to the GOAT's streak.
Simon Cudby photo
1989 500 NATIONAL
Everyone remembers Jean-Michel Bayle showing up in the spring of 1989 and winning the opening round of the 250 Nationals at Gainesville before heading back to Europe to win the 250cc World Championship. But as Steve Matthes reminded us this week, the race everyone forgets from that season was Bayle's return in the fall at the last 500 Nationals. Riding the #111 CR500, the Frenchman won the last round of the series, serving notice that Gainesville was no fluke.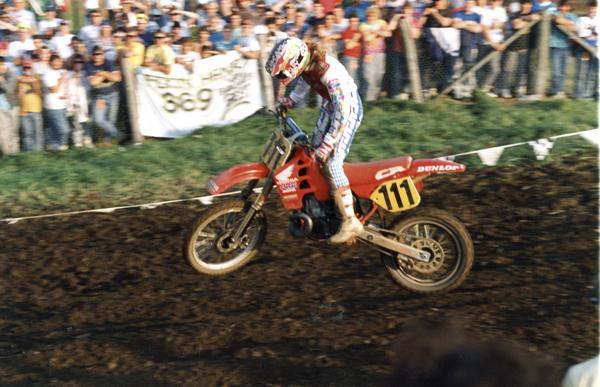 JMB returned from Europe in 1989 to win the 500 National at Unadilla.
Thom Veety photo
2001 125 NATIONAL
The race that Travis Pastrana wishes he had over.... After dominating the first moto and pulling way, way out front the second time, the defending 125 National Champion should have just cruised around the track on the last lap, but instead he kept charging and ended up going over the bars and suffering a concussion. Grant Langston inherited the win. Pastrana was never the same, and that day at Unadilla will go down in history as the last moto Travis ever won.
Have a favorite unique Unadilla memory of your own? Add it in the comments section below!