Unadilla Motocross
New Berlin

,

NY
Unadilla
Lucas Oil AMA Pro Motocross Championship
Matt Bisceglia is next in line for the coveted GEICO Honda professional program, which has churned out the likes of Trey Canard, Justin Barcia, Blake Wharton, Eli Tomac, Justin Bogle and Zach Bell. Each one of those riders found great success as an amateur with the team and then transferred into the pro ranks with a head of steam. Bisceglia is in the same situation, grabbing five moto wins and one close second place finish in his six Loretta's motos, taking two titles and the coveted AMA Horizon Award.
Next up? A ride in the big truck at Unadilla this weekend. We talked to Matt after Loretta's closing ceremonies to get his thoughts.
Racer X: When we talked to you yesterday you said, man, I have my pro deal dialed in. We're going to Unadilla. But when you did win here, did it still kick in as a pretty big thing?
Matt Bisceglia: Yeah, it was a huge thing for sure. No matter if I have a ride lined up or not, it's a huge thing. That was my goal all summer, was to come here and do exactly what I did. It was a huge accomplishment for me and it's what I've been working for the last eight or nine years. It was huge for me and I'm glad to have got it done.
It seems easy now. You were so solid here last year and this year, and you're on a team that's had so much success. But before that you had ups and downs and all those things. It wasn't as easy as it probably looks right now.
No, it's not. I had a lot of ups and a lot of downs. A lot of downs! Right when I got on big bikes, I had a lot of just stupid injuries, a little bit of bad luck here and there. Things didn't quite go my way, but I guess everything happens for a reason. It ended up playing out in the end so far. I'm just so happy with the opportunity that I have from four years ago, and three years ago. It wasn't looking so good. At times I was even considering quitting. I'm so happy to be in the position I'm in. I've never wanted it more. I'm pretty pumped on it.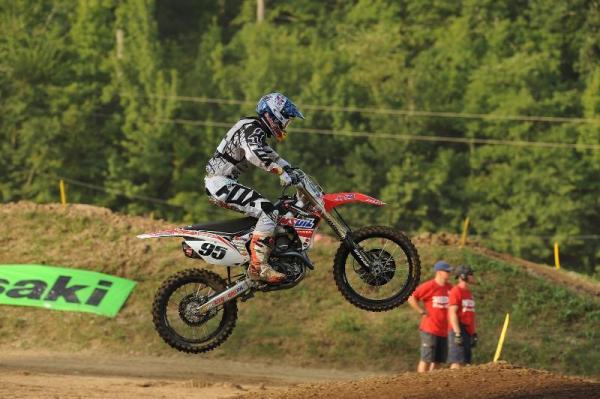 Matt Bisceglia won the coveted Horizon Award at Loretta's
Ken Hill photo
What does this team do? Obviously it's good to have that transition to the pros, but it seems like whenever they get a hold of somebody, even in amateurs, they go to another level long before they're even in the pro ranks. What is the difference from your perspective when you got on there?
It's just a very good group of people, from everybody on the team - the team managers, team owners, motor guys, the mechanics…. They're there to help you and you only. That definitely helps a lot, being on the best bikes, too. It helps a lot just being around that circle of people. It's an awesome group.
How closely integrated are you with the pros? Do you work with [Mike] LaRocco? Do you get to work with the guys that are on the pro team right now?
I have a little bit so far. Obviously now after Loretta Lynn's I am on the pro side of it. I'm completely with those guys now. There's no turning back.
Your dad races here usually. You were trying to get across on TV; we let you get that it in, that your mom wasn't able to make it. Was it a racing injury that led to all that?
Yeah, it was just a practice injury [my mom had] a couple years ago.
The whole family has raced though?
Yeah, the whole family actually raced here at Loretta's one year. We all raced one year. That was cool. But unfortunately my mom couldn't make it this year. She had to take care of animals and stuff around the house. Hopefully she'll be able to make it for a [pro] National this year. That'd be cool. I was glad to get it done for her on TV.
Did that make you a little more nervous knowing that it was live on TV? It was a pretty big deal.
There's a little bit of nerves there but I knew if I was a little bit nervous that they were even more nervous. I do pretty good under pressure so far, I've noticed. So when it comes to crunch time I usually do pretty good. Had fun out there. Just rode a smart race.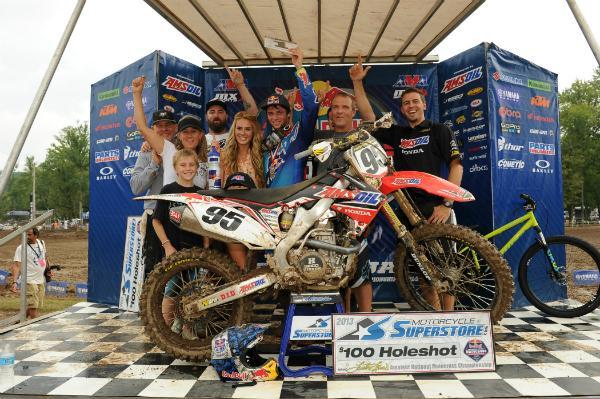 Bisceglia will make his pro debut at Unadilla.
Ken Hill photo
How gnarly was the mud there in some of these motos this week?
That last moto especially, it was a little bit sticky and it was kind of deep. They groomed the whole track before our moto, pretty much every section. I'm glad I went out for the parade lap and I saw the soft spots. I almost threw it away a couple times in that mud. But one of my buddies on Instagram posted a video of it from TV. I went over the top of that berm and I almost threw it away right there, but I just kept my calm and tried to play as best as I could through the lappers. It got sketchy a couple times with lappers. But just glad it's all over with and starting the next chapter of my career. I'm really happy.
Last thing, are you still at the Masterpool's place down there? What's that like?
Yeah. It's awesome. I've been training with Jerry [Masterpool] now for a while. I have a good group of people helping me out. It's close to us and he always has a good track going on. He's an awesome dude. He's been helping me a lot. I also trained a bit with Trampas Parker this summer and he helped me out quite a bit too. I went over to his place for a week. I'm super pumped to have had the opportunity to go up and work with him, along with Jerry too. I'm surrounded by a good group of people and I feel like that helped me out a lot this week.