Loretta Lynn Ranch
Hurricane Mills

,

TN
RedBull AMA Amateur National Motocross Championship (Loretta Lynn's)
Amateur National Motocross Championship
With more focus than ever being placed on grabbing strong amateur riders early, talent scouting of the amateur ranks has become much more sophisticated. That said, it's still possible for riders to beat the scouting reports and have breakout rides at the Red Bull AMA Amateur National at Loretta's, and Ohio's Aaron Plessinger is definitely the breakout star of 2013. He's been close, but never had taken a National Championship at the event before. But this year he won both the 250 B and 450 B Championships, and swept all six of his motos in the process.
Even Plessinger himself didn't expect that type of performance. "This wasn't even in the back of my mind, me sweeping this," he told us at Loretta's closing ceremonies. "I'm still speechless about it. It was good. I came here with some confidence. It just clicked. Me and the track clicked, the bike clicked. I was just riding good all week."
Plessinger credits a lot of his success to moving to Georgia and taking up residence at Matt Walker's Moto-X Compound. He lives in a motorhome there, and puts in the work. Plessinger says he rode 30-minute motos to prep for the race, and hit the gym "more than seven times a week. I don't want to give away all my secrets but I was working pretty hard. It was definitely the most work I've ever done."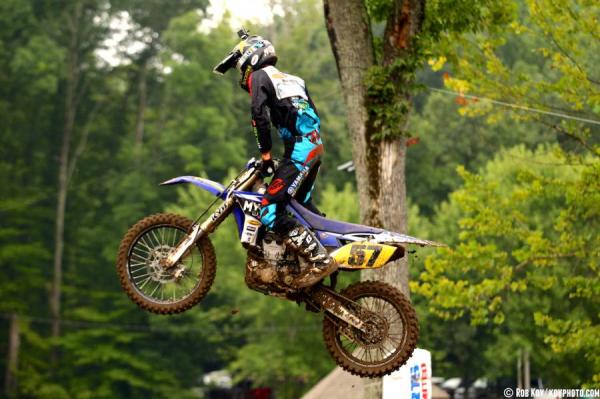 Plessinger swept all six motos in the 250 B and 450 B classes.
Rob Koy photo
Walker credits a lot of technique work. Aaron has been a fast motocrosser for quite awhile (he won a moto at Loretta's in the 51cc (7-8) class back in 2005. Adam Cianciarulo won the other two motos) but he also has an obvious background in off-road racing. His dad, Scott Plessinger, is a three-time champion in the AMSOIL Grand National Cross Country Series, and was known as the toughest rival of Scott Summers during the "Great Scotts!" era of the early 1990s. As such, Aaron would often spend the weekends between motocross races racing GNCCs, and he had blazing speed there in both in the minicycle ranks, and into the amateurs. This year, Plessinger showed up at two rounds in the XC2 Lites class, and scored a first and a third. No doubt, the woods racing skills have helped Plessinger build endurance, toughness, and mud skills that came in handy during a wet week at Loretta's. But nowadays, Walker is working just as hard to rid Aaron of some off-road habits.
"It's a couple of things," says Walker. "First, he'd always put in his best laps at the end of the race. Those off-road races are long, so we've had to work really hard on sprints, so he puts in his best laps at the beginning of the race. Also, he was always wanting to stand up everywhere. We've worked on sitting down earlier to get set up for the corners better."
"He's been phenomenal with helping me," says Plessinger of Walker. "I just get along with him so good that it just sinks in. Whatever he tells me it just sinks in and I listen right there. I'm doing whatever he tells me. It's worked out for me."
Indeed, Plessinger was just as effective in the dry motos as the muddy ones during the week, so this wasn't just the case of an off-roader getting a lucky break. He also got good starts and established himself early in the motos—the sprint work is paying dividends.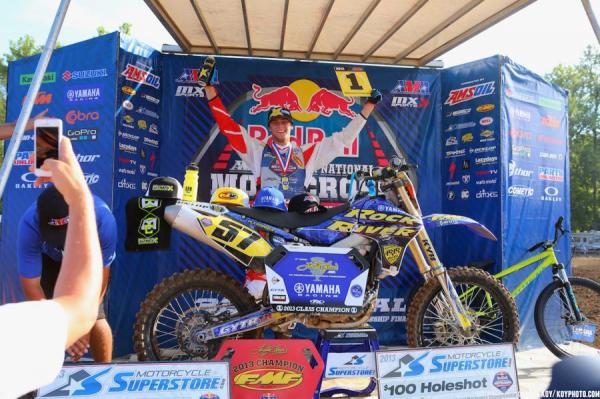 Plessinger is now part of the Star Racing Yamaha squad.
Rob Koy photo
Armed with this success, Bobby Reagan and the Star Racing Yamaha team has signed Plessinger to a deal, although the timing of it all is not yet known. Will he go A class for a full year and try to win at Loretta's again? Skip it and go pro in 2014? "I'm not sure quite yet but we'll find out and hopefully go to Mini O's and sweep it, too," he says with a smile. "I think that [racing for Star] is the plan for right now but you never know. I like the team, though."
Such attention and opportunity begs the question: is Plessinger for real? The performance at Loretta's was impressive, but it's key to remember, for example, that he spent his days in the minicycle ranks battling the likes of Cianciarulo, who is already two steps ahead, beyond the A class and into the pros already. But late-blooming breakouts in the B class have become quit common as of late. In fact, it's often the B ranks that determine the next star more than the minicycle or A classes. The likes of Trey Canard, Dean Wilson and Justin Bogle are recent examples of riders who never quite got over the hump on minis, but suddenly accelerated their learning curve once they got to big bikes. Jordon Smith, also in the B ranks currently, has made the same recent gains. Heck, Ryan Dungey didn't find his stride until he got on big bikes, either. For Plessinger, the confidence gained now could really pay off moving forward, wherever that may be. For now, he's going to enjoy it for a minute.
"I'm going to go home and probably sleep for six days, or more."