Loretta Lynn Ranch
Hurricane Mills

,

TN
RedBull AMA Amateur National Motocross Championship (Loretta Lynn's)
Amateur National Motocross Championship
Apologies in advance for a fragmented Racerhead this time around. It's coming to you today from Loretta Lynn Ranch in Hurricane Mills, Tennessee, where work continues on the world's largest used tear-offs collection (thirty-two years and counting). Today marks the beginning of the end of the 2013 Red Bull AMA Amateur National Motocross Championships, the biggest motocross race in the world (21,000 entries at the qualifying level, 1,500 finalists). It also marks the midway point of the Summer X Games in Los Angeles, which means that this "off-weekend" for pro motocross in America is actually one of the busiest weekends of all.
So far, Loretta Lynn's has been a lot of fun, and just as much work. Heavy rain on Tuesday night and much of Wednesday decimated the program, and we've been trying to catch up ever since. For those of you watching the live streaming races on www.racertv.com, you've watched the track come around quickly and go from a muddy mess to the need for some water in the span of twenty-four hours. You've also caught many glimpses of the future of American motocross and supercross. Matt Bisceglia, Shane McElrath, RJ Hampshire, Luke Renzland, Jace Owen, Thomas Covington, Paul Coates, and more are all loaded up for pro debuts soon—if not at Unadilla, SLC, or Lake Elsinore, then certainly sometime in 2014.
Watch the live NBC coverage of the 250 A and 250 B motos on Saturday, 3pm EST.
After that (and maybe as soon as May) you might be seeing up-and-comers like Aaron Plessinger, Jordon Smith, Tyler McSwain, Benny Bloss.... And then the next group may include Austin Forkner, Sean Cantrell, Joey Crown, Mitchell Harrison, Cameron Cannon, Chase Sexton, Brock Papi, Hannah Hodges, and plenty more.
There's no way I can make a list of all the fast kids down here and not leave a bunch of talented and deserving young prospects off of it. It suffices to say that the future of motocross is coming at us, and fast, and it's going to be amazing to watch.
The past of American motocross is here too. Robbie Reynard just beat Tim Ferry in a very entertaining Vet 35+ class finale, and past heroes like Scott Sheak, Barry Carsten, Kevin Foley, and even Gary Semics, one of the best riders of the seventies, are here battling it out and having fun. Look elsewhere on this site for race reports, photo galleries, and more.
Of course tomorrow is the big day: the live NBC network coverage of the final motos for 250 A and 250 B class racing, featuring many of the names I mentioned above. It's a first time ever for American motocross: a standalone amateur race getting two hours of live coverage, as part of the Red Bull Signature Series. So look for the fastest kids in the country on TV tomorrow, and listen to the familiar motocross voices of Jason Weigandt and former Loretta Lynn's champ (and four-time MX/SX Champion) Jeff Emig tomorrow.
I'm headed back to the infield. Here's Racerhead.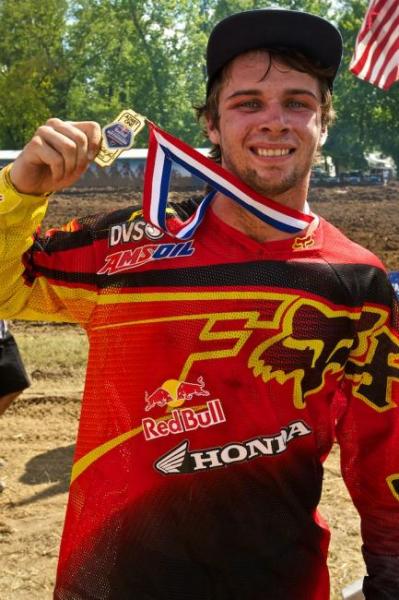 Matt Bisceglia is just one that has been impressive at the Ranch this week.
Photo by Christian Muñoz
HOW TO WATCH
For the first time in history, you will be able to watch live Loretta Lynn's racing on network television, Saturday August 3, starting at 3 p.m. Eastern on NBC. The broadcast is scheduled to run two hours and cover the third and final 250 B and 250 A motos. You don't want to miss it! Along with the NBC broadcast, RacerTV.com is scheduled to run live streaming motos from 9am EST until 2pm EST.
As for X Games Los Angeles, the ESPN and ABC broadcast times and events are listed right here.
PRO PERSPECTIVE (Jason Thomas and David Pingree)
JT: Loretta Lynn's Dude Ranch is absolutely the coolest experience of the year as an amateur racer. My first time to the hallowed halls of Hurricane Mills was in 1985, but only to watch my dad defend his #1 plate from the previous year. I was 6 years old, so I don't remember all that much of the week, but I do remember wanting to come back one day and actually race with the nation's best amateur racers.
That chance would come for me beginning in 1991 in the 60cc 7-11 class. I had been doing pretty well locally and was anxious to see how I would do against these kids from far away places like Oregon and Nevada. As a kid, a rider from that far away surely had some mythical powers, and that's always good for at least two seconds a lap in my mind. I mostly remember getting absolutely torched by the Team Green riders. They were simply a lot better than everyone else in all of the classes. As the years passed, I grew older—and faster. I went from finishing in the 20s every moto down into the top ten and finally contending for championships by the end of my run there in 1996. I would miss out on that elusive national title at the hands of Nick Wey, who would later become one of my closest friends and rivals.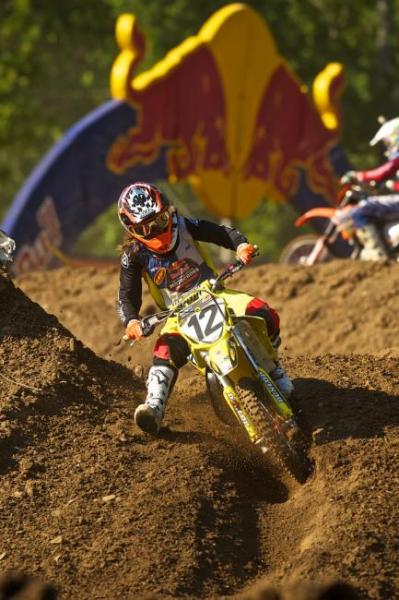 Hannah Hodges has been incredible on her supermini in the Women (14+) class.
Photo by Christian Muñoz
For me, that's what Loretta's is all about. The friends and memories I have from those humid weeks in August are irreplaceable. I have kept many friends from those days and plan to do so for many years to come. They are in a sense our extended family, and we all share this common bond in motocross. All of our youthful experiences are similar, and we all are better for it. From riding mopeds around the pits twenty hours a day to the now-defunct river rope swing back by Loretta's estate to the pool-hall gambling rings.… The stories are the same, and now new ones are being created every day this week. It's one of those events that, no matter where you are or what you're doing, if someone mentions Loretta's, you're immediately transported back to Tennessee for a long moment in time. One of these days I will go back and put it all on the line in hopes of bringing home that #1 plate. Win or lose, the memories are the real trophies.
PING: It's been a long time since I've been to Loretta's. My last trip was in 1992 and I went home with a 125 B class championship. I remember the creek being a lot of fun. I remember the talented competition. I remember getting into some trouble on a Honda Spree, which was the pit vehicle of choice back then. I remember acting inappropriately with some of my fellow racers' sisters when the motos were over, and I would like to offer an apology to those parents who had no idea. But mostly I remember standing on the stage at the end of the week and carrying off that big trophy. My dad still has it in his house. And he should keep it—that thing cost him thousands and thousands of dollars when it was all said and done.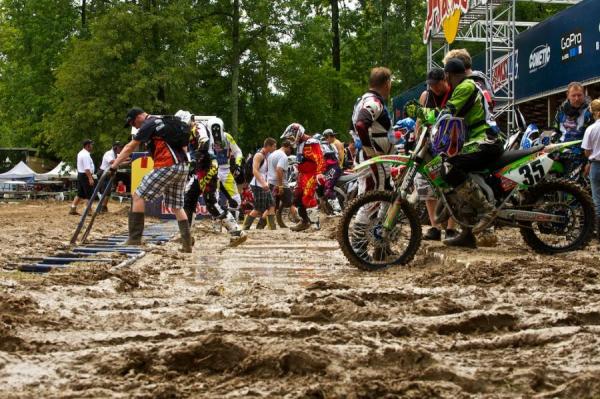 As usual at Loretta's, we've seen our fair share of wild conditions early on.
Photo by Christian Muñoz
The fact is, the road to a professional motocross career goes right through the Ranch, and while a rare few get a shot without performing there, it is an anomaly. The best amateur racers around the world show up during the hottest, wettest part of the year in Tennessee and measure up against one another. Win or lose, the Ranch is a great time, and I'll never forget the trips we made there. My suggestion is to give it all you have on the track and then really enjoy your downtime. Oh, and lock up your daughters after sunset. Hope everybody has a safe week.
MATTHES CHIMES IN (Steve Matthes)
With Loretta's in full swing and a lot of the Racer X staff there, as well as X Games going on in L.A., I feel a little left out sitting on my couch this weekend. Actually, never mind—I'm fine with it. A weekend off is pretty nice, actually, but I can't help think that perhaps if I had been at the Ranch, Tim Ferry would've been able to bring it home in the Vet +35 class instead of coming up just short to Robbie Reynard today.
So yeah, congrats to Robbie. Great. I'm really happy for him. That's awesome. I'm not bitter at all.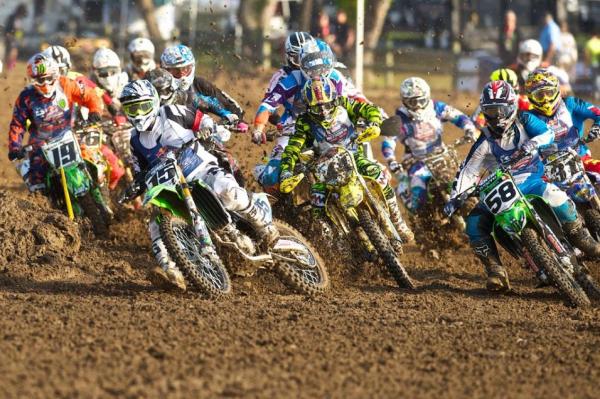 Tim Ferry was able to go 1, 2, 2 in Vet +35 for second, behind Robbie Reynard.
Photo by Christian Muñoz
Hey, it's never too early to think about silly season. After all, the teams and riders are always thinking about it—why can't we?
I wrote this story for Alex Gobert's excellent Aussie MX site about the 2014 season and what we should expect next season. You can read the whole story, but what I wanted to focus on was the Pro Circuit team and what they have going on next year.
According to the people I talk to, Dean Wilson going back to the team on a full 250 ride is "90 percent done" so I would think that's going to happen. Adam Cianciarulo will be there for the next few years, Darryn Durham has one more year left on his deal, Justin Hill's contract was a two-year deal starting this year, Blake Baggett has one more year left, and owner Mitch Payton told me he thinks Martin Davalos hit a performance clause in his contract to be auto-renewed for 2014.
So I'm not sure if you've been counting, but that's six riders for 2014 who have deals—probably one too many for the PC guys to carry. What's going to happen? I have no idea, but I'm pretty sure the team will not take six guys racing next year. Baggett's been shopping for a 450 ride according to people I know, so maybe he moves up and solves Mitch's "problem." But I would think Payton (and Kawasaki) wouldn't want Blake to go anywhere, so getting out of his last year might not be that easy. Stay tuned as we watch and see how the PC guys settle this deal and who the odd man out is.
JGR Yamaha has a spot open, but I would bet they re-sign Josh Grant, and I think RCH will stick with Josh Hill as Broc Tickle's teammate. With BTOSports KTM signing up Andrew Short for two more years, there aren't many spots left (barring any new teams popping up), and perhaps that's why a guy like Alan Brown, owner of N-Fab Yamaha, is in a nice spot. He runs a good program with factory support, and he's completely open for next year. Weston Peick, Ryan Sipes, existing rider Phil Nicoletti, and many more top-notch 450 guys will be ringing him up for a ride.
Let the bidding begin!
HEY, WATCH IT!
Man Vs. Moto: Episode 9:
Brett Cue at Maddo's:
Racer X Motocross Show: Millville:
Official Living for the Weekend® Trailer:


IN THE MAG:
THE ROCKWELL GYM CLUB. In our September issue of Racer X Illustrated we took over the Rockwell Gym in Wildomar, California, with a few striking models and a ton of fresh threads. Malcolm Stewart, Robbie Maddison, Cassidy, and Ana put the latest fitness fashion and accessories through their paces. Start reading on page 152.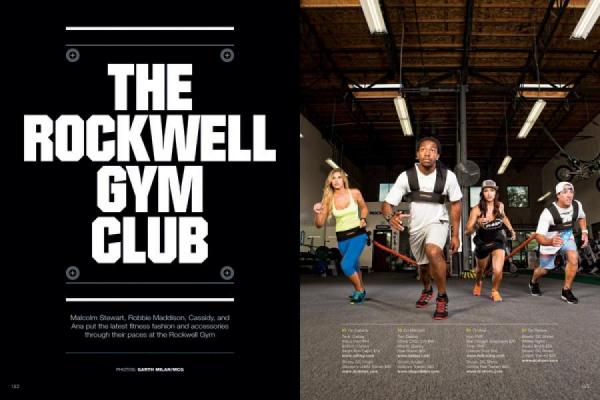 RANDOM NOTES
If you're a moto historian, we think you will get a real kick out of this Facebook page, Devoted to the early origin of motocross in America as brought to us by Edison Dye in the form of the Inter-AM Motocross Series.
The timeline begins with the introduction of the Husqvarna brand and Torsten Hallman in 1966, and Part 1 continues through to the last Dye-promoted Inter-AM series in the fall of 1970. The AMA debuted the Trans-AMA in 1970, where a second part will begin soon. Readers are encouraged to submit photos, stories, and video links as well, so check it out.
Sorry, but that's it for this week! Thanks for reading. See you at the races.