With a twenty-seven point lead and only six motos left in the season, it would seem that the 2013 Lucas Oil Pro Motocross 250 National Championship is just about in the bag for GEICO Honda's Eli Tomac. Or is it? We've seen weird things happen before, which have led to big leads getting blown; remember when Tomac himself crashed out in the Oakland whoops earlier this year? Since it's going to be just about impossible for Ken Roczen to catch Tomac under normal circumstances at this point, he's going to need a bit of that weird luck to get the red plate back. Let's take a look at some of the other big leads that have been lost in the 125/250 Class.
1992 – Mike LaRocco
In the hopes of securing the 1992 125 National Championship, Kawasaki hired 250 racer Mike LaRocco to race in the 125 Class. LaRocco immediately rewarded them with a big points lead by winning two of the first three rounds. Jeff Emig would later heat up, but by that time LaRocco's lead was looking pretty safe. Until Steel City, that is, where LaRocco experienced mechanical DNF's in not one, but both motos. Emig, meanwhile, would take the overall and make up a whopping forty-seven points on LaRocco. The next round, Budds Creek, was the last of the series, and Emig was on point, going 1-1 for the win. And LaRocco? His results suffered due to a bent shifter and he lost the 1992 125 National Championship to Emig by nineteen points.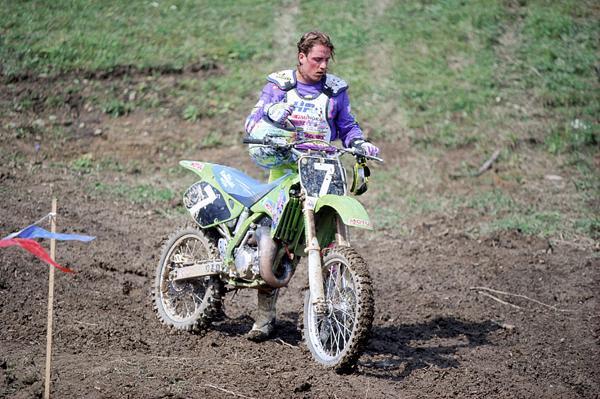 Heartbreak for Mike LaRocco at Steel City in 1992.
DC photo
2000 – Stephane Roncada
Stephane Roncada was the king of the 125 Class for the first half of the summer, but his kingdom started crumbling when he injured his knee at Millville and Travis Pastrana went on the offensive. TP won at Washougal, Millville and Binghamton, tightening the points and setting up a winner-take-all situation at the finale at Steel City, where Pastrana put in a clutch 1-1 to take the championship by two points over Roncada. On an interesting side note, instead of developing a rivalry over the summer, the two became friends and even wore stickers on their chest protectors promoting each other.
2001 - Travis Pastrana
In 2001 Travis Pastrana was the defending 125 National Champ and by the time Unadilla came around (it was round seven that year) he'd accumulated a big lead. He won the first moto and was on his way to winning the second until he went over the bars on a double and knocked himself out. He tried to get back into the series, but just couldn't seem to stop crashing and hitting his head, ultimately causing him to withdraw. The benefactor? Mike Brown, who went on to take the championship by fourteen points over Grant Langston.
2001 – Grant Langston
Okay, so this story isn't about a massive lead going up in smoke, but it does involve a near sure thing vanishing in the blink of an eye, or more accurately, the collapse of a wheel. It was the final moto of the year and Grant Langston had a small lead over Mike Brown. Langston was running near the front while Brown had crashed early. With a huge gap over Brown, all Langston had to do was cruise to the finish and the title was his. Then, the unthinkable happened. Spokes started breaking in Langston's rear wheel. He tried to nurse it home, but the wheel eventually collapsed, as did Langston's dream of winning the championship that year. Langston would find redemption two years later when he won the 2003 125 National Championship by seven points over Ryan Hughes.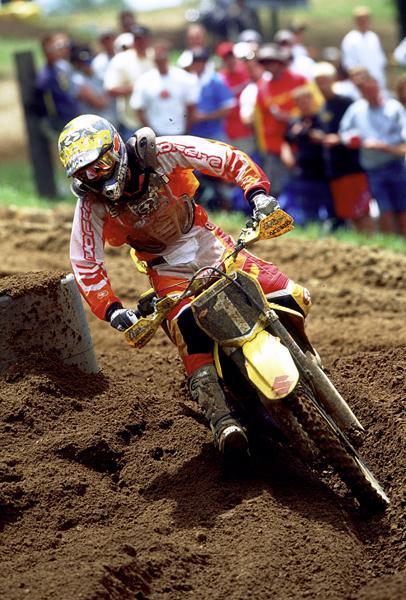 Crashes spelled the demise of Pastrana in 2001.
Simon Cudby photo
2009 – Christophe Pourcel
With just two rounds remaining in the series, Christophe Pourcel held a slight lead in points over Ryan Dungey, and things were looking good for the Frenchman to wrap up his first National Championship. But the sands of Southwick had other ideas, and would prove to be too much for Pourcel's engine to handle in the first moto. Pourcel crashed in moto two, and just like that, Dungey had the points lead, which he maintained at the next, and final, round to become the 2009 National Champ.
Pourcel – 2010
While Pourcel's blown championship in 2009 had to hurt, his second consecutive loss in 2010 had to be crushing. Pourcel had been nearly unbeatable through the first half of the season, but Canard starting surging in the second half, and a DNF in a moto at Unadilla for Pourcel further tightened the chase. Still, with a nine-point lead over Canard heading into the final round of the year at Pala Raceway, Pourcel looked to have it on lock. Then, in the first moto, Pourcel went down over a simple double, handing the points lead to Canard. Bonus points for Fox, who got to bust open the boxes and boxes of Canard Championship shirts that stated, "Every Moto Counts."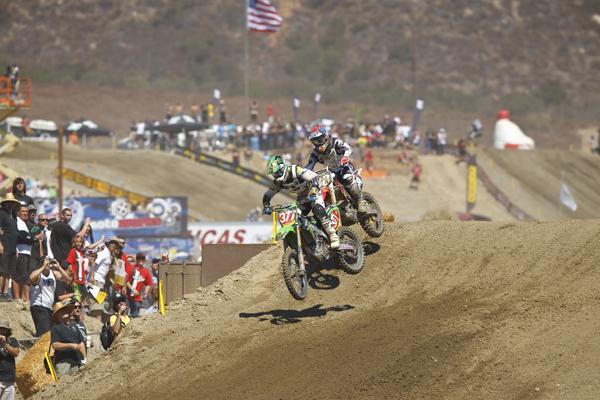 Christophe Pourcel lost the points lead late in the season in both 2009 and 2010.
Simon Cudby photo
If we missed a blown lead in the 125/250F Class of Lucas Oil Pro Motocross, be sure to let us know in the comments section below.