Atlas Brace Introduces the TYKE
The Atlas Tyke is our little pride and joy. Extreme sports require agility and mobility, even at 5 years old...So we created the Atlas Tyke. This is not an adjusted adult brace-it is a custom built product that is specifically engineered to conform to the proportions of our small children who are just starting out. The Atlas Tyke fits a small child just like the adult brace fits a full size adult, and even though the product is a miniature version of the adult brace it still preserves the innovative features of its bigger counterparts to create unmatched performance for your little tyke.  
Special Features:
Specifically re-engineered entry system also doubles as the Emergency Removal System, and can be completed in 3 seconds with a simple push of a button.
Custom built light weight back supports feature a break/fold away design.
Reversible rear washer system allows the back supports to have 2 adjustment positions to fine tune sizing.
Simplistic, flexible, open frame design makes the Atlas family the only high end non-rigid, most comfortable braces on the market.
Flexible leaf spring design chest supports work like suspension during Hyper-Flexion impacts.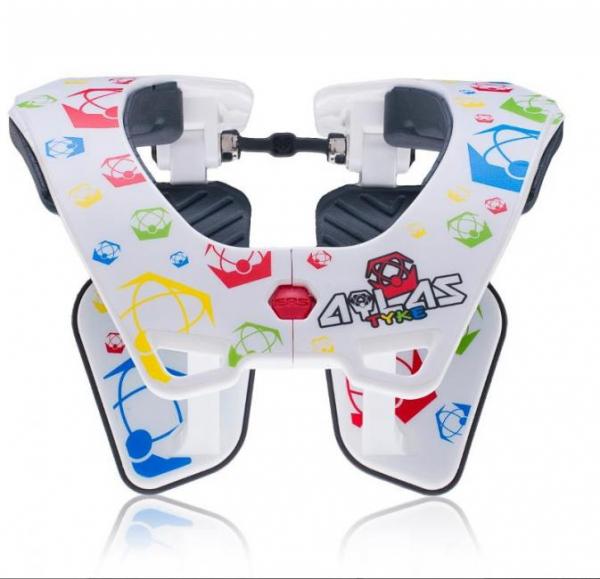 Dual pivoting back and chest supports provide added surface area to help transfer impacts around the spine and sternum.
Specifically designed water resistant padding uses unique material properties to help disperse energy from an impact, further reducing smaller injuries such as bruising or muscle fatigue, doesn't absorb excess water weight.
High impact PP construction is high strength, shatter resistance, produces a vibrant finish, and easily accepts custom graphics.
2 mounting options out of the box. Options include full chest strap, or use of front strap for mounting a chest protector (Strap comes with a pre-drilled hole).
Two Color choices, Black or White.
Suggested retail: $ 199.99