Spring Creek Motocross
Millville

,

MN
Spring Creek (Millville)
Lucas Oil AMA Pro Motocross Championship
By Jason Weigandt and Chase Stallo
- The track prep at Millville threw a lot of riders off. Instead of a deep, wet, sandy surface, the track was surprisingly hard and dry. The theory was that with rain in the forecast, the Spring Creek folks didn't want to rip the track too deep and risk having the rain soak right in. It did rain a bit throughout the weekend, with some drizzle on Friday and then periodic rain throughout the motos on Saturday, but it never turned into the full on deluge that was expected.
- Most of the riders were not happy with the dry, slippery conditions, and many were sent scrambling on bike setup between practice sessions. Dunlop's Marshall Plumb told us that Millville and Southwick are usually the tracks with the least amount of tire changes, as most riders are happy with the base selection right from the get go. This time, they had to try different setups throughout the day.
- Also the weather wasn't just not hot, it was downright cold! Seems strange that a race in Minnesota is known normally for hot and humid temps, but we've come to expect that at Millville in the summer. This time the thermometer barely got into the 70s, and some riders even worse jackets on their sighting laps!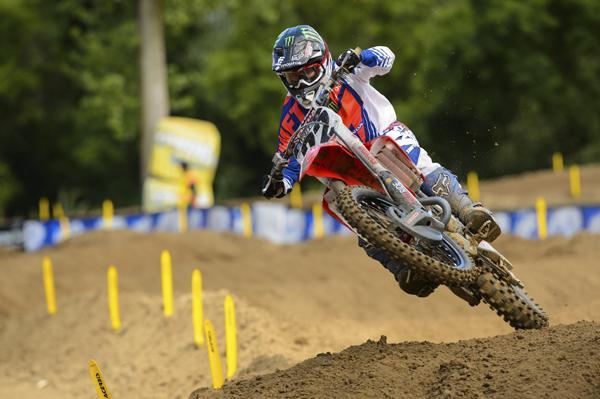 Reed has four top tens in the last four motos.
Simon Cudby photo
- The famous Millville whoops were treacherous as always, with a bunch of riders going down. They presented both good and bad moments for Ram RCH Suzuki's Broc Tickle. In the first moto, Tickle moved up to fifth before Ryan Dungey and Ryan Villopoto got around him, and then a crash in the whoops late knocked him back to eighth. "The first moto I felt really good, had a good race going and then the last lap I made a little mistake in the sand rollers, lost a position and actually crashed pretty good," Tickle said.  "That was a bummer but I felt really good in my moto – (Ryan) Dungey and (Ryan) Villopoto got me with like two or three laps to go. I thought it was a really good race." But in the second moto, the whoops helped Tickle, as Lucas Oil Troy Lee Honda's Malcolm Stewart crashed in them the last lap while running in the top ten. Stewart didn't finish, but he was not seriously injured, and by then so many riders had been lapped that he still was credited with 15th in the moto.
- Tickle got around the downed Stewart and then had more good fortune when N-Fab TiLUBE's Phil Nicoletti went down, too. "I think Malcolm crashed where I did in the first moto and Nicoletti came together with a lapper and fell over," said Tickle. "I passed him going off the base of the jump. Actually that's the best I've felt there at the end of the race." Tickle's 8-10 gave him 10th overall.
- TwoTwo Motorsports' Chad Reed is starting to make some progress, although the 2009 450 National Champion surely doesn't celebrate eighth place finishes. It's an improvement, though, with Reed finishing in the top ten in the last four motos.
- The JGR/Toyota Yamaha squad had an up and down day, with Josh Grant scoring a solid fourth in the first 450 moto while outdueling BTOSports.com's Andrew Short. He had a good start in moto two and momentarily passed Ryan Dungey for second place, but then crashed heading into the sand whoops. He hit his head, which ended his race. Later in the race, Justin Brayton climbed as high as sixth before a crash in the sand whoops got him, too, and he finished 18th. The whoops were gnarly!
- Small progress from BTOSports.com KTM's Matt Goerke, who is still dealing with considerable pain in his wrist. He was at least able to finish the first moto, taking 17th, but couldn't hang on and finish moto two. Goerke says even riding at home he can only go about 28 minutes.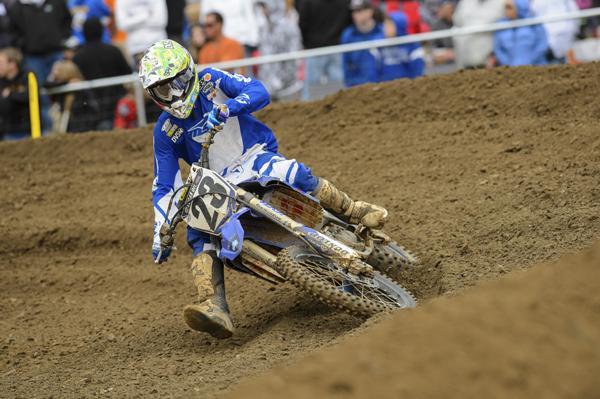 Jake Canada make his debut with Dr.D at Millville.
Simon Cudby photo
- It was not Zach Osborne's day. The GEICO Honda rider had bike problems in the second 250 practice session and couldn't finish it, then bike problems again on the starting line for the second moto. His 11-9 scores for tenth overall marked his lowest points haul of the season.
- Jake Canada made his 2013 Lucas Oil Pro Motocross 450 Class debut with Dubach Racing Development (Dr.D) at Millville. After suffering a broken wrist at Thunder Valley—and later being released from SmarTop/Motoconcepts—Canada finished 15-16 for sixteenth overall in his first 450 Class race since 2011.
- Gannon Audette, who has been recovering from a fractured pelvis and clavicle suffered in Dallas Supercross, returned to Lucas Oil Pro Motocross at his home state race. Audette finished twentieth overall (18-36) in his first National since Lake Elsinore a season ago.
- Maykers/Witt Racing Honda's Zach Freeberg had a breakout ride at Millville. The former Team Green amateur star's fifteenth (19-12) overall marked a career-high for the second year pro from Florida. The career-high came in just his second career 450 Class race. His 450 debut came a week ago at Washougal.
- Privateer Broc Schmelyun tied a season high with a seventeenth in moto two. Schmelyun has quietly put together a very productive season in the 450 Class—scoring points in six of twelve motos competed in.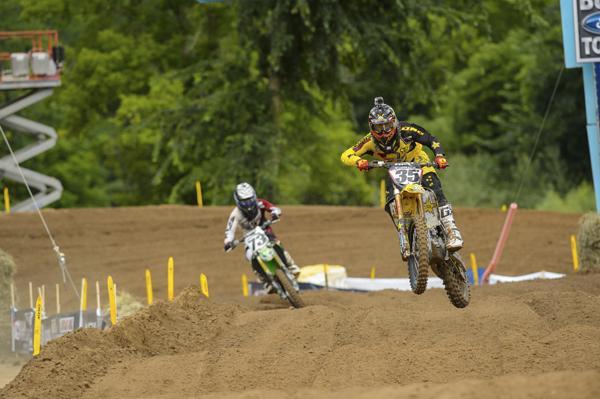 Sipes said the following on his Twitter account following the race: "Thank God I had my Leatt brace on.."
Simon Cudby photo
- Rockstar Energy Racing's Ryan Sipes had a big crash while running inside the top ten in moto one. Another one in the sand whoops! Sipes swapped in the whoops, landing on his neck breaking his neck brace and helmet. "I broke my helmet and my neck brace, a couple ribs and I think my hand," said Sipes in a statement released by the team. "It was a tough one and I'm in a lot of pain, but what is pleasure without pain?" We will continue to update this developing story.
- Lots of attention on Jeremy Martin, who led the first 250 moto in front of his home fans, but credit also to his brother Alex, who scored 15th overall on his Rock River Yamaha. Alex missed Washougal with a concussion so he had to gut out a strong performance at his home race.
- Jimmy Decotis had his best finish of his short season at Millville finishing eighteenth overall via 17-18 moto scores.