Spring Creek Motocross
Millville

,

MN
Spring Creek (Millville)
Lucas Oil AMA Pro Motocross Championship
Honda Muscle Milk's Trey Canard put in his finest performance of this year's Lucas Oil Pro Motocross Championship at Millville, battling overall winner James Stewart in both motos and coming up just a point short of the win—and he was a half a bike length from getting Stewart for the win in moto one! Trey shared his thoughts in the post-race press conference.
Racer X: Take us through your afternoon and a great day of riding.
Trey Canard: It's great to be here. I've kind of missed it. Really a great day, all around. Timed qualifying practice was the best it's been for me, with three thirds. I still ended up four. But the whole day was very needed, for sure. I enjoyed the whole day. The starts were good, which has definitely been a big struggle this year. And then the motos were good. I was really excited to be in the front actually battling the guys. Definitely the Ryans and even James at times have been that real large step ahead, and maybe they still are, but I enjoyed being able to race with them today. That was a lot of fun. So, great day. I'm really thankful and glad to be here.
Is this track something that really fits your riding style? It seems like it's a real aggressive track. It kind of doesn't penalize you necessarily if you come in hot.
I think the thing is for me about this place is this was the first National I ever went to. I really enjoy coming here. It just kind of brings back the memories. I came here when I was 11. It was the first time I had ever seen Ricky Carmichael. Every time I come here I kind of get the jitters and it's exciting. Plus it's just so nice up here. I really enjoy that.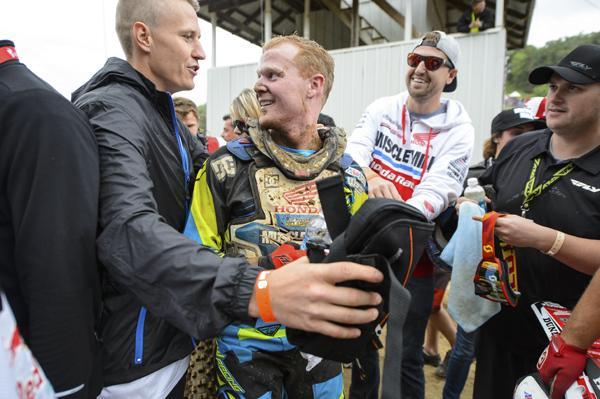 Trey Canard had his best performance of the season at Millville.
Simon Cudby photo
Is there anything you can point to that was better all of a sudden? Obviously you were faster and further to the front. Is this one of those things where you can't put a finger on it? Or is there specific bike change or a training change you could even talk about?
There's definitely change that really helped, I feel like. I don't know how much I can talk about it … I'll be honest; you saw it today. We went back to a cable clutch system today. I really liked it. I thought it brought back a lot of characteristics to the bike that I have known my whole life. I'd never ridden a hydraulic clutch up until a couple years ago. It has some great advantages, but we just wanted to try it and get some racing under our belt with it [the cable clutch]. I feel that it really helped riding just as much as it helped the starts for me.
With the cable clutch though is it back to rolling it to tighten it and all that sort of stuff?
No, it's a new cable clutch system, we don't need to do that. Just kidding! It's the same. But I didn't touch it all day, which was cool. I'm sure when it gets hot, maybe a place like Southwick where maybe the bike's trying harder, you're going to have to get back to adjusting it during the race. But I always thought it was really cool when Chad Reed and James Stewart would do that over a jump and they'd add some style to it.
Did Justin [Barcia] run that too?
Oh, I'm really opening up a can of worms here. Yes.
It's typically so hot and humid here in Millville. With the cooler temperatures this morning, does that change any of your preparation at all?
Not really because the fitness for everyone's still got to be the same, whether it's hot or cold. Maybe the cool does lend to the guys that aren't as fit, but I still feel that the fitness level is still going to be the same whether it's hot or cold. If this guy's in a lot better shape than this guy he's still going to be in a lot better shape than that guy. I don't change anything. It's definitely harder to get more liquid down, but I think it's pretty much the same.
Did we all get unrealistic expectations when you almost won Anaheim 1? You were bouncing back from a huge injury and it was like, "Okay, Trey's just right back where he was." Was that unrealistic? Is it taking this much time to really get back to where you were?
Definitely. Anaheim 1 was great. I think there was really a lot of time for me to prepare for Anaheim 1. Basically from the time that I had started riding in August of last year or whatever it was, it was all focused to that point. So I think I came out with a head of steam. But I think the emotional side of it, I didn't really take that into account until I got around to that third round where I'd actually broken my back the earlier year. It started to really affect me emotionally, I think, more than anything. And that took its toll. I think anytime you miss a year of racing there's a lot there that you forget. I've never had a full season under my belt. So yes, definitely I'm enjoying racing right now and I'm not going to the line every time really scared. So that's really neat.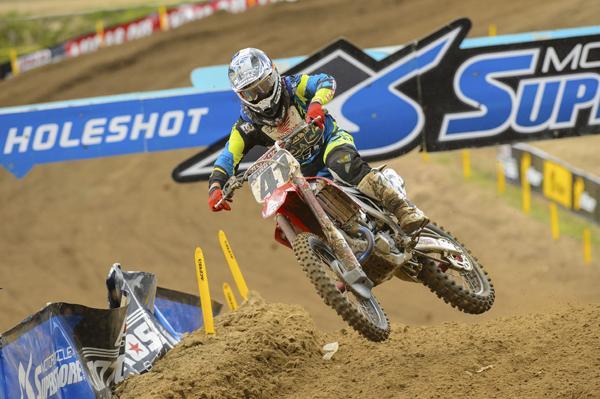 Canard will be back with Honda Muscle Milk next season.
Simon Cudby photo
Did you just get engaged?
Yes, I did.
Anything special? Were you on vacation or something?
I actually took her to the highest point on the property, it was actually the top of a windmill, and I told her if she said no I was going to push her off! [Laughs] No, it's super cheesy but I wrote a song and played it on the guitar and then got down on one knee. It was really cheesy.
Wow can you play that for us right here? Anyone have a guitar?
[Laughs] That's not happening!
We often talk about the silly season. Where's Trey Canard at this point? Are you a Honda guy next year or up in the air?
My contract is through next year, so that's a big blessing. I'm looking forward to being on the same bike with the same group of people around me going into the next year. That's something that I haven't had in a really long time. I think it's a good thing because we're going to use all the momentum that we had from this year, everything that we learned from this year, to move forward. So it's something that I'm really excited about. I really am enjoying the team right now. I think we're all getting along well. I think people are kind of a little bit skeptical with Justin and I. We're definitely different personalities. But I think it's great. I like where I'm at right now and hope to continue to work there.