By Jordan Roberts and Jason Weigandt
Just when you think it's safe to make some predictions in the Lucas Oil Pro Motocross Championship, all heck breaks loose at the Red Bull Spring Creek National in Millville, Minnesota. Not only was the day highlighted by heartbreaks and breakthroughs, but even the traditional Millville elements like heat, humidity and deep sandy soil didn't come through as usual.
As such, ,omentum and opportunity bounced around as if it were rolling through the famous Millville sand whoops, and in the end the series now looks a whole lot different than it did when the day began. Let's get to the action.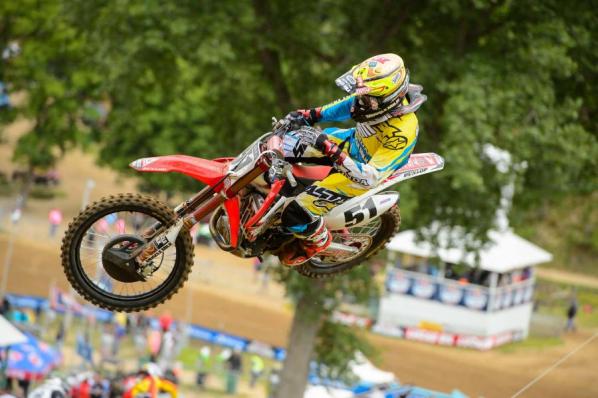 In the first 450 moto, Justin Barcia and Trey Canard slammed their Muscle Milk Hondas to the front of the pack, with Ryan Dungey and Ryan Villopoto right behind. Villopoto went flying in a spectacular crash a few corners later, though.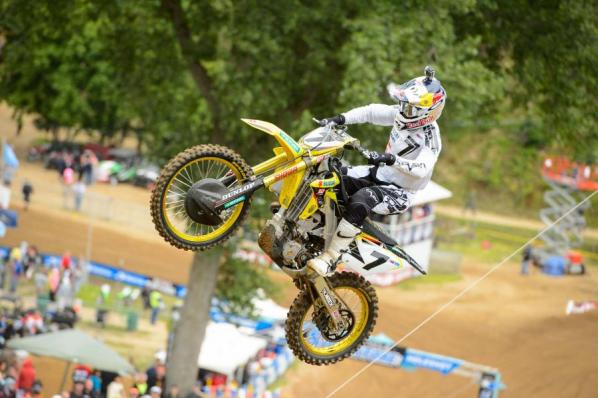 James Stewart soon joined the front pack on his Yoshimura Suzuki, then Dungey made a mistake and fell back to fourth, leaving a gap to the top three. And those three went at it!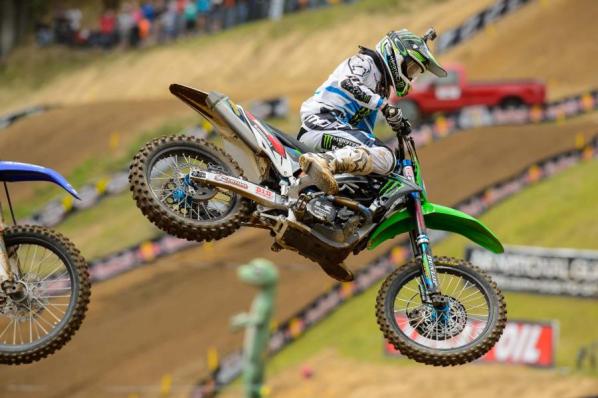 Dungey then had more problems when his chain popped off, but he somehow was able to put it back on. He dropped out of the top ten, at which point he wasn't even too far ahead of Villopoto, who had been charging back from last.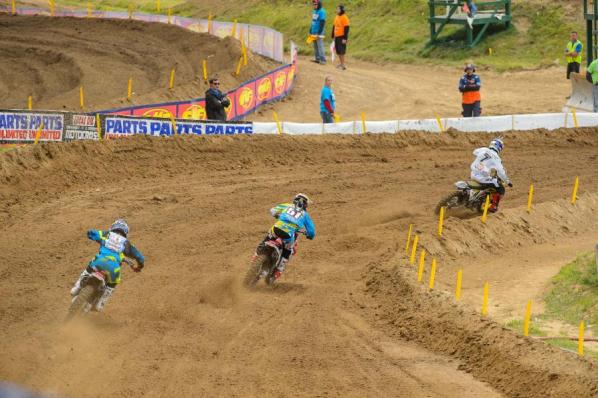 Stewart found a fast line entering the sand whoops and used it to launch past Canard for second, and then Barcia for the lead. But the Honda duo never let Stewart go, keeping the heat on all moto in a spectacular battle.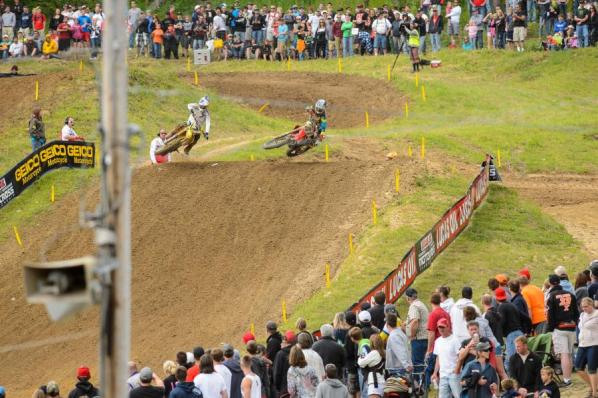 Barcia made a mistake and nearly went flying off of his bike in mid-air over the finish line jump. This put Canard into second, and he lit the afterburners and went after Stewart for the win.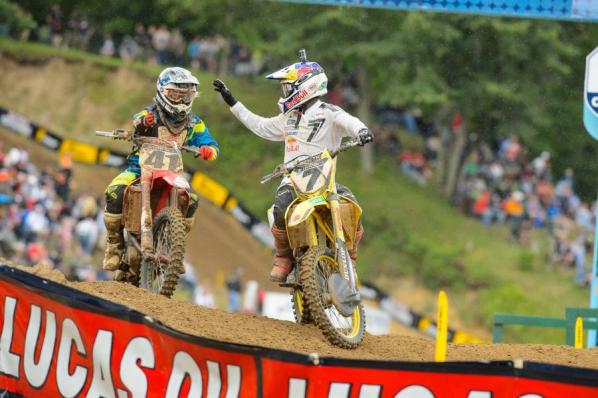 The Stewart/Canard battle for the moto win was the best of the year, as Canard tried a half dozen pass attempts on Stewart, but Stewart countered each time. It came down to the last corner, with Stewart holding off Canard by half a bike length for the first "non-Ryan" 450 moto win of the year.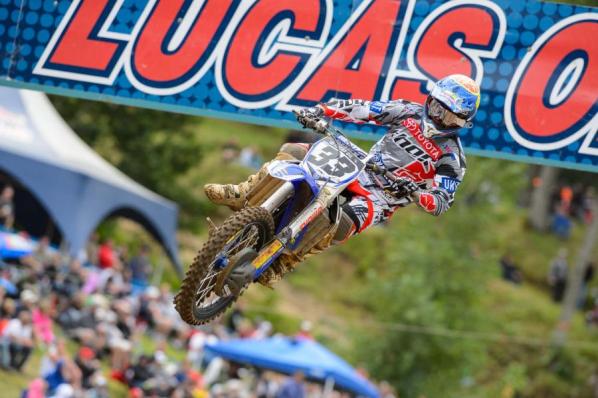 Josh Grant was a solid fourth on his JGR/Toyota Yamaha despite dealing with double ear infections during the week. Dungey recovered to finish fifth, with Villopoto sixth, his worst finish of the season.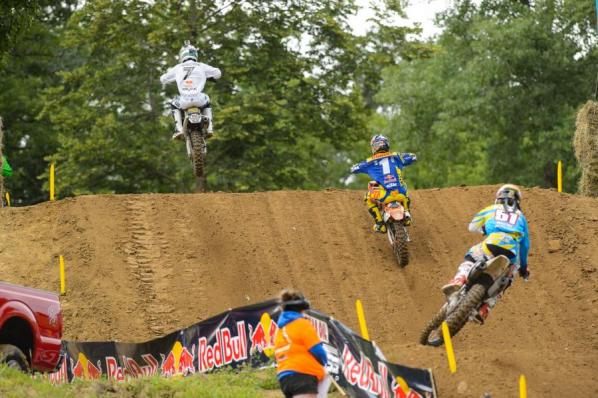 Stewart snagged the Motorcycle-Superstore.com Holeshot in 450 Moto 2, with Dungey, Grant and the Honda boys right with him. Soon, another killer battle developed between that group. Villopoto was way back with a bad start.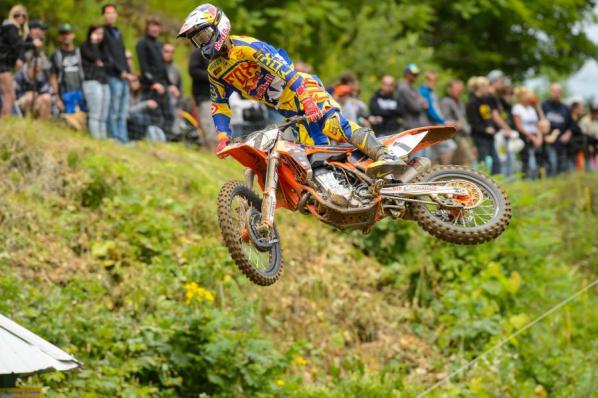 After the start, grant launched into the sand whoops and made the pass on Dungey for second, but then crashed soon after. Dungey was back into second, with Barcia and Canard shadowing him.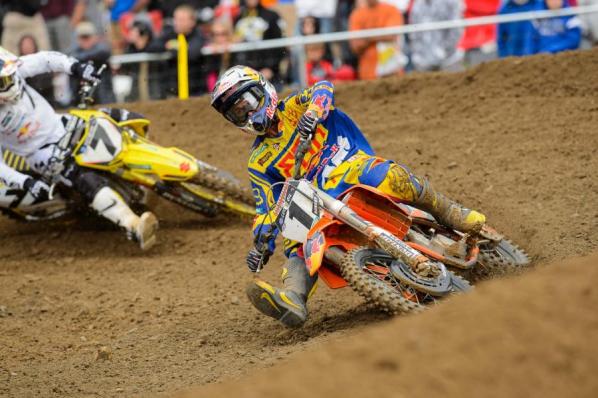 Dungey then pulled a surprising pass on the inside of Stewart, even adding a little contact, and he later apologized to Stewart for the move. But Stewart wasn't done, and used the same whoop line he had in moto one to repass Dungey and take the lead back. Dungey went back to work and repassed Stewart for the lead.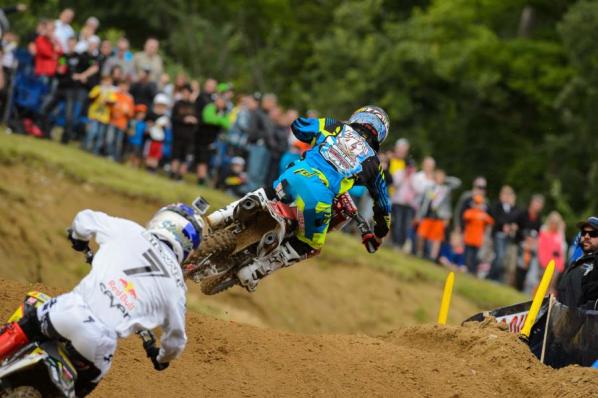 Barcia stumbled and Canard and Villopoto slipped past into third and fourth. Then Canard put in another charge, and he ended up back in another battle with Stewart. They went at it again, but this time Canard completed the pass. He even thought he had the overall win!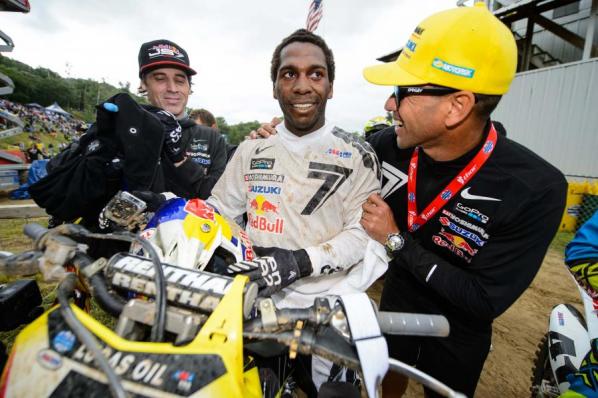 Sorry, Trey. Stewart's extra point for that first moto win allowed him to edge Canard for the overall, with a 1-3 topping Canard's 2-2. That's Stewart's first 450 National win since round two at Freestone last year.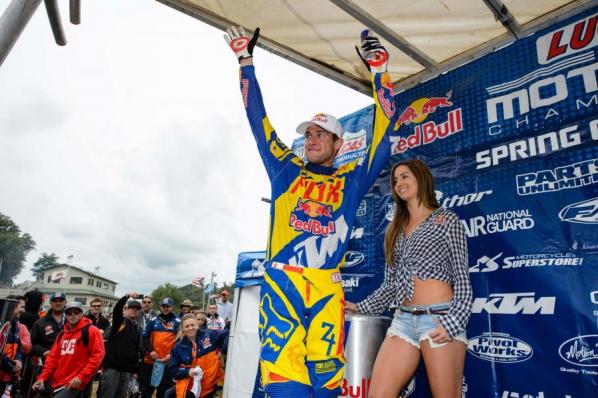 Dungey's five-race overall streak at Millville is over with a 5-1, but he did take the second moto win and make up eight points on Villopoto, who went 6-4.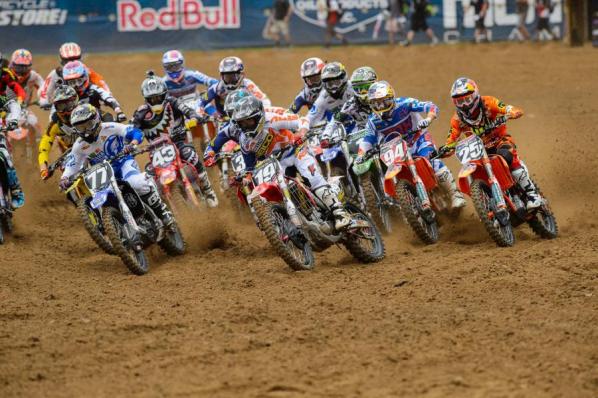 Wil Hahn scored another Motocycle-Superstore.com Holeshot in moto one, and led for a few laps. Home track hero Jeremy Martin (77) was running second early and the fans were going nuts.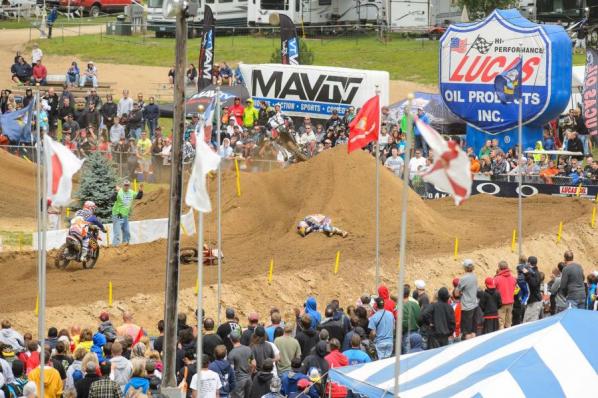 Ken Roczen on the move, slicing past Martin up to second and challenging Hahn for the lead. Then, it seriously looked like Roczen hit a land mine, as hit front wheel it a hole and he went flying over the bars in a violent crash. The series points leader knocked the wind out of himself and was out of the moto.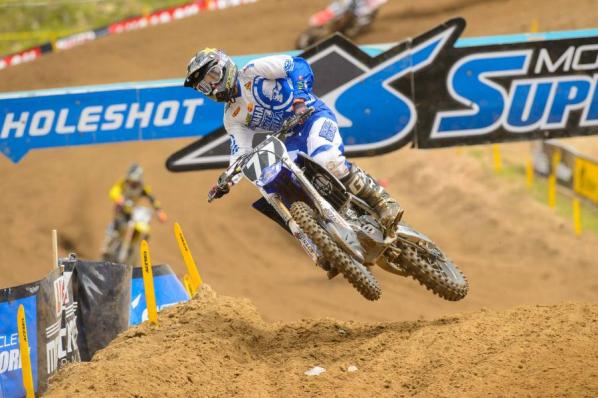 Martin was back in second, responded and went after Hahn to take the lead. He made the pass and the fans went crazy again.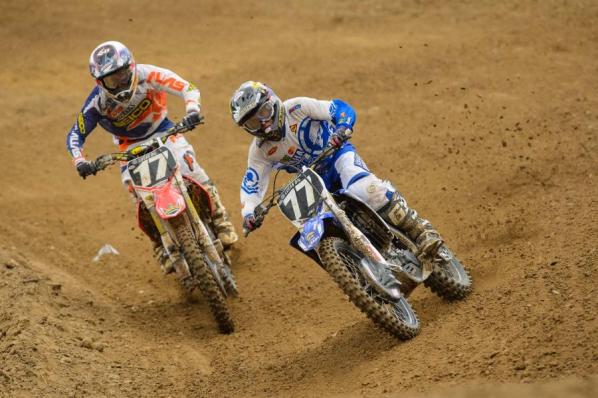 Eli Tomac started about tenth but was on a rail coming through the pack. By the time he got into second, he had about three seconds to make up on Martin. He was able to make up that ground, get the lead, and take off for his third-straight moto win.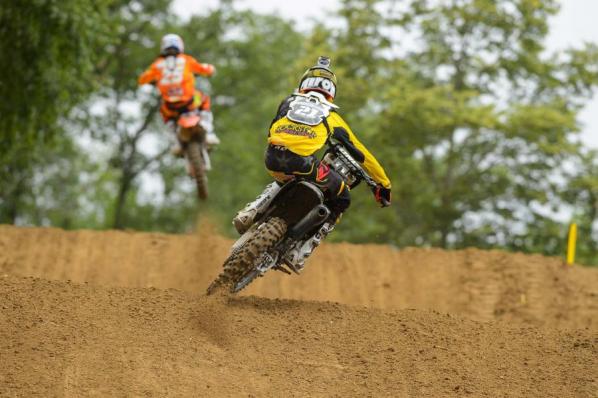 Jason Anderson and Marvin Musquin battled for third. Anderson won the battle and put his Rockstar Energy Racing machine on the podium for the first time this year.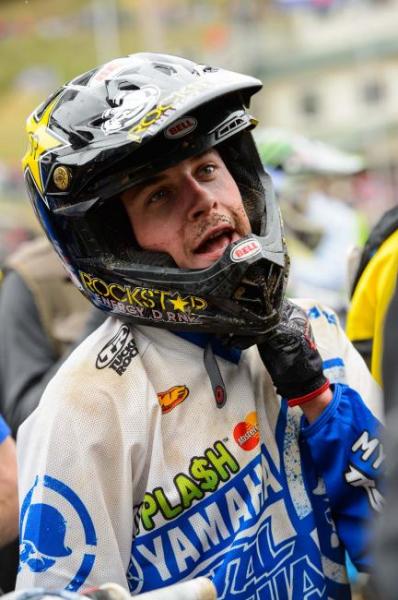 Martin took a popular second.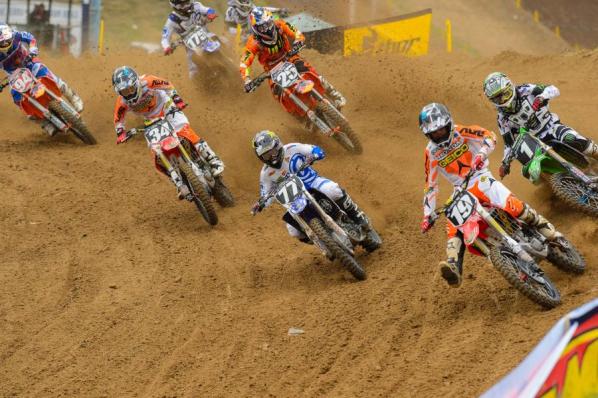 You can just assume who got the motorcycle-superstore.com holeshot again in moto two.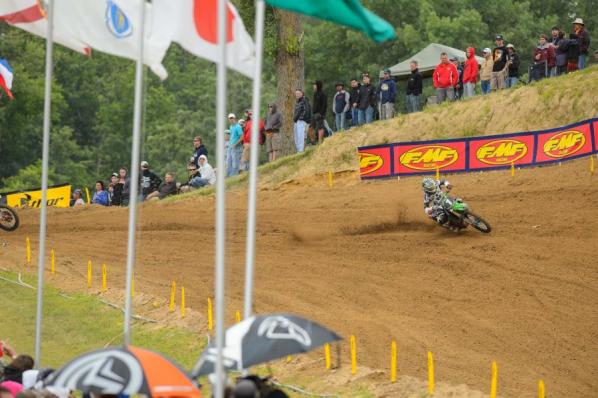 Blake Baggett, sixth in moto one, started third in this one but got around Martin for second. He then took the lead from Hahn.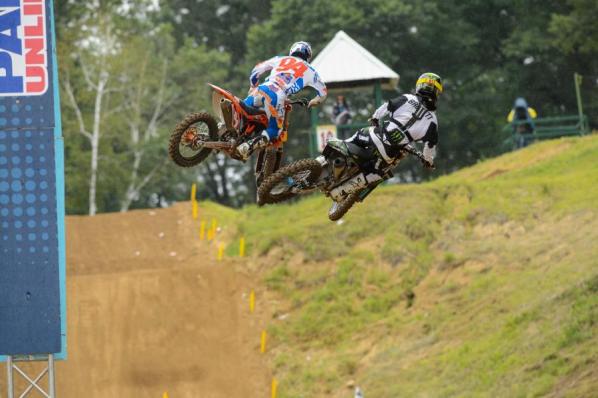 Miraculously, Roczen returned for moto two and even pulled a good start despite a bad gate pick. He was up to second, and then it started to rain, and he pulled up on Baggett and made the pass to take the lead.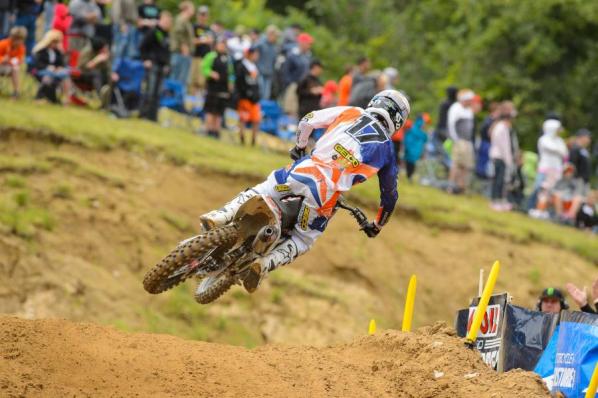 That was the good news for Roczen. The bad news was that his title rival Tomac was up to third after another bad start. Soon Tomac passed Baggett and set his sights on Roczen.
A lap later, Tomac zapped Roczen in the sand whoops. Roczen put up a valiant fight from second and kept Tomac in sight for awhile, but ET was too strong and got away.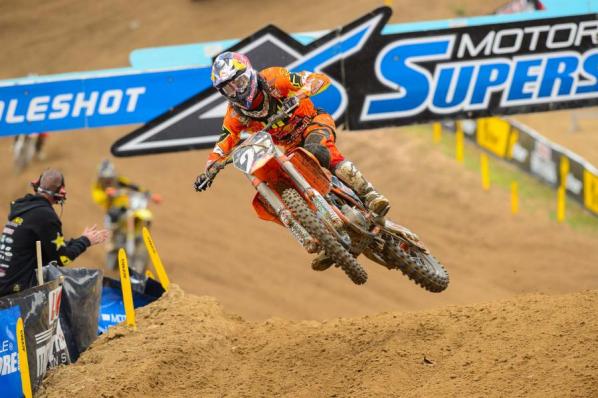 A furious battle for the overall podium spots broke out, with Anderson, Musquin, Martin and Baggett all in contention for it. Musquin who hurt himself in a crash on press day, went 4-4 to end up second overall. Anderson was third for his first career podium.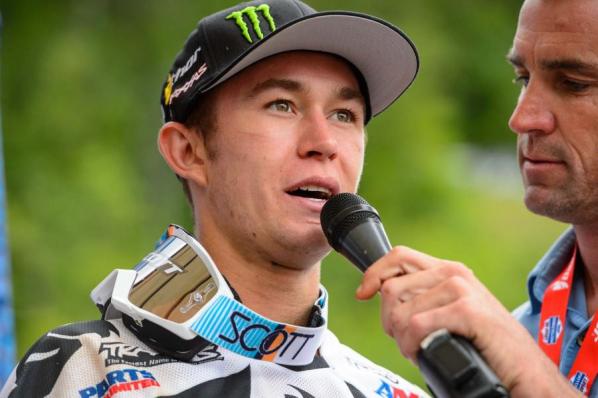 Martin wasn't quite as strong in moto two and ended up seventh. Baggett grabbed third in moto two, but his 6-3 was only enough for fifth overall, with Martin's His 2-7 edging him  for fourth overall.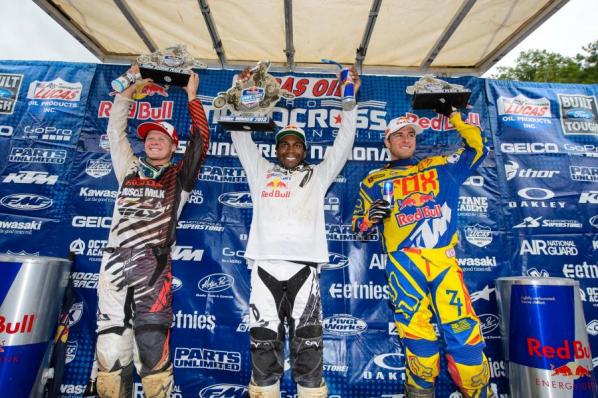 450 Overall Results
1. James Stewart 1-3 Suz
2. Trey Canard 2-2 Hon
3. Ryan Dungey 5-1 KTM
4. Justin Barcia 3-5 Hon
5. Ryan Villopoto 6-4 Kaw
6. Andrew Short 7-8 KTM
7. Mike Alessi 11-6 Suz
8. Chad Reed 10-7 Hon
9. Jake Weimer 9-9 Kaw
10. Broc Tickle 8-10 Suz
11. Josh Grant 4-35 Yam
12. Tyla Rattray 13-13 Kaw
13. Malcolm Stewart 12-15 Hon
14. Ben LaMay 16-14 Yam
15. Zack Freeberg 19-12 Hon
16. Jake Canada 15-16 Yam
17. Phil Nicoletti 32-11 Yam
18. Justin Brayton 14-18 Yam
19. Broc Schmelyun 27-17 Kaw
20. Michael Byrne 18-20 KTM
Click HERE for full 450 overall results.
450 Point Standings
1. Ryan Villopoto 413
2. Ryan Dungey 379
3. Justin Barcia 307
4. James Stewart 269
5. Trey Canard 263
6. Mike Alessi 195
7. Andrew Short 191
8. Jake Weimer 184
9. Broc Tickle 183
10. Josh Grant 176
11. Malcolm Stewart 161
12. Chad Reed 144
13. Phil Nicoletti 142
14. Tyla Rattray 140
15. Justin Brayton 131
16. Ryan Sipes 118
17. Clement Desalle 58
18. Weston Peick 56
19. Ben LaMay 46
20. Kevin Strijbos 45
Click HERE for full 450 point standings.
450 Moto 1 Results
1. James Stewart
2. Trey Canard
3. Justin Barcia
4. Josh Grant
5. Ryan Dungey
6. Ryan Villopoto
7. Andrew Short
8. Broc Tickle
9. Jake Weimer
10. Chad Reed
11. Mike Alessi
12. Malcolm Stewart
13. Tyla Rattray
14. Justin Brayton
15. Jake Canada
16. Ben LaMay
17. Matt Goerke
18. Michael Byrne
19. Zack Freeberg
20. Akira Narita
Click HERE for full 450 moto 1 results.
450 Moto 2 Results
1. Ryan Dungey
2. Trey Canard
3. James Stewart
4. Ryan Villopoto
5. Justin Barcia
6. Mike Alessi
7. Chad Reed
8. Andrew Short
9. Jake Weimer
10. Broc Tickle
11. Phil Nicoletti
12. Zack Freeberg
13. Tyla Rattray
14. Ben LaMay
15. Malcolm Stewart
16. Jake Canada
17. Broc Schmelyun
18. Justin Brayton
19. Evgeny Mikhaylov
20. Michael Byrne
Click HERE for full 450 moto 2 results.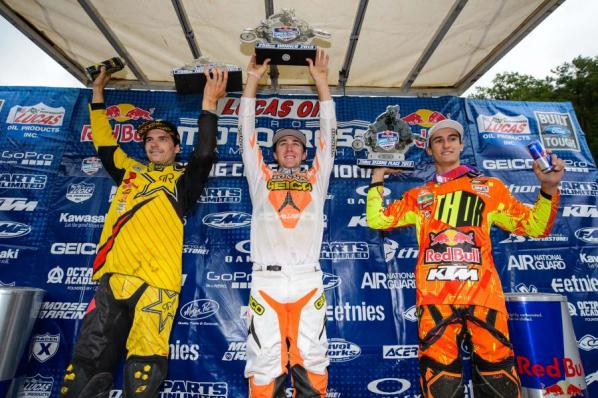 250 Overall Results
1. Eli Tomac 1-1 Hon
2. Marvin Musquin 4-4 KTM
3. Jason Anderson 3-5 Suz
4. Jeremy Martin 2-7 Yam
5. Blake Baggett 6-3 Kaw
6. Justin Bogle 5-6 Hon
7. Wil Hahn 8-8 Hon
8. Justin Hill 7-11 Kaw
9. Ken Roczen 35-2 KTM
10. Zach Osborne 11-9 Hon
11. Adam Cianciarulo 9-12 Kaw
12. Darryn Durham 10-15 Kaw
13. Cole Seely 12-14 Hon
14. Martin Davalos 14-13 Kaw
15. Alex Martin 13-16 Yam
16. Cooper Webb 37-10 Yam
17. Kyle Peters 16-17 Hon
18. Jimmy Decotis 17-18 Hon
19. Kyle Cunningham 15-37 Yam
20. Gannon Audette 18-36 Kaw
Click HERE for full 250 overall results.
250 Point Standings
1. Eli Tomac 405
2. Ken Roczen 378
3. Marvin Musquin 334
4. Blake Baggett 295
5. Zach Osborne 261
6. Jason Anderson 238
7. Justin Bogle 209
8. Jeremy Martin 207
9. Kyle Cunningham 183
10. Cooper Webb 170
11. Justin Hill 170
12. Cole Seely 169
13. Darryn Durham 127
14. Martin Davalos 114
15. Wil Hahn 97
16. Joey Savatgy 89
17. Adam Cianciarulo 89
18. Blake Wharton 85
19. Alex Martin 61
20. Kyle Peters 42
Click HERE for full 250 point standings.
250 Moto 1 Results
1. Eli Tomac
2. Jeremy Martin
3. Jason Anderson
4. Marvin Musquin
5. Justin Bogle
6. Blake Baggett
7. Justin Hill
8. Wil Hahn
9. Adam Cianciarulo
10. Darryn Durham
11. Zach Osborne
12. Cole Seely
13. Alex Martin
14. Martin Davalos
15. Kyle Cunningham
16. Kyle Peters
17. Jimmy Decotis
18. Gannon Audette
19. Justin Starling
20. Jason Brooks
Click HERE for full 250 moto 1 results.
250 Moto 2 Results
1. Eli Tomac
2. Ken Roczen
3. Blake Baggett
4. Marvin Musquin
5. Jason Anderson
6. Justin Bogle
7. Jeremy Martin
8. Wil Hahn
9. Zach Osborne
10. Cooper Webb
11. Justin Hil
12. Adam Cianciarulo
13. Martin Davalos
14. Cole Seely
15. Darryn Durham
16. Alex Martin
17. Kyle Peters
18. Jimmy Decotis
19. Zack Williams
20. Jesse Wentland
Click HERE for full 250 moto 2 results.