Welcome to Racerhead, coming to you from the home offices of Racer X Online in Morgantown, West Virginia. It's a blessed weekend off for the Lucas Oil Pro Motocross Championship, following three straight weekends of very big races: Budds Creek, Southwick, and RedBud. The 250 championship is narrowing down to a two-man race between Red Bull KTM's Ken Roczen and GEICO Honda's Eli Tomac, though at the same time it seems to be heating up. As soon as these two guys start together and stay together, we should see an incredible duel. As for the 450 Class, it's going the opposite way: Monster Energy Kawasaki's Ryan Villopoto took full control after his steady rival Ryan Dungey had a rough outing at RedBud, DNFing the first moto and then crashing hard in the second while giving chase to RV. There's five rounds to go, beginning next Saturday, July 20, with what should be another huge race, the Peterson CAT Washougal National.
So what are the riders doing with the downtime? Most likely a little R&R, though I've been seeing on Instagram that Ken Roczen was putting down laps on a 350 this week before a quick jaunt to Las Vegas, James Stewart was doing some work on his Yoshimura Suzuki down in Florida, Mike Alessi went to a Craig Morgan concert in Jacksonville, Paul Perebjinos was putting the finishing touches on Blake Baggett's bike, Dean Wilson is in England as guest instructor at Ricky Carmichael University (along with RC and Jeff Emig), Jimmy Albertson started riding again and then bought a house, Andrew Short released the film A Test of Time, and Malcolm Stewart is trying to decide whether or not he should run more riding photos of random stuff on his Instagram account....
In other words, we're all a little bored. So here's Racerhead.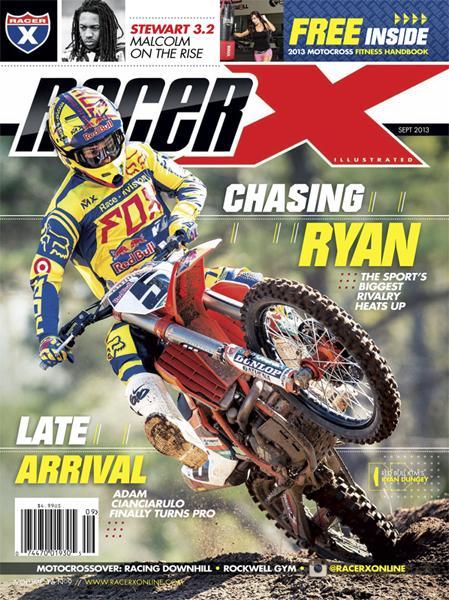 Ryan Dungey graces the new issue of Racer X Illustrated!
HOW TO WATCH (Chase Stallo)
There is some racing this weekend on the professional level. The CMRC Canadian National Championship will head to sandy Gopher Dunes as they start the Eastern leg of their series, and the FIM World Championships will return to Finland for the first visit there in some time. (Quick Trivia: Name the only two world champs that Finland produced as a nation. Answer farther down.) You can watch the Grand Prix of Finland on Sunday morning via www.MX-Life.tv for a fee. Check out the site for the times for this event.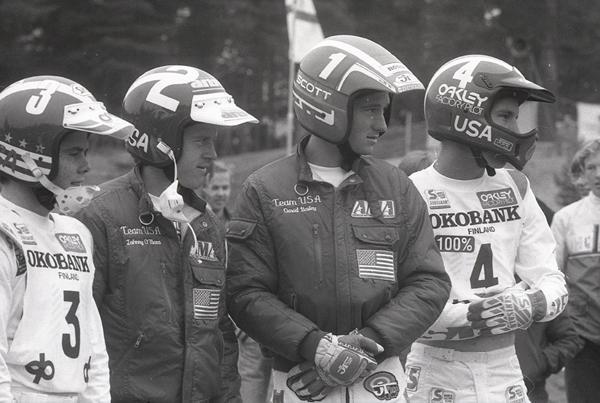 (From left) Jeff Ward, Johnny O'Mara, David Bailey and Rick Johnson prepare to do battle in Finland.
Gary Van Voorhis photo
By the way, Finland is the site of at least one American motocross success story. Back in 1984 Team USA's Jeff Ward, Rick Johnson, Johnny O'Mara, and David Bailey won their fourth straight Motocross des Nations in Vanta, Finland. Ward was riding with a slight concussion, and Bailey would tweak his wrist during the race, but they held on to win. One week later Broc Glover joined the team in place of Bailey for the Trophee des Nations (which was for 250cc motorcycles) and Team USA, this time led by Wardy, won again.
JEREMY (DC)
One person who is not having a boring day is Jeremy McGrath. He was in Washington, DC, earlier visiting the Wounded Warriors at Walter Reed National Military Medical Center, which helps injured men and women—veterans all from our wars abroad or service here at home—as they heal their bodies and minds and adjust to life after combat. He posted this picture on his Instagram that really makes us stop and think about how lucky we are to have so many brave soldiers protecting our way of life and the world, often at a terrible cost to themselves.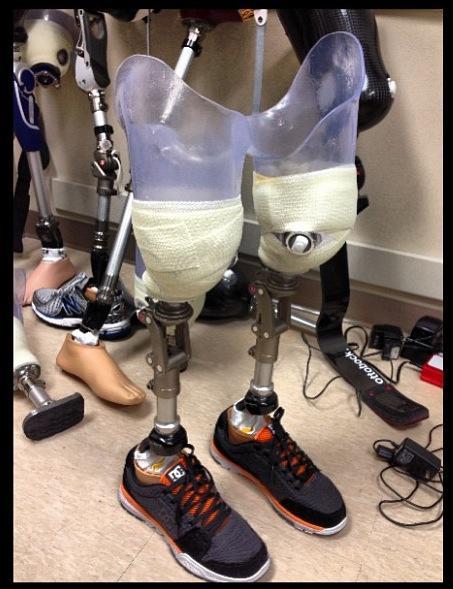 Jeremy McGrath is at Walter Reed National Military Medical Center today visiting the troops.
Courtesy Jeremy McGrath Instagram
MOTO GAMERS
(Bryan Stealey)
If you play Mad Skills Motocross on your iOS device, they've taken care of your moto fix while the pros are off this weekend. Today our friends at Turborilla added all thirteen tracks from Tournament 3 to the game for free. This includes the fan favorite tracks that were designed by Ryan Morais. To relive the excitement of T3, or to try out the tracks for the first time, just open your full version of Mad Skills Motocross for iOS and hit the NEW TRACKS button. Have fun!
THE NUMBER – 2nd and 7th (Aaron Hansel)
Motocross is a family sport, so not surprisingly, we've seen quite a few sets of speedy brothers compete in Lucas Oil Pro Motocross over the years. Tommy and Wil Han, Alex and Jeremy Martin, Jim and Ron Pomeroy, and Daniel and Vince Blair, to name just a few. In fact, it's common enough that we even ran a list of fraternal professionals earlier this year, which can be viewed right here.
What's less common is both brothers recording head-turning finishes in the same class on the same day, and when James Stewart and brother Malcolm took second and seventh overall, respectively, at the recent Red Bull RedBud National, we wondered if that's the highest a pair of brothers has ever placed in a single Lucas Oil Pro Motocross race.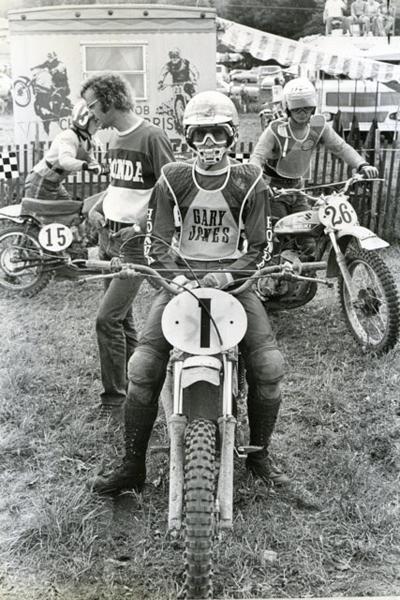 Gary Jones and his older brother Dewayne once went 1-2 in a 250 National.
Courtesy AMA Motorcycle Hall of Fame
Turns out it's not, as Billy and Bob Grossi took third and fourth in the 250 Class at the Appalachia Lake Park National in 1974. In 1991 Tyson and Tallon Vohland went second and sixth at the Gatorback 125 National. Mike and Jeff Alessi were able to match the Stewarts' recent feat in 2008 at the Freestone National, with Mike taking second and Jeff placing seventh, just like James and Malcolm.
But it was Team Honda riders Gary and Dewayne Jones who set a record that can never be broken (although it can be tied) by taking first and second at the Lake Whitney National in 1973.
BARCIA'S CHOICE (DC)
In working on an interview with Justin Barcia for our friends in France at the Bercy Supercross, I asked Justin Barcia which rider he thought would win the very close 250 Class Championship when it's all said and done at Lake Elsinore in August.
"That's a tough question," Barcia said. "I think it's going to be between Eli Tomac and Ken Roczen. You never know what can happen. I was teammates with Eli and he is a really strong racer, especially towards the end of the season. We had some great battles back in the day. Roczen is going to have his hands full for sure. But to pick between either of them as of right now, it's up in the air. They're both on their game every weekend."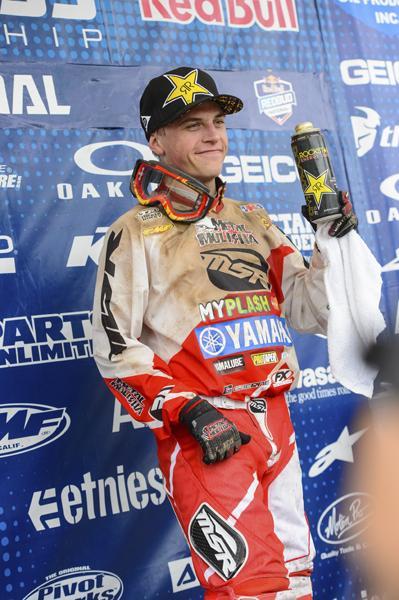 Jeremy Martin scored his first-ever outdoor podium with a solid third overall at the Red Bull RedBud National.
Simon Cudby photo
FIRST TROPHY
(DC)
While MyPlash/Star Racing Yamaha's Jeremy Martin was the first rookie to win a trophy outdoors this summer with his third-place finish, another rookie was earning an award of a different type—though one he could also be proud of. Monster Energy/Pro Circuit Kawasaki's Adam Cianciarulo had a tough day in his first visit to RedBud, and his crash halfway through the first lap of the second moto was disappointing for both the rider and the team, since he was sitting third. But after remounting almost dead last and crossing the finish line to mark the first lap in thirty-eighth place, AC292 never stopped charging and climbed all the way to fifteenth in arguably his best performance as a pro. By passing twenty-three riders, he earned the Ricky Carmichael Hard-Charger Award for passing the most people in a race at RedBud, and he will be presented with the trophy at the riders' meeting next weekend at Washougal.
I spoke to Adam after practice because I wanted to show him the video I shot with my iPhone of his near-miss on LaRocco's Leap (he almost went off the side of the jump once).
His response? "That's sick!" He was very enthusiastic, he seems like he's having fun, and like pretty much everyone else, I think it's just a matter of time before he has a breakthrough ride and gets closer to the front.
PRO PERSPECTIVE (Ping and Jason Thomas)

PING: I wish I could get Samuel L. Jackson to narrate a book entitled Chill the F#@& Out. I would read it aloud to all the people giving this kid a hard time about his first few professional races. (And then I would probably high-five him and have him recite me some lines from Pulp Fiction.) But then I would get right back to telling people to cut this kid some slack. Adam has won more minibike titles than any other rider in Loretta Lynn's history, and they don't just hand those out. He happens to be very well-spoken and friendly, and that combination has garnered him a significant amount of media exposure throughout his career. He didn't necessarily seek that out.
Cianciarulo would have faced a steep learning curve had he started this season at Hangtown healthy, which he did not. Now he's digging out of a hole, both physically and mentally, as he learns the ropes of pro racing. The rivalry between AC292 and other top rookies like Cooper Webb and Joey Savatgy (not to mention Jeremy Martin) is blown out of proportion and not really fair. Adam has been out with injuries and then an illness and doesn't have a lot of 250 time, year while those other very fast young men have been riding bike bikes for maybe two years.
Despite all that, I think AC will find his rhythm and have some impressive rides before the end of this season. His results have been average so far but he is healthy and he is learning. And Adam is determined and driven, if nothing else, so don't think he'll just give up and quit after a few bad finishes.
Was his decision to jump right into pro racing a mistake? Who knows. He will certainly be better prepared for supercross 2014 with some racing under his belt and he will be an immediate contender for wins. Don't think so? [In Samuel L. Jackson voice] "And I will strike down upon thee with great vengeance and furious anger those who would attempt to poison and destroy my brothers. And you will know my name is The Lord when I lay my vengeance upon thee." Bang!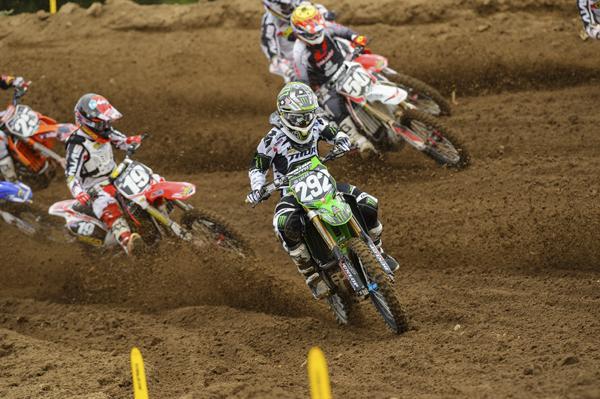 Adam Cianciarulo has had a rough start in his first six motos as a pro.
Simon Cudby photo
JT:
Much like Ping, I feel this worry about Adam Cianciarulo's future is much ado about nothing. Adam is going to be successful—it's just a matter of when. He has been on a full-size motorcycle for less than a year and is still growing into his adult body. His skills on a motorcycle are not in question, his program is not in question, his support is not in question, his work ethic, motivation, bike, race craft—none are in question.
All of this points to one thing: patience! No one expected him to win right away; heck, most people didn't even want him to turn pro at Hangtown! The fact is, he has won at every level and has a long-term contract with the most successful 250 program in history. While nothing is guaranteed in this sport, his future has to be one of the more likely scenarios to play out positively. Sure, naysayers will snicker and laugh at his struggles thus far. His results leave room for criticism after such an incredible amateur career. My advice to those would be to proceed with caution, I have a feeling you might have to eat those words sooner than later.
ELEVENTH OR TENTH? (DC)
According to the initial results, Broc Tickle finished 11-11 on Saturday for a total of 20 championship points and tenth overall. Ryan Dungey finished 34-3 for a total of 20 championship points and eleventh overall. See a problem? Turns out that a snafu in the electronic scoring system missed the fact that while Dungey was a DNF for the first moto, his second-moto third was the higher score and thus he should have gotten the advantage in the overall column over Tickle. So now the scores have been adjusted, and Dungey is officially listed as tenth overall, Tickle eleventh. What difference does it make? A lot if you're involved in Dan King's results pool. He spotted the mistake too, and it changed three of his competitors' Saturday tally. As a result, Pat Lytle just lost $11.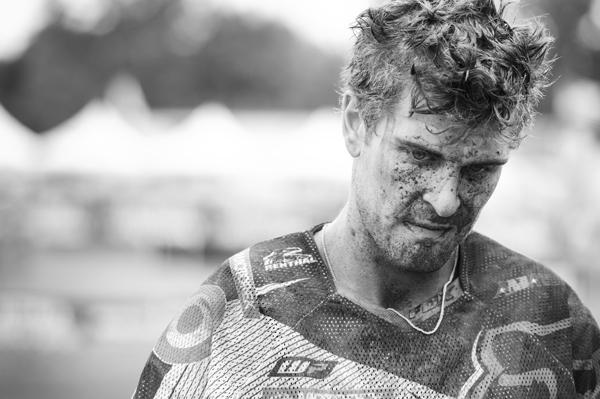 Ryan Dungey had a tough day at RedBud, but it wasn't quite as bad as the original results showed.
Simon Cudby photo
TEAM USA TODAY?
(DC)
Here's a note I got from an old friend called The Stump Grinder: "I find it concerning that there is no buzz about who we are sending to the MXoN. Sure hope we are going. Just saying..."
Of course we're going, and there has been some quiet talk behind the scenes about who should go. Right now it's pretty obvious that the Ryans would be our 1-2 punch (or MX1-MX3 punch), and Eli Tomac must be the first choice in MX2, given the fact that he's the fastest American right now in the 250 championship (series points leader Ken Roczen will lead the home German team as they try to defend the Peter Chamberlain Trophy for the first time ever). The choice will ultimately come down to Team USA manager Roger DeCoster and assistant manager Mitch Payton, as well as the AMA's top SX/MX man, Kevin Crowther.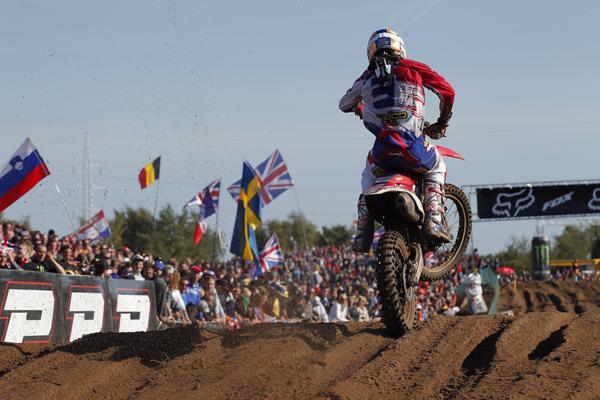 Justin Barcia had his Team USA trial-by-fire introduction in Belgium last September.
Sarah Gutierrez photo
But here's a wild card of sorts to ponder: While doing that aforementioned interview with Justin Barcia, who rode a 450 in MX3 last year, even though he was primarily on 250s all season long, I asked him if it came down to it and Roger DeCoster needed him again, be it on a 450 or even a 250, would he raise his hand and volunteer for the mission?
"Yes, I would! If that was what Team USA needed, I would be honored," said Barcia, the two-time 250 East Region SX Champ. "Experience is huge for that event and I would do whatever it took to help us win. And after the U.S. winning so many years, to lose last year was a big disappointment for sure. We had a strong team for sure but it wasn't our weekend over there in Belgium, and it wasn't a happy trip home by any means. But we know what it takes, and now that I have some experience, I think I could do really well and help give Team USA a really good shot."
There you go, Stump Grinder—now people are talking!
HIGHLIGHTS OF THE WEEK
Sign of the Lap Times: Imagine a testing day this fall when Trey Canard, Justin Barcia, and Eli Tomac are all wringing out their CRF450Rs trying to get top lap time for the day. Sometimes a little inter-squad battle can raise the level for everyone, right? A few weeks ago we took the Sign of the Lap Times keys from Chase Stallo and handed them to Aaron Hansel, and Hansel has responded with solid work. You can check out his RedBud analysis here and surely find some eye-opening stuff you didn't know.
By the way, we're giving this one back to Stallo for Washougal (he just found out by reading this). Keep raising the bar, guys!
Obs!: Trivia: Do you know where Steve Matthes' Observations column got its start? On the old Racer X Canada website! Yes, this highly influential, much-copied and much-discussed weekly dissection of the races came from up North. Don't fret; they gave us almost all of our comedians, so we're good. Matthes' stuff is still sharp. Check out his RedBud piece.
Grand Prix Report
: Everyone has an opinion in the USA vs. GP debate, but everyone should agree that the World Championships deserve solid coverage here in the U.S. That's why we hired ace European moto journo Adam Wheeler to pen the stories after each race.
Check out last weekend's report
for all the latest news from across the pond—not just who is winning, but silly season gossip and even a track preview for he 2014 Motocross of Nations.
IN THE MAG: Stewart 3.2

"Stewart 3.2" Malcolm Stewart's stock is on the rise, and while we're all used to seeing at least one Stewart contend for wins in the 450 Class, soon it may be little brother Malcolm atop the box. With his likable demeanor and have-fun attitude, it's no wonder Malcolm is becoming more popular, and his results are now following suit. Read more about Malcolm Stewart in "Stewart 3.2" starting on page 120 of the September issue of Racer X Illustrated.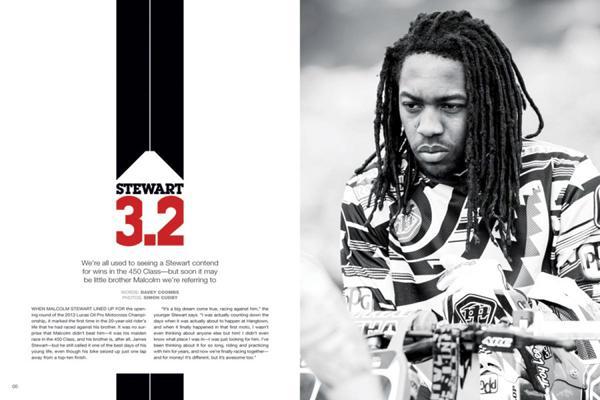 HEY, WATCH IT!
Racer X Films Spotlight: Phil Nicoletti
Racer X Films: RedBud Remastered
Racer X Tested: 2013 CRF150R
GoPro: RV at RedBud
Beyond the Finish Line: Global Effort
RANDOM NOTES

Check out this screen grab from Jason Hooper's Racer X Films: RedBud Remastered that we posted earlier in the week. Check out the left side--suspension dudes from JGR and Yoshimura Suzuki are pumped on those starts!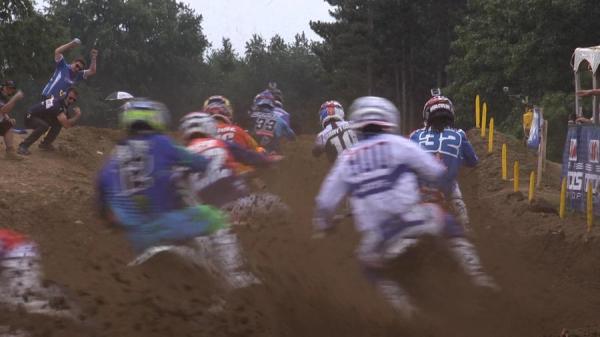 Check out this preview for Tarah Gieger's wild child shoot in ESPN The Magazine's upcoming Body Issue. Gieger will be featured on one version of the handful of different covers.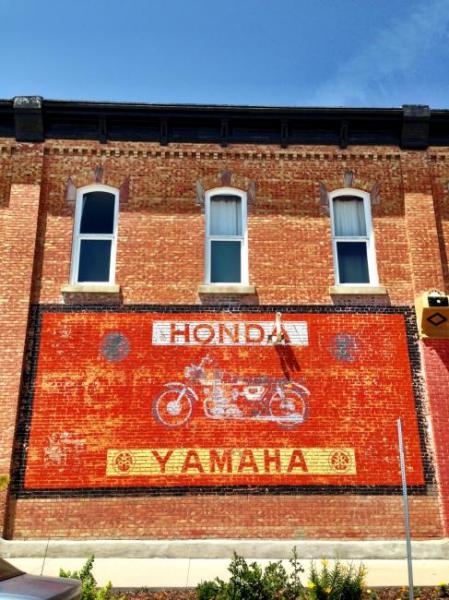 Spotted by 100%'s Russ Koza in Nebraska.
What? X Games is brining back the Super X race this summer—in just a few weeks? That's what we are hearing, although the relaunch has been pretty low-profile compared to the first X Games foray about five years ago, where riders were begging to get in (heck, one year Chad Reed and Kevin Windham even raced Supermoto just to have a chance at a medal and some ESPN exposure).
This year's event will be much scaled down from the last one, run at the L.A. Coliseum in 2010. Staples Center is now the host site, so this will be more arenacross than supercross. The only riders I've heard linked up so far are the previous medalists from '10. Do you even remember who they are? It's Josh Grant, Justin Brayton, and Josh Hansen. Stay tuned for more as we learn more about it.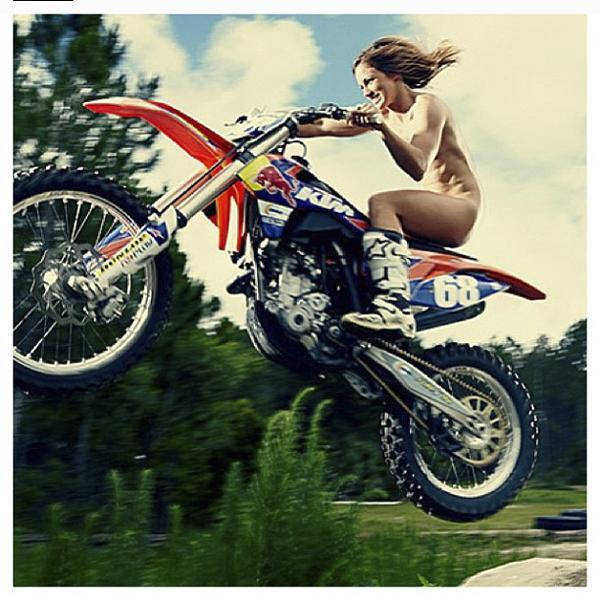 Have you seen Tarah Gieger in the new ESPN the Magazine? Well done, Persia!

Check out the latest issue of The Racing Paper with Daniel Lippman on the cover.
That's it for Racerhead. Thanks for reading, enjoy the off-weekend, and see you at the races.