RedBud Track 'n Trail
Buchanan

,

MI
RedBud
Lucas Oil AMA Pro Motocross Championship
Well, there's one good thing here. At least the now-massive gap in 450 points isn't going to impact the racing.
Ryan Dungey normally gets to hang his hat on consistency, but that's out the window after a DNF-3 score, complete with a bike problem and a big crash, at RedBud. He had been hanging in there with Ryan Villopoto before the weekend, with just 12 points separating them and a maximum of 300 up for grabs in the second half of the year. Now the gap is 42, and Dungey is going to have to hope for massive bad luck from Villopoto just to get back into striking distance.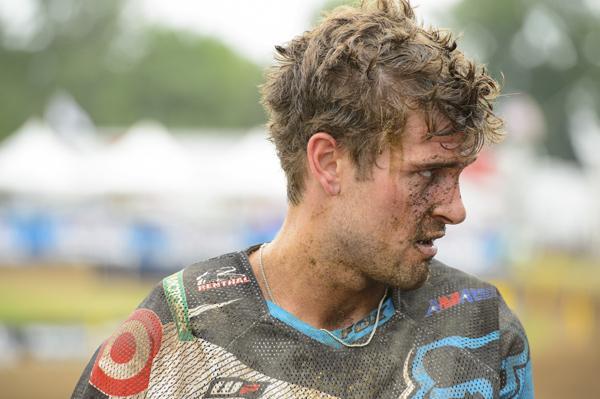 Those participating in the Racer X comment section are hard to please, but even a majority of them have had to admit both Ryans are awesome, both are pushing to new levels, and both are worthy champions. Even they can't fault Dungey's effort--we think.
Cudby photo
We already know this. We also know that Villopoto isn't going to back into a title, and he'll still go full max to try to prevent Dungey from making up any points on him. Plus, there's a big bonus if RV can grab a few more points and get the gap up around 50, because he could then take the safest route of all and wrap the title early. So there's plenty for Villopoto to dig for, which means he'll race The Dunge hard for every lap from here on out.
And there's no doubt Dungey will keep pushing. The second moto at RedBud might have been the best of the year, with Dungey doing what everyone asks of him. He hung it out! Villopoto had a huge edge on everyone in moto one, but in the second race, Dungey and even James Stewart weren't letting him off the hook, and with two laps to go, there wasn't much of a gap between the Ryans at all. Dungey was even riding with compromised vision, as it was obvious that his roll off film had come loose and was trailing behind him. Still, he dug, he pushed, he went to the limit and maybe over it, and it cost him when he stuffed his bike in a rut and went flipping. He would lose the race, but he showed a willingness to crash trying.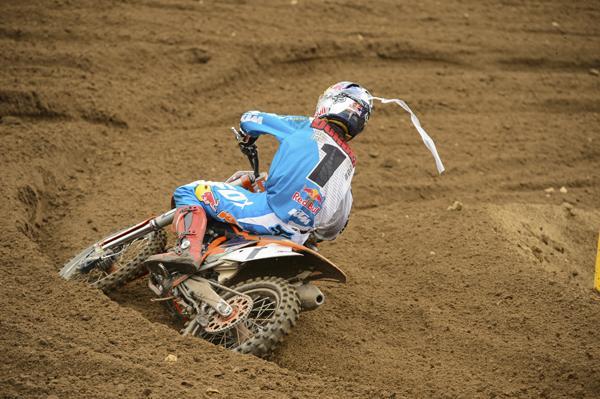 Just married? Old Mickey Thompson helmet streamers making Jim Holley swoon? Or maybe just busted roll offs. Either way, Dunge kept going.
Cudby photo
Perhaps Villopoto himself summed it up best. Remember, in the second moto, he didn't have to take on all of that pressure from Dungey. He could have backed down, finished second, took the overall and left with a giant points lead. Instead, he went after it. "Whenever you have a stacked class like it is right now levels get pushed and bars get raised. I think that's kind of where we're at now. But the field is all there. When people start to kind of drop out is when the pace… I don't want to say slows down but it gets stagnant, really. Where it's at now, with all the speed in the class, we're all trying to get a little more and pushing that limit a little bit farther every weekend."
The points battle has changed, but the on-track battles week to week will not.