RedBud Track 'n Trail
Buchanan

,

MI
RedBud
Lucas Oil AMA Pro Motocross Championship
Interviews by Jason Weigandt, Steve Matthes, Chase Stallo and Aaron Hansel
Eli Tomac, GEICO Honda, 1-2 for second overall in 250 Class
First moto, take us through how that start worked out for you because that's the way to do it.
Yeah. I was I think second or third going around the turn, I was right next to Marvin, I think it was, and Wil. So it was good. I was like, yeah, first moto, good start. Made a few passes early and just clicked off some laps, found some good lines. This track this week was I think the best one for picking out lines and making a creative track because there was literally 10 ruts going down the hills. You could go inside, outside… kind of go wherever you want. It was an awesome racetrack. Just made for good racing.
You mentioned a lot of ruts. Is that what you like?
Yeah, it just makes it more technical. The really fast guys stand out. The stronger guys, too. When it's like that there's more lines to pass. You don't get stuck in one fast, kind of goat trail. I think the people look at events like this, other tracks, I think this is how they should be prepped.
What happened early on in the second moto?
Yeah, second moto, I was only a couple of spots back from where I was in the first start; somewhere around fifth or sixth. I was going by Zach over on one of the back tabletops before the sand rollers. I kind of went on the outside, tried to squeeze him out, and maybe went in a little bit hot, a little impatient, and stuck my front end. He was so close to me he just kind of fell right on top of me. It took a little bit for us to get back up because he had to kind of stand on my bike to get his bike and then I got up. So it was a little bit of a bummer, but I guess kind of a learning thing too. I just got to maybe settle down a little bit. Not try to make things happen too fast.
I know you didn't get the overall win but you've got to be happy with the riding the last few weeks.
Yeah, my riding, I'm totally fine with it. It's a little bit disappointing when you can't always put it together. I went fast in practice, first moto, and then little mistakes. I need to start putting it all together. This gets a little old after a while! – Jason Weigandt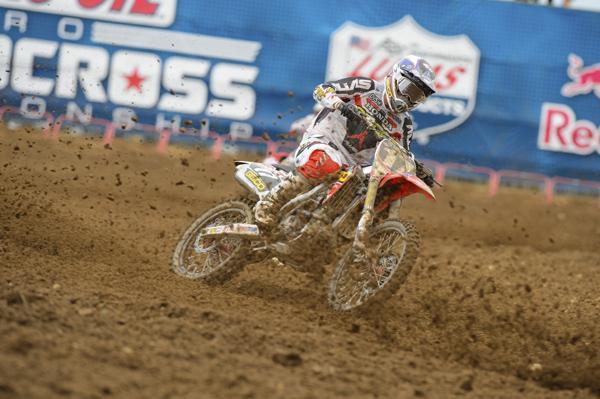 "Yeah, my riding, I'm totally fine with it. It's a little bit disappointing when you can't always put it together." - Eli Tomac
Simon Cudby photo
Marvin Musquin, Red Bull KTM, 3–4 for fourth overall in 250 Class
Second moto, you and Jeremy Martin, that was a battle out there!
Yeah, second moto, I didn't get the good start, I came back to fourth, and I knew I had to get Jeremy Martin for the podium. He was doing really good, and I finally passed him and I made a mistake. The rut was so deep on the very inside, and I laid it down, and it touched the front brake, and I crashed. Then I came back and crashed again with a lapped rider. And behind, Osborne and all of those guys were right there. I didn't give up, I tried my best, but it was not enough. Third and fourth for fourth overall, that's the way it was. – Steve Matthes
Kyle Cunningham MyPlash/ Star Racing Yamaha, 7-8 for sixth overall in 250 Class
It went pretty good. Rode really good in the first moto. I got hit in the third corner and went down and got up around thirtieth. I put on a charge and came up to seventh. It was a solid moto. I was a little bummed, I had a better start this time. Same thing second moto. I had a decent start, probably about ninth or tenth and I was trying to get around a couple guys that were in front of me and I took a different line. The track was really gnarly and rutted and the front got away from me. I got up in twenty-second and did the same thing. Pushed and rode as hard as I could and charged up to eighth. Overall it was a good thing. I would have liked to have cut the crashes out, but it's something to build on. I know my speed is there, so we'll go into the break, work on some things and get ready for the next race.
You were one of the few 250 guys doing LaRocco's leap consistently. What's that like on a 250 with the different, slower approach they had this year?
Ninety percent of the time I made it pretty good. It was a little tougher in the second moto and I shorted it a few times, but the wheels held up and everything was good. It was definitely fun to jump, the drive was good and it was pretty easy to make. Just no second-guessing, you had to come out of the corner and hit it wide open. – Aaron Hansel
Cooper Webb, MyPlash/Star Racing Yamaha, 6-9 for seventh overall in 250 Class
Today was pretty good. I kind of struggled with starts again, which set me back, but the first moto I charged through and ended up getting sixth place. I actually fell pretty hard in that moto, so getting sixth was pretty cool. In the second moto I got a worse start. The bike wasn't quite where I'd like it to be, but I pushed through and ended up getting I think ninth. So 6-9 isn't too bad; I finally got a nice second moto. We'll take some positives from here and come back strong at Washougal.
Speaking of those second motos, they haven't been as good as the first for you. Is it anything you can put your finger on?
Some of it was just freak stuff. And in between motos I wasn't quite doing the right things. I learned from that. Other than that I don't really know what the difference is, just one of those racing things.
When you say you weren't doing the right things between motos, what do you mean?
At first I wasn't eating anything between motos, and it's kind of hard to go back out there when you have no energy. I think I was just trying to do too much instead of worrying about relaxing. I was worrying about the race before, looking back at what I'd done wrong, looking at this, looking at that. I just calmed down this weekend and it helped.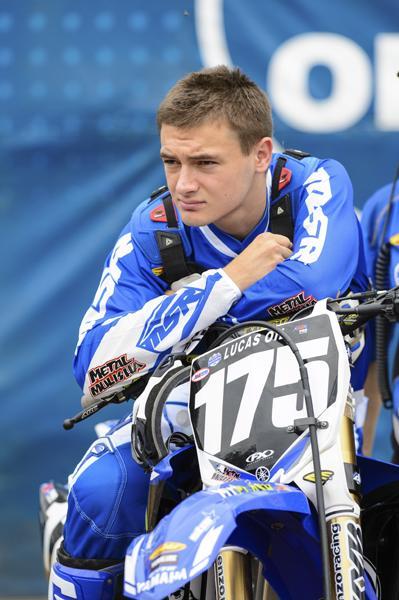 "Today was pretty good. I kind of struggled with starts again, which set me back, but the first moto I charged through and ended up getting sixth place." - Cooper Webb
Simon Cudby photo
Jason Anderson, Rockstar Energy Racing, 34-6 for thirteenth overall in 250 Class
Take me through the day. How did you feel out there?
Day was good. I felt good all day. Just had a little bit of bad luck. But just going to try and push forward through this off-weekend and hopefully be on the podium next round.
What happened in the first moto?
Just had a little bit of bad luck. I broke a couple spokes on my wheel and I had to pull into the mechanics area and switch wheels. But I was riding good. That kind of screwed me for the second moto; I had a bad gate pick, but I came through the pack and ended up sixth so it was a good day.
It has been a really consistent year for you after an up and down season last year.
Yeah. I've been kind of around 4, 5, 6 but I want to be around 2, 3, 4, that area and just be battling with those guys. That's where I want to be and I'm going to work towards that.
Does it basically just come down to starts?
Yeah, I think I'm fast. That first moto I was probably 14th around the first corner, but I was up to sixth in no time and just had a little bit of issues. So I think I can come through the pack, but having a start would definitely make it easier on myself.
What would it mean to finally break through and get a podium like you did in supercross when you got a win?
It would be awesome. I need it. I think I'm there speed-wise; I'm always fast, but I need to just put it together. Just like at supercross, I think I just need to break through and once I do that first one I feel like it will be a little bit easier to keep them coming.
Talk about RedBud in general. How does it feel to be here? The crowd, the track… It's a very historic place.
Yeah, RedBud's awesome. Everyone loves coming here. I like coming here. I like the track. I actually kind of struggle with it a little bit, just riding it because it's so rutty and I'm not really too good of a rut guy. But I enjoy coming here. I don't hate coming here. I like it. – Chase Stallo
Wil Hahn, GEICO Honda, 9–12 for eleventh overall in 250 Class
Your starts were on point. After the first moto though you were not happy. I did not like your interview you gave. A very angry Wil Hahn. Second moto, more of the same?
It would have been a similar interview.
Okay, so what's the deal?
I just didn't ride very good all day. To start in the lead and to finish ninth is unacceptable in my point of view. That's not why these guys hired me.
Well now that you've got your contract for next year, it's clear you're slacking.
[Laughs] Yeah, so now I've given up and now I'm just kind of riding this train out. No, it was just one of those things, man. I'm more disappointed in myself because I usually excel here. Every year that I've been here I've felt like I've excelled. For me to struggle like I did today… I wouldn't even say struggled; honestly I felt awesome second moto. I was just off the pace. Still, I want to build on that. I didn't want to come to the races and ride like that. So I want to get back in the top five. – Steve Matthes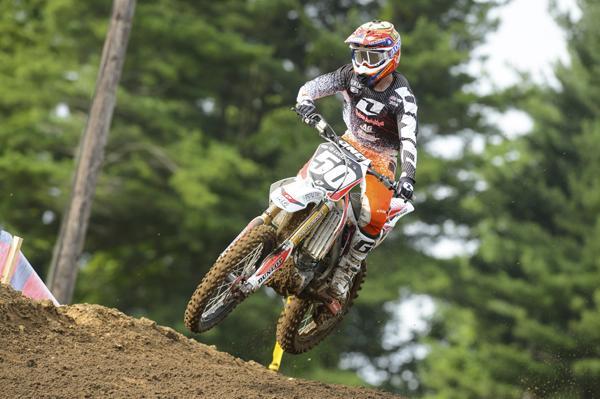 "Yeah, just getting my speed back up and we'll get there. It takes a little bit of time" - Kyle Peters.
Simon Cudby photo
Kyle Peters, AG Motorsports, 14–18 for sixteenth overall in 250 Class
After the early injuries this year, do you feel like you're getting back to where you should be? It looked like your best ride of the season today.
Yeah, just getting my speed back up and we'll get there. It takes a little bit of time. But definitely going to try and be there before the end of the year. In the first moto I came from last to 14th or something like that. In the second moto, had some clutch issues and I ended up 17th.
Talk about getting the weekend off. Obviously didn't have as much testing as you wanted to coming in.
Yeah, definitely. This week off, definitely do a lot of testing and just get more prepared. Put in the motos, put in the sprints and come out swinging for Washougal.
And talk about coming through the pack. Very deep field this year. How tough was that? Did it take a lot out of you?
Yeah, that was tough. I knew from the start, I was like, ugh, got a lot of work to do. But I just kept my head down, kept pushing, and wish I could have got 13th, but it's all right. Just got to work on my starts and get better.
A lot of riders talk about how mental racing is. Coming from last to 14th in this field, does that give you that little boost?
Yeah, it definitely gives me some confidence. This is a stacked class for this year and it's deep pretty much all the way through. Just trying to get one step ahead and get back to those guys. – Chase Stallo